News
May. 09, 2018 09:40AM EST
ABT Is Getting Serious About Female Choreographers
Claudia Schreier has been commissioned to choreograph on the ABT Studio Company next season. Here, with Ballet Academy East students. Photo by Rosalie O'Connor, courtesy Schreier.
American Ballet Theatre is putting more women in charge of its ballets.
Today, artistic director Kevin McKenzie announced that the company is launching a multi-year initiative called the ABT Women's Movement.
---
ABT will hire at least three female choreographers each season. The idea is that, in general, one woman will create a new ballet for the main company, one will make a work on the Studio Company, and one will workshop with dancers from either group for a choreographic residency without the expectation of a final product.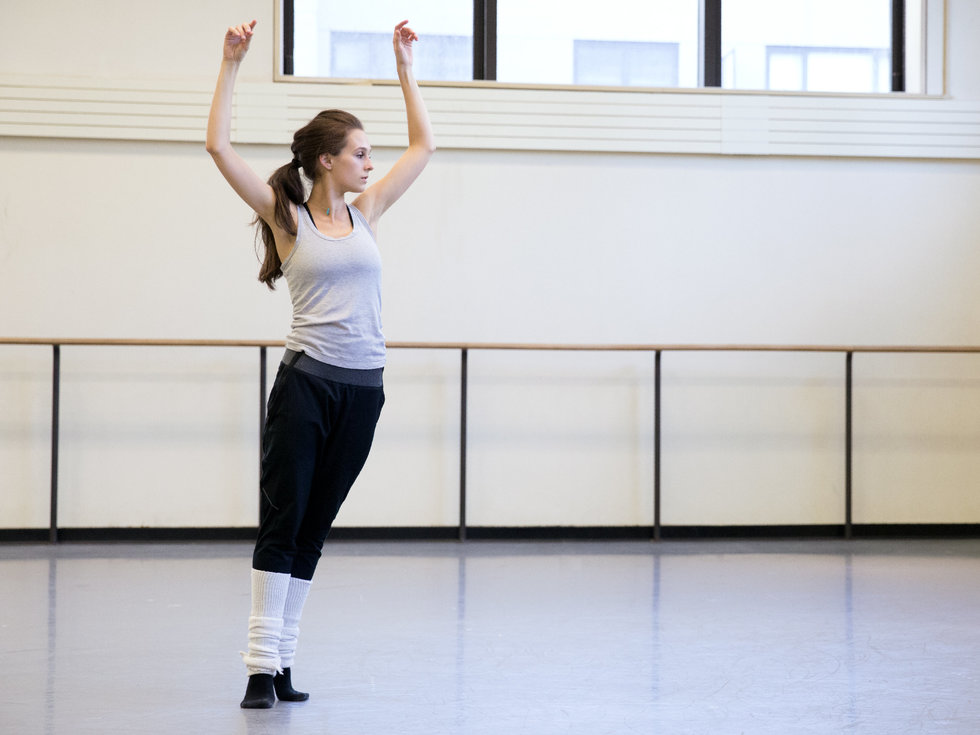 Lauren Lovette, choreographing here in the NYCB studios, created a ballet on ABT Studio Company last year. Photo by Erin Baiano, courtesy NYCB.
The launch will be celebrated this October during ABT's Fall Gala. That program will be devoted entirely to work by women: a premiere by Michelle Dorrance, Lauren Lovette's Le Jeune for the ABT Studio Company and Twyla Tharp's iconic In The Upper Room, which has been in ABT's rep since 1988.
The fall season will also include a premiere by Jessica Lang, her third for ABT. And both Claudia Schreier and Stefanie Batten Bland will create new works for the Studio Company's 2018-2019 season.
"The ABT Women's Movement takes inspiration from the groundbreaking female choreographers who have left a lasting impact on ABT's legacy, including Agnes de Mille and Twyla Tharp," McKenzie said in a press release.
This project builds on an earlier one that started in 2016 as the Women Choreographers Initiative, which supported works by Lang, and funded Lovette's Le Jeune as well as a Studio Company piece by Dana Genshaft, plus a main company residency last November with modern choreographer Pam Tanowitz.
No details were given about how many years this will run. But we're hoping it will last for as long as it takes until initiatives like these don't need to be a thing.

From Your Site Articles
Related Articles Around the Web
A Ladies of Hip-Hop battle. Photo by Loreto Jamlig, Courtesy Ladies of Hip-Hop
Michele Byrd-McPhee's uncle was a DJ for the local black radio station in Philadelphia, where she was born. As a kid she was always dancing to the latest music, including a new form of powerful poetry laid over pulsing beats that was the beginning of what we now call hip hop.
Byrd-McPhee became enamored of the form and went on to a career as a hip-hop dancer and choreographer, eventually founding the Ladies of Hip-Hop Festival and directing the New York City chapter of Everybody Dance Now!. Over the decades, she has experienced hip hop's growth from its roots in the black community into a global phenomenon—a trajectory she views with both pride and caution.
On one hand, the popularity of hip hop has "made a global impact," says Byrd-McPhee. "It's provided a voice for so many people around the world." The downside is "it's used globally in ways that the people who made the culture don't benefit from it."
Keep reading...
Show less
The USC Kaufman graduating class with Mikhail Baryshnikov. Gus Ruelas/USC
Just four years ago, the University of Southern California's Glorya Kaufman School of Dance welcomed its first class of BFA students. The program—which boasts world-class faculty and a revolutionary approach to training focused on collaboration and hybridity—immediately established itself as one of the country's most prestigious and most innovative.
Now, the first graduating class is entering the dance field. Here, six of the 33 graduates share what they're doing post-grad, what made their experience at USC Kaufman so meaningful and how it prepared them for their next steps:
Keep reading...
Show less
Rena Most at work backstage. Photo courtesy ABT
Every dancer knows there's as much magic taking place backstage as there is in what the audience sees onstage. Behind the scenes, it takes a village, says American Ballet Theatre's wig and makeup supervisor, Rena Most. With wig and makeup preparations happening in a studio of their own as the dancers rehearse, Most and her team work to make sure not a single detail is lost.
Dance Magazine recently spoke to Most to find out what actually goes into the hair and makeup looks audiences see on the ABT stage.
Keep reading...
Show less