News
Jul. 05, 2019 12:13PM EST
ABT Announces Its 2019 Company Promotions
Aran Bell in Swan Lake. Photo by Gene Schiavone, Courtesy ABT.
Like most years, American Ballet Theatre closes its spring Met season this weekend with a sweet surprise: company promotions. Artistic director Kevin McKenzie just announced that two members of the corps de ballet—Aran Bell and Joo Won Ahn—are being promoted to soloist, effective September 1.
---
Ever since we saw a young Aran Bell in the 2011 film First Position, we've known he was destined for something big. The Maryland-born dancer joined ABT's Studio Company in 2014, became an apprentice in 2016 and a member of the corps in 2017. This season alone he made two major princely debuts: Prince Désiré in The Sleeping Beauty and Siegfried in Swan Lake. And last year marked his first turn as Romeo. His repertoire also includes Lankendem in Le Corsaire, St. John in Cathy Marston's Jane Eyre and roles in Twyla Tharp's Deuce Coupe and In The Upper Room, Alexei Ratmansky's Songs of Bukovina and The Seasons, and much more.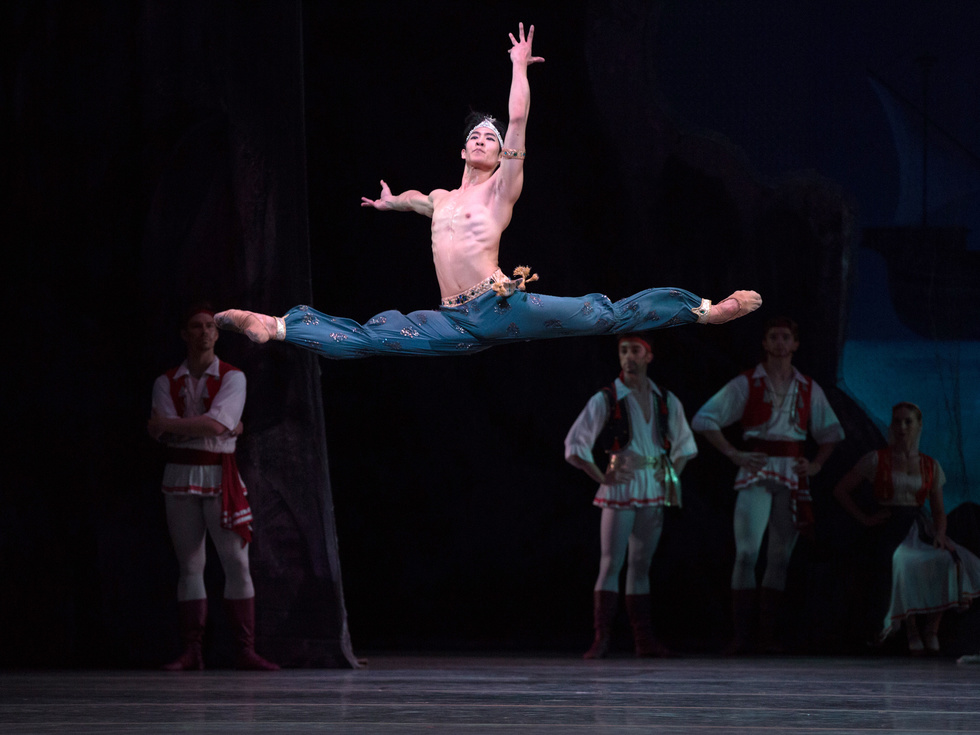 Joo Won Ahn in Le Corsaire. Photo by Rosalie O'Connor, Courtesy ABT
Originally from Korea, Ahn joined the ABT Studio Company in 2013 after winning a gold medal at Youth America Grand Prix, and he was quickly shepherded through an apprenticeship and into the corps in 2014. He's already built up a pretty thorough classical repertoire including Solor in La Bayadère, Ali and Lankendem in Le Corsaire and Bluebird in The Sleeping Beauty. He's also had the chance to hone his contemporary skills in Wayne McGregor's AFTERITE, Tharp's In the Upper Room and a handful of works by Ratmansky.
ABT apprentices Jacob Clerico, Jarod Curley, Michael de la Nuez, Léa Fleytoux, Abbey Marrison and Ingrid Thoms have all been promoted to the corps. And Studio Company dancers Leah Baylin, Kanon Kimura, Melvin Lawovi, Joseph Markey, Duncan McIlwaine and Chloe Misseldine will become apprentices.
Congratulations to all!
From Your Site Articles
Related Articles Around the Web
Alice Sheppard/Kinetic Light in DESCENT, which our readers chose as last year's "Most Moving Performance." Photo by Jay Newman, courtesy Kinetic Light
Yes, we realize it's only August. But we can't help but to already be musing about all the incredible dance happenings of 2019.
We're getting ready for our annual Readers' Choice feature, and we want to hear from you about the shows you can't stop thinking about, the dance videos that blew your mind and the artists you discovered this year who everyone should know about.
Keep reading...
Show less
The USC Kaufman graduating class with Mikhail Baryshnikov. Gus Ruelas/USC
Just four years ago, the University of Southern California's Glorya Kaufman School of Dance welcomed its first class of BFA students. The program—which boasts world-class faculty and a revolutionary approach to training focused on collaboration and hybridity—immediately established itself as one of the country's most prestigious and most innovative.
Now, the first graduating class is entering the dance field. Here, six of the 33 graduates share what they're doing post-grad, what made their experience at USC Kaufman so meaningful and how it prepared them for their next steps:
Keep reading...
Show less
Courtesy Chiara Valle
Chiara Valle is just one of many dancers heading back to the studio this fall as companies ramp up for the season. But her journey back has been far more difficult than most.
Valle has been a trainee at The Washington Ballet since 2016, starting at the same time as artistic director Julie Kent. But only a few months into her first season there, she started experiencing excruciating pain high up in her femur. "It felt like someone was stabbing me 24/7," she says. Sometimes at night, the pain got so bad that her roommates would bring her dinner to the bathtub.
Keep reading...
Show less
A Ladies of Hip-Hop battle. Photo by Loreto Jamlig, Courtesy Ladies of Hip-Hop
Michele Byrd-McPhee's uncle was a DJ for the local black radio station in Philadelphia, where she was born. As a kid she was always dancing to the latest music, including a new form of powerful poetry laid over pulsing beats that was the beginning of what we now call hip hop.
Byrd-McPhee became enamored of the form and went on to a career as a hip-hop dancer and choreographer, eventually founding the Ladies of Hip-Hop Festival and directing the New York City chapter of Everybody Dance Now!. Over the decades, she has experienced hip hop's growth from its roots in the black community into a global phenomenon—a trajectory she views with both pride and caution.
On one hand, the popularity of hip hop has "made a global impact," says Byrd-McPhee. "It's provided a voice for so many people around the world." The downside is "it's used globally in ways that the people who made the culture don't benefit from it."
Keep reading...
Show less