News
May. 25, 2018 12:38PM EST
Ailey Dancers Put On The Most Joyous Labor Rally Yesterday
Ailey dancers and stagehands rallied together yesterday. Photo by Jen Peters
"The sun may be shining brightly, but we are not in a very sunny mood today!" said New York State assemblywoman Linda Rosenthal during yesterday's rally for the Artists of Ailey.
The dancers and stage crew are demanding increased wages and more comprehensive benefits, what they have termed "reaching for the standard" and "fair wages."
---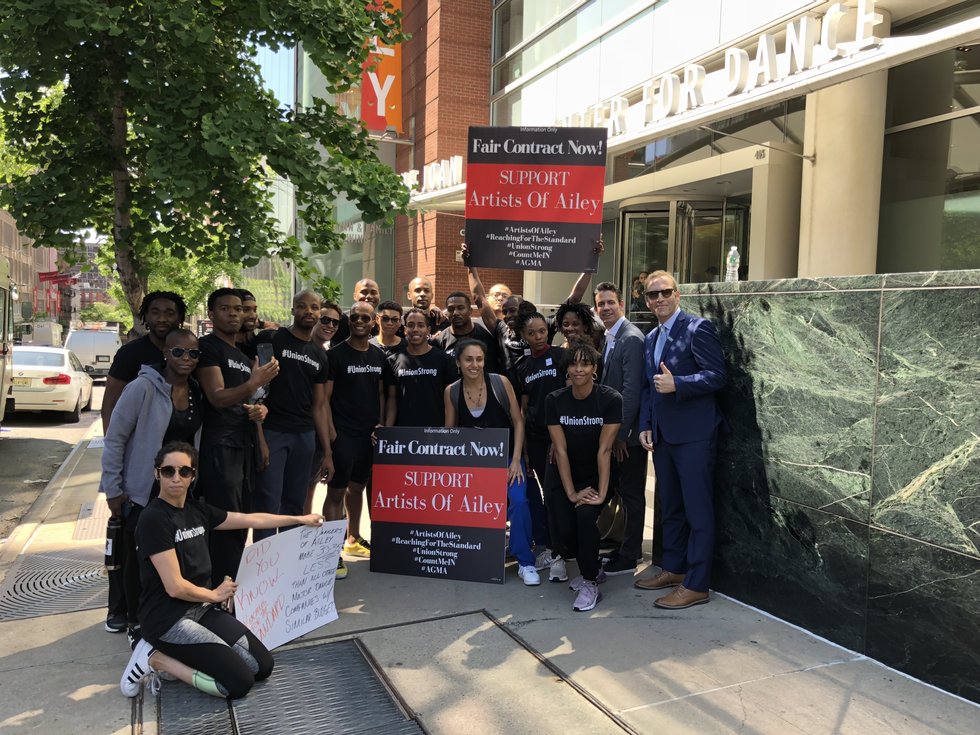 The Alvin Ailey American Dance Theater contracts are set to expire next week on May 31, so negotiations are down to the wire; meanwhile the company is preparing for performances at Lincoln Center June 13 to 17.
Despite the unrest, anything involving this group is undeniably spirited and lively. The 32 company members broke into call and response chants, dancing while passing out fliers and pins on the corner of 55th Street and 9th Avenue, in front the steps of their home—the Joan Weill Center for Dance.
The dancers have refrained from making public statements over the past five months, but yesterday 10-year veteran Akua Noni Parker spoke on their behalf with positivity and clarity.
The gathering's purpose was to increase visibility, and as AGMA national executive director Len Egert stated, to ask supporters to call Ailey's executive director Bennett Rink to encourage fair contracts for these beloved artists.
AGMA union representatives began contract negotiations last December, working to replace the dancers' and stage managers' three-year contracts. Soon after, the dancers boycotted the Kennedy Center post-performance gala event, and their new Instagram account—Artists of Ailey—began posting and gaining support. The account shares heartfelt insights from individual artists, as well as facts that substantiate their unified claim. The statistics are certainly compelling:

The five highest earning workers in the Ailey organization make more than all 34 dancers and stage managers combined.
AAADT is the fourth largest American dance company based on budget, but the dancers make 30-35% less than their colleagues in other companies.
AAADT performs 175-200 times per year, more than any other major dance company in the United States.
The company has one-third to half as many dancers of the other major companies (including New York City Ballet, American Ballet Theatre and San Francisco Ballet).

The dancers are unafraid to speak their minds. Photo by Jen Peters
The Ailey organization issued the following statement to Dance Magazine, in response to the rally:
"For sixty years, the mission of the Alvin Ailey Dance Foundation has been to further the pioneering vision of Mr. Ailey, who sought to promote community and the richness of African-American culture with dance, training and educational programs for all people.

As a not-for-profit, the Ailey organization has a duty to ensure the long-term viability of the entire institution. Throughout the negotiations process, we have been committed to compromise and as we proceed in our conversations with AGMA, we hope the union takes its responsibility to negotiate in good faith as seriously as we do.

In our ongoing negotiations with AGMA, we remain committed to reaching an agreement that is both fair and sustainable. Ailey dancers are among the best in modern dance. While they already have the best salaries and benefits of any modern dance company, we're committed to doing even more. We have been making unprecedented enhancements to our proposals on the union's highest priorities, the most recent of which was on Tuesday night.

Ailey dancers and stage managers are vital parts of this multi-faceted organization. We look forward to reaching an agreement with their union and continuing to enhance Alvin Ailey's cherished legacy."
Many of the dancers of 10000 Gestures weren't wearing much clothing when they started climbing on audience members. Photo by Ursula Kaufmann via nyuskirball.org
Some of my favorite experiences as both an audience member and a dancer have involved audience participation. Artists who cleverly use participatory moments can make bold statements about the boundaries between performer and spectator, onstage and off. And the challenge to be more than a passive viewer can redefine an audience's relationship to what they're watching. But all the experiences I've loved have had something in common: They've given audiences a choice.
A few weeks back, I had a starkly different experience—one that has caused me to think deeply about how consent should play into audience-performer relationships.
Keep reading...
Show less
This high school dance team's Harry Potter routine has gone viral. Screenshot via ThePac Walden Grove's YouTube channel.
What happens when you mix two really good things together? Sometimes, it can be magical. It's practically guaranteed when one of those elements is the wizarding world of Harry Potter, and the other is—wait for it—dance-team–style hip hop.
Keep reading...
Show less
News
Oct. 12, 2018 11:04AM EST
Adam McKinney's HaMapah/The Map. Photo by Lafotographeuse, Courtesy McKinney
When the Bible spoke of the "ingathering of the exiles," it didn't have dance in mind. Yet, this month, more than 100 dancers, choreographers and scholars from around the world will gather at Arizona State University to celebrate the impact of Jews and the Jewish experience on dance. From hora to hip hop, social justice to somatics, ballet to Gaga, the three-day event (Oct. 13–15) is "deliberately inclusive," says conference organizer and ASU professor Naomi Jackson.
Keep reading...
Show less


Get Dance Magazine in your inbox