News
May. 25, 2018 12:38PM EST
Ailey Dancers Put On The Most Joyous Labor Rally Yesterday
Ailey dancers and stagehands rallied together yesterday. Photo by Jen Peters
"The sun may be shining brightly, but we are not in a very sunny mood today!" said New York State assemblywoman Linda Rosenthal during yesterday's rally for the Artists of Ailey.
The dancers and stage crew are demanding increased wages and more comprehensive benefits, what they have termed "reaching for the standard" and "fair wages."
---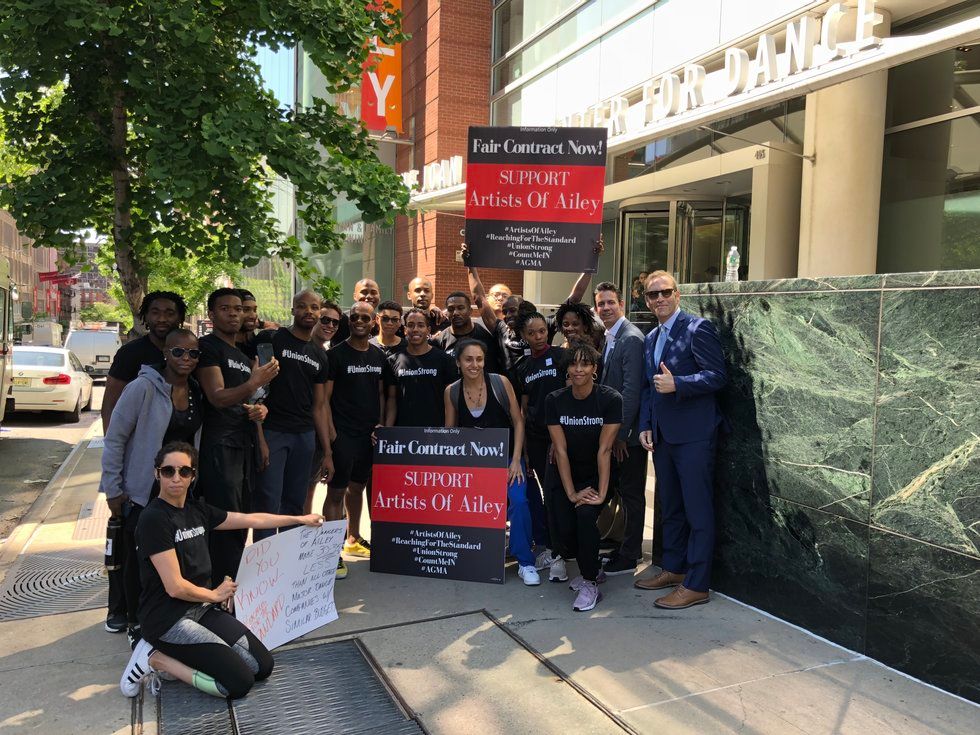 The Alvin Ailey American Dance Theater contracts are set to expire next week on May 31, so negotiations are down to the wire; meanwhile the company is preparing for performances at Lincoln Center June 13 to 17.
Despite the unrest, anything involving this group is undeniably spirited and lively. The 32 company members broke into call and response chants, dancing while passing out fliers and pins on the corner of 55th Street and 9th Avenue, in front the steps of their home—the Joan Weill Center for Dance.
The dancers have refrained from making public statements over the past five months, but yesterday 10-year veteran Akua Noni Parker spoke on their behalf with positivity and clarity.
The gathering's purpose was to increase visibility, and as AGMA national executive director Len Egert stated, to ask supporters to call Ailey's executive director Bennett Rink to encourage fair contracts for these beloved artists.
AGMA union representatives began contract negotiations last December, working to replace the dancers' and stage managers' three-year contracts. Soon after, the dancers boycotted the Kennedy Center post-performance gala event, and their new Instagram account—Artists of Ailey—began posting and gaining support. The account shares heartfelt insights from individual artists, as well as facts that substantiate their unified claim. The statistics are certainly compelling:

The five highest earning workers in the Ailey organization make more than all 34 dancers and stage managers combined.
AAADT is the fourth largest American dance company based on budget, but the dancers make 30-35% less than their colleagues in other companies.
AAADT performs 175-200 times per year, more than any other major dance company in the United States.
The company has one-third to half as many dancers of the other major companies (including New York City Ballet, American Ballet Theatre and San Francisco Ballet).

The dancers are unafraid to speak their minds. Photo by Jen Peters
The Ailey organization issued the following statement to Dance Magazine, in response to the rally:
"For sixty years, the mission of the Alvin Ailey Dance Foundation has been to further the pioneering vision of Mr. Ailey, who sought to promote community and the richness of African-American culture with dance, training and educational programs for all people.

As a not-for-profit, the Ailey organization has a duty to ensure the long-term viability of the entire institution. Throughout the negotiations process, we have been committed to compromise and as we proceed in our conversations with AGMA, we hope the union takes its responsibility to negotiate in good faith as seriously as we do.

In our ongoing negotiations with AGMA, we remain committed to reaching an agreement that is both fair and sustainable. Ailey dancers are among the best in modern dance. While they already have the best salaries and benefits of any modern dance company, we're committed to doing even more. We have been making unprecedented enhancements to our proposals on the union's highest priorities, the most recent of which was on Tuesday night.

Ailey dancers and stage managers are vital parts of this multi-faceted organization. We look forward to reaching an agreement with their union and continuing to enhance Alvin Ailey's cherished legacy."
From Your Site Articles
Related Articles Around the Web
News
Oct. 17, 2019 02:02PM EST
Rauf "RubberlLegz" Yasit and Parvaneh Scharafali. Photo by Mohamed Sadek, courtesy The Shed
William Forsythe is bringing his multi-faceted genius to New York City in stripped down form. His "Quiet Evening of Dance," a mix of new and recycled work now at The Shed until October 25, is co-commissioned with Sadler's Wells in London (and a slew of European presenters).
As always, Forsythe's choreography is a layered experience, both kinetic and intellectual. This North American premiere prompted many thoughts, which I whittled down to seven.
Keep reading...
Show less
News
Oct. 17, 2019 01:39PM EST
Courtesy NBC
"Law & Order: SVU" has dominated the crime show genre for 21 seasons with its famous "ripped from the headlines" strategy of taking plot inspiration from real-life crimes.
So viewers would be forgiven for assuming that the new storyline following the son of Mariska Hargitay's character into dance class originated in the news cycle. After all, the mainstream media widely covered the reaction to Lara Spencer's faux pas on "Good Morning America" in August, when she made fun of Prince George for taking ballet class.
But it turns out, the storyline was actually the idea of the 9-year-old actor, Ryan Buggle, who plays Hargitay's son. And he came up with it before Spencer ever giggled at the word ballet.
Keep reading...
Show less
Chantelle Pianetta competing at a West Coast swing event. Courtesy Pianetta.
Just hearing the word "improvisation" is enough to make some ballet dancers shake in their pointe shoes. But for Chantelle Pianetta, it's a practice she relishes. Depending on the weekend, you might find her gracing Bay Area stages as a principal with Menlowe Ballet or sweeping in awards at West Coast swing competitions.

She specializes in Jack and Jill events, which involve improvised swing dancing with an unexpected partner in front of a panel of judges. (Check her out in action below.) While sustaining her ballet career, over the past four years Pianetta has quickly risen from novice to champion level on the WCS international competition circuit.
Keep reading...
Show less