The COVID-19 pandemic claimed another ballet casualty on July 24, when Sacramento Ballet announced it was cancelling its 2020-21 season and laying off artistic director Amy Seiwert after just two years. In a statement, the company cited "public health concerns and the widespread economic impact" of the virus, including the loss of ticket sales from Seiwert's Nutcracker, which premiered in 2018.
The in-demand Seiwert already has plans: refocusing her San Francisco–based company, Imagery, new freelance commissions and possibly reconnecting with Smuin Contemporary Ballet, where she was choreographer in residence from 2008 to 2018. "I'm excited to dive back into creation," she says.
---
First up is producing SKETCH, Imagery's summer commissioning program designed to challenge ballet conventions. COVID-19 scuttled what would have been SKETCH's 10th anniversary performances, slated for late July at ODC Theater, so Seiwert has pivoted to an online film format. Titled SKETCH FILMS: Red Thread, the program will produce four new dance films that will premiere from September through December. "We're at a moment where we can't just cling to what we want to have happen," Seiwert says. "The option is to do nothing or figure out something new. We're using that as a strength."
Seiwert has explored the genre's creative possibilities since making her first dance film, Veronica and Vincent, in 2013, and prestigious festivals like the San Francisco Dance Film Festival, the San Francisco International Film Festival and Amsterdam's Cinedans have screened her work. She'll create one of the SKETCH commissions, and the rest will be helmed by other SKETCH alumni: choreographers Stephanie Martinez in Chicago, Jennifer Archibald in New York and Imagery artistic fellow Ben Needham-Wood in San Francisco. Dancers include Joseph Hernandez, Kelsey McFalls, Wes Krukow and James Gilmer, now a member of Alvin Ailey American Dance Theater. Each choreographer will collaborate with an experienced filmmaker in their city.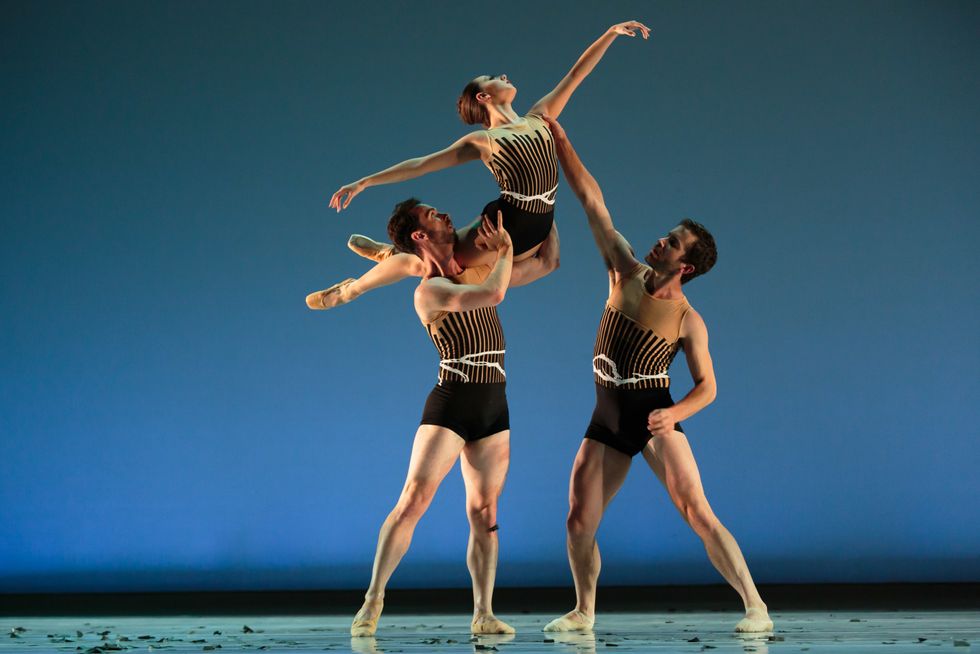 Shania Rasmussen, Ben Needham-Wood and Gabriel Gaffney Smith in Seiwert's Wandering
Chris Hardy, Courtesy Amy Seiwert's Imagery
"Whenever you can see your art form through a collaborator's eye, you learn a lot," says Seiwert, who will work with Academy Award–nominated husband-and-wife filmmakers Kristine Samuelson and John Haptas. "John is a master editor," she says. "In editing, you can dig into what exact musicality you want to have happen, how a kinetic line follows the cut into the next kinetic line."
As much as she longs to return to live performance, Seiwert is using SKETCH to reframe the current moment as one of opportunity. "I can't give you dance as it was, but I can give you something else," she says. "There's no easy way through this, but the art will be there on the other side."