How Being The Met's Artist in Residence Has "Completely Changed" Andrea Miller's Approach
Jim Lafferty
More than 2,000 years ago, the Temple of Dendur sat on the west bank of the Nile River in Egypt. Today it overlooks Central Park from a large, sunlit hall at the Metropolitan Museum of Art.
"It always hits me when I see the temple, what an incredible transition it's been through," says choreographer Andrea Miller, the museum's current artist in residence, a week before the premiere of her new work inspired by the ancient structure. "That lifecycle is something I can't avoid."
---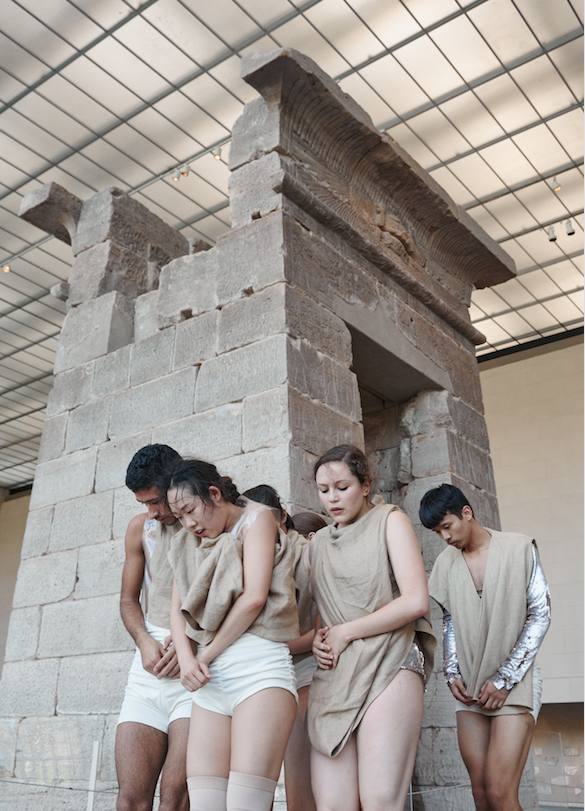 Jim Lafferty
Standing behind a reflecting pool, she observes her 16 dancers—10 from her company, Gallim Dance, plus 6 students from Juilliard—swarming the large stone plaza in front of the temple during a run-through of the piece, Stone Skipping. Dramatic tableaux echoing the temple's engravings are juxtaposed with intricate solos and duets that highlight the grandeur of the site.
"This piece is very much trying to be in conversation with the temple and the space," Miller says.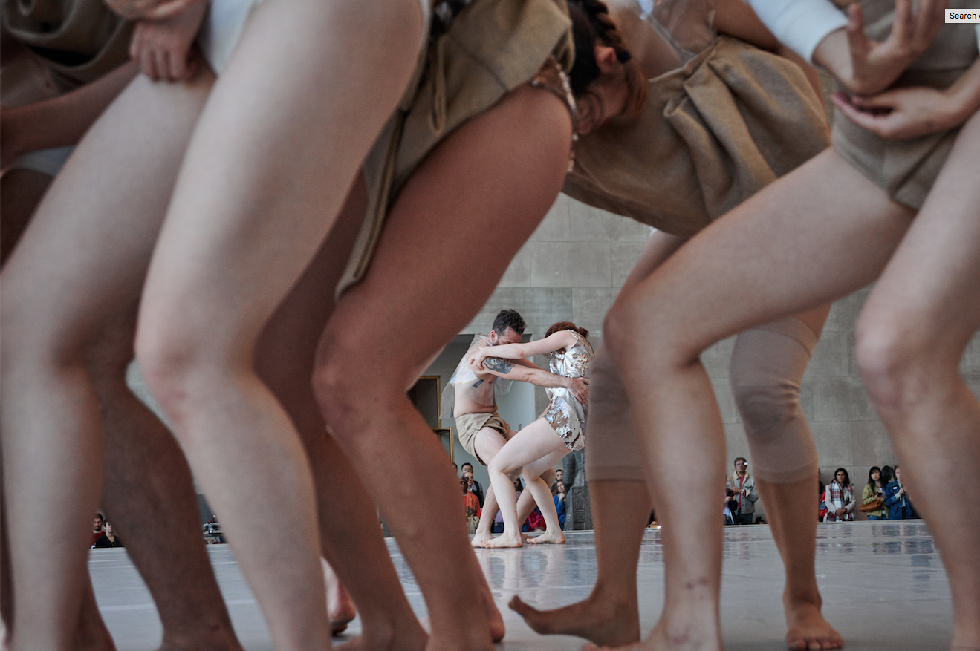 Jim Lafferty
Being in conversation with one of the world's great artifacts is one of the privileges of being an artist in residence at the Met. Miller is the fifth performing artist invited to create at the iconic museum as an artist in residence, and the first choreographer to do so with that title.
"I'm always looking for artists that have something very deep to say," says Limor Tomer, the general manager of MetLiveArts, who oversees the program. "Andrea is someone who brings a lot of depth and at the same time flexibility."
Jim Lafferty
Tomer first invited Miller to create a 15-minute work at the temple in the fall of 2016. Afterward, she asked Miller: If you could do anything at the museum, what would you do? Miller said she wanted to further develop the temple work and then make a work that wouldn't respond to any other art but simply be a piece of art itself. Last spring, Miller was named artist in residence.
"One of my not-so-secret agendas is to change her process, to change her," Tomer says of the program's goals. In particular, "I thought the opportunity to break out of a traditional space would be an interesting challenge to her."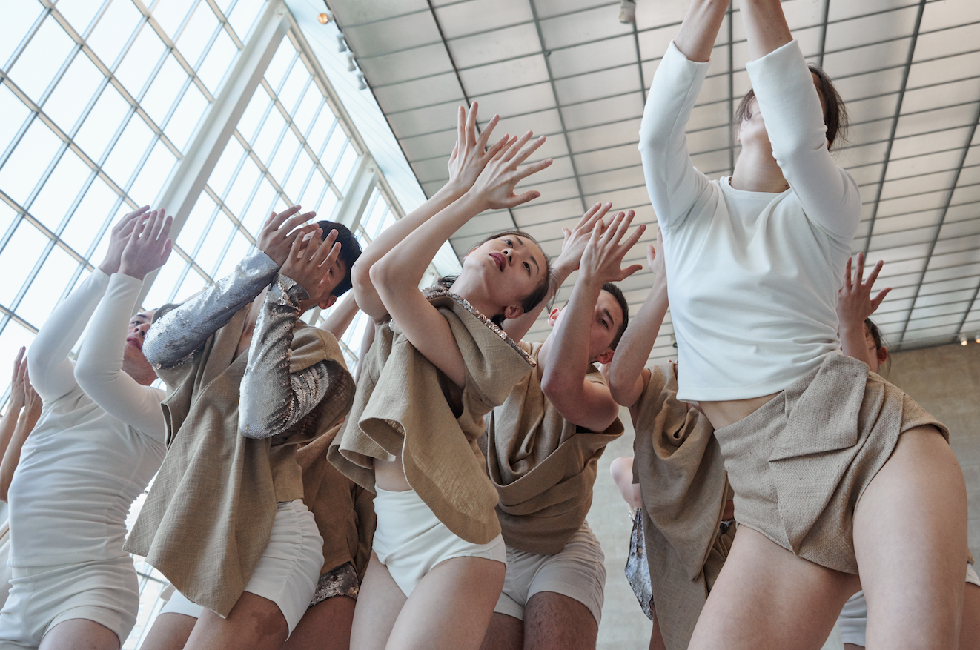 Jim Lafferty
But a big part of the challenge is reconfiguring Miller's reference points, daring her, in a sense, to grapple with history and the highest levels of visual art. Or, as Tomer puts it, one objective was to "see the Met as a place of inspiration…a repository and source of ideas rather than a repository of a bunch of objects." In return, Miller takes what can feel like a static place and fills it with energy and a sense of momentum, helping visitors experience it in new ways.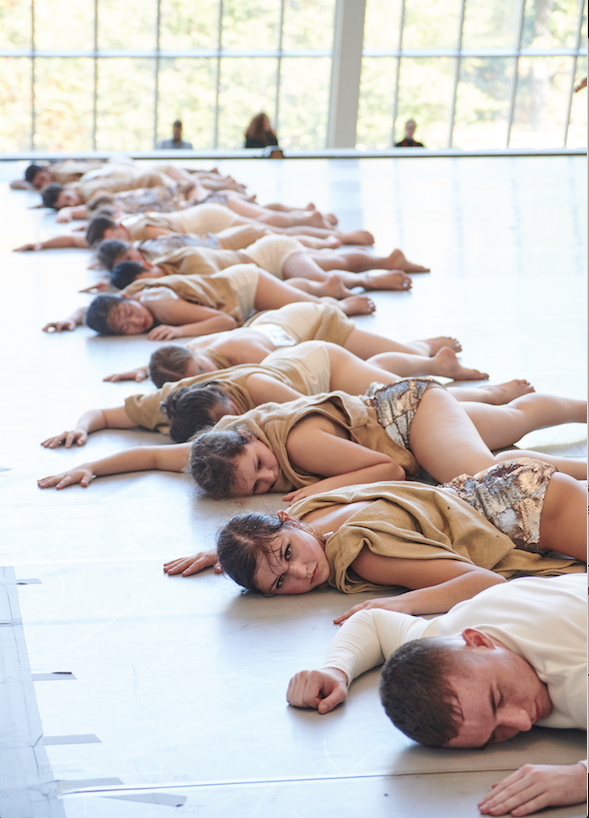 Jim Lafferty
Over the summer, Miller began shaping Stone Skipping, but when she brought in much of the material she had created in the studio, "it made no sense." She realized that she needed regular access to the temple, so she asked to rehearse on site, which the Met granted once a week during museum hours.
Suddenly, she had an audience, which helped her understand how movement can offer visitors a new layer of meaning to something as imposing as the temple. "I see their physicality change and the amount of time they spend in the space," she says.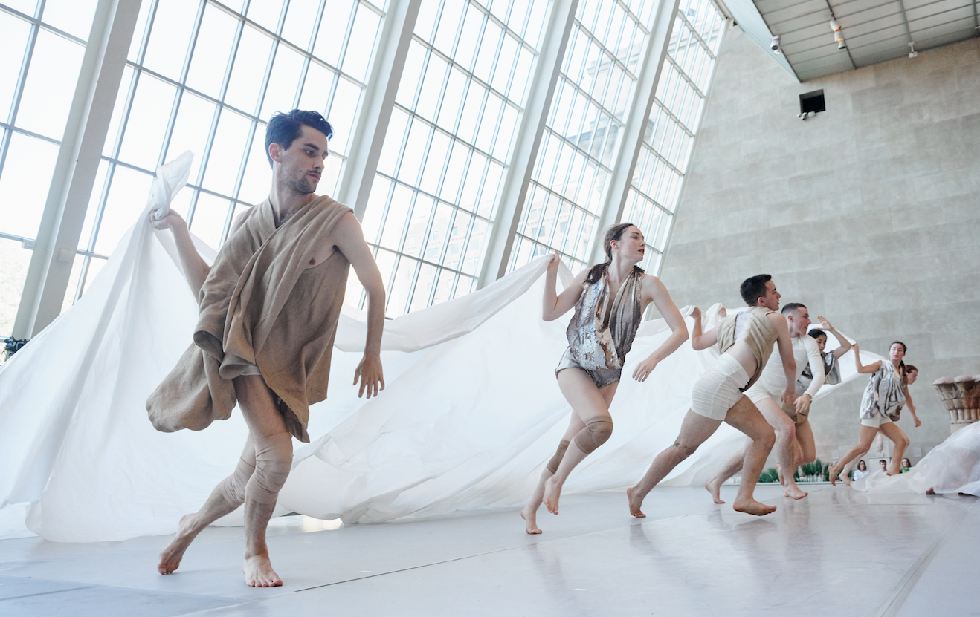 Jim Lafferty
The next piece that Miller is creating during her residency addresses the second part of her proposal: to make a work that stands alone, without playing off an existing sculpture, painting or artifact. That work, for eight dancers, is slated to premiere at the end of May and occupy the entire fifth floor of the Met Breuer, the museum's nearby contemporary outpost.
In keeping with Tomer's mission, though, Miller is taking inspiration from an upcoming exhibit called "Like Life: Sculpture, Color, and the Body (1300–Now)." Miller's work will similarly engage with the passage of time, performed without pause throughout museum hours.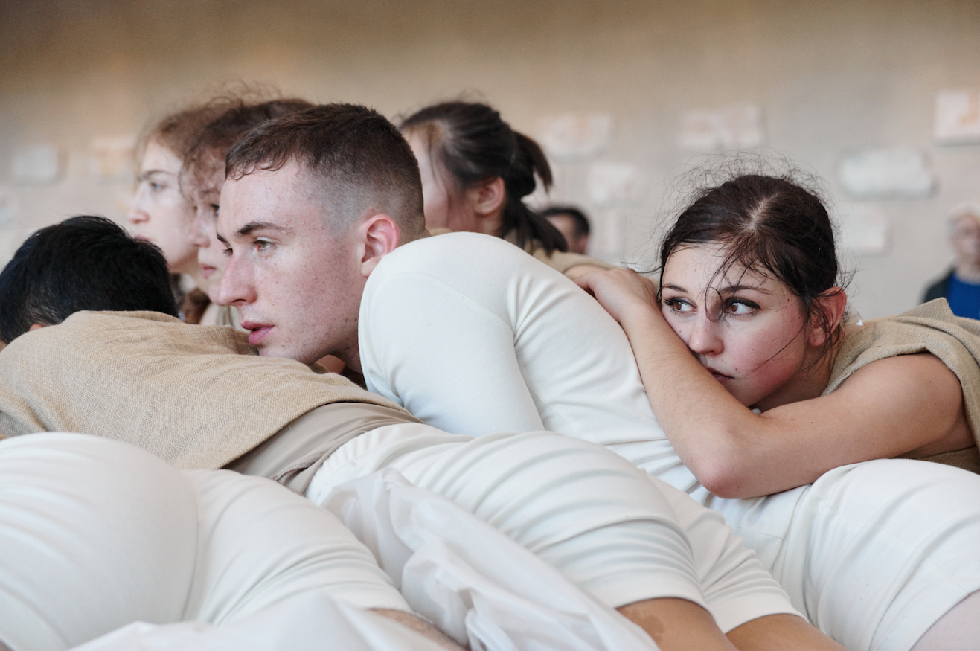 Jim Lafferty
"It's going to be grueling," she says. The durational aspect is a nod to one of Miller's heroes, the famed performance artist Marina Abramovíc. "I recognize myself in her approach and her humanity as a woman," Miller says, praising Abramovíc's urgency and risk.
Miller's opportunity to explore that aspect of her own creativity seems to be having precisely the effect Tomer intended. Miller says she feels the residency is "completely changing my approach as an artist," from her definition of performance to the way she considers sites and collaborators.
"I can't be more specific, but I know it's happening. I just need a little more hindsight."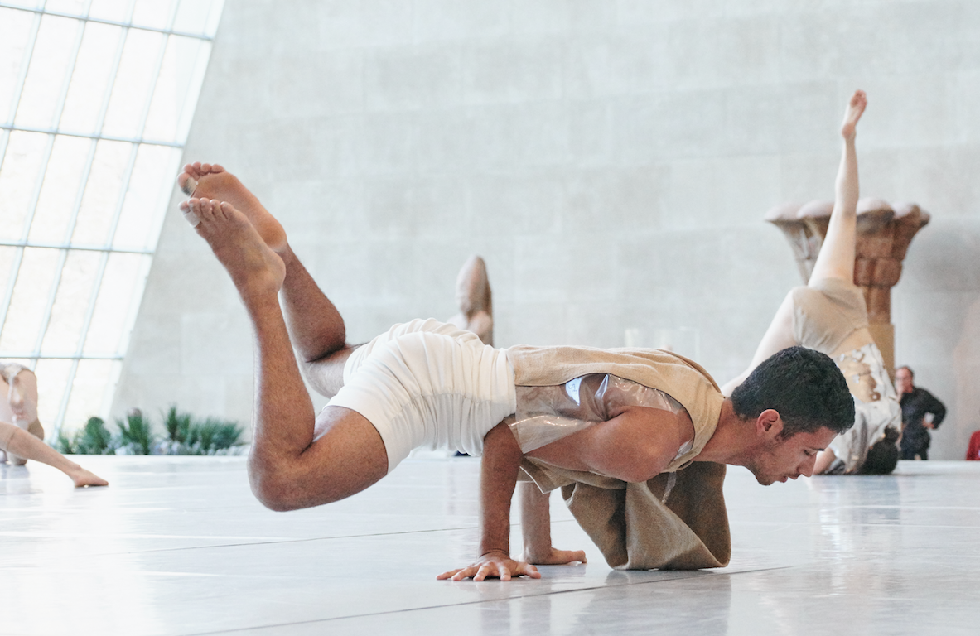 Jim Lafferty
From Your Site Articles
Related Articles Around the Web
Peter Smith, courtesy of University Musical Society
What happens during a performance is the product of the painstaking process of realizing an artistic vision. Whether held beforehand, afterward, offsite or online, audience discussions tend not to be so preordained, easily thrown off track without a skilled moderator at the helm.
"I'm someone who dreaded talkbacks and Q&As," admits Bill Bragin, former director of public programming at Lincoln Center. "While I was in New York, a lot of the time it was just audience members trying to show off how smart they were."
These events present a pile of difficult questions: How much do you reveal about a piece before it's shown? How can a conversation designed to hit key points feel casual and spontaneous? How do you cater to the needs of diverse attendees, from novice dancegoers to lifelong fans to scholars and critics? And how do you avoid smothering dance with language, flattening all its complexity?
Keep reading...
Show less
UA Dance Ensemble members Candice Barth and Gregory Taylor in Jessica Lang's "Among the Stars." Photo by Ed Flores, courtesy University of Arizona
If you think becoming a trainee or apprentice is the only path to gaining experience in a dance company environment, think again.
The University of Arizona, located in the heart of Tucson, acclimates dancers to the pace and rigor of company life while offering all the academic opportunities of a globally-ranked university. If you're looking to get a head-start on your professional dance career—or to just have a college experience that balances company-level training and repertory with rigorous academics—the University of Arizona's undergraduate and graduate programs have myriad opportunites to offer:
Keep reading...
Show less
Alice Sheppard/Kinetic Light in DESCENT, which our readers chose as last year's "Most Moving Performance." Photo by Jay Newman, courtesy Kinetic Light
Yes, we realize it's only August. But we can't help but to already be musing about all the incredible dance happenings of 2019.
We're getting ready for our annual Readers' Choice feature, and we want to hear from you about the shows you can't stop thinking about, the dance videos that blew your mind and the artists you discovered this year who everyone should know about.
Keep reading...
Show less
Silas Farley in his Songs from the Spirit at the Metropolitan Museum of Art. Rosalie O'Connor, Courtesy Farley
I dance to encourage others. The longer I dance, the more I see that much of my real work is to speak life-giving words to my fellow artists. This is a multidimensionally grueling profession. I count it a privilege to remind my colleagues of how they are bringing beauty into the world through their craft. I recently noticed significant artistic growth in a fellow dancer, and when I verbalized what I saw, he beamed. The impact of positive feedback is deeper than we realize.
Keep reading...
Show less