How Being The Met's Artist in Residence Has "Completely Changed" Andrea Miller's Approach
Jim Lafferty
More than 2,000 years ago, the Temple of Dendur sat on the west bank of the Nile River in Egypt. Today it overlooks Central Park from a large, sunlit hall at the Metropolitan Museum of Art.
"It always hits me when I see the temple, what an incredible transition it's been through," says choreographer Andrea Miller, the museum's current artist in residence, a week before the premiere of her new work inspired by the ancient structure. "That lifecycle is something I can't avoid."
---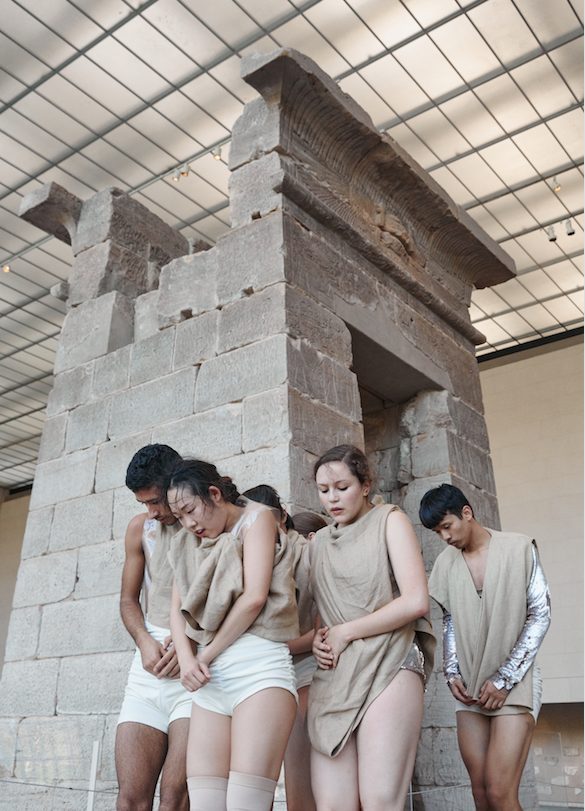 Jim Lafferty
Standing behind a reflecting pool, she observes her 16 dancers—10 from her company, Gallim Dance, plus 6 students from Juilliard—swarming the large stone plaza in front of the temple during a run-through of the piece, Stone Skipping. Dramatic tableaux echoing the temple's engravings are juxtaposed with intricate solos and duets that highlight the grandeur of the site.
"This piece is very much trying to be in conversation with the temple and the space," Miller says.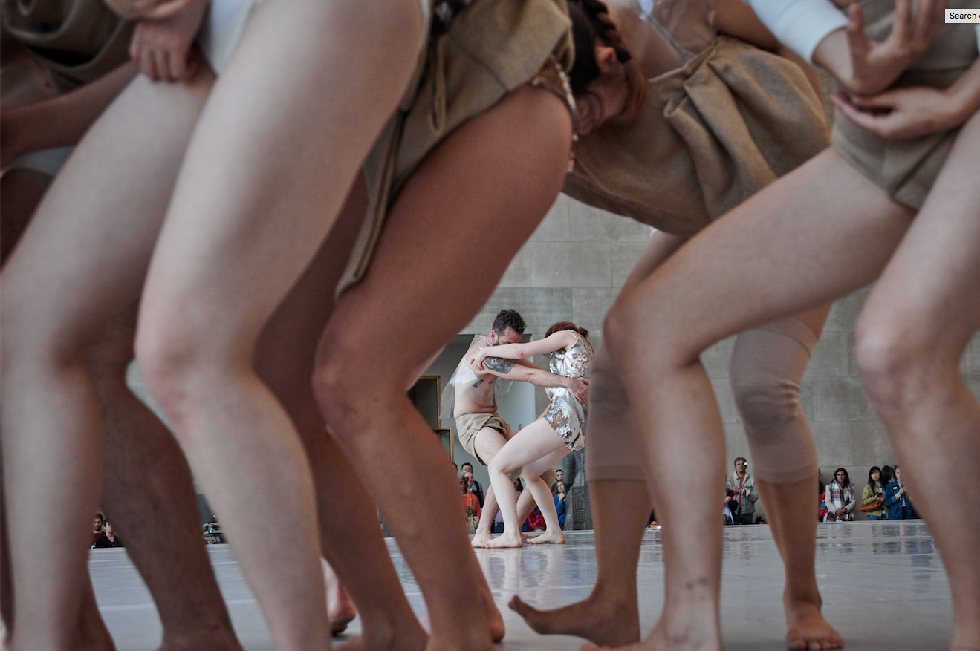 Jim Lafferty
Being in conversation with one of the world's great artifacts is one of the privileges of being an artist in residence at the Met. Miller is the fifth performing artist invited to create at the iconic museum as an artist in residence, and the first choreographer to do so with that title.
"I'm always looking for artists that have something very deep to say," says Limor Tomer, the general manager of MetLiveArts, who oversees the program. "Andrea is someone who brings a lot of depth and at the same time flexibility."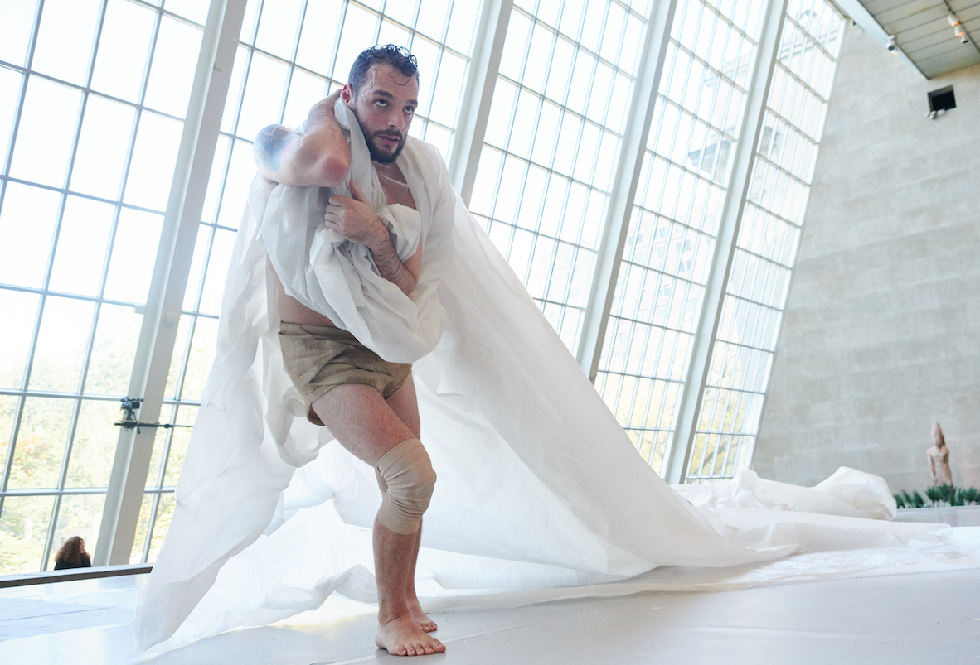 Jim Lafferty
Tomer first invited Miller to create a 15-minute work at the temple in the fall of 2016. Afterward, she asked Miller: If you could do anything at the museum, what would you do? Miller said she wanted to further develop the temple work and then make a work that wouldn't respond to any other art but simply be a piece of art itself. Last spring, Miller was named artist in residence.
"One of my not-so-secret agendas is to change her process, to change her," Tomer says of the program's goals. In particular, "I thought the opportunity to break out of a traditional space would be an interesting challenge to her."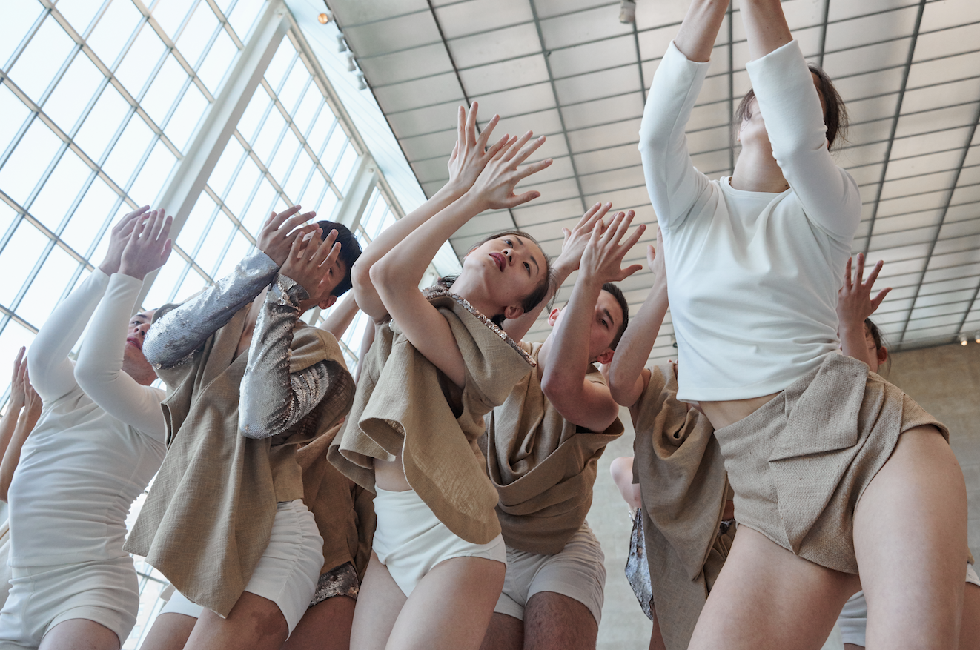 Jim Lafferty
But a big part of the challenge is reconfiguring Miller's reference points, daring her, in a sense, to grapple with history and the highest levels of visual art. Or, as Tomer puts it, one objective was to "see the Met as a place of inspiration…a repository and source of ideas rather than a repository of a bunch of objects." In return, Miller takes what can feel like a static place and fills it with energy and a sense of momentum, helping visitors experience it in new ways.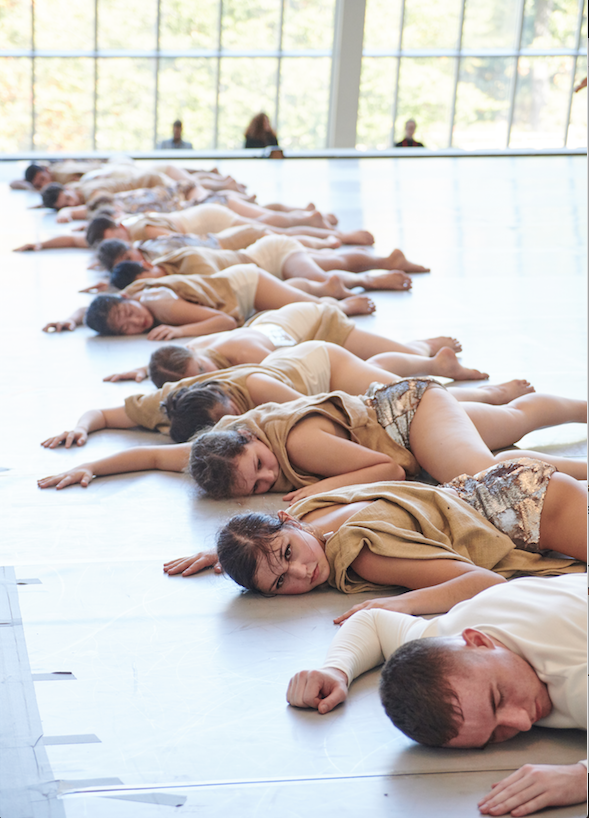 Jim Lafferty
Over the summer, Miller began shaping Stone Skipping, but when she brought in much of the material she had created in the studio, "it made no sense." She realized that she needed regular access to the temple, so she asked to rehearse on site, which the Met granted once a week during museum hours.
Suddenly, she had an audience, which helped her understand how movement can offer visitors a new layer of meaning to something as imposing as the temple. "I see their physicality change and the amount of time they spend in the space," she says.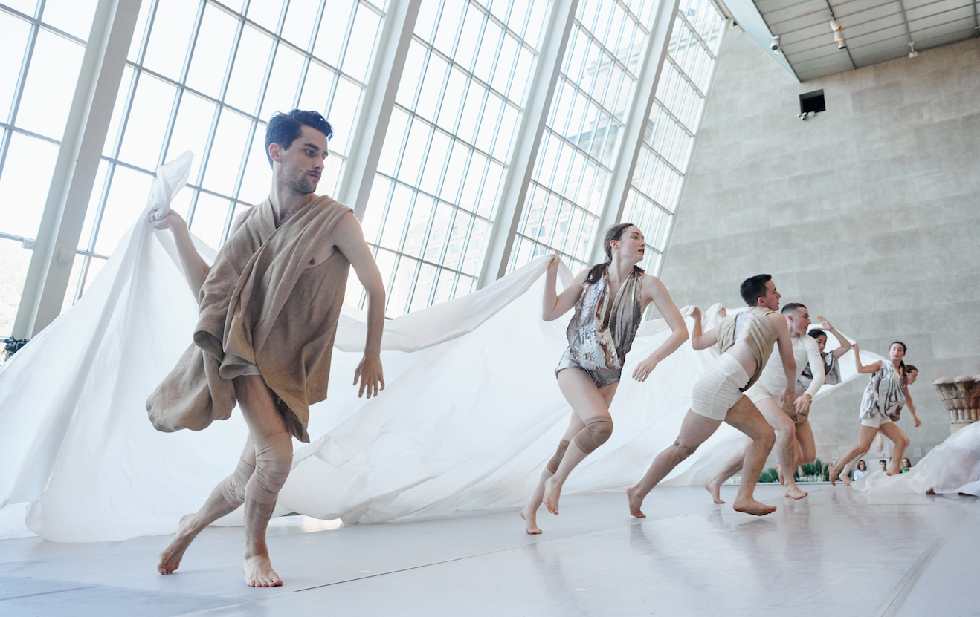 Jim Lafferty
The next piece that Miller is creating during her residency addresses the second part of her proposal: to make a work that stands alone, without playing off an existing sculpture, painting or artifact. That work, for eight dancers, is slated to premiere at the end of May and occupy the entire fifth floor of the Met Breuer, the museum's nearby contemporary outpost.
In keeping with Tomer's mission, though, Miller is taking inspiration from an upcoming exhibit called "Like Life: Sculpture, Color, and the Body (1300–Now)." Miller's work will similarly engage with the passage of time, performed without pause throughout museum hours.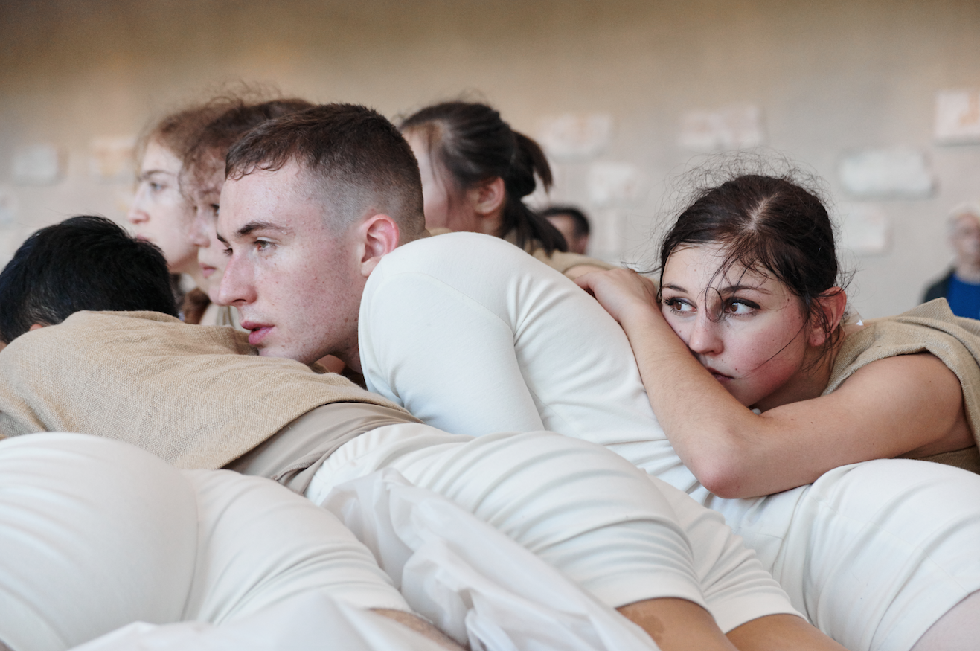 Jim Lafferty
"It's going to be grueling," she says. The durational aspect is a nod to one of Miller's heroes, the famed performance artist Marina Abramovíc. "I recognize myself in her approach and her humanity as a woman," Miller says, praising Abramovíc's urgency and risk.
Miller's opportunity to explore that aspect of her own creativity seems to be having precisely the effect Tomer intended. Miller says she feels the residency is "completely changing my approach as an artist," from her definition of performance to the way she considers sites and collaborators.
"I can't be more specific, but I know it's happening. I just need a little more hindsight."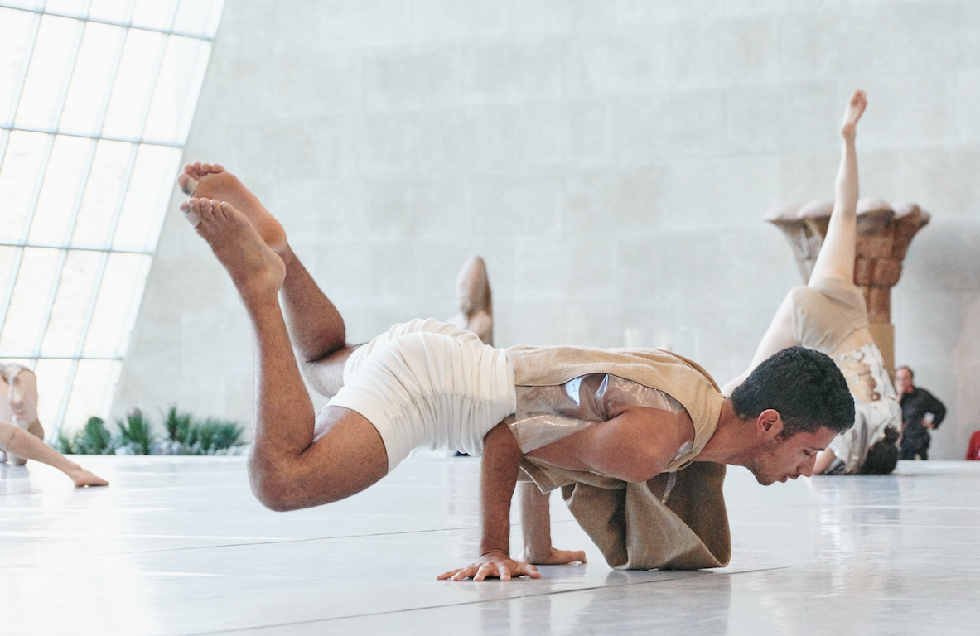 Jim Lafferty
From Your Site Articles
Related Articles Around the Web
Sara Mearns in the gym. Photo by Kyle Froman.
New York City Ballet principal Sara Mearns wasn't sure she was strong enough. A ballerina who has danced many demanding full-length and contemporary roles, she was about to push herself physically more than she thought was possible.
"I said, 'I can't. My body won't,' " she says. "He told me, 'Yes, it will.' "
She wasn't working with a ballet coach, but with personal trainer Joel Prouty, who was asking her to do squats with a heavier barbell than she'd ever used.
Keep reading...
Show less
Left: Hurricane Harvey damage in Houston Ballet's Dance Lab; Courtesy Harlequin. Right: The Dance Lab pre-Harvey; Nic Lehoux, Courtesy Houston Ballet.
"The show must go on" may be a platitude we use to get through everything from costume malfunctions to stormy moods. But when it came to overcoming a literal hurricane, Houston Ballet was buoyed by this mantra to go from devastated to dancing in a matter of weeks—with the help of Harlequin Floors, Houston Ballet's longstanding partner who sprang into action to build new floors in record time.
Keep reading...
Show less
Alicia Alonso with Igor Youskevitch. Sedge Leblang, Courtesy Dance Magazine Archives.
Her Dying Swan was as fragile as her Juliet was rebellious; her Odile, scheming, her Swanilda, insouciant. Her Belle was joyous, and her Carmen, both brooding and full-blooded. But there was one role in particular that prompted dance critic Arnold Haskell to ask, "How do you interpret Giselle when you are Giselle?"
At eight, Alicia Alonso took her first ballet class on a stage in her native Cuba, wearing street clothes. Fifteen years later, put in for an ailing Alicia Markova in a performance of Giselle with Ballet Theatre, she staked her claim to that title role.
Alonso received recognition throughout the world for her flawless technique and her ability to become one with the characters she danced, even after she became nearly blind. After a career in New York, she and her then husband Fernando Alonso established the Cuban National Ballet and the Cuban National Ballet School, both of which grew into major international dance powerhouses and beloved institutions in their home country. On October 17, the company announced that, after leading the company for a remarkable 71 years, Alonso died from cardiovascular disease at the age of 98.
Keep reading...
Show less
News
Oct. 17, 2019 02:02PM EST
Rauf "RubberlLegz" Yasit and Parvaneh Scharafali. Photo by Mohamed Sadek, courtesy The Shed
William Forsythe is bringing his multi-faceted genius to New York City in stripped down form. His "Quiet Evening of Dance," a mix of new and recycled work now at The Shed until October 25, is co-commissioned with Sadler's Wells in London (and a slew of European presenters).
As always, Forsythe's choreography is a layered experience, both kinetic and intellectual. This North American premiere prompted many thoughts, which I whittled down to seven.
Keep reading...
Show less