Why Setting a Dance About Apartheid on American Dancers Makes Sense Right Now
Indumba investigates an African cleansing ritual. Photo by Ken Carl, via
bam.org
When Kevin "Iega" Jeff saw Fana Tshabalala's Indumba at the annual JOMBA! Contemporary Dance Experience in South Africa, he immediately knew he would ask Tshabalala to set the work on his company.

"There's an ancient energy in Fana's movement, a deep and trusted knowing," says Jeff, director of the Chicago-based Deeply Rooted Dance Theater. "Because I witnessed the raw humanity of his dancer's souls, I wanted my dancers to have that experience."
---
Indumba refers to a hut used by Sangoma, or a traditional healer, in South Africa for healing and cleansing in a sacred place. Tshabalala had conducted research for the piece in Maputo, Mozambique, where he learned about cleansing rituals that took place after the civil war there. "Veterans were cleansed traditionally, because they believe they carried bad spirits that might affect the community," he says.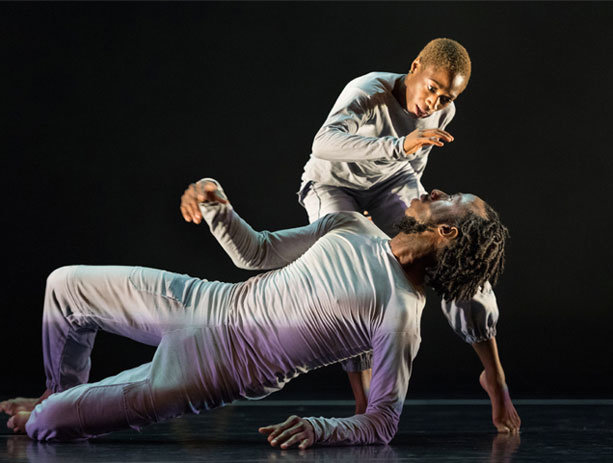 "Indumba could help in cleansing." Photo by Ken Carl, via bam.org
He welcomed the chance to create an American-focused version for DRDT because he believes that "the impact of apartheid is the same as what America is experiencing internally…America is going through a social and political transformation and, Indumba could help in cleansing."
Indumba is intensely improvisational and is based on artists working together through movement and dialogue in "an open choreographic process" to create their own Indumba—their own sacred place to express their freedom and "to be different from the outside world," says Tshabalala.
Working with the dancers of DRDT proved special in reckoning this charge. "It was a matter of giving them an opportunity to release what was inside through movement and putting that into an existing structure."
To watch his African-American dancers work with Tshabalala's South African dancers, Jeff says, "it felt like home."
Indumba runs at BAM Fisher in Brooklyn, New York, April 28 and 29.
Cherkaoui is happy dedicating his time to projects he's invested in. Photo by Koen Broos, courtesy Michelle Tabnick PR
Sidi Larbi Cherkaoui is a busy man. These days, when he's not directing Royal Ballet of Flanders or his contemporary company Eastman, he's working on a new duet with Irish dancer Colin Dunne, creating a premiere for the Göteborg Opera, or choreographing on Beyoncé like it's NBD.
Next week, he's also taking a trip to New York City to perform in Sutra, his hit collaboration with a group of 20 Shaolin monks. In the 10 years since its premiere, the work has been performed in 60 cities across 28 countries to rave reviews and sold-out audiences. The New York performances at the White Light Festival mark a homecoming to the same festival where the piece received its US premiere.
We recently caught up with Cherkaoui to hear his thoughts on performing on the opening night of the run, what he's learned from the monks and how he manages to juggle so many projects at once.
Keep reading...
Show less
Stephanie Williams, Cory Stearns, Catherine Hurlin and Duncan Lyle rehearsing In the Upper Room. PC Kelsey Grills
Waves of sheer dance inventiveness come rolling toward you. Dancers in sneakers, pointe shoes or ballet slippers mingle: it looks like a free-for-all but is carefully plotted out. Philip Glass' music lets the dancers ride his gorgeous momentum.
This is In the Upper Room, the celestial yet kinetically charged ballet made by Twyla Tharp in 1986. It hasn't been done by American Ballet Theatre since 2012 and now it's coming back with full force.

Keep reading...
Show less
Anna Rogovoy in her dual roles of toy shop manager and dancer/choreographer. Left photo by Olympia Shannon; right photo by Kathryn Butler
Few dancers are able to make a comfortable living from their creative pursuits alone. Many rely on non-dance freelance work or multiple part-time gigs, fearing that a full-time job would take too much time away from their dancing. However, plenty of artists manage to balance full-time day jobs with fulfilling dance careers, opting for the security, benefits and opportunity to learn new skills.
Keep reading...
Show less


Get Dance Magazine in your inbox