Why Setting a Dance About Apartheid on American Dancers Makes Sense Right Now
Indumba investigates an African cleansing ritual. Photo by Ken Carl, via
bam.org
When Kevin "Iega" Jeff saw Fana Tshabalala's Indumba at the annual JOMBA! Contemporary Dance Experience in South Africa, he immediately knew he would ask Tshabalala to set the work on his company.

"There's an ancient energy in Fana's movement, a deep and trusted knowing," says Jeff, director of the Chicago-based Deeply Rooted Dance Theater. "Because I witnessed the raw humanity of his dancer's souls, I wanted my dancers to have that experience."
---
Indumba refers to a hut used by Sangoma, or a traditional healer, in South Africa for healing and cleansing in a sacred place. Tshabalala had conducted research for the piece in Maputo, Mozambique, where he learned about cleansing rituals that took place after the civil war there. "Veterans were cleansed traditionally, because they believe they carried bad spirits that might affect the community," he says.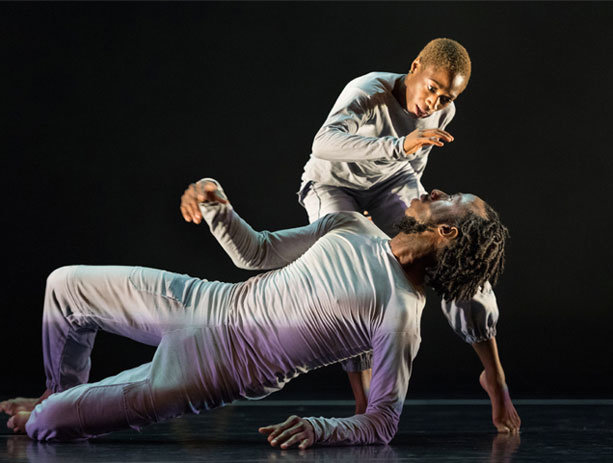 "Indumba could help in cleansing." Photo by Ken Carl, via bam.org
He welcomed the chance to create an American-focused version for DRDT because he believes that "the impact of apartheid is the same as what America is experiencing internally…America is going through a social and political transformation and, Indumba could help in cleansing."
Indumba is intensely improvisational and is based on artists working together through movement and dialogue in "an open choreographic process" to create their own Indumba—their own sacred place to express their freedom and "to be different from the outside world," says Tshabalala.
Working with the dancers of DRDT proved special in reckoning this charge. "It was a matter of giving them an opportunity to release what was inside through movement and putting that into an existing structure."
To watch his African-American dancers work with Tshabalala's South African dancers, Jeff says, "it felt like home."
Indumba runs at BAM Fisher in Brooklyn, New York, April 28 and 29.
Related Articles Around the Web
From Your Site Articles
News
Jul. 18, 2019 05:02PM EST
Frozen put profit-sharing arrangements in place prior to the Equity deal. Photo by Deen van Meer, Courtesy Disney Theatrical Group
For a Broadway dancer, few opportunities are more exciting than being part of the creation of an original show. But if that show goes on to become wildly successful, who reaps the benefits? Thanks to a new deal between Actors' Equity Association and The Broadway League, performers involved in a production's development will now receive their own cut of the earnings.
Keep reading...
Show less
NBCUniversal
Jellicle obsessives, rejoice: There's a new video out that offers a (surprisingly substantive) look at the dancing that went down on the set of the new CATS movie.
Keep reading...
Show less
Via Wikimedia Commons
When Dr. Mae Jemison was growing up, she was obsessed with space. But she didn't see any astronauts who looked like her.
"I said, Wait a minute. Why are all the astronauts white males?" she recounts in a CNN video. "What if the aliens saw them and said, Are these the only people on Earth?"
Keep reading...
Show less
Wayne McGregor. Photo by Johan Persson, Courtesy ROH
It's no surprise that dancers make some of the best TED Talk presenters. Not only are they great performers, but they've got unique knowledge to share. And they can dance!
If you're in need of a midweek boost, look no further than these eight presentations from some incredibly inspiring dance artists.
Keep reading...
Show less