Why Mia Michaels Has Made Giving Back a Bigger Priority Than Seeking Her Own Success
Behind the scenes of one of Mia Michaels' videos with Apolla Shocks. Photo by Juliana Crawford, courtesy Apolla
If you've been paying attention to famed "So You Think You Can Dance" judge and three-time Emmy award winning choreographer Mia Michaels lately, you've probably noticed a shift in her work. Recently, the projects she's taken on have been all about giving back.
Whether it's her book, "A Unicorn in a World of Donkeys," which teaches readers how to live a more creative and authentic life; socially-conscious concept videos like "ONLY WE KNOW," a requiem to victims of school shootings; or mentoring aspiring dancers at workshops for both movement and personal growth, Michaels has made helping others a bigger priority in her career than seeking her own success.
---
Her latest do-good collaboration? A new video series with Apolla Performance Wear that explores how dance culture has led to an epidemic of injuries, and the changes dancers can make to help support longer and healthier careers.
DM caught up with the choreographer to get the inside scoop on what led her to focus her career on giving back to the dance community, and how that ties into her latest collaboration.
Lately, most of your projects have been about giving back to the dance community. What caused this shift?
I think that change is inevitable for all of us. I've had a pretty large career in the dance world, and I just felt like, after I had achieved so many of the things that I had wanted to do, it was time to try something else. I've always felt that, personally, my career was the main focus of everything in my life. But after decades of going after it, I realized that it's not all that I thought it was going to be. I was selfishly seeking joy from success, but I've come to realize that's not where ultimate joy comes from—it comes from inside. So after doing a lot of digging and self-work, I realized my career should be about contribution, giving back and making a difference in other people's lives.
How do you choose the projects you do? 
I look for projects that will make a positive difference in the world. I look for things that will make me grow, and will challenge me. But most of all, I listen to my heart and my instincts. I don't like to go backward, I don't like to repeat myself. I take the lessons I've learned, and choose work that allows me to share them with others.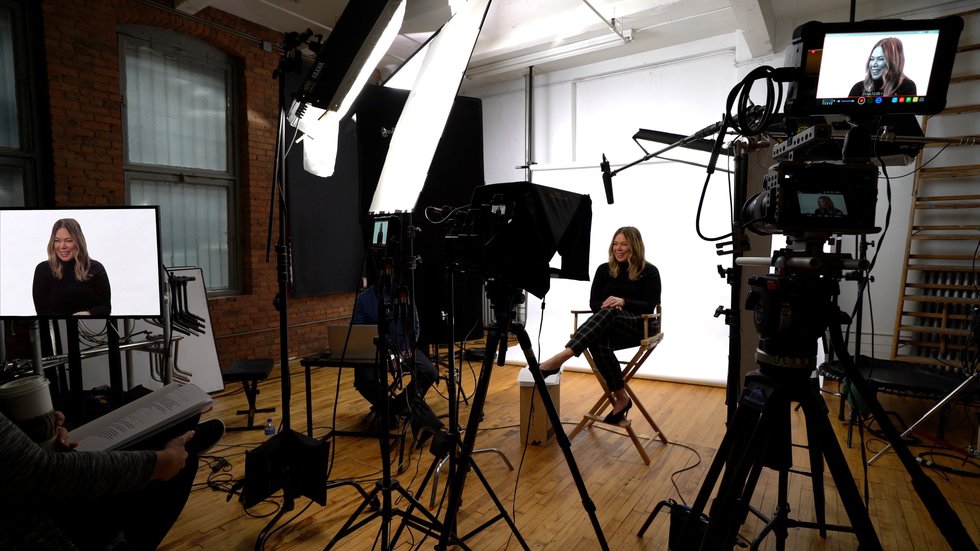 Michaels behind the scenes of her video shoot with Apolla Performance Wear.
Juliana Crawford, courtesy Apolla
How did your new collaboration with Apolla Shocks come to be?
About eight years ago I created a footwear design for contemporary dancers. I had been sitting on it, and tried to get it out to a couple different companies, but when I discovered Apolla and what they were doing, I realized it was a very similar concept to what I was working on. I reached out to them and we immediately connected. I put all of their styles on my feet and was like, "Yes, this is the direction footwear needs to go."
What's it like to be a spokesperson?
It just feels like I'm connected to something truly good. People need to realize that being barefoot and dancing in socks is harmful. Traditionally, dance footwear has been focused on aesthetic, rather than healthy feet and bodies. It's time for dancers to be smarter. My feet, knees and back are destroyed from abuse throughout my entire career. When I put these shocks on, I immediately felt energy and support where I hadn't before. You have to look forward to protect your long-term career, and as a dancer, that starts with your feet.
From Your Site Articles
Related Articles Around the Web
Courtesy Chiara Valle
Chiara Valle is just one of many dancers heading back to the studio this fall as companies ramp up for the season. But her journey back has been far more difficult than most.
Valle has been a trainee at The Washington Ballet since 2016, starting at the same time as artistic director Julie Kent. But only a few months into her first season there, she started experiencing excruciating pain high up in her femur. "It felt like someone was stabbing me 24/7," she says. Sometimes at night, the pain got so bad that her roommates would bring her dinner to the bathtub.
Keep reading...
Show less
The USC Kaufman graduating class with Mikhail Baryshnikov. Gus Ruelas/USC
Just four years ago, the University of Southern California's Glorya Kaufman School of Dance welcomed its first class of BFA students. The program—which boasts world-class faculty and a revolutionary approach to training focused on collaboration and hybridity—immediately established itself as one of the country's most prestigious and most innovative.
Now, the first graduating class is entering the dance field. Here, six of the 33 graduates share what they're doing post-grad, what made their experience at USC Kaufman so meaningful and how it prepared them for their next steps:
Keep reading...
Show less
A Ladies of Hip-Hop battle. Photo by Loreto Jamlig, Courtesy Ladies of Hip-Hop
Michele Byrd-McPhee's uncle was a DJ for the local black radio station in Philadelphia, where she was born. As a kid she was always dancing to the latest music, including a new form of powerful poetry laid over pulsing beats that was the beginning of what we now call hip hop.
Byrd-McPhee became enamored of the form and went on to a career as a hip-hop dancer and choreographer, eventually founding the Ladies of Hip-Hop Festival and directing the New York City chapter of Everybody Dance Now!. Over the decades, she has experienced hip hop's growth from its roots in the black community into a global phenomenon—a trajectory she views with both pride and caution.
On one hand, the popularity of hip hop has "made a global impact," says Byrd-McPhee. "It's provided a voice for so many people around the world." The downside is "it's used globally in ways that the people who made the culture don't benefit from it."
Keep reading...
Show less