Why Mia Michaels Has Made Giving Back a Bigger Priority Than Seeking Her Own Success
Behind the scenes of one of Mia Michaels' videos with Apolla Shocks. Photo by Juliana Crawford, courtesy Apolla
If you've been paying attention to famed "So You Think You Can Dance" judge and three-time Emmy award winning choreographer Mia Michaels lately, you've probably noticed a shift in her work. Recently, the projects she's taken on have been all about giving back.
Whether it's her book, "A Unicorn in a World of Donkeys," which teaches readers how to live a more creative and authentic life; socially-conscious concept videos like "ONLY WE KNOW," a requiem to victims of school shootings; or mentoring aspiring dancers at workshops for both movement and personal growth, Michaels has made helping others a bigger priority in her career than seeking her own success.
---
Her latest do-good collaboration? A new video series with Apolla Performance Wear that explores how dance culture has led to an epidemic of injuries, and the changes dancers can make to help support longer and healthier careers.
DM caught up with the choreographer to get the inside scoop on what led her to focus her career on giving back to the dance community, and how that ties into her latest collaboration.
Lately, most of your projects have been about giving back to the dance community. What caused this shift?
I think that change is inevitable for all of us. I've had a pretty large career in the dance world, and I just felt like, after I had achieved so many of the things that I had wanted to do, it was time to try something else. I've always felt that, personally, my career was the main focus of everything in my life. But after decades of going after it, I realized that it's not all that I thought it was going to be. I was selfishly seeking joy from success, but I've come to realize that's not where ultimate joy comes from—it comes from inside. So after doing a lot of digging and self-work, I realized my career should be about contribution, giving back and making a difference in other people's lives.
How do you choose the projects you do? 
I look for projects that will make a positive difference in the world. I look for things that will make me grow, and will challenge me. But most of all, I listen to my heart and my instincts. I don't like to go backward, I don't like to repeat myself. I take the lessons I've learned, and choose work that allows me to share them with others.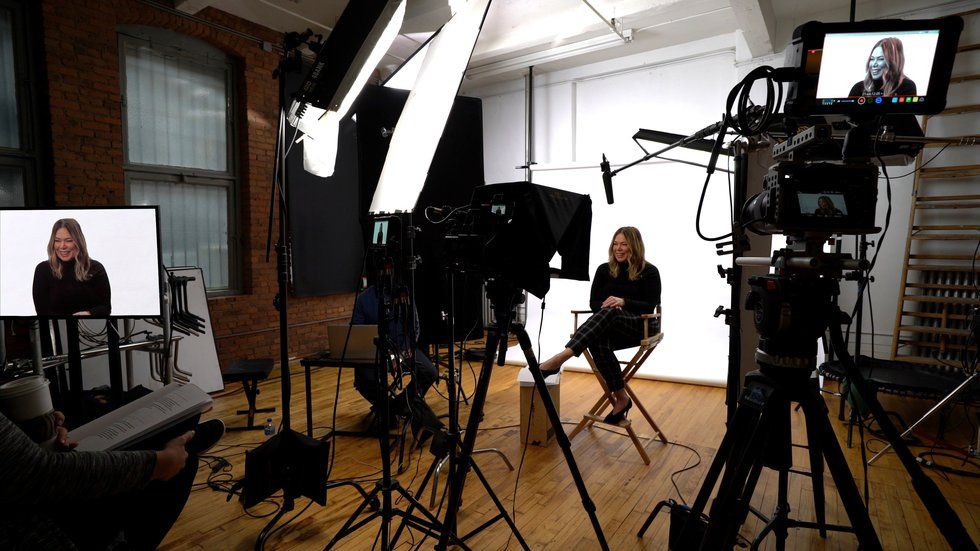 Michaels behind the scenes of her video shoot with Apolla Performance Wear.
Juliana Crawford, courtesy Apolla
How did your new collaboration with Apolla Shocks come to be?
About eight years ago I created a footwear design for contemporary dancers. I had been sitting on it, and tried to get it out to a couple different companies, but when I discovered Apolla and what they were doing, I realized it was a very similar concept to what I was working on. I reached out to them and we immediately connected. I put all of their styles on my feet and was like, "Yes, this is the direction footwear needs to go."
What's it like to be a spokesperson?
It just feels like I'm connected to something truly good. People need to realize that being barefoot and dancing in socks is harmful. Traditionally, dance footwear has been focused on aesthetic, rather than healthy feet and bodies. It's time for dancers to be smarter. My feet, knees and back are destroyed from abuse throughout my entire career. When I put these shocks on, I immediately felt energy and support where I hadn't before. You have to look forward to protect your long-term career, and as a dancer, that starts with your feet.
From Your Site Articles
Related Articles Around the Web
When the news broke that Prince George, currently third in line for the British throne, would be continuing ballet classes as part of his school curriculum this year, we were as excited as anyone. (Okay, maybe more excited.)
This was not, it seems, a sentiment shared by "Good Morning America" host Lara Spencer.
Keep reading...
Show less
UA Dance Ensemble members Candice Barth and Gregory Taylor in Jessica Lang's "Among the Stars." Photo by Ed Flores, courtesy University of Arizona
If you think becoming a trainee or apprentice is the only path to gaining experience in a dance company environment, think again.
The University of Arizona, located in the heart of Tucson, acclimates dancers to the pace and rigor of company life while offering all the academic opportunities of a globally-ranked university. If you're looking to get a head-start on your professional dance career—or to just have a college experience that balances company-level training and repertory with rigorous academics—the University of Arizona's undergraduate and graduate programs have myriad opportunites to offer:
Keep reading...
Show less
Alice Sheppard/Kinetic Light in DESCENT, which our readers chose as last year's "Most Moving Performance." Photo by Jay Newman, courtesy Kinetic Light
Yes, we realize it's only August. But we can't help but to already be musing about all the incredible dance happenings of 2019.
We're getting ready for our annual Readers' Choice feature, and we want to hear from you about the shows you can't stop thinking about, the dance videos that blew your mind and the artists you discovered this year who everyone should know about.
Keep reading...
Show less
News
Aug. 23, 2019 10:30AM EST
A still from Dancing Dreams. Courtesy OVID
If you're seeking an extra dash of inspiration to start the new season on the right—dare we say—foot, look no further than dance documentaries.
Starting August 23, OVID, a streaming service dedicated to docs and art-house films, is adding eight notable dance documentaries to its library. The best part? There's a free seven-day trail. (After that, subscriptions are $6.99 per month or $69.99 annually.)
From the glamour of Russian ballet stars to young dancers training in Cuba to a portrait of powerhouse couple Carmen de Lavallade and Geoffrey Holder, here's what's coming to a couch near you:
Keep reading...
Show less