Are Dancers' Brains Wired Differently?
Quinn Wharton
Dancers are masters of multi-tasking. Performing a series of steps on stage while portraying a character and making a split-second change from a single to a double pirouette is no problem, but no coincidence either. Dancers' brains appear to be programmed differently from non-dancers' brains.
Studies at the University of Maryland in partnership with the University of Houston during the past three years reveal that dancers use multiple areas of their brains simultaneously while dancing: one part controls movement without expressive intention, another part imagines movement qualities and these parts work to execute movement while also making higher-level decisions.
---
"When you see dancers who are dancing beautifully, their whole brain is being engaged," says Karen Kohn Bradley, associate professor emeritus and director of graduate studies in dance at the University of Maryland. "They are thinking about the sequence, focus, timing and qualities of lightness and strength all at once."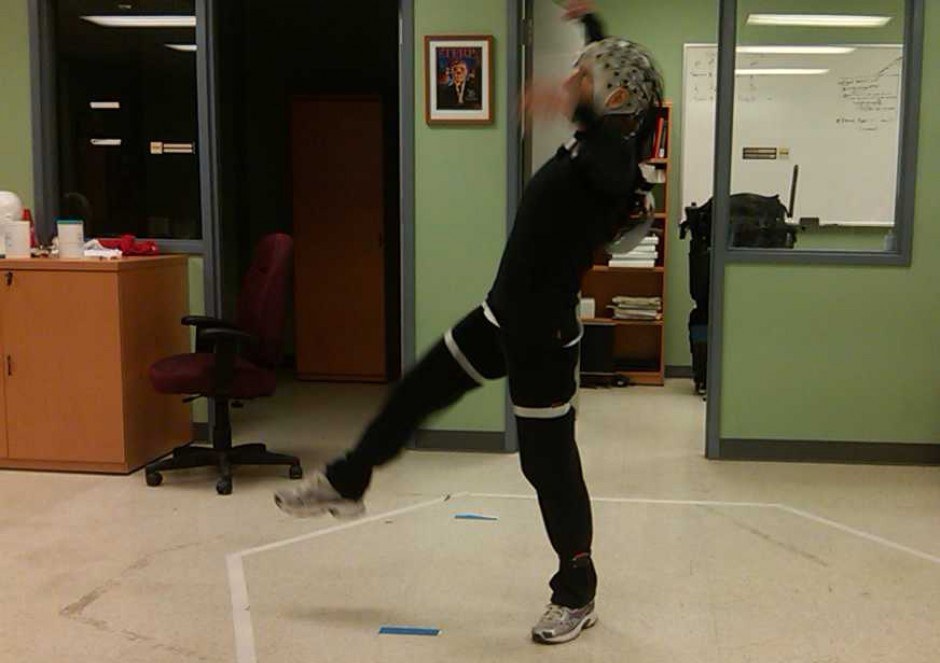 A dancer moving as data was collected from the University of Maryland/University of Houston collaborative study. Photo courtesy Karen Kohn Bradley
This research helps explain why professional dancers can process complex choreography in a split second. Cerebral synchronization makes dancers proficient at "enchainment"—the ability to remember chunks of steps and recognize their patterns. Bradley explains that the brain stores these patterns in lower parts (like the cerebellum), which opens up more room in the frontal lobe for expression and "creative reinventions on stage if something suddenly goes wrong," she says.
But are dancers born with these brain patterns and the ability to multi-task? According to Bradley, it's hard to say. Some dancers are innately wired like this; others have the propensity to develop these abilities over time.
Bradley believes that the information she and her colleagues have acquired is a useful approach to training people to be more expressive and more aware of the impact that this expressiveness can have on others. A trained movement analyst, she says it can be applied to many disciplines where movement and gestures matter in different contexts. Some of these are predictable, like theater or animation, and some are surprising, like diplomacy and deal-making.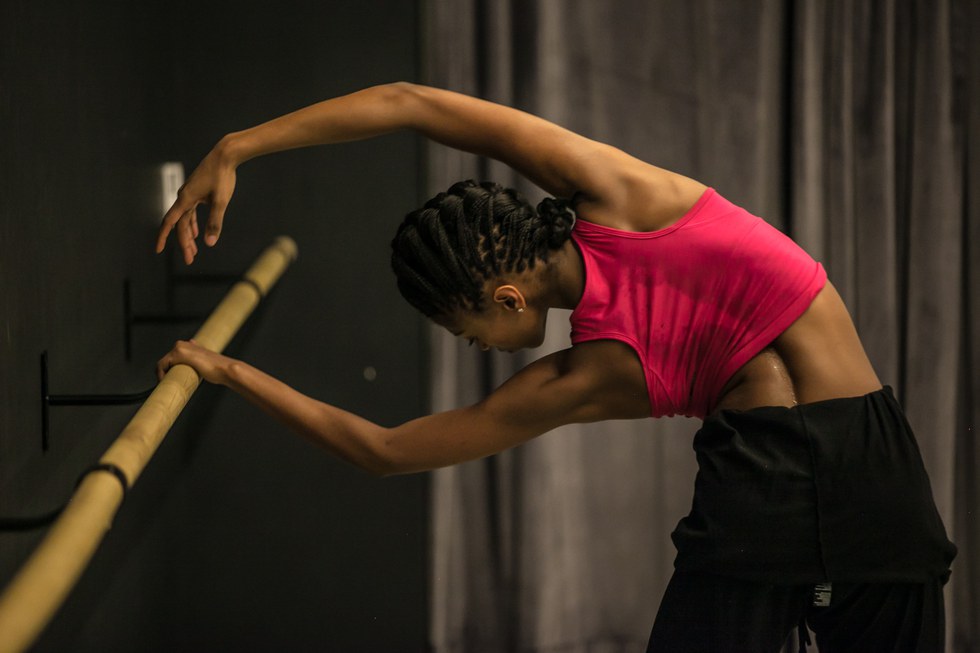 Quinn Wharton
Bradley's work also has huge implications for dance education. In class, dancers typically focus on the sequence or the technique. But this engages only one part of the brain. Bradley believes more studios need to give their dancers images that help them with expressive qualities. "We've all heard of the laser beam shooting out of the leg to improve battement technique," says Bradley. "But we also need imagery that evokes feeling. For example, 'That's honey…I want molasses.' " This training also translates to the idea of musicality: Bradley believes that dancers must be trained in being expressive with or without music, using simple images or pure qualities, such as "rise up," or "be more buoyant."
Examining the power of dancers' brains continues at UM, UH and MIT, as well. University researchers have linked individual brain electrodes on dancers' heads to different sounds, enabling the dancers to signal lighting and music with their brainwaves and the touch of their feet on the floor.
Will all of this technology make better dance? Bradley says it is reassuring to know that, "ultimately, it all still depends on the sophistication and beauty of the dancer."
Maria Kochetkova blatantly breaks the not-eating-in-your-
Serenade
-costume rules with a personal pint backstage. Photo via
Instagram
One of the biggest myths about ballet dancers is that they don't eat. While we all know that, yes, there are those who do struggle with body image issues and eating disorders, most healthy dancers love food—and eat plenty of it to fuel their busy schedules.
Luckily for us, they're not afraid to show it:
Keep reading...
Show less
Popular
Apr. 24, 2018 03:00PM EST
Looking for your next audition shoe? Shot at and in collaboration with Broadway Dance Center, Só Dança has launched a new collection of shoes working with some pretty famous faces of the musical theater world! Offered in two different styles and either 2.5" or 3" heels, top industry professionals are loving how versatile and supportive these shoes are! Pro tip: The heel is centered under the body so you can feel confident and stable!
StockSnap
When I wrote about my struggle with depression, and eventual departure from dance because of it, I expected criticism. I was prepared to be challenged. But much to my relief, and horror, dancers from all over the world responded with support and stories of solidarity. The most critical response I saw was this one:
"Dance isn't for everyone."
This may as well be a mantra in the dance world. We have become entrenched in the Darwinian notion that the emotionally weak will be weeded out. There is no room for them anyway.
Keep reading...
Show less
Name calling, physical intimidation and cyberbullying are all-too-common experiences among male dancers. Photo by Goh Rhy Yan/Unsplash
Growing up in a family-owned dance studio in Missouri had its perks for tap dancer Anthony Russo. But it also earned him constant taunting, especially in high school.
"There was a junior in my sophomore year health class who was absolutely relentless," he says. "I'd get tripped on my way to the front of the classroom and he'd say, 'Watch out, twinkle toes.' If I raised my hand and answered a question incorrectly, I'd hear a patronizing 'Nice one, Bojangles.' "
Keep reading...
Show less
Acosta Danza in Jorge Crecis' Twelve. Photo by Johan Persson, Courtesy Sadler's Wells
What does a superstar like Carlos Acosta do after bidding farewell to his career in classical ballet? In Acosta's case, he returns to his native country, Cuba, to funnel his fame, connections and prodigious energies back into the dance scene that formed him. Because of its top-notch, state-supported training programs and popular embrace of the art of dance, Cuba is brimming with talented dancers. What it has been short on, until recently, are opportunities outside of the mainstream companies, as well as access to a more international repertoire. That is changing now, and, with the creation of Acosta Danza, launched in 2016, Acosta is determined to open the doors even wider to new ideas and audiences.
Keep reading...
Show less
University of Kentucky students travel to Arts Advocacy Day in DC each year. PC Dana Rogers Photography
There's so much more to the dance world than making and performing dances. Arts administrators do everything from raising money to managing companies to building new audiences. With the growing number of arts administration programs in colleges, dancers have an opportunity to position themselves for a multifaceted career on- or offstage—and to bring their unique perspective as artists to administrative work.
Keep reading...
Show less


Get Dance Magazine in your inbox