Are Dancers' Brains Wired Differently?
Quinn Wharton
Dancers are masters of multi-tasking. Performing a series of steps on stage while portraying a character and making a split-second change from a single to a double pirouette is no problem, but no coincidence either. Dancers' brains appear to be programmed differently from non-dancers' brains.
Studies at the University of Maryland in partnership with the University of Houston during the past three years reveal that dancers use multiple areas of their brains simultaneously while dancing: one part controls movement without expressive intention, another part imagines movement qualities and these parts work to execute movement while also making higher-level decisions.
---
"When you see dancers who are dancing beautifully, their whole brain is being engaged," says Karen Kohn Bradley, associate professor emeritus and director of graduate studies in dance at the University of Maryland. "They are thinking about the sequence, focus, timing and qualities of lightness and strength all at once."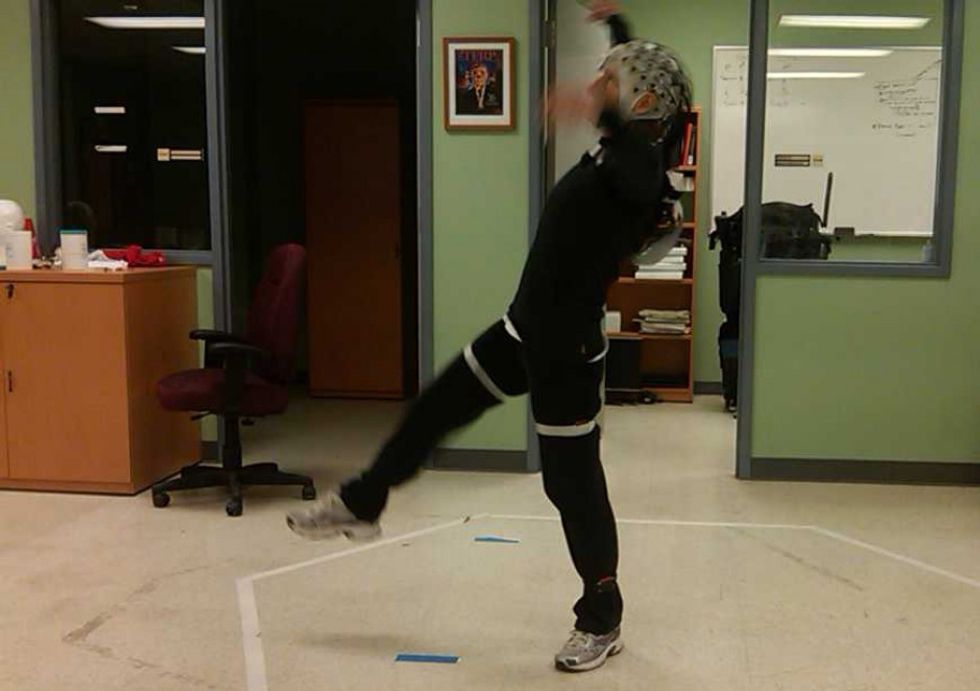 A dancer moving as data was collected from the University of Maryland/University of Houston collaborative study. Photo courtesy Karen Kohn Bradley
This research helps explain why professional dancers can process complex choreography in a split second. Cerebral synchronization makes dancers proficient at "enchainment"—the ability to remember chunks of steps and recognize their patterns. Bradley explains that the brain stores these patterns in lower parts (like the cerebellum), which opens up more room in the frontal lobe for expression and "creative reinventions on stage if something suddenly goes wrong," she says.
But are dancers born with these brain patterns and the ability to multi-task? According to Bradley, it's hard to say. Some dancers are innately wired like this; others have the propensity to develop these abilities over time.
Bradley believes that the information she and her colleagues have acquired is a useful approach to training people to be more expressive and more aware of the impact that this expressiveness can have on others. A trained movement analyst, she says it can be applied to many disciplines where movement and gestures matter in different contexts. Some of these are predictable, like theater or animation, and some are surprising, like diplomacy and deal-making.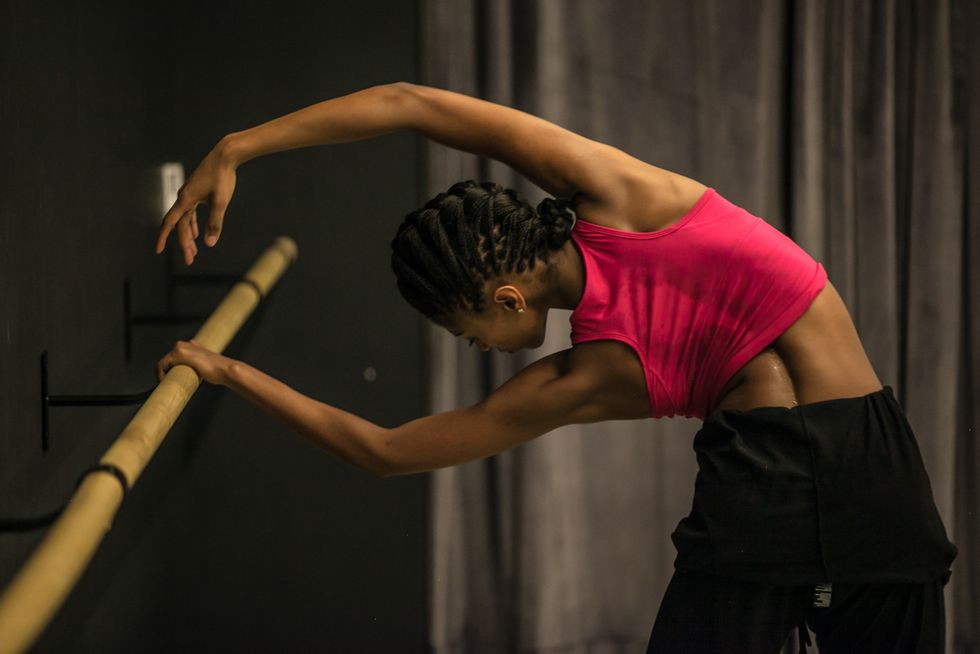 Quinn Wharton
Bradley's work also has huge implications for dance education. In class, dancers typically focus on the sequence or the technique. But this engages only one part of the brain. Bradley believes more studios need to give their dancers images that help them with expressive qualities. "We've all heard of the laser beam shooting out of the leg to improve battement technique," says Bradley. "But we also need imagery that evokes feeling. For example, 'That's honey…I want molasses.' " This training also translates to the idea of musicality: Bradley believes that dancers must be trained in being expressive with or without music, using simple images or pure qualities, such as "rise up," or "be more buoyant."
Examining the power of dancers' brains continues at UM, UH and MIT, as well. University researchers have linked individual brain electrodes on dancers' heads to different sounds, enabling the dancers to signal lighting and music with their brainwaves and the touch of their feet on the floor.
Will all of this technology make better dance? Bradley says it is reassuring to know that, "ultimately, it all still depends on the sophistication and beauty of the dancer."
Courtesy Macy's, Inc.
As you're prepping your Thanksgiving meal, why not throw in a dash of dance?
This year's Macy's Thanksgiving Day Parade is stuffed (pun intended) with performances from four stellar Broadway shows, the Radio City Rockettes and students from three New York City dance institutions.
Tune in to NBC November 28 from 9 am to noon (in all time zones), or catch the rebroadcast at 2 pm (also in all time zones). Here's what's in store:
Keep reading...
Show less
Ailey II artistic director Troy Powell teaching an Ailey Workshop at NYCDA. Courtesy NYCDA
Back in 2011 when Joe Lanteri first approached Katie Langan, chair of Marymount Manhattan College's dance department, about getting involved with New York City Dance Alliance, she was skeptical about the convention/competition world.
"But I was pleasantly surprised by the enormity of talent that was there," she says. "His goal was to start scholarship opportunities, and I said okay, I'm in."
Today, it's fair to say that Lanteri has far surpassed his goal of creating scholarship opportunities. But NYCDA has done so much more, bridging the gap between the convention world and the professional world by forging a wealth of partnerships with dance institutions from Marymount to The Ailey School to Complexions Contemporary Ballet and many more. There's a reason these companies and schools—some of whom otherwise may not see themselves as aligned with the convention/competition world—keep deepening their relationships with NYCDA.
Now, college scholarships are just one of many ways NYCDA has gone beyond the typical weekend-long convention experience and created life-changing opportunities for students. We rounded up some of the most notable ones:
Keep reading...
Show less
Sergei Polunin. Photo by British Broadcasting Corporation and Polunin Ltd., Courtesy Sundance Selects.
Last week, Variety reported that Sergei Polunin would reunite with the team behind Dancer for another documentary. "Where 'Dancer' looked at his whole life, family and influences," director Steven Cantor said, " 'Satori' will focus more squarely on his creative process as performer and, for the first time ever, choreographer." The title references a poorly received evening of work by the same name first presented by Polunin in 2017. (It recently toured to Moscow and St. Petersburg.)
I cannot be the only person wondering why we should care.
Keep reading...
Show less
Left: Hurricane Harvey damage in Houston Ballet's Dance Lab; Courtesy Harlequin. Right: The Dance Lab pre-Harvey; Nic Lehoux, Courtesy Houston Ballet.
"The show must go on" may be a platitude we use to get through everything from costume malfunctions to stormy moods. But when it came to overcoming a literal hurricane, Houston Ballet was buoyed by this mantra to go from devastated to dancing in a matter of weeks—with the help of Harlequin Floors, Houston Ballet's longstanding partner who sprang into action to build new floors in record time.
Keep reading...
Show less