Are Dancers' Brains Wired Differently?
Quinn Wharton
Dancers are masters of multi-tasking. Performing a series of steps on stage while portraying a character and making a split-second change from a single to a double pirouette is no problem, but no coincidence either. Dancers' brains appear to be programmed differently from non-dancers' brains.
Studies at the University of Maryland in partnership with the University of Houston during the past three years reveal that dancers use multiple areas of their brains simultaneously while dancing: one part controls movement without expressive intention, another part imagines movement qualities and these parts work to execute movement while also making higher-level decisions.
---
"When you see dancers who are dancing beautifully, their whole brain is being engaged," says Karen Kohn Bradley, associate professor emeritus and director of graduate studies in dance at the University of Maryland. "They are thinking about the sequence, focus, timing and qualities of lightness and strength all at once."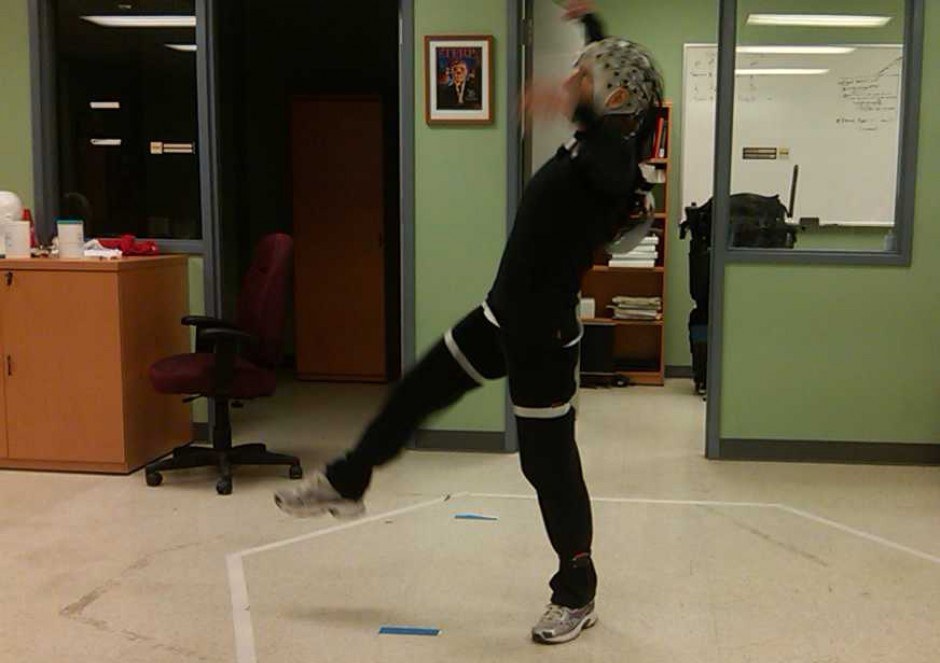 A dancer moving as data was collected from the University of Maryland/University of Houston collaborative study. Photo courtesy Karen Kohn Bradley
This research helps explain why professional dancers can process complex choreography in a split second. Cerebral synchronization makes dancers proficient at "enchainment"—the ability to remember chunks of steps and recognize their patterns. Bradley explains that the brain stores these patterns in lower parts (like the cerebellum), which opens up more room in the frontal lobe for expression and "creative reinventions on stage if something suddenly goes wrong," she says.
But are dancers born with these brain patterns and the ability to multi-task? According to Bradley, it's hard to say. Some dancers are innately wired like this; others have the propensity to develop these abilities over time.
Bradley believes that the information she and her colleagues have acquired is a useful approach to training people to be more expressive and more aware of the impact that this expressiveness can have on others. A trained movement analyst, she says it can be applied to many disciplines where movement and gestures matter in different contexts. Some of these are predictable, like theater or animation, and some are surprising, like diplomacy and deal-making.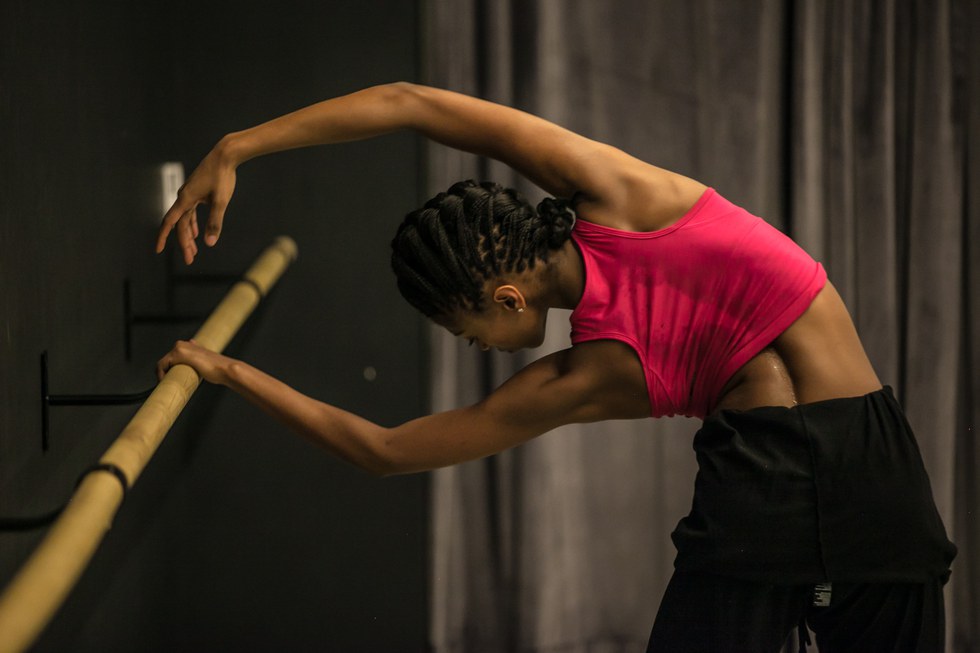 Quinn Wharton
Bradley's work also has huge implications for dance education. In class, dancers typically focus on the sequence or the technique. But this engages only one part of the brain. Bradley believes more studios need to give their dancers images that help them with expressive qualities. "We've all heard of the laser beam shooting out of the leg to improve battement technique," says Bradley. "But we also need imagery that evokes feeling. For example, 'That's honey…I want molasses.' " This training also translates to the idea of musicality: Bradley believes that dancers must be trained in being expressive with or without music, using simple images or pure qualities, such as "rise up," or "be more buoyant."
Examining the power of dancers' brains continues at UM, UH and MIT, as well. University researchers have linked individual brain electrodes on dancers' heads to different sounds, enabling the dancers to signal lighting and music with their brainwaves and the touch of their feet on the floor.
Will all of this technology make better dance? Bradley says it is reassuring to know that, "ultimately, it all still depends on the sophistication and beauty of the dancer."
Alexander Ekman's Midsummer Night's Dream was created for Royal Swedish Ballet. Photo by Hans Nilsson, Courtesy The Joffrey Ballet
Bales of hay, black umbrellas, bicycles—this Midsummer Night's Dream would be unrecognizable to the Bard. Alexander Ekman's full-length, inspired by Scandinavian solstice traditions and set to music by Mikael Karlsson, is a madcap celebration of the longest day of the year, when the veil between our world and that of the supernatural is said to be at its thinnest. The Joffrey Ballet's performances mark the seductively surreal work's North American premiere. April 25–May 6. joffrey.org.
Indumba investigates an African cleansing ritual. Photo by Ken Carl, via
bam.org
When Kevin "Iega" Jeff saw Fana Tshabalala's Indumba at the annual JOMBA! Contemporary Dance Experience in South Africa, he immediately knew he would ask Tshabalala to set the work on his company.

"There's an ancient energy in Fana's movement, a deep and trusted knowing," says Jeff, director of the Chicago-based Deeply Rooted Dance Theater. "Because I witnessed the raw humanity of his dancer's souls, I wanted my dancers to have that experience."
Keep reading...
Show less
StockSnap
When I wrote about my struggle with depression, and eventual departure from dance because of it, I expected criticism. I was prepared to be challenged. But much to my relief, and horror, dancers from all over the world responded with support and stories of solidarity. The most critical response I saw was this one:
"Dance isn't for everyone."
This may as well be a mantra in the dance world. We have become entrenched in the Darwinian notion that the emotionally weak will be weeded out. There is no room for them anyway.
Keep reading...
Show less
Cover Story
Apr. 16, 2018 04:00PM EST
Robert Fairchild is jumping into the next phase of his career feet-first. Photo by Jayme Thornton
In his final bow at New York City Ballet, during what should have been a heroic conclusion to a celebrated ballet career, Robert Fairchild slipped and fell. His reaction? To lie down flat on his back like he meant to do it. Then start cracking up at himself.
"He's such a ham," says his sister Megan Fairchild, with a laugh. "He's really good at selling whatever his body is doing that day. He'll turn a moment that I would totally go home and cry about into something where the audience is like, 'That's the most amazing thing ever!' "

Keep reading...
Show less
Name calling, physical intimidation and cyberbullying are all-too-common experiences among male dancers. Photo by Goh Rhy Yan/Unsplash
Growing up in a family-owned dance studio in Missouri had its perks for tap dancer Anthony Russo. But it also earned him constant taunting, especially in high school.
"There was a junior in my sophomore year health class who was absolutely relentless," he says. "I'd get tripped on my way to the front of the classroom and he'd say, 'Watch out, twinkle toes.' If I raised my hand and answered a question incorrectly, I'd hear a patronizing 'Nice one, Bojangles.' "
Keep reading...
Show less
Dance on Broadway
Apr. 21, 2018 09:30AM EST
PC Kevin Berne, courtesy Boneau/Bryan-Brown
Choreographer Sergio Trujillo asked the women auditioning for ensemble roles in his newest musical to arrive in guys' clothing—"men's suits, or blazers and ties," he says. He wasn't being kinky or whimsical. The entire ensemble of Summer: The Donna Summer Musical is female, playing men and women interchangeably as they unfold the history of the chart-busting, Grammy-winning, indisputable Queen of Disco.
courtesy www.today.com
Keep reading...
Show less


Get Dance Magazine in your inbox