Are Male Dancers Being "Dismissed"? This New Conference Thinks So
Matthew Murphy for Pointe
When Michael Vadacchino, co-founder of the online dancewear store Boys Dance Too, visited a competition to ask a customer if he would model for the site, he was able to find him easily. This boy was one of only three in the entire competition.
Small numbers like these are why Vadacchino and his business partner, Sarah Singer, have planned their next venture: The Male Dancer Conference.
---
This four-day event will bring together male and male-identifying dance students ages 8 and up from August 18 to 21 in New York City. Featuring ballet and contemporary dance classes along with sessions on special conditioning, anatomy and injury prevention, the conference will also include special workshops led by Sascha Radetsky of American Ballet Theatre and Alex Wong of "So You Think You Can Dance."

With so few male dancers in classes, a sense of alienation, as well as bullying and a lack of recognition are common experiences. "I allowed the boys we were approaching to tell us what they need, what is missing in their dance studios, what they're looking for," Vadacchino says about programming the conference. "There are little to no all-male large group settings in the dance world. With the exception of some major ballet competitions and large ballet conservatories, there is no event designed specifically for male dancers and their needs."
Vadacchino admits that, in a way, male dance students are cherished: "They are spoiled because they are rare. However, the majority of them are still being dismissed."
He points out the lack of facilities for boys in dance studios—often, male dancers have to change in bathroom stalls, janitors' closets or the backseat of their parents' car. When purchasing dancewear, they typically have to shop online because many stores sell little to no male clothing. Even then, they find pictures of girls modeling the clothing listed in the "men and boys" section. This disparity is also seen inside studios, which are frequently painted entirely in shades of pink.
"We want to be able show these boys that they are not alone," adds Singer. "We want them to feel like being a male dancer, in this present time, is really cool. We would like to see them start to feel an excitement about being a male dancer, that their future is a bright one."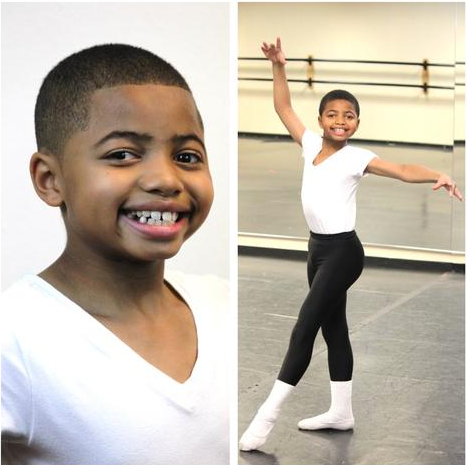 Marquez Perry, photo via Boys Dance Too
The conference will also include a guided conversation led by Vadacchino giving parents the opportunity to talk with each other. "I want to be able to connect the moms with other moms who have no idea what's going on, so they don't feel alone," he says.
Singer and Vadacchino intend to hold the conference annually and organize leaders in the industry to help take action that will spread across the nation.
"Boys should be able to walk into any dance studio, any space, and not only are they accepted and not looked at weirdly, but immediately there are boys," Vadacchino says. "They're not intimidated by aesthetics of the place, with tutus and sparkles everywhere—even though that's totally fine, there's no balance. I think a utopia for me would be that we've created some sort of balance and it's inviting."
News
Oct. 22, 2019 05:27PM EST
Amber Star Merkens, Courtesy Mark Morris Dance Group
There's always been something larger than life about choreographer Mark Morris. Of course, there are the more than 150 works he's made and that incisive musicality that makes dance critics drool. But there's also his idiosyncratic, no-apologies-offered personality, and his biting, no-holds-barred wit. And, well, his plan to keep debuting new dances even after he's dead.
So it should come as little surprise that his latest distinction is also a bit larger than life: The New York Landmarks Conservancy is adding Morris to its list of "Living Landmarks."
Keep reading...
Show less
Left: Hurricane Harvey damage in Houston Ballet's Dance Lab; Courtesy Harlequin. Right: The Dance Lab pre-Harvey; Nic Lehoux, Courtesy Houston Ballet.
"The show must go on" may be a platitude we use to get through everything from costume malfunctions to stormy moods. But when it came to overcoming a literal hurricane, Houston Ballet was buoyed by this mantra to go from devastated to dancing in a matter of weeks—with the help of Harlequin Floors, Houston Ballet's longstanding partner who sprang into action to build new floors in record time.
Keep reading...
Show less
Martha Graham in Spectre-1914 from Martha Graham's Chronicle. Courtesy of Martha Graham Resources.
Paul Taylor's Post Meridian was last performed 30 years ago, which is well before any of the company's current dancers joined Paul Taylor Dance Company. In fact, it's before some of the dancers were even born. Every step and extreme angle of the body in the dream-like world of the 1965 work will be fine-tuned in the studio for PTDC's upcoming Lincoln Center season. However, the Taylor archive is where Post Meridian began for Eran Bugge.
Keep reading...
Show less
News
Oct. 22, 2019 10:55AM EST
Dinita Clark. Photo courtesy Cultural Counsel
Philadelphia's Pew Center for Arts & Heritage announced its 2019 grantees Monday evening, and the list included a couple of familiar names: Dinita Clark and David Gordon.

Keep reading...
Show less