Are Male Dancers Being "Dismissed"? This New Conference Thinks So
Matthew Murphy for Pointe
When Michael Vadacchino, co-founder of the online dancewear store Boys Dance Too, visited a competition to ask a customer if he would model for the site, he was able to find him easily. This boy was one of only three in the entire competition.
Small numbers like these are why Vadacchino and his business partner, Sarah Singer, have planned their next venture: The Male Dancer Conference.
---
This four-day event will bring together male and male-identifying dance students ages 8 and up from August 18 to 21 in New York City. Featuring ballet and contemporary dance classes along with sessions on special conditioning, anatomy and injury prevention, the conference will also include special workshops led by Sascha Radetsky of American Ballet Theatre and Alex Wong of "So You Think You Can Dance."

With so few male dancers in classes, a sense of alienation, as well as bullying and a lack of recognition are common experiences. "I allowed the boys we were approaching to tell us what they need, what is missing in their dance studios, what they're looking for," Vadacchino says about programming the conference. "There are little to no all-male large group settings in the dance world. With the exception of some major ballet competitions and large ballet conservatories, there is no event designed specifically for male dancers and their needs."
Vadacchino admits that, in a way, male dance students are cherished: "They are spoiled because they are rare. However, the majority of them are still being dismissed."
He points out the lack of facilities for boys in dance studios—often, male dancers have to change in bathroom stalls, janitors' closets or the backseat of their parents' car. When purchasing dancewear, they typically have to shop online because many stores sell little to no male clothing. Even then, they find pictures of girls modeling the clothing listed in the "men and boys" section. This disparity is also seen inside studios, which are frequently painted entirely in shades of pink.
"We want to be able show these boys that they are not alone," adds Singer. "We want them to feel like being a male dancer, in this present time, is really cool. We would like to see them start to feel an excitement about being a male dancer, that their future is a bright one."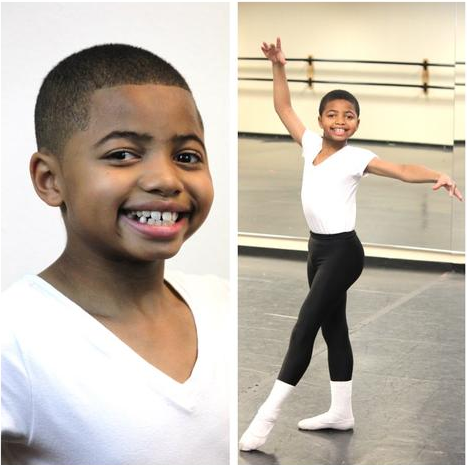 Marquez Perry, photo via Boys Dance Too
The conference will also include a guided conversation led by Vadacchino giving parents the opportunity to talk with each other. "I want to be able to connect the moms with other moms who have no idea what's going on, so they don't feel alone," he says.
Singer and Vadacchino intend to hold the conference annually and organize leaders in the industry to help take action that will spread across the nation.
"Boys should be able to walk into any dance studio, any space, and not only are they accepted and not looked at weirdly, but immediately there are boys," Vadacchino says. "They're not intimidated by aesthetics of the place, with tutus and sparkles everywhere—even though that's totally fine, there's no balance. I think a utopia for me would be that we've created some sort of balance and it's inviting."
PC Kevin Berne, courtesy Boneau/Bryan-Brown
Choreographer Sergio Trujillo asked the women auditioning for ensemble roles in his newest musical to arrive in guys' clothing—"men's suits, or blazers and ties," he says. He wasn't being kinky or whimsical. The entire ensemble of Summer: The Donna Summer Musical is female, playing men and women interchangeably as they unfold the history of the chart-busting, Grammy-winning, indisputable Queen of Disco.
courtesy www.today.com
Keep reading...
Show less
Dance in Pop Culture
Apr. 20, 2018 12:37PM EST
Ballet Zaida; Courtesy Agnes Muljadi
Have a scroll through Agnes Muljadi's Instagram feed (@artsyagnes), and you'll notice that in between her ballet shots is a curated mix of lifestyle pics. So what exactly sets her apart from the other influencers you follow? Muljadi has made a conscious effort to only feature natural beauty products, sustainable fashion and vegan foods. With over 500k followers, her social strategy (and commitment to making ethical choices) is clearly a hit. Ahead, learn why Muljadi switched to a vegan lifestyle, and the surprising way it's helped her dance career.
Keep reading...
Show less
StockSnap
When I wrote about my struggle with depression, and eventual departure from dance because of it, I expected criticism. I was prepared to be challenged. But much to my relief, and horror, dancers from all over the world responded with support and stories of solidarity. The most critical response I saw was this one:
"Dance isn't for everyone."
This may as well be a mantra in the dance world. We have become entrenched in the Darwinian notion that the emotionally weak will be weeded out. There is no room for them anyway.
Keep reading...
Show less
News
Apr. 16, 2018 02:42PM EST
Maria Kochetkova in Helgi Tomasson's Trio // © Erik Tomasson
San Francisco Ballet star Maria Kochetkova just announced that she'll be leaving the company at the end of this season, after the much-anticipated Unbound Festival. The exact date will be announced later.
Keep reading...
Show less
The Creative Process
Apr. 20, 2018 09:30AM EST
Brandon Sterling Baker never tries to make it a "light show." Photo by Lora Robertson, courtesy Baker
He may not be a household name, but you probably know Brandon Stirling Baker's work. The 30-year-old has designed the lighting for most of Justin Peck's ballets—including Heatscape for Miami City Ballet, and the edgy The Times Are Racing for New York City Ballet—but also Jamar Roberts' new Members Don't Get Weary at Alvin Ailey American Dance Theater and a trio of Martha Graham duets for L.A. Dance Project.
He's been fascinated by lighting ever since he attended a public performing arts middle school in Sherman Oaks, California, where he had his first experiences lighting shows. He also has a background in music (he plays guitar and bass) and in drawing. Both, he says, are central to the way he approaches lighting dance.
Keep reading...
Show less
Update: Due to an overwhelming response, the in-person audition has been moved to a larger location to accommodate more dancers. See details below.

For the first time in more than 10 years, Janet Jackson is holding an open audition for dancers.
Even better? You could land a spot in her #JTribe simply by posting a video on social media.
Keep reading...
Show less


Get Dance Magazine in your inbox