In one of the most beguiling numbers in The Prom, the 2018 Broadway hit in which a bevy of theater has-beens invade a straitlaced Indiana town, a well-worn chorus girl tries to imbue a timid teenager with "zazz," that elusive, magical combination of gumption and allure she learned from Bob Fosse.
Sergio Trujillo describes zazz as "the X factor." To Joe Lanteri, it's "a special movement quality and strong sense of self." Andy Blankenbuehler talks about knocking "one thing out of the park, and then knocking the next thing out of the park." They could also just say "star quality," and they agree that Ariana DeBose has it. They expect her zazz to take her far.
---
It already has. In the space of six years, DeBose's fairy-tale Broadway career took her from ensemble work, understudy roles and second-tier parts to a lead in A Bronx Tale and then a Tony nomination and Chita Rivera Award for her radiant Disco Donna, dancing Trujillo's sexy choreography in Summer: The Donna Summer Musi­cal.
Blankenbuehler, who'd first spotted her years earlier at dance conventions like Lanteri's New York City Dance Alliance, gave her her first Broadway role, Nautica in Bring It On: The Musical. In Hamilton, she was the crucial but wordless Bullet. Trujillo heard about her from her mentor, Charlotte d'Amboise, though he was overruled when he wanted to cast her in Flashdance: The Musical. But he finally got to choreograph on her in A Bronx Tale and Summer. And despite the sparkle and dance chops that informed every performance, that's where the string ended, even before the pandemic locked down Broadway. Because when Summer closed, in December 2018, "Anita came along."
DeBose means the worldly-wise Anita of West Side Story, created on Broadway by Chita Rivera and on film by Rita Moreno, and reimagined by playwright Tony Kushner for the Steven Spielberg movie that's now been pushed back to next year.
After that shoot ended, last fall, DeBose left New York City for Los Angeles and her second feature film: Ryan Murphy's adaptation of The Prom, in which she plays Alyssa, the closeted girlfriend of the girl getting the zazz tutorial—in the film, it's from Nicole Kidman, part of a star-studded cast that also includes Meryl Streep, Kerry Washington and James Corden. Interrupted by the pandemic, the movie completed filming with COVID-19 protocols in place—luckily, Casey Nicholaw's dance numbers were already in the can—and arrives on Netflix December 11.
And when we Zoomed in on DeBose a few months back, she was in Vancouver, again before the cameras in "a very fun new job": shooting Apple TV+'s upcoming musical comedy project based on Brigadoon.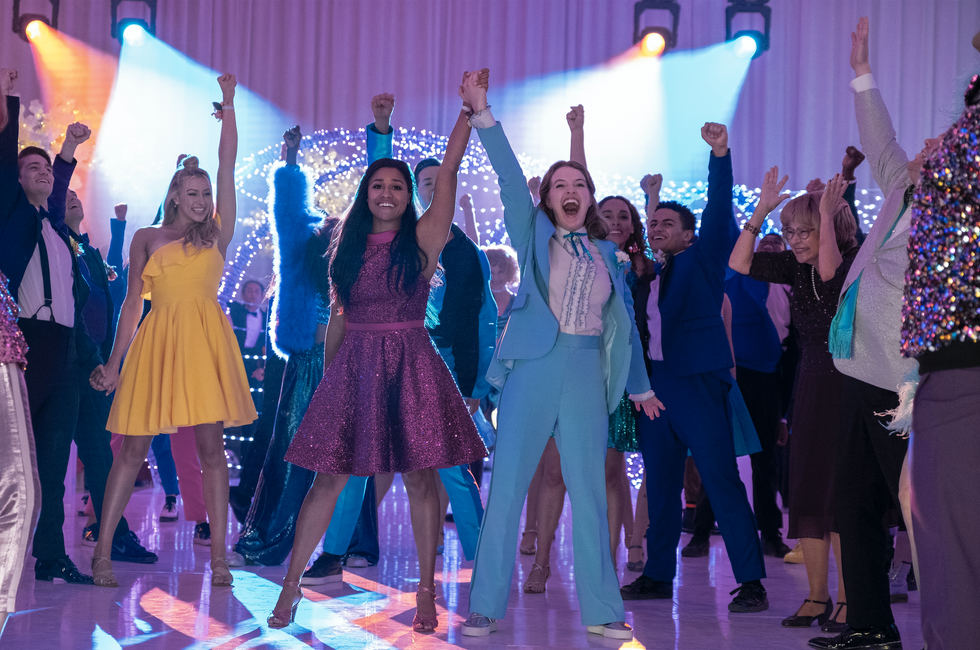 DeBose in The Prom with Jo Ellen Pellman
Courtesy Netflix
This gilt-edged resumé was in no way inevitable. DeBose's first brush with the big time was making it onto Season 6 of "So You Think You Can Dance" at 18 years old. She was voted off the show by the judges in a special episode, and she admits she took it hard. But now, about to turn 30, DeBose sees it not as a rejection but "a redirection, so I could pursue what I had said I wanted all those years before."
She habitually identifies herself as a dancer who loves storytelling, and she says with utter seriousness, "I speak dance better than I speak English." But being booted from "SYTYCD" gave her the space to play with other languages, to become a true triple threat. There aren't that many, says Trujillo, and "she's the real deal." Blankenbuehler points out that lots of Broadway triple threats actually aren't. "With Ari, you have the chance to do a piece of theater with a principal dancer. And a principal singer. And a principal actor."
He remembers her audition for the workshop of Bring It On, when that wasn't so. "She was insanely talented—but at the same time, she was so raw."
The transformation was no accident, with roots going all the way back to when DeBose was 10, visiting New York City. Already something of a dance veteran, with five years of ballet, jazz and tap under her belt, she went with her mother and her aunt to Rent and Aida. She says now, "I don't know if a 10-year-old had any business seeing Rent, but I loved it. They explained it to me. I especially loved Mimi's leather coat."
She also fell hard for the excitement of the city, and for the revelation that dancing could someday be her job—no, she didn't have to stay in North Carolina and teach eighth-grade social studies like her mom. And there was something else. Leaving the Palace Theatre, she saw a giant billboard of Bebe Neuwirth as Velma Kelly in Chicago. Bebe Neuwirth, whom she knew from the sitcom "Frasier."
"That was the second lightbulb moment," she recalls. "I said, 'Wait—she's a dancer? And she acts on TV?' I told myself, 'You're gonna do this. You're gonna train real hard. You're gonna learn to act eventually."
The learning—first at conventions and competitions and then in high school musicals—is still going on. "I comb YouTube for answers," she says. "I did not go to college. I chose to start working very early, and I essentially learned on the job." Blankenbuehler says, "She's a sponge." What she says she absorbed from him was "how to make a musical" and a "first lesson in dance comedy." Working with Trujillo taught her "how to build a leading lady through dance, which has served me well now that I've transitioned to onscreen work."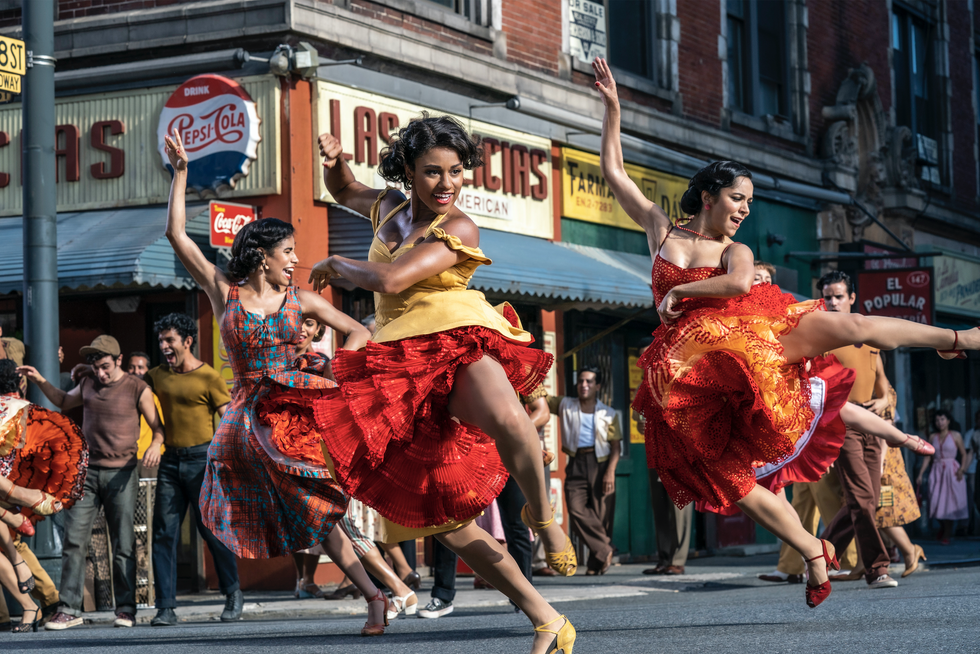 Ariana DeBose as Anita in West Side Story
Niko Tavernise, Courtesy Twentieth Century Fox Film Corporation
DeBose credits the title role in an all-county high school production of Aida with giving her "a crash course in acting and singing in front of people, and in leading—what it means to be a leader." She worked on her singing and acting, determined to be like the women she cited when she accepted her Chita Rivera Award—Rivera, Carmen de Lavallade, Donna McKechnie and others—all of whom were "more than one thing." And when she arrived in New York, she went to school on Playbill, finding out which choreographers were doing what shows and immersing herself in the business when she wasn't auditioning. But she knows it wasn't just all her hard work: "Luck is a thing," she says.
Now movies are offering her a wider range of questions to ask and answer, though Justin Peck, who choreographed the West Side Story film, seems to feel that there wasn't much missing to begin with. "She was always thrilling to work with in the studio," he says in an email. "But I was most blown away by her ability to exceed even my own expectations when the cameras were rolling."
DeBose says that while her experiences working with Spielberg and Murphy were in no way similar, the directors had one thing in common: "They're both very clear on their vision." Streep, Washington and the other stars in The Prom surprised her with their collaborative spirit. "They're legends," she says, "and I didn't necessarily expect them to give me the time of day. But their humanity comes first. It was so refreshing to see that you can survive and thrive in Hollywood for decades and decades and still be nice people."
Although her two movie roles are vastly different, DeBose managed to find a way into both. Born to a white mother and a Puerto Rican father, she was raised by her mom in rural North Carolina and knows what it's like to feel like an outsider, whether a secret lesbian in small-town Indiana like Alyssa or a Latin immigrant in white New York like Anita. She didn't grow up in a Hispanic community, but she had no trouble tapping into the leader of the Shark women. "Being Latina is much more than speaking Spanish," she says. "It's how you live your life, it's your attitude, it's your passion, it's the food that you eat."
And although she didn't dance as much as she wanted to in The Prom, she loved being able to tell Alyssa's story through body language. "When you're a young teen wrestling with your identity, you physically do not express yourself as clearly as you'd like. When she's finally able to express herself physically, you can see the difference."
DeBose is ready for her next adventure, whatever and wherever it may be. "I have no idea what the future holds," she says. (Who does?) "I loved filmmaking. But I also love theater. And I think they go hand in hand." Whatever she does, she wants it to mean something. "I've been blessed with a seat at the table," she says, "and I want to make the most of it."