Dance As Activism
Jan. 12, 2018 01:59PM EST
Arthur Mitchell: "You Must Believe in What You're Doing And, Against All Odds...Stick to It."
Arthur Mitchell in class, 1960s. Photo by Milton Oleaga. Arthur Mitchell Collection, Rare Book & Manuscript Collection, Columbia University.
Throughout his remarkable career, the fiercely determined, intelligent and energetic Arthur Mitchell has become accustomed to being called a trailblazer. "Being a typical Aries, I like being the first," he says, laughing. "That's what I've been doing all my life."

This is true, especially when it comes to the discussion at the forefront of today's national dialogue about dance: diversity in ballet.
---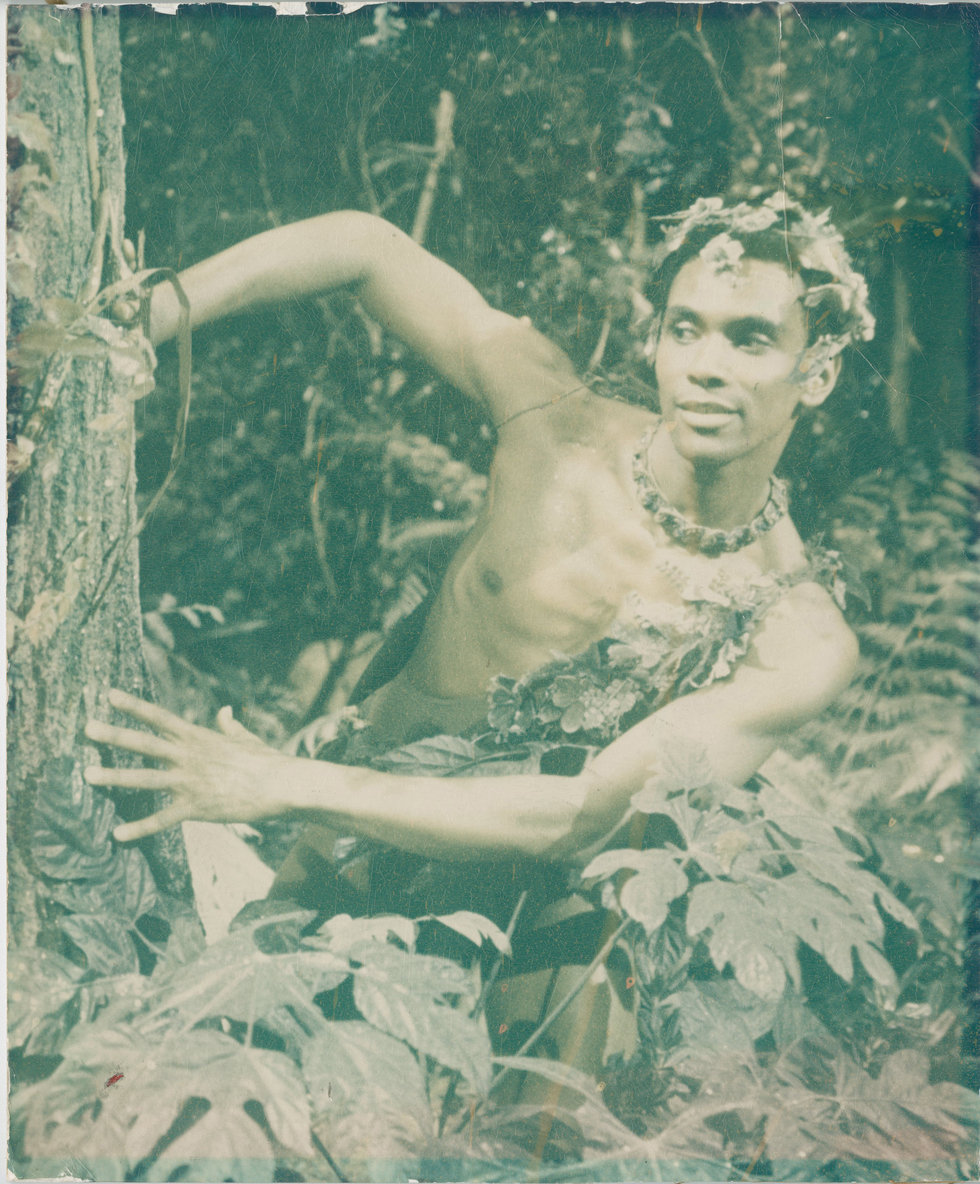 Arthur Mitchell as Puck in A Midsummer Night's Dream, 1962. Arthur Mitchell Collection, Rare Book & Manuscript Collection, Columbia University.
This weekend, "Arthur Mitchell: Harlem's Ballet Trailblazer," an exhibition celebrating the accomplishments of New York City Ballet's first African American principal dancer and co-founder of Dance Theatre of Harlem, opens at Columbia University's Miriam and Ira D. Wallach Art Gallery.
Back in 1975, Mitchell told Dance Magazine, "We have to prove that a black ballet school and a black ballet company are the equal of the best of their kind anywhere in the world." Both his own performing career and the critical response to DTH in the years immediately following its official debut would have been enough for him to say "mission accomplished."
But, clearly, Mitchell says, there is still work to be done. That's where young, up-and-coming trailblazers come in.
Sharing advice he received from George Balanchine and Lincoln Kirstein, Mitchell says, "They said, 'You've got to take the bull by the horns and do what you have to do. You must believe in what you're doing and, against all odds, against anyone else's feeling and vision, you must stick to it. And, eventually, know that the world will catch up with what you're doing and appreciate it."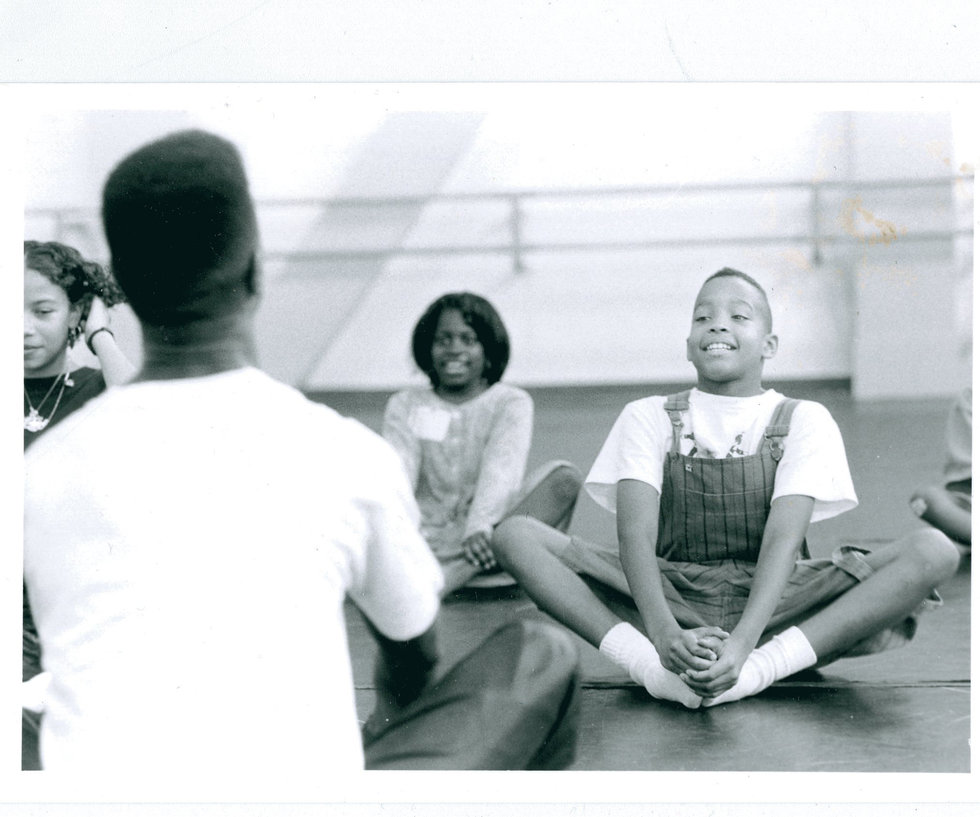 Studio outreach class at the Dance Theatre of Harlem, 1970s. Arthur Mitchell Collection, Rare Book & Manuscript Collection, Columbia University.
Has the world caught up with his own dreams and visions?
"No," says Mitchell. "How many black girls are there now dancing in ballet? Name all the companies in America. How many have a leading African-American ballerina? There's only one in a major company, that's Misty Copeland in American Ballet Theatre. There's still work to be done. There's got to be more training. There's got to be teachers who are working in the black communities that are taking into account what these dancers have to face."
While he is no longer director of Dance Theatre of Harlem, Mitchell, now 83, continues blazing trails under the auspices of the Arthur Mitchell Project, which is funded by the Ford Foundation.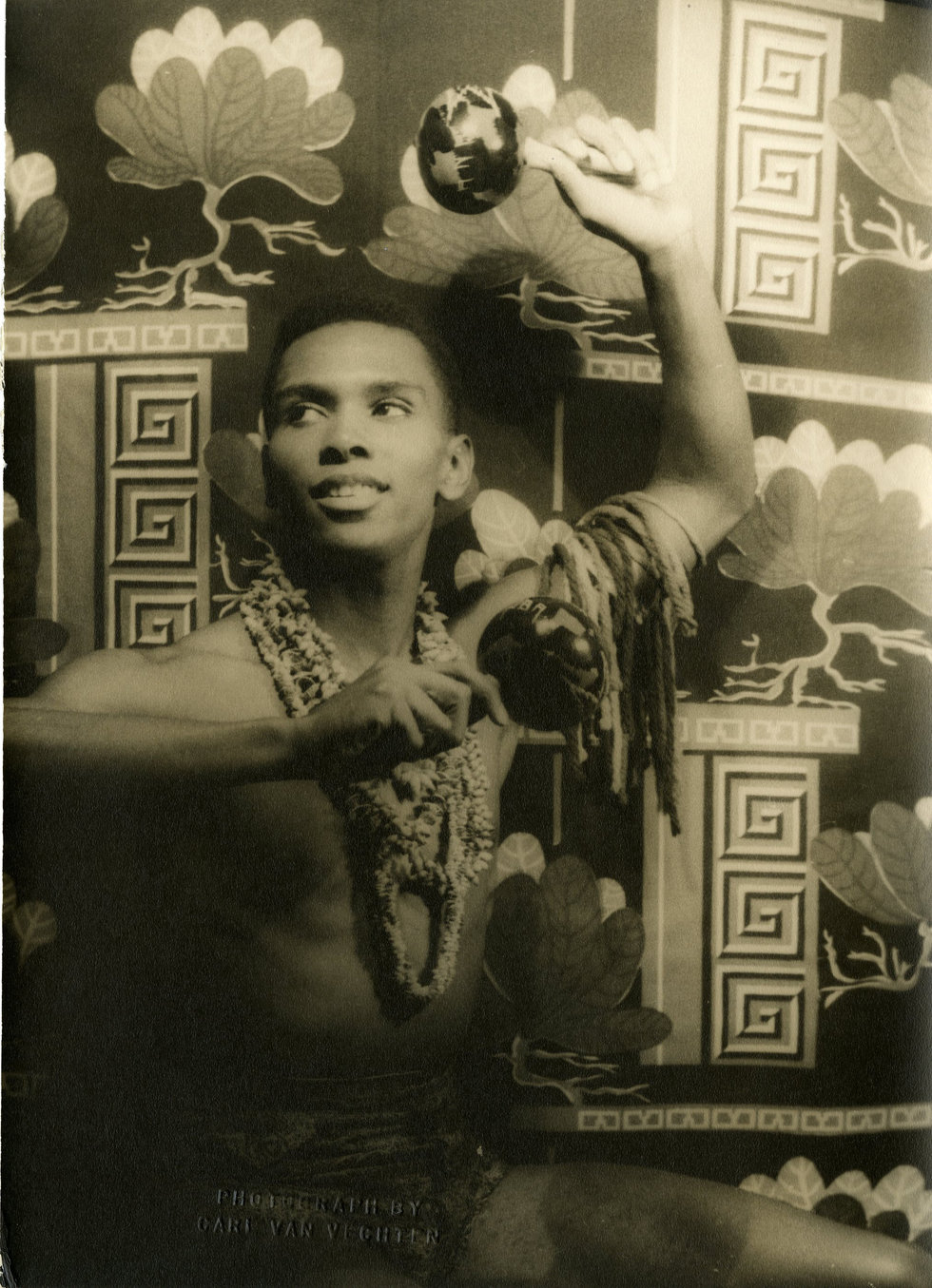 Arthur Mitchell shortly after joining the New York City Ballet in 1955. Photo by Carl Van Vechten. Arthur Mitchell Collection, Rare Book & Manuscript Collection, Columbia University.
The "Harlem's Ballet Trailblazer" exhibit features an amazing array of treasures from a life well-lived, including the telegram from Lincoln Kirstein to Mitchell inviting him to join the New York City Ballet and an eight-foot-long DTH puzzle created by Frank Bara in 1991 that chronicles the first two decades of the company's history with illustrative detail of its artists, heroes and friends.
On view also is dancer Charmaine Hunter's costume and headpiece designed by Geoffrey Holder for Firebird (1982), one of DTH's signature works. There are posters from DTH's innumerable tours, photos, performance footage of Mitchell in Agon, Four Temperaments, Midsummer Nights Dream and more. The exhibit also has an online component that will include a detailed timeline and numerous essays, all open to the public.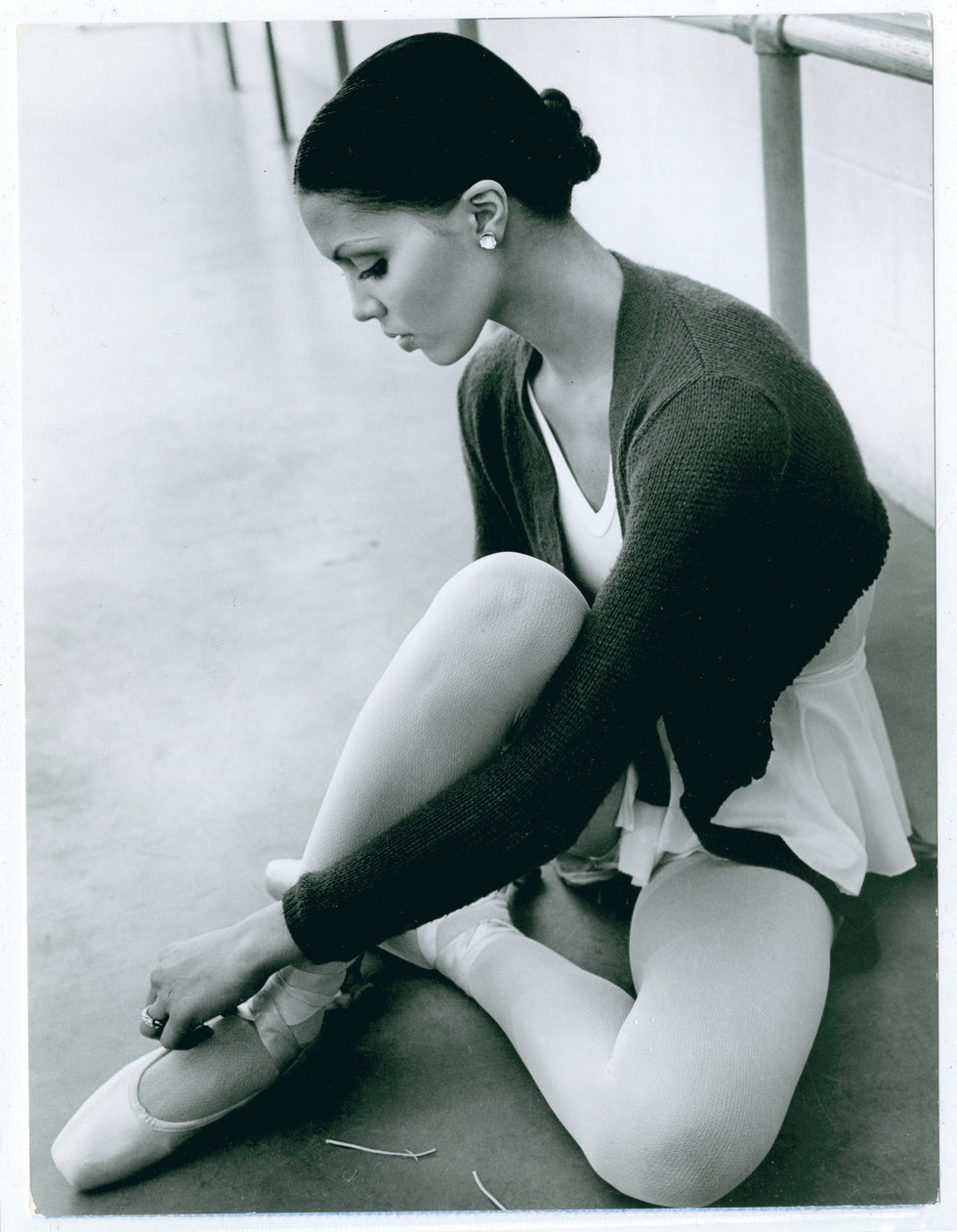 Dance Theatre of Harlem ballerina Lydia Abarca, 1970s. Arthur Mitchell Collection, Rare Book & Manuscript Collection, Columbia University.
"This exhibition pays homage both to Mitchell's creative magic and to his visionary achievements, revealing to those who never saw him dance his charismatic stage presence and the full scope of his career as an artist," says curator Lynn Garafola. "At the same time, it places the Dance Theatre of Harlem, which he co-founded and directed for more than 40 years, at the crossroads of political, artistic and racial change in the United States and beyond."
The show will run through March 11.
PC Kevin Berne, courtesy Boneau/Bryan-Brown
Choreographer Sergio Trujillo asked the women auditioning for ensemble roles in his newest musical to arrive in guys' clothing—"men's suits, or blazers and ties," he says. He wasn't being kinky or whimsical. The entire ensemble of Summer: The Donna Summer Musical is female, playing men and women interchangeably as they unfold the history of the chart-busting, Grammy-winning, indisputable Queen of Disco.
courtesy www.today.com
Keep reading...
Show less
Dance in Pop Culture
Apr. 20, 2018 12:37PM EST
Ballet Zaida; Courtesy Agnes Muljadi
Have a scroll through Agnes Muljadi's Instagram feed (@artsyagnes), and you'll notice that in between her ballet shots is a curated mix of lifestyle pics. So what exactly sets her apart from the other influencers you follow? Muljadi has made a conscious effort to only feature natural beauty products, sustainable fashion and vegan foods. With over 500k followers, her social strategy (and commitment to making ethical choices) is clearly a hit. Ahead, learn why Muljadi switched to a vegan lifestyle, and the surprising way it's helped her dance career.
Keep reading...
Show less
StockSnap
When I wrote about my struggle with depression, and eventual departure from dance because of it, I expected criticism. I was prepared to be challenged. But much to my relief, and horror, dancers from all over the world responded with support and stories of solidarity. The most critical response I saw was this one:
"Dance isn't for everyone."
This may as well be a mantra in the dance world. We have become entrenched in the Darwinian notion that the emotionally weak will be weeded out. There is no room for them anyway.
Keep reading...
Show less
News
Apr. 16, 2018 02:42PM EST
Maria Kochetkova in Helgi Tomasson's Trio // © Erik Tomasson
San Francisco Ballet star Maria Kochetkova just announced that she'll be leaving the company at the end of this season, after the much-anticipated Unbound Festival. The exact date will be announced later.
Keep reading...
Show less
The Creative Process
Apr. 20, 2018 09:30AM EST
Brandon Sterling Baker never tries to make it a "light show." Photo by Lora Robertson, courtesy Baker
He may not be a household name, but you probably know Brandon Stirling Baker's work. The 30-year-old has designed the lighting for most of Justin Peck's ballets—including Heatscape for Miami City Ballet, and the edgy The Times Are Racing for New York City Ballet—but also Jamar Roberts' new Members Don't Get Weary at Alvin Ailey American Dance Theater and a trio of Martha Graham duets for L.A. Dance Project.
He's been fascinated by lighting ever since he attended a public performing arts middle school in Sherman Oaks, California, where he had his first experiences lighting shows. He also has a background in music (he plays guitar and bass) and in drawing. Both, he says, are central to the way he approaches lighting dance.
Keep reading...
Show less
Update: Due to an overwhelming response, the in-person audition has been moved to a larger location to accommodate more dancers. See details below.

For the first time in more than 10 years, Janet Jackson is holding an open audition for dancers.
Even better? You could land a spot in her #JTribe simply by posting a video on social media.
Keep reading...
Show less


Get Dance Magazine in your inbox