Arthur Pita on His Disco Days & Boredom With Balanchine
Arthur Pita is doing one of his first abstract works with San Francisco Ballet, to premiere in April. Photo by Erik Tomasson
The ballet world can't get enough of Arthur Pita. With his maverick, surreal imagination, the self-styled "David Lynch of dance" brings a welcome theatricality to everything he touches, from his version of Kafka's The Metamorphosis to 2017's Salome for San Francisco Ballet.
The South African–born Pita competed in disco dancing and later performed with Matthew Bourne's New Adventures. Today, he is Bourne's offstage partner, and the pair live together in London. His latest work, which premiered in November, is a one-act adaptation of Dorothy Scarborough's 1925 Texan novel, The Wind, for The Royal Ballet.
---
Here, he shares insight into his creative process (and confesses why Balanchine used to bore him) with Dance Magazine:
For a story ballet like The Wind, I have a complete scenario, set moment by moment. I write cards, not with steps, but just with the narrative: This character arrives, this one does this. There needs to be a duet, a group dance. And then I start to piece it together. Sometimes I put cards up in the room, to see what needs to go where.
When you want the audience to really understand a story, you have to be daringly literal. Just do the image that says: This is what's happening here, these people are getting married—she's wearing a bridal gown, there is a priest. Once you've found that, then you can go on a tangent, go into an absurd place.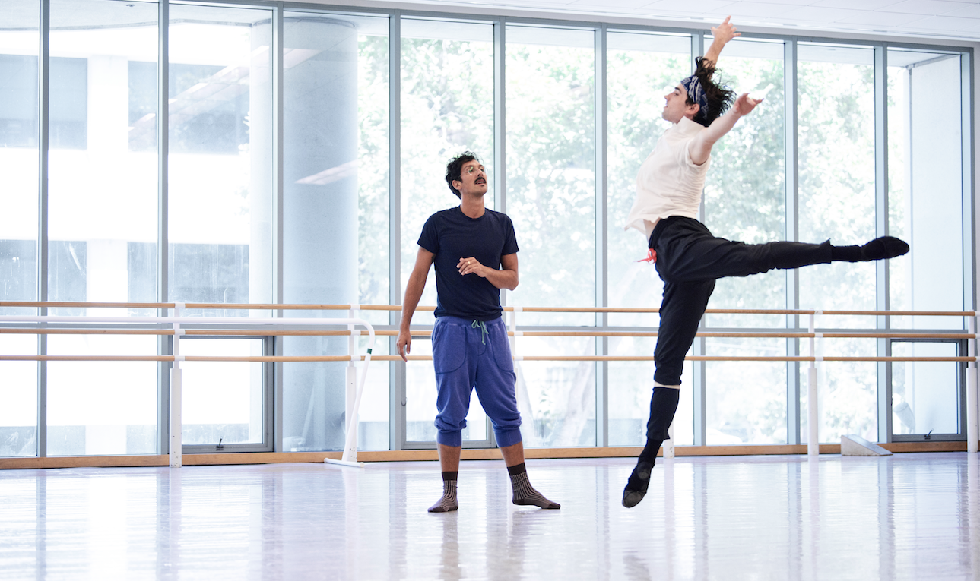 Pita in the studio at San Francisco Ballet. Photo by Erik Tomasson, courtesy SFB.
I love to use all the brains in the room. I give the dancers tasks: word tasks, couples' tasks, a language. If I can get everybody to just throw ingredients in, we can cook it all together.
I did disco dance championships when I was younger. I'd think of different techniques to stand out from the crowd: The music would start and everyone would go nuts straightaway, so I'd do something very slow, the opposite.
I like working with a new score. I have such a trusting relationship with Frank Moon, who composed Salome and The Wind. I call him my music husband. We like to give the performers space in the score, so they don't have to act on the counts. Then you start to get a different kind of timing.
I've been with Matthew Bourne for 21 years. We approach the creative process differently: I love being in the studio, but then I get nervous when we go onto the stage, and that's his favorite bit, because then he's set. There is no whispering in each other's ear. When I watch his work, I'll go: "How did you do it like this?" I'm always impressed, because I would never have done it like that.
Lately I've started to get into some really abstract Balanchine work, which I used to hate. I thought the movement was so dry. I watched Stravinsky Violin Concerto, and it's amazing, outrageous choreography. There are moves in there breaking every rule.
Actually, my next work, for San Francisco Ballet's Unbound festival, will be abstract.
Related Articles Around the Web
Peter Smith, courtesy of University Musical Society
What happens during a performance is the product of the painstaking process of realizing an artistic vision. Whether held beforehand, afterward, offsite or online, audience discussions tend not to be so preordained, easily thrown off track without a skilled moderator at the helm.
"I'm someone who dreaded talkbacks and Q&As," admits Bill Bragin, former director of public programming at Lincoln Center. "While I was in New York, a lot of the time it was just audience members trying to show off how smart they were."
These events present a pile of difficult questions: How much do you reveal about a piece before it's shown? How can a conversation designed to hit key points feel casual and spontaneous? How do you cater to the needs of diverse attendees, from novice dancegoers to lifelong fans to scholars and critics? And how do you avoid smothering dance with language, flattening all its complexity?
Keep reading...
Show less
UA Dance Ensemble members Candice Barth and Gregory Taylor in Jessica Lang's "Among the Stars." Photo by Ed Flores, courtesy University of Arizona
If you think becoming a trainee or apprentice is the only path to gaining experience in a dance company environment, think again.
The University of Arizona, located in the heart of Tucson, acclimates dancers to the pace and rigor of company life while offering all the academic opportunities of a globally-ranked university. If you're looking to get a head-start on your professional dance career—or to just have a college experience that balances company-level training and repertory with rigorous academics—the University of Arizona's undergraduate and graduate programs have myriad opportunites to offer:
Keep reading...
Show less
Alice Sheppard/Kinetic Light in DESCENT, which our readers chose as last year's "Most Moving Performance." Photo by Jay Newman, courtesy Kinetic Light
Yes, we realize it's only August. But we can't help but to already be musing about all the incredible dance happenings of 2019.
We're getting ready for our annual Readers' Choice feature, and we want to hear from you about the shows you can't stop thinking about, the dance videos that blew your mind and the artists you discovered this year who everyone should know about.
Keep reading...
Show less
Silas Farley in his Songs from the Spirit at the Metropolitan Museum of Art. Rosalie O'Connor, Courtesy Farley
I dance to encourage others. The longer I dance, the more I see that much of my real work is to speak life-giving words to my fellow artists. This is a multidimensionally grueling profession. I count it a privilege to remind my colleagues of how they are bringing beauty into the world through their craft. I recently noticed significant artistic growth in a fellow dancer, and when I verbalized what I saw, he beamed. The impact of positive feedback is deeper than we realize.
Keep reading...
Show less