Arthur Pita on His Disco Days & Boredom With Balanchine
Arthur Pita is doing one of his first abstract works with San Francisco Ballet, to premiere in April. Photo by Erik Tomasson
The ballet world can't get enough of Arthur Pita. With his maverick, surreal imagination, the self-styled "David Lynch of dance" brings a welcome theatricality to everything he touches, from his version of Kafka's The Metamorphosis to 2017's Salome for San Francisco Ballet.
The South African–born Pita competed in disco dancing and later performed with Matthew Bourne's New Adventures. Today, he is Bourne's offstage partner, and the pair live together in London. His latest work, which premiered in November, is a one-act adaptation of Dorothy Scarborough's 1925 Texan novel, The Wind, for The Royal Ballet.
---
Here, he shares insight into his creative process (and confesses why Balanchine used to bore him) with Dance Magazine:
For a story ballet like The Wind, I have a complete scenario, set moment by moment. I write cards, not with steps, but just with the narrative: This character arrives, this one does this. There needs to be a duet, a group dance. And then I start to piece it together. Sometimes I put cards up in the room, to see what needs to go where.
When you want the audience to really understand a story, you have to be daringly literal. Just do the image that says: This is what's happening here, these people are getting married—she's wearing a bridal gown, there is a priest. Once you've found that, then you can go on a tangent, go into an absurd place.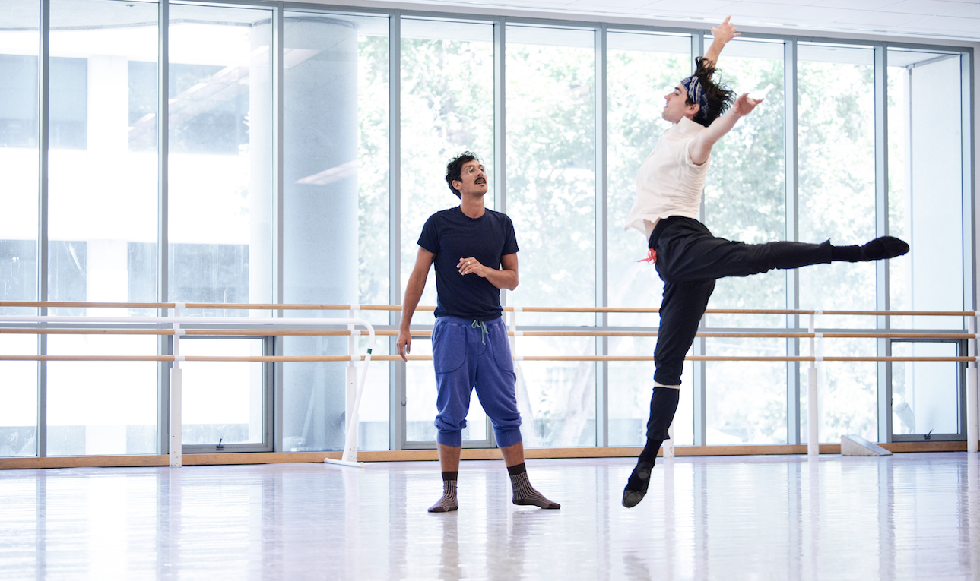 Pita in the studio at San Francisco Ballet. Photo by Erik Tomasson, courtesy SFB.
I love to use all the brains in the room. I give the dancers tasks: word tasks, couples' tasks, a language. If I can get everybody to just throw ingredients in, we can cook it all together.
I did disco dance championships when I was younger. I'd think of different techniques to stand out from the crowd: The music would start and everyone would go nuts straightaway, so I'd do something very slow, the opposite.
I like working with a new score. I have such a trusting relationship with Frank Moon, who composed Salome and The Wind. I call him my music husband. We like to give the performers space in the score, so they don't have to act on the counts. Then you start to get a different kind of timing.
I've been with Matthew Bourne for 21 years. We approach the creative process differently: I love being in the studio, but then I get nervous when we go onto the stage, and that's his favorite bit, because then he's set. There is no whispering in each other's ear. When I watch his work, I'll go: "How did you do it like this?" I'm always impressed, because I would never have done it like that.
Lately I've started to get into some really abstract Balanchine work, which I used to hate. I thought the movement was so dry. I watched Stravinsky Violin Concerto, and it's amazing, outrageous choreography. There are moves in there breaking every rule.
Actually, my next work, for San Francisco Ballet's Unbound festival, will be abstract.
Related Articles Around the Web
Cherkaoui is happy dedicating his time to projects he's invested in. Photo by Koen Broos, courtesy Michelle Tabnick PR
Sidi Larbi Cherkaoui is a busy man. These days, when he's not directing Royal Ballet of Flanders or his contemporary company Eastman, he's working on a new duet with Irish dancer Colin Dunne, creating a premiere for the Göteborg Opera, or choreographing on Beyoncé like it's NBD.
Next week, he's also taking a trip to New York City to perform in Sutra, his hit collaboration with a group of 20 Shaolin monks. In the 10 years since its premiere, the work has been performed in 60 cities across 28 countries to rave reviews and sold-out audiences. The New York performances at the White Light Festival mark a homecoming to the same festival where the piece received its US premiere.
We recently caught up with Cherkaoui to hear his thoughts on performing on the opening night of the run, what he's learned from the monks and how he manages to juggle so many projects at once.
Keep reading...
Show less
Stephanie Williams, Cory Stearns, Catherine Hurlin and Duncan Lyle rehearsing In the Upper Room. PC Kelsey Grills
Waves of sheer dance inventiveness come rolling toward you. Dancers in sneakers, pointe shoes or ballet slippers mingle: it looks like a free-for-all but is carefully plotted out. Philip Glass' music lets the dancers ride his gorgeous momentum.
This is In the Upper Room, the celestial yet kinetically charged ballet made by Twyla Tharp in 1986. It hasn't been done by American Ballet Theatre since 2012 and now it's coming back with full force.

Keep reading...
Show less
Anna Rogovoy in her dual roles of toy shop manager and dancer/choreographer. Left photo by Olympia Shannon; right photo by Kathryn Butler
Few dancers are able to make a comfortable living from their creative pursuits alone. Many rely on non-dance freelance work or multiple part-time gigs, fearing that a full-time job would take too much time away from their dancing. However, plenty of artists manage to balance full-time day jobs with fulfilling dance careers, opting for the security, benefits and opportunity to learn new skills.
Keep reading...
Show less


Get Dance Magazine in your inbox