I am a ballerina. I am a feminist. This might seem to be an oxymoron. Ballerinas do what they are told by choreographers and directors—positions that we have become painfully aware of as traditionally male roles. Feminism is the theory of the political, economic and social equality of the sexes. By that description, the two terms seem contradictory.
Alexei Ratmansky—now famously—expressed on Facebook last fall: "sorry, there is no such thing as equality in ballet: women dance on point, men lift and support women. women receive flowers, men escort women offstage. not the other way around (I know there are couple of exceptions). and I am very comfortable with that."
---
My question is: What exactly is he comfortable with? Is it the non-equity among sexes or the adhering to traditionally danced roles? Both of these issues tap into my ever-ready feminist defenses. If we're talking about dancers, this statement leaves no room for those who don't conform to gender norms. There are certainly male dancers out there who would like to be a ballerina instead of her lifting and double-touring counterpart. As there are women who dislike pointe shoes and have the ability to jump high and turn well.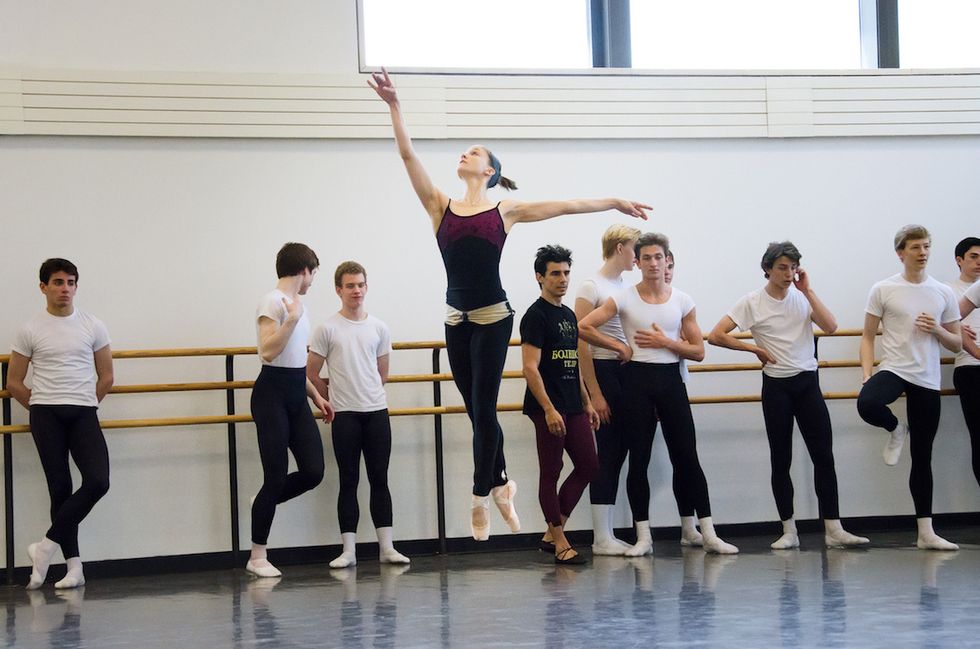 Ashley Bouder taking men's class. Photo by Kyle Froman for Pointe.
As I was debating these issues in my head last year, I was actually dancing one of Ratmansky's ballets, Odessa. The New York Times' Siobhan Burke had hotly debated what she saw as a "gang rape scene" for another dancer in the ballet, but to me, my role was much more degrading: I am literally pulled by my hair and thrown to the ground several times, giving the illusion of a woman being abused by an angry man. It beats me up and leaves me with bruises. It's also exhilarating to dance.
The mixed feelings I had were only exacerbated by Ratmansky's social media statement, and the joy I once took in the choreography was worn thin. I felt that my feminist sensibilities were being beaten down both literally and figuratively.
But we all have contradictions in ourselves, and that includes both me and Ratmansky: This year I've loved performing in his Namouna, A Grand Divertissement, and look forward to dancing his Concerto DSCH, in which I actually do male ballet steps and act as a partner to a couple of men.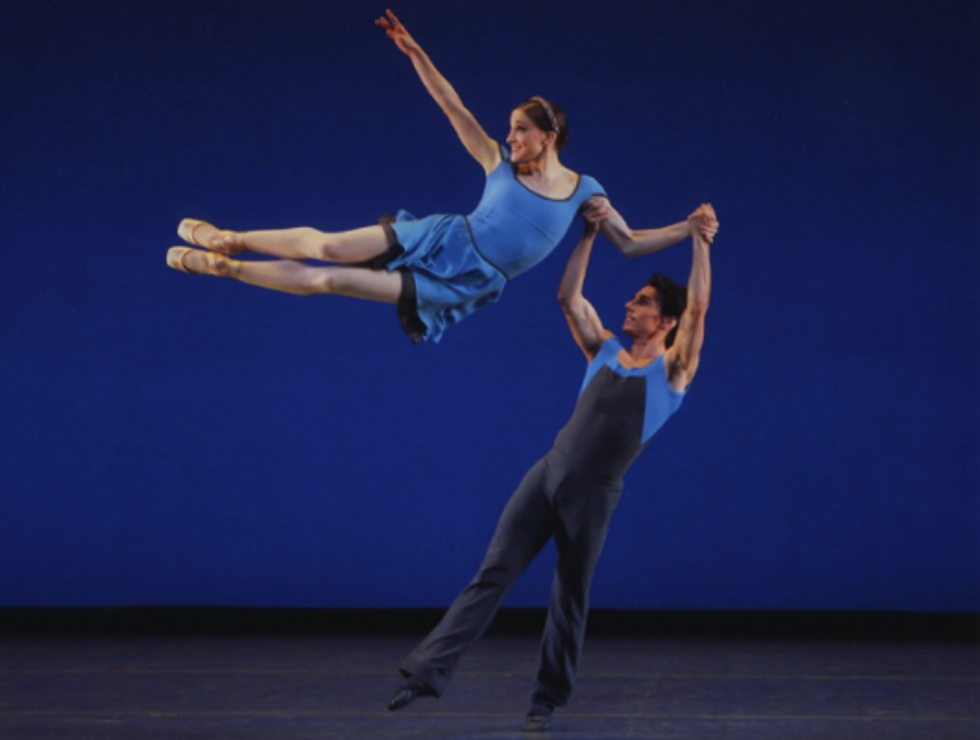 Bouder with Joaquin de Luz in Concerto DSCH. Photo by Paul Kolnik via nycballet.com
Personally, I like receiving flowers and being escorted offstage. I like dancing in pointe shoes and being lifted and supported. Yet that doesn't mean a man shouldn't be able to have those things too. It seems that whenever a man is escorted offstage or receives flowers—other than at retirement or a single rose from the ballerina—it's only done for a humorous reaction, to make fun of him for being like a woman.

The problem with these traditions is that they highlight more serious gender inequality. It's as if the image of a man leading a woman into the wings is a metaphor for how the dance world is run. A male director leading the careers of dancers. A male choreographer laying down the pathway of steps to perform.

Of course, there are women who have broken through this mold. But there it is in the phrase: "broken through." A simple place at the table would be sufficient. Instead, it's like women are crashing the dinner party.
In order to move forward socially, and, yes, artfully, we must be willing to break from tradition and make room for all types. That doesn't mean that the traditional male and female roles cannot exist. As long as performances of Petipa's Swan Lake keep selling out, it is guaranteed that they will exist.
But there are other versions of Swan Lake that sell out too: Matthew Bourne's version with all-male swans enjoyed a successful run on Broadway, and many subsequent remounts. In this production, the men are not on pointe, but that does not mean it can't happen in a production in the future.
Too many times I've felt the proverbial pat on the head and heard a "Good for you, sweetie" comment. A few times, I've actually gotten a real pat on the head. Once, when I was expressing that I wanted to be a director and asking for advice, I was told by a male leader with an exasperated expression "Now every ballerina has a voice."
Well, yes, we do have a voice. We always have. It's just that now, more of us are demanding that our voices be heard. I feel inspired by the successes of directors like Lourdes Lopez, Tamara Rojo and Julie Kent, and hopeful because of the hiring of Gianna Reisen and Lauren Lovette as choreographers at New York City Ballet.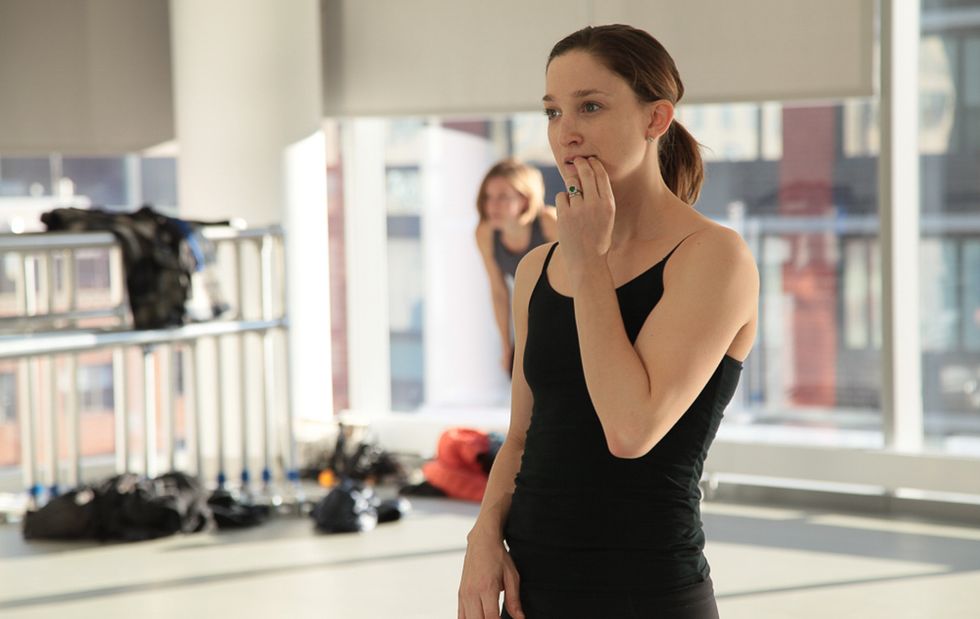 Bouder leading rehearsal at the Ashley Bouder Project. Photo by Miguel Anaya
Frustrated that I wasn't being taken seriously or given the opportunity to create, I decided to use that energy to fuel something that would represent change. I've dedicated my arts collaborative, the Ashley Bouder Project, to furthering female and marginalized individuals' voices in the dance and music worlds.
It's my goal to provide opportunity to as many diverse, talented and driven individuals as I can. Currently, the ABP is working with over 40 artists for performances at New York City's Joyce Theater in July. I've commissioned pieces by Lovette, Abdul Latif and Annabelle Lopez Ochoa, plus a new score from Stephanie Ann Boyd and a rewrite of an existing work from Kate Moore. (The lack of female composers in ballet is astounding; I can't think of one I've danced to at NYCB in my 18-year career.)
I'm also remounting my own work In Pursuit of… and Duet, a dance created for Sara Mearns and myself by Liz Gerring. The duet was choreographed to be gender neutral, and this year it will be performed not by two women, but by a man and a woman.
I've heard my company referred to as a "pet project" and, yes, it is. I'm guilty of hiring artists that I'm dying to work with and who also promote my feminist, equality-driven ideals. Having recently become a mother, I want my little Violet to grow up in a world that doesn't need startup companies like mine.
Some people wonder what will be enough to satisfy this feminist agenda of mine and many others. When Ruth Bader Ginsburg was asked how many female supreme court justices would be "enough," she said nine. I say, it is "enough" when a major ballet company can have an evening with all female choreographers and it is not billed as such and no one says a word about it. When the comments afterwards don't sound like "Did you know those were all choreographed by women? Wow."

To say that being a ballerina and a feminist is a contradiction, for me, seems a misnomer. I enjoy being supported, escorted and presented with flowers, but that doesn't mean that I don't leave room for others who don't look like me to do so as well.
The world at large is changing, and ballet should embrace these changes, while also keeping traditions alive. NYCB constantly premieres new choreography while also upholding the traditions of George Balanchine and Jerome Robbins. May we take this lesson to the next level and use it to create new normals that will change the landscape of ballet. By encouraging female voices, we can realize new possibilities.