Ashley Murphy-Wilson's Dancer-Approved Southern-Style Meal Prep
Theo Kossenas, Courtesy The Washington Ballet
While Ashley Murphy-Wilson was growing up, her grandmother, Ella Bowers, owned a restaurant in their hometown of Shreveport, Louisiana, and taught The Washington Ballet dancer how to cook. "She's still teaching me!" Murphy-Wilson says with a laugh. Big family meals were Southern soul food and pure decadence: fried chicken, fried fish, collard greens, sweet potato pies and all kinds of cakes and casseroles.
---
She spoke with Dance Magazine about how she incorporates those traditions into her own kitchen today while still fueling a healthy dancer lifestyle.
Her Healthy Swaps for Southern Comfort Food
Murphy-Wilson still enjoys making indulgent Southern dishes. But she typically opts for healthy swaps. For example, instead of boiling the nutrients out of collard greens and adding bacon fat for flavor, she'll sauté them with olive oil, salt, garlic and red pepper.
Her Meal Prep Plan
She usually cooks three to four recipes every weekend to rotate for dinners and lunches throughout the week—typically a fish, a chicken and a red meat (for the iron), with accompanying veggies and starch, like quinoa or sweet potatoes.
Her Splurge Philosophy
Sometimes dinner a splurge, like a gooey, cheesy casserole. "It's okay to have that stuff every now and then," Murphy-Wilson says. "You just can't eat like that every day and expect it not to take a toll."
Her Favorite Hack for Busy Weeks
During busy six- to seven-day theater weeks, Murphy-Wilson's a big fan of the meal-box delivery service Blue Apron. Each dish takes about 20 minutes, and you can get six meals (three recipes, two portions each) for around $60. Plus, Murphy-Wilson says, the ingredients help her experiment with new flavors.

Her Favorite Injury-Healing Ingredient
"Every time I'm coming back from an injury I try to learn more about what I'm putting into my body to help me recover," says Murphy-Wilson. A favorite healing ingredient? Turmeric. She'll use the powder in teas and rubs to reduce inflammation. "I prefer to do something like that instead of taking Advil every single day."
Her Lemon Turmeric Salmon Recipe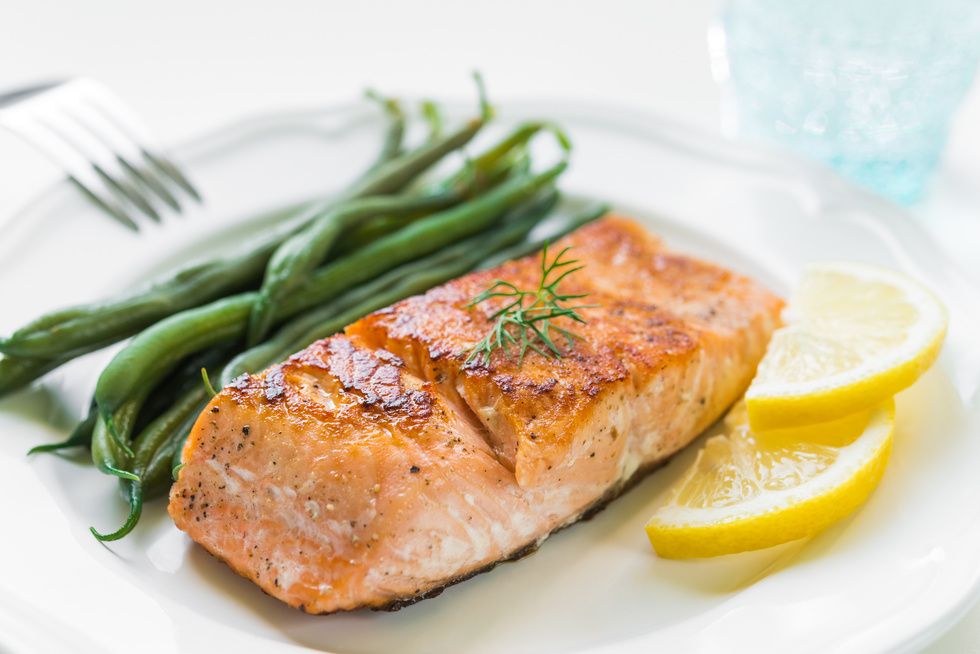 Getty Images
"There are so many different ways to cook salmon, so I never get tired of it," Murphy-Wilson says. This recipe's protein and healthy fats coupled with turmeric's anti-inflammatory properties make a powerful combination—and nearly a week's worth of nutritious lunches.
Ingredients:
1/2 cup very cold or frozen salted butter, plus more for greasing pan
4 fresh, skin-on salmon fillets, cut about 1 1/2 inches thick
1 tbsp. dried thyme
1 tsp. turmeric
1/2 tsp. salt
1 large lemon
Instructions:
Preheat the oven to 400°F and butter the bottom of a baking sheet.
Rinse the salmon, pat dry and place skin-side down on the sheet.
In a small dish, mix the thyme, turmeric and salt. Sprinkle the spice mixture evenly over the top of the fillets.
Slice the lemon into 4 thin rounds, remove the seeds, then halve the rounds.
Top each fillet with two lemon slice halves, then grate the cold butter evenly over the top of the fillets.
Cover the pan with aluminum foil or parchment paper and bake for 15 to 20 minutes. (Cut into center to check doneness.)
Remove from the oven, uncover, spoon the butter sauce from the pan over the fish and serve.
James Beaudreau, Courtesy Lara
Inside a bustling television studio in Los Angeles, Lindsay Arnold Cusick hears the words "Five minutes to showtime." While dancers and celebrities covered head to toe in sequins whirl around preparing for their live performances on "Dancing with the Stars," Cusick pauses to say a prayer to God and express her gratitude.
"I know that it's not a given, and I'm grateful for the opportunity to do what I love for a living," says Cusick, a member of The Church of Jesus Christ of Latter-day Saints. For her, prayer is a ritualized expression of her faith that she has maintained since she was a girl in Provo, Utah. Even with her seven-plus years of industry experience, she always takes a moment to steady herself and close her prayer in Christ's name before rushing onto the stage.
Keep reading...
Show less
The hotly-debated Michael Jackson biomusical is back on. Not that it was ever officially off, but after its pre-Broadway Chicago run was canceled in February, its future seemed shaky.
Now, the show has secured a Broadway theater, with previews starting July 6 at the Neil Simon Theater.
Keep reading...
Show less
Jacques d'Amboise leading a National Dance Institute class. Photo by Lois Greenfield, Courtesy DM Archives
In the October 1969 issue of Dance Magazine, we spoke with Jacques d'Amboise, then 20 years into his career with New York City Ballet. Though he became a principal dancer in 1953, the star admitted that it hadn't all been smooth sailing.
Keep reading...
Show less
These days, social media is an essential tool for dance companies looking to promote their work. Karole Armitage's company, Armitage Gone! Dance, recently posted ads for their upcoming show at New York Live Arts, You Took A Part Of Me, a "mysterious and hypnotic display of erotic entanglement and unresolved attachment" inspired by traditional Japanese Noh drama.
Keep reading...
Show less