Ashley Murphy-Wilson's Dancer-Approved Southern-Style Meal Prep
Theo Kossenas, Courtesy The Washington Ballet
While Ashley Murphy-Wilson was growing up, her grandmother, Ella Bowers, owned a restaurant in their hometown of Shreveport, Louisiana, and taught The Washington Ballet dancer how to cook. "She's still teaching me!" Murphy-Wilson says with a laugh. Big family meals were Southern soul food and pure decadence: fried chicken, fried fish, collard greens, sweet potato pies and all kinds of cakes and casseroles.
---
She spoke with Dance Magazine about how she incorporates those traditions into her own kitchen today while still fueling a healthy dancer lifestyle.
Her Healthy Swaps for Southern Comfort Food
Murphy-Wilson still enjoys making indulgent Southern dishes. But she typically opts for healthy swaps. For example, instead of boiling the nutrients out of collard greens and adding bacon fat for flavor, she'll sauté them with olive oil, salt, garlic and red pepper.
Her Meal Prep Plan
She usually cooks three to four recipes every weekend to rotate for dinners and lunches throughout the week—typically a fish, a chicken and a red meat (for the iron), with accompanying veggies and starch, like quinoa or sweet potatoes.
Her Splurge Philosophy
Sometimes dinner a splurge, like a gooey, cheesy casserole. "It's okay to have that stuff every now and then," Murphy-Wilson says. "You just can't eat like that every day and expect it not to take a toll."
Her Favorite Hack for Busy Weeks
During busy six- to seven-day theater weeks, Murphy-Wilson's a big fan of the meal-box delivery service Blue Apron. Each dish takes about 20 minutes, and you can get six meals (three recipes, two portions each) for around $60. Plus, Murphy-Wilson says, the ingredients help her experiment with new flavors.

Her Favorite Injury-Healing Ingredient
"Every time I'm coming back from an injury I try to learn more about what I'm putting into my body to help me recover," says Murphy-Wilson. A favorite healing ingredient? Turmeric. She'll use the powder in teas and rubs to reduce inflammation. "I prefer to do something like that instead of taking Advil every single day."
Her Lemon Turmeric Salmon Recipe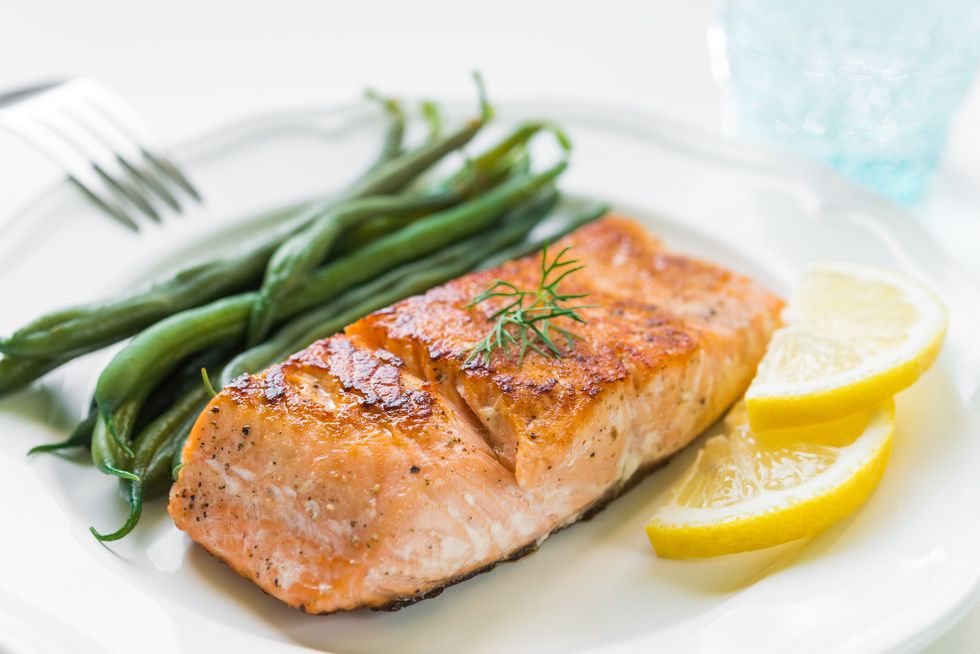 Getty Images
"There are so many different ways to cook salmon, so I never get tired of it," Murphy-Wilson says. This recipe's protein and healthy fats coupled with turmeric's anti-inflammatory properties make a powerful combination—and nearly a week's worth of nutritious lunches.
Ingredients:
1/2 cup very cold or frozen salted butter, plus more for greasing pan
4 fresh, skin-on salmon fillets, cut about 1 1/2 inches thick
1 tbsp. dried thyme
1 tsp. turmeric
1/2 tsp. salt
1 large lemon
Instructions:
Preheat the oven to 400°F and butter the bottom of a baking sheet.
Rinse the salmon, pat dry and place skin-side down on the sheet.
In a small dish, mix the thyme, turmeric and salt. Sprinkle the spice mixture evenly over the top of the fillets.
Slice the lemon into 4 thin rounds, remove the seeds, then halve the rounds.
Top each fillet with two lemon slice halves, then grate the cold butter evenly over the top of the fillets.
Cover the pan with aluminum foil or parchment paper and bake for 15 to 20 minutes. (Cut into center to check doneness.)
Remove from the oven, uncover, spoon the butter sauce from the pan over the fish and serve.
Chantelle Pianetta competing at a West Coast swing event. Courtesy Pianetta.
Just hearing the word "improvisation" is enough to make some ballet dancers shake in their pointe shoes. But for Chantelle Pianetta, it's a practice she relishes. Depending on the weekend, you might find her gracing Bay Area stages as a principal with Menlowe Ballet or sweeping in awards at West Coast swing competitions.

She specializes in Jack and Jill events, which involve improvised swing dancing with an unexpected partner in front of a panel of judges. (Check her out in action below.) While sustaining her ballet career, over the past four years Pianetta has quickly risen from novice to champion level on the WCS international competition circuit.
Keep reading...
Show less
Jayme Thornton
Sean Dorsey was always going to be an activist. Growing up in a politically engaged, progressive family in Vancouver, British Columbia, "it was my heart's desire to create change in the world," he says. Far less certain was his future as a dancer.
Like many dancers, Dorsey fell in love with movement as a toddler. However, he didn't identify strongly with any particular gender growing up. Dorsey, who now identifies as trans, says, "I didn't see a single person like me anywhere in the modern dance world." The lack of trans role models and teachers, let alone all-gender studio facilities where he could feel safe and welcome, "meant that even in my wildest dreams, there was no room for that possibility."
Keep reading...
Show less
Getty Images
It's hour three of an intense rehearsal, you're feeling mentally foggy and exhausted, and your stomach hurts. Did you know the culprit could be something as simple as dehydration?
Proper hydration helps maintain physical and mental function while you're dancing, and keeps your energy levels high. But with so many products on the market promising to help you rehydrate more effectively, how do you know when it's time to reach for more than water?
Keep reading...
Show less