Op-Ed: Why Is Ballet So Bad at Representing Asians Onstage? Look at The Choreographers
A couple weeks ago, I went to see New York City Ballet's Tribute To Robbins, which featured Warren Carlyle's lovely restaging of Jerome Robbins' Broadway choreography. But as the number from The King and I began, I felt a familiar discomfort.
I rolled my eyes at the faux-Thai headdresses and the "exotic" musical motifs—irritations transferred from the musical, whose Orientalist tendencies are well-documented. But my disappointment doubled as I realized that I have never seen a ballet choreographed by an Asian American on that stage.
I left frustrated and confused. As a young dancer and Filipino American, I look up to performers and choreographers who share my Asian-American heritage. Where are they?
---
Asian Americans have carved out complicated spaces in the dance canon amidst stereotypes and discrimination. According to scholars like Yutian Wong, there's a long history of Asian-American performance, from Chinatown "Chop Suey" vaudeville circuits to active roles in the modern and postmodern dance movements.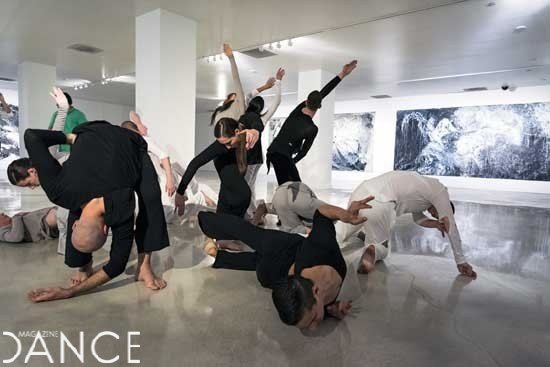 Shen Wei — In Black, White and Gray at Miami Dade College's Museum of Art + Design. Photo by Moris Moreno
On YouTube, crisp hip-hop routines by Asian-American choreographers regularly net millions of views. Manhattan-based Shen Wei choreographed the beautiful, calligraphy-inspired opening ceremony of Beijing's 2008 Olympics. Avant-garde artists like Eiko & Koma, Sam Kim and Denise Uyehara push at dance's limits.
Renowned ballet companies feature Asian-American principals like Yuan Yuan Tan, Stella Abrera, Hee Seo and Amar Ramasar. The National Ballet of China's 2015 appearance at Lincoln Center showcased China's long-running cultural engagement with the Western dance form.
But one of the greatest gaping holes, where hardly an Asian American is to be found, is in contemporary ballet choreography. On mainstream stages, Asian-ness is present, but in limited and problematic ways.
The Nutcracker's "Chinese/Tea" divertissement, perhaps the most widely known instance of "Asian" ballet in the canon, is sadly prone to stereotypical treatment.
A more recent example is Peter Martins' The Chairman Dances. Choreographed to music from John Adams' opera Nixon in China, it premiered in 1988, and has been revived several times since.
Writing for The New York Times after its premiere, dance critic Anna Kisselgoff pointed out that its "Chinoiserie" never takes into account "the extent to which Chinese viewers are offended by … ballet dancers acting like China dolls in pajamas." Two decades later, Alastair Macaulay panned it as a "pseudo-Maoist pastiche," questioning why City Ballet revived it in the first place.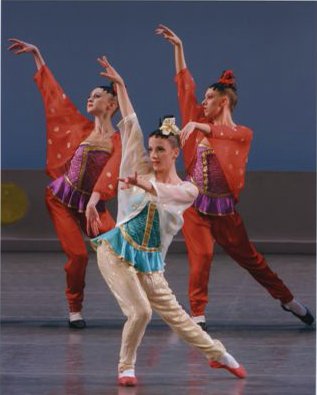 NYCB's Abi Stafford in The Chairman Dances. Photo by Paul Kolnik
Last fall, it was staged again as part of the company's 21st Century Choreographers program. It was featured alongside Lauren Lovette's bold ballet Not Our Fate, which incorporated same-sex partnering, and Composer's Holiday by 18-year-old Gianna Reiser, the company's youngest commissioned dancemaker.
Next to these two milestones, Chairman Dances is woefully out of place. Rather than reprise a tired, problematic ballet, why not feature an actual "21st Century Choreographer" from a Chinese background?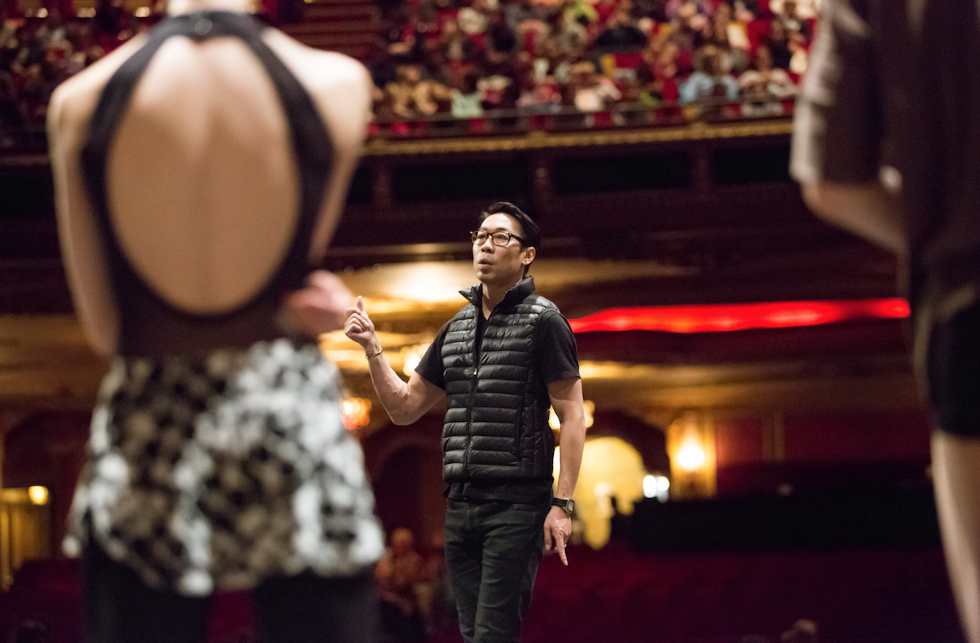 Edwaard Liang leading an onstage class at BalletMet. Photo by Jennifer Zmuda, courtesy BalletMet
Asian-American dancemakers do find some representation beyond mainstream stages. BalletX's Caili Quan choreographed Toe The Line for the Columbia Ballet Collaborative this spring. In Ohio, Edwaard Liang, a former NYCB and NDT soloist, leads BalletMet as artistic director and actively makes new ballets. Ma Cong serves as resident choreographer of Tulsa Ballet.
The late Goh Choo-San is the one Asian-American choreographer whose work was especially prominent in Lincoln Center: the Baryshnikov-commissioned Configurations, for American Ballet Theatre. As resident choreographer of The Washington Ballet in the 1980s, he created several neo-classical works for American companies.
The ballet world is slow to change, but we already know that it can. Last year, Alexei Ratmansky's claim that there's "no such thing as [gender] equality in ballet" was swiftly rebuked, in dance writing circles and in works like Lovette's.

Minority representation is trickling through. Kyle Abraham is on deck to create a work for NYCB next year as the fourth African-American dancemaker to do so. But the trickle should be a deluge—we must acknowledge, and then rectify, the fact that underrepresentation on stages and screens has almost always been about bias, prejudice and racism rather than who is, or isn't, truly talented.
Ballet's "timeless" image must evolve or risk obsolescence. This evolution must include Asian Americans, not only onstage as dancers, but also in the studio as dancemakers and storytellers—far beyond simple tokenism or "East Meets West" features. It's time for fewer
Chairman Dances
, and more Asians in the choreographer's chair.
Alice Sheppard/Kinetic Light in DESCENT, which our readers chose as last year's "Most Moving Performance." Photo by Jay Newman, courtesy Kinetic Light
Yes, we realize it's only August. But we can't help but to already be musing about all the incredible dance happenings of 2019.
We're getting ready for our annual Readers' Choice feature, and we want to hear from you about the shows you can't stop thinking about, the dance videos that blew your mind and the artists you discovered this year who everyone should know about.
Keep reading...
Show less
The USC Kaufman graduating class with Mikhail Baryshnikov. Gus Ruelas/USC
Just four years ago, the University of Southern California's Glorya Kaufman School of Dance welcomed its first class of BFA students. The program—which boasts world-class faculty and a revolutionary approach to training focused on collaboration and hybridity—immediately established itself as one of the country's most prestigious and most innovative.
Now, the first graduating class is entering the dance field. Here, six of the 33 graduates share what they're doing post-grad, what made their experience at USC Kaufman so meaningful and how it prepared them for their next steps:
Keep reading...
Show less
Courtesy Chiara Valle
Chiara Valle is just one of many dancers heading back to the studio this fall as companies ramp up for the season. But her journey back has been far more difficult than most.
Valle has been a trainee at The Washington Ballet since 2016, starting at the same time as artistic director Julie Kent. But only a few months into her first season there, she started experiencing excruciating pain high up in her femur. "It felt like someone was stabbing me 24/7," she says. Sometimes at night, the pain got so bad that her roommates would bring her dinner to the bathtub.
Keep reading...
Show less
A Ladies of Hip-Hop battle. Photo by Loreto Jamlig, Courtesy Ladies of Hip-Hop
Michele Byrd-McPhee's uncle was a DJ for the local black radio station in Philadelphia, where she was born. As a kid she was always dancing to the latest music, including a new form of powerful poetry laid over pulsing beats that was the beginning of what we now call hip hop.
Byrd-McPhee became enamored of the form and went on to a career as a hip-hop dancer and choreographer, eventually founding the Ladies of Hip-Hop Festival and directing the New York City chapter of Everybody Dance Now!. Over the decades, she has experienced hip hop's growth from its roots in the black community into a global phenomenon—a trajectory she views with both pride and caution.
On one hand, the popularity of hip hop has "made a global impact," says Byrd-McPhee. "It's provided a voice for so many people around the world." The downside is "it's used globally in ways that the people who made the culture don't benefit from it."
Keep reading...
Show less