Atlanta Ballet Dancer Alessa Rogers' Open Letter to The Dancer Who Hates Herself
Alessa Rogers as Juliette. Photo by Charlie McCullers
To The Dancer Who Hates Herself:
I see you. I know who you are. If you think you are hiding your self-loathing, you are deceiving only yourself. It is time to stop. Whatever baggage you are carrying around, whoever told you that you weren't worthy once upon a time or is still telling you that now—let those voices go.
You're not alone in this. On bad days when you look in the mirror and feel insecure and invisible and not enough, remember that other dancers have those days, too.
It's so easy to criticize one's self. Be braver than that. Be brave enough to love yourself. Tiny acts of forgiveness will add up to something beautiful and redemptive. If you don't know how to start, start the way you would start falling in love with anyone: slowly and patiently, with curiosity and infinite tenderness.
---
Don't be seduced by the feeling that berating yourself makes you a better artist. I know you are trying to protect yourself by saying self-judgmental things so that it won't sting if others do. But putting yourself down will not endear you to the people in the front of the studio. Habitual self-criticism is limiting and distracting and unproductive. It keeps you mired in small thinking.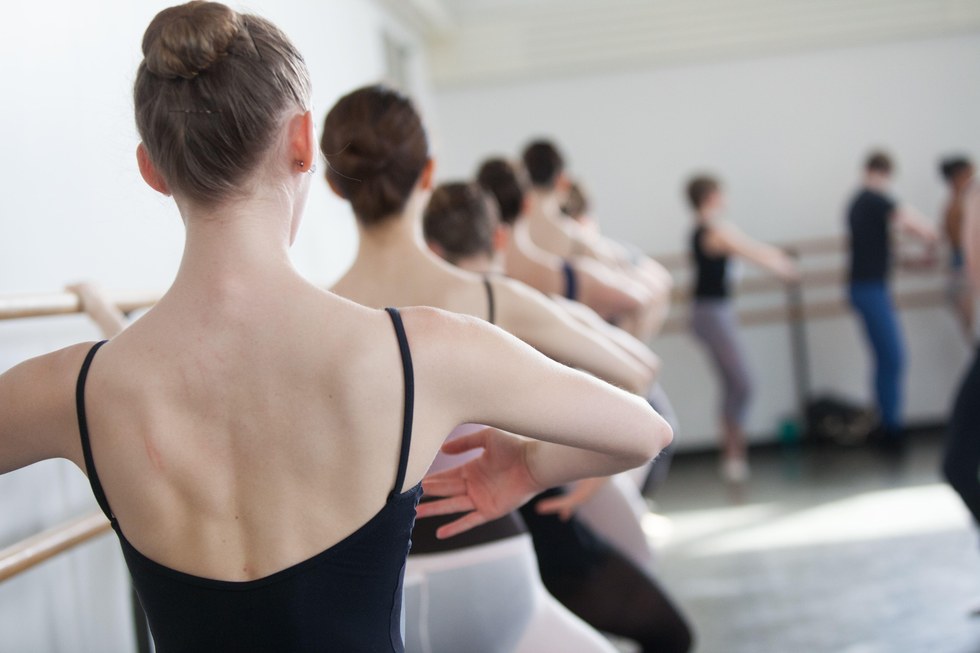 Habitual self-criticism is unproductive. Photo by Matthew Murphy for Pointe
Be mindful of the feelings you choose to cling to. A well-rounded artist who experiences the full spectrum of emotions and transforms them into dance is going to give deeper performances than the one who chooses only to suffer. Yes, feel all your valid varied and true feelings. But don't give greater weight to the bad ones. Happiness is a choice and a practice. The struggling artist trope may seem alluring but it is ultimately a mask that gets in the way of the work. You can make art with joy, too.
Don't define yourself by what you can't do. Yes, work on your weaknesses, but work on your strengths more. Whatever is special about you, grab hold of that thing and own it.
Shine your shine.
Try adopting the aura of confidence that certain special dancers have. Imagine how you think they feel at their best, form a soul memory of that feeling. What people see is what you project, so project who you want to be.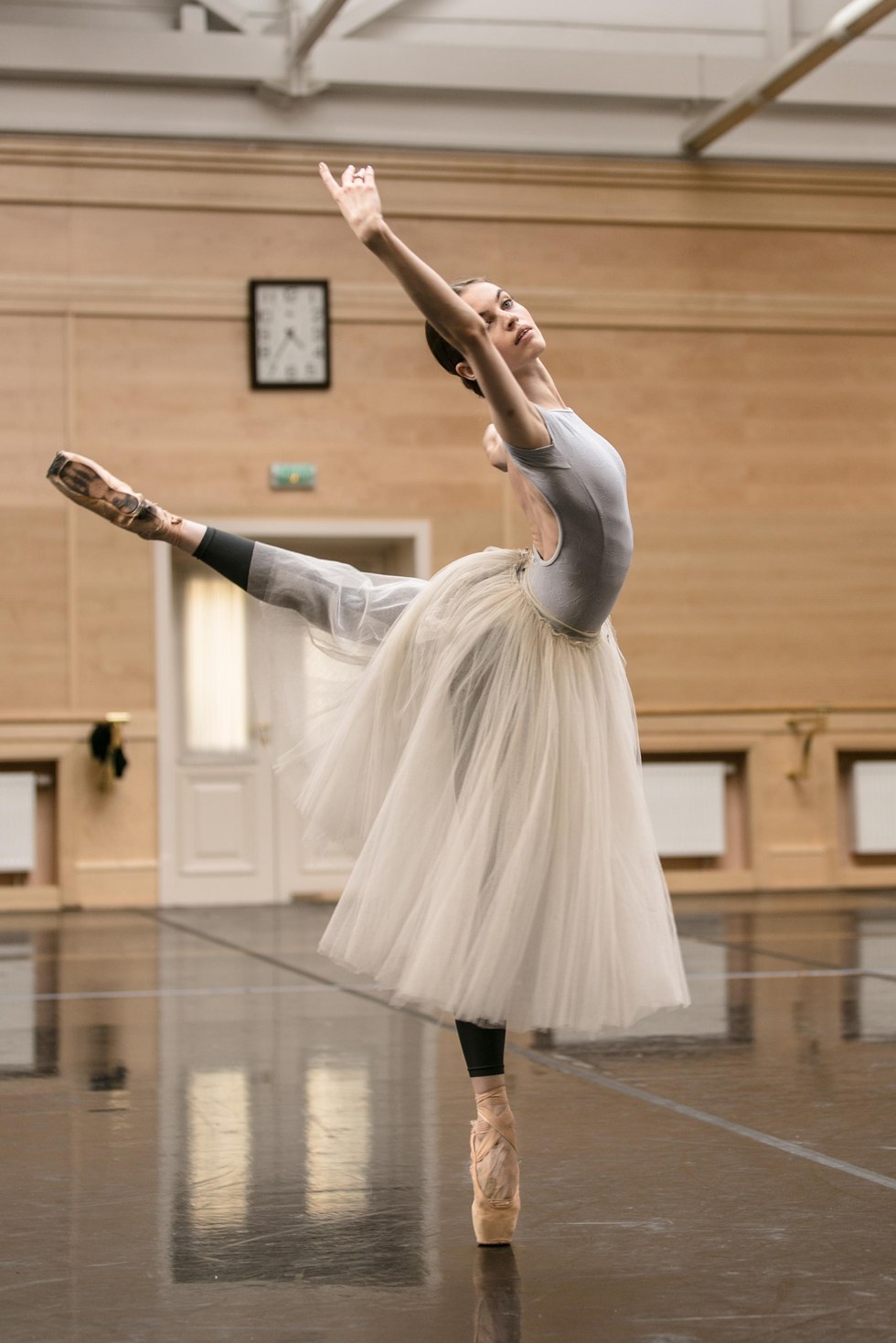 Adopt an aura of confidence: The Bolshoi's Maria Vinogradova, photographed by Quinn Wharton.
And if people want to love you, let them love you! Take that compliment and run and don't look back. Accept that love into your entire being and let that crack in you heal a little bit.
How you should be, want to be, could be—these are illusions and it is not fulfilling to dwell on them. Get out of your head and into your body. Work so hard you don't have time to judge yourself. Do your best then let it go, and don't attach labels to the outcome.
Dance is only ever a process. A big opening night, an injury, a failed audition—these are but moments. You will never fully understand the trajectory of your career until you view it from afar, years down the road, and realize everything was falling into place, maybe not how you expected, but exactly as it beautifully, imperfectly should.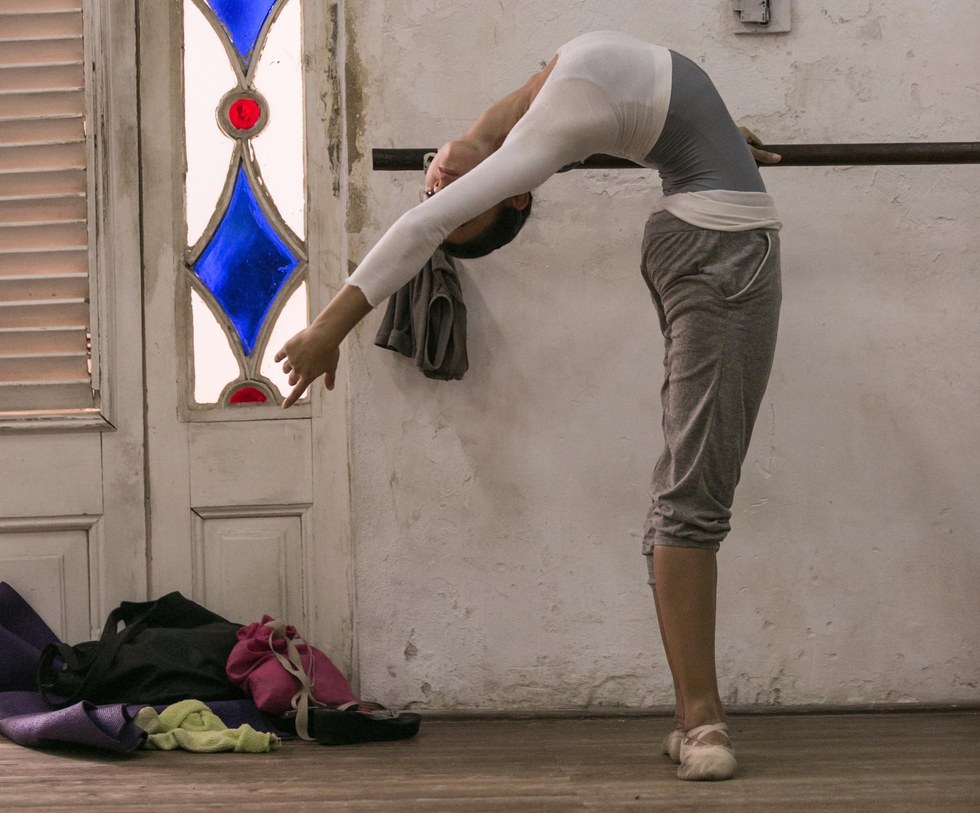 Work so hard you don't have time to judge yourself. Photo by Quinn Wharton
Progress can be achingly slow. But trust me, one day you'll look back on the years of struggle that felt hopeless. The months that you never saw improvement. Improvement is a shadowy friend: You can never see it right in front of your face, it's only looking back that you realize it was there all along.
There won't be a day when we won't let ourselves down in some tiny or profound way. But you have to love and forgive yourself anyway, even when you are all scraped knees and stumbles, messy hair and missed rehearsals. There is nothing shameful about showing up and being vulnerable and falling on your face. Shame is in closing yourself up and trying to be perfect when all you can ever be is you.
You'll never have a different body, or different training, or get to take back the choices you've already made. Your work is to love this fleeting, glorious career fiercely, to value your place in it and cherish the body that lets you do it. There is no one to prove anything to unless you can be content in your own skin.
Here's what I think. Your self-hatred is just an excuse to not be as bright as you are. But you are better than the fear you have grown used to. Loving yourself takes guts. It is revolutionary. It is worth it.
Let yourself shine.
Robin Worrall via Unsplash
Social media has made the dance world a lot smaller, giving users instant access to artists and companies around the world. For aspiring pros, platforms like Instagram can offer a tantalizing glimpse into the life of a working performer. But there's a fine line between taking advantage of what social media can offer and relying too heavily on it.
Keep reading...
Show less
UA Dance Ensemble members Candice Barth and Gregory Taylor in Jessica Lang's "Among the Stars." Photo by Ed Flores, courtesy University of Arizona
If you think becoming a trainee or apprentice is the only path to gaining experience in a dance company environment, think again.
The University of Arizona, located in the heart of Tucson, acclimates dancers to the pace and rigor of company life while offering all the academic opportunities of a globally-ranked university. If you're looking to get a head-start on your professional dance career—or to just have a college experience that balances company-level training and repertory with rigorous academics—the University of Arizona's undergraduate and graduate programs have myriad opportunites to offer:
Keep reading...
Show less
Alice Sheppard/Kinetic Light in DESCENT, which our readers chose as last year's "Most Moving Performance." Photo by Jay Newman, courtesy Kinetic Light
Yes, we realize it's only August. But we can't help but to already be musing about all the incredible dance happenings of 2019.
We're getting ready for our annual Readers' Choice feature, and we want to hear from you about the shows you can't stop thinking about, the dance videos that blew your mind and the artists you discovered this year who everyone should know about.
Keep reading...
Show less
Sergei Diaghilev, who was terrified of the sea, posing with a life preserver aboard a ship. Photo courtesy DM Archives
On August 19, 1929, shockwaves were felt throughout the dance world as news spread that impresario Sergei Diaghilev had died. The founder of the Ballets Russes rewrote the course of ballet history as the company toured Europe and the U.S., championing collaborations with modernist composers, artists and designers such as Igor Stravinsky, Pablo Picasso and Coco Chanel. The company launched the careers of its five principal choreographers: Michel Fokine, Vaslav Nijinsky, Léonide Massine, Bronislava Nijinska and George Balanchine.
Keep reading...
Show less