In the man's world, Alexandra "Ladie One" Graniella wants women to know their power. A new mom, this b-girl is part of an all-female hip-hop crew called Heart Breakerz, made up of 20 women from around the world.
On her own, Graniella has won both national and international competitions and performed in dance festivals, music videos, TV shows and movies. This spring, she took the stage of the Red Bull BC One Cypher in Los Angeles, after a two-year competition hiatus following the birth of her daughter.
Although she trained harder than ever for her comeback, she's careful to keep competitions in perspective. "There's no one in the scene like me," she says, "and no one can take that away even if I lose in the first round of a battle."
At the Red Bull BC One Cypher, she spoke to Dance Magazine about female power, motherhood and her all-girl crew.
---
How she got her breaking name, "LadieOne":
"I actually started in hip hop as a graffiti writer in Miami. There weren't a lot of girls doing graffiti, so I started writing 'Ladie' because I wanted people to know I was a girl."
Her path into breaking:
"I spent every Saturday night at this organization called, Catalyst Hip-Hop. The founder was a Christian and a really big hip-hop fan, so he made a place where it was safe for people to practice their element by curating walls for graffiti writers and dance floors for breakers. I was surrounded by these b-boys and b-girls and I was amazed at what they were doing, so eventually I tried it and everyone started calling me LadieOne."
How motherhood has changed her dancing:
"After I had my daughter, it was like a switch went off. I had the movements, style, and understood breaking before, but I didn't fully understand myself. Dancing and training again after I had her—I dance with more composure."
Her all-girl crew, Heart Breakerz:
"We're an international crew of b-girls, graffiti writers, movement artists, emcees and DJs. We cover every element of hip-hop and we're a family of around 20 girls."
Her pre-competition ritual:
"I'll sleep in as long as I can, then I'll get a Starbucks and I'm good to go. I love an iced matcha green tea latte or a caramel macchiato."
Her side hustle: 
"I started working at makeup counters when I was 17 or 18 in Miami, and continued doing that when I moved to L.A. I started freelancing, and now I've worked on movies, red carpets and runway shows like Louis Vuitton."
Her competition mindset:
"Anyone can have a good day, and anyone can have a bad day. When I was younger, losing would upset me a lot, but now I understand that a competition doesn't define you as a dancer or who you are in the game."
What's on her playlist:
"If I'm driving to a competition, I'll blast Wu-Tang to get me hype."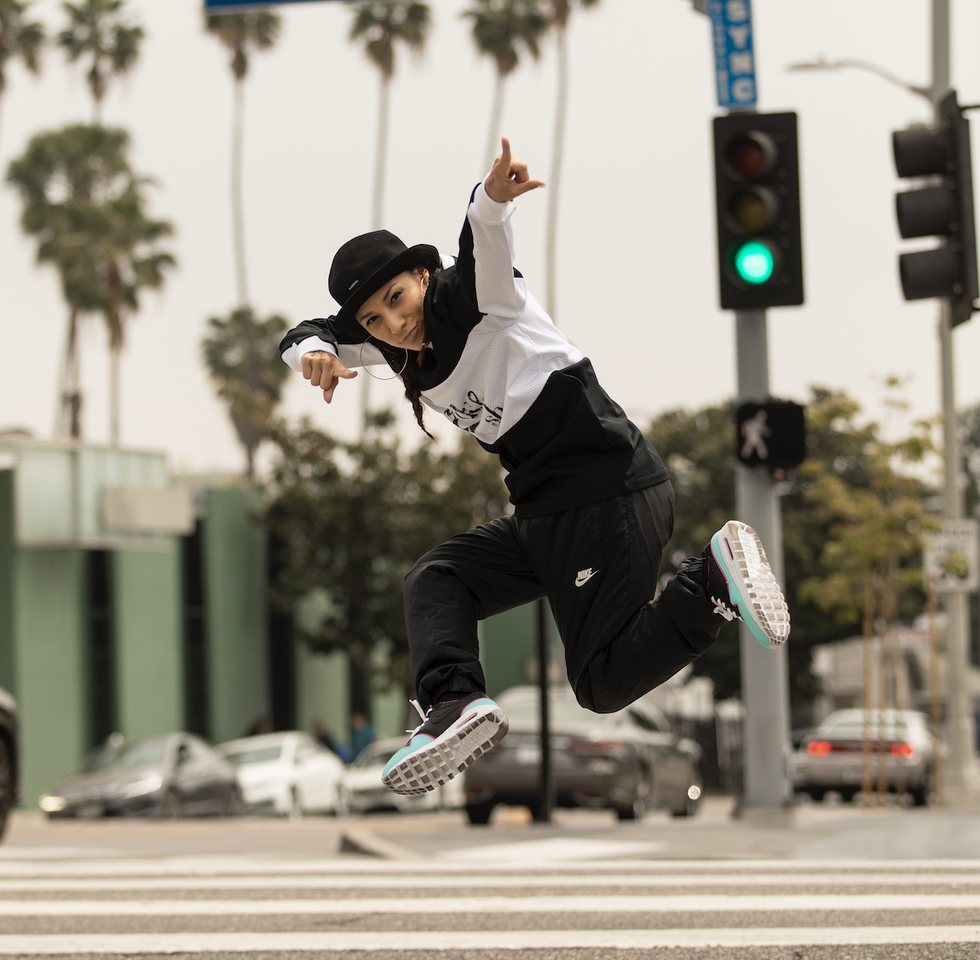 Carlo Cruz, Courtesy Red Bull
Her gear:
"The shoes have Miami-influenced colors and I wanted to rep Miami at the competition. I usually buy two pairs of sneakers so I can practice in one pair and keep the other pair clean for the battle."
"I'm a huge huge Nike fan—I did a campaign with them last year with Nike Battle Force."
Her advice for other b-girls:
"Don't be intimidated because hip hop is a male-dominated scene. Reach out to a female that you look up to and do your research on hip hop's history, try other elements like graffiti—it's so much deeper than knowing how to break-dance."