Meet The Ballet West Dancer Who Doubles As a Professional Baker
Jordan Fry launcher her own business, Ballerina Baker, last year
Contrary to what her last name might suggest, Ballet West corps member Jordan Fry prefers baking as a cooking method. Her specialty? Picture-perfect cakes with flavors like banana-bourbon-butterscotch with caramel filling and toasted marshmallow frosting.
The self-professed sweets lover began her early culinary education through high school classes and YouTube videos. After a brief stint interning at a wedding cake shop in Salt Lake City, Fry started her own business, Ballerina Baker, in 2017.
---
But she's been the go-to baker for Ballet West weddings for years. From Emily Adams and Beau Pearson's classic white confection to Jenna Rae Herrera and Alexander MacFarlan's snickerdoodle cake, Fry has been commissioned for nearly every one of her co-worker's weddings—plus her own, for her marriage to principal Adrian Fry.
Fry's treats might seem to be at odds with a dancer's lifestyle. Artistic director Adam Sklute once jokingly bemoaned her baked goods before a Sleeping Beauty run. Fry recalls him chiding, "The guys have to wear white tights in about a week."

But she's found a healthy balance, championing dessert in moderation—"I have something sweet every day," she says—and using whole, local ingredients.
And despite his jokes, even Sklute gets on board, employing Fry for the occasional donor dinner. She and Sklute have stood side by side in the kitchen preparing an eight-course meal, with Fry predictably in charge of desserts. With dishes like a pine-nut–crusted lemon sabayon tart, she's left a delectable impression.
Try It: Almond Cake with Lavender Honey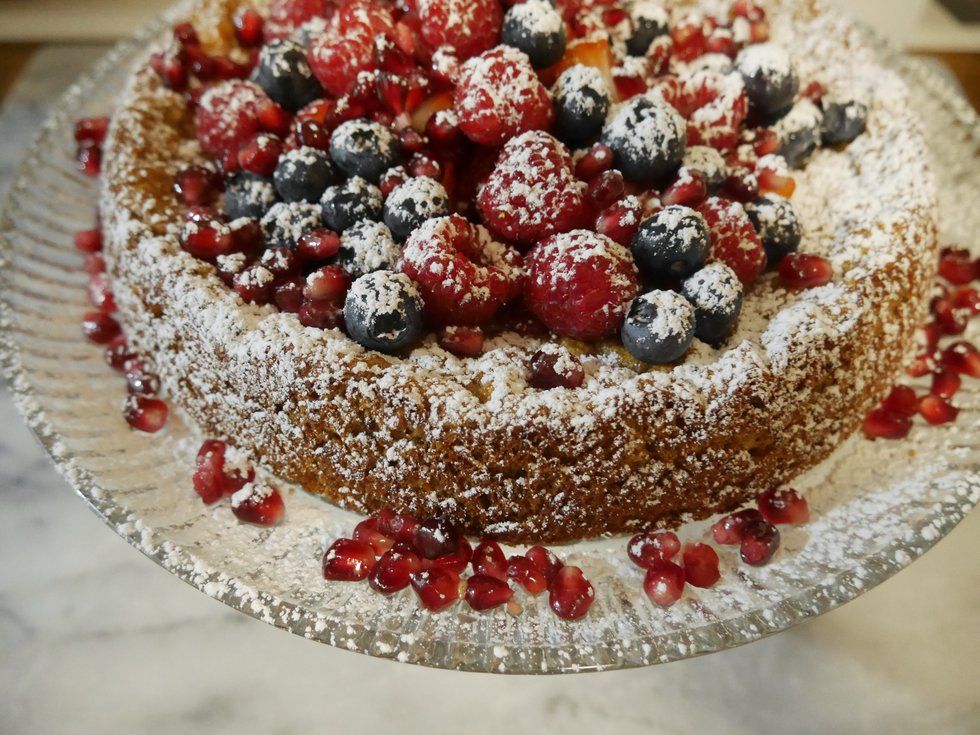 Jordan Fry's almond cake is one of her favorite desserts
"This cake is always a hit when I bring it to Ballet West," says Fry, "and it's one that I often make at home for the perfect healthy, light dessert!"
Ingredients:
4 large eggs, room temperature and separated
1/2 cup lavender honey (or any raw honey will work)
1 tsp. pure vanilla extract
1/2 tsp. baking soda
1/2 tsp. fine sea salt
1 3/4 cup almond meal
Powdered sugar, for dusting
Fresh berries and Greek yogurt for serving (optional)
Directions:
Preheat oven to 350°F. Spray a 9-inch springform pan with coconut oil. In a medium bowl, whisk egg yolks, honey, vanilla, baking soda, salt and almond meal until smooth. In a mixer fitted with the whisk attachment, beat the egg whites on high until foamy and white, with soft (not stiff) peaks, about 2 minutes. Gently fold into the almond meal mixture. Pour into the pan and bake until golden brown—a toothpick inserted into the middle should come out clean—about 30 minutes. Cool for 10 minutes, then run a knife around the edge. Finish cooling completely. Remove from the pan, top with berries, then dust with powdered sugar. It is also delicious with a dollop of Greek yogurt.
Related Articles Around the Web
A flyer showing Alberto Alonso, Fernando Alonso, Benjamin Steinberg and Alicia Alonso. Photo courtesy the author
Alicia has died. I walked around my apartment feeling her spirit, but knowing something had changed utterly.
My father, the late conductor Benjamin Steinberg, was the first music director of the Ballet de Cuba, as it was called then. I grew up in Vedado on la Calle 1ra y doce in a building called Vista al Mar. My family lived there from 1959 to 1963. My days were filled with watching Alicia teach class, rehearse and dance. She was everything: hilarious, serious, dramatic, passionate and elegiac. You lost yourself and found yourself when you loved her.
Keep reading...
Show less
Left: Hurricane Harvey damage in Houston Ballet's Dance Lab; Courtesy Harlequin. Right: The Dance Lab pre-Harvey; Nic Lehoux, Courtesy Houston Ballet.
"The show must go on" may be a platitude we use to get through everything from costume malfunctions to stormy moods. But when it came to overcoming a literal hurricane, Houston Ballet was buoyed by this mantra to go from devastated to dancing in a matter of weeks—with the help of Harlequin Floors, Houston Ballet's longstanding partner who sprang into action to build new floors in record time.
Keep reading...
Show less
Hansuke Yamamoto in Helgi Tomasson's Nutcracker at San Francisco Ballet, which features an exciting and respectful Chinese divertissement. Photo by Erik Tomasson, Courtesy SFB
It's Nutcracker time again: the season of sweet delights and a sparkling good time—if we're able to ignore the sour taste left behind by the outdated racial stereotypes so often portrayed in the second act.
In 2017, as a result of a growing list of letters from audience members, to New York City Ballet's ballet master in chief Peter Martins reached out to us asking for assistance on how to modify the elements of Chinese caricature in George Balanchine's The Nutcracker. Following that conversation, we founded the Final Bow for Yellowface pledge that states, "I love ballet as an art form, and acknowledge that to achieve a diversity amongst our artists, audiences, donors, students, volunteers, and staff, I am committed to eliminating outdated and offensive stereotypes of Asians (Yellowface) on our stages."
Keep reading...
Show less
Allegra Bautista in Nevertheless, by ka·nei·see | collective. Photo by Robbie Sweeny
An audience member once emailed Dallas choreographer Joshua L. Peugh, claiming his work was vulgar. It complained that he shouldn't be pushing his agenda. As the artistic director of Dark Circles Contemporary Dance, Peugh's recent choreography largely deals with LGBTQ issues.
"I got angry when I saw that email, wrote my angry response, deleted it, and then went back and explained to him that that's exactly why I should be making those works," says Peugh.
With the current political climate as polarized as it is, many artists today feel compelled to use their work to speak out on issues they care deeply about. But touring with a message is not for the faint of heart. From considerations about how to market the work to concerns about safety, touring to cities where, in general, that message may not be so welcome, requires companies to figure out how they'll respond to opposition.
Keep reading...
Show less