Meet The Ballet West Dancer Who Doubles As a Professional Baker
Jordan Fry launcher her own business, Ballerina Baker, last year
Contrary to what her last name might suggest, Ballet West corps member Jordan Fry prefers baking as a cooking method. Her specialty? Picture-perfect cakes with flavors like banana-bourbon-butterscotch with caramel filling and toasted marshmallow frosting.
The self-professed sweets lover began her early culinary education through high school classes and YouTube videos. After a brief stint interning at a wedding cake shop in Salt Lake City, Fry started her own business, Ballerina Baker, in 2017.
---
But she's been the go-to baker for Ballet West weddings for years. From Emily Adams and Beau Pearson's classic white confection to Jenna Rae Herrera and Alexander MacFarlan's snickerdoodle cake, Fry has been commissioned for nearly every one of her co-worker's weddings—plus her own, for her marriage to principal Adrian Fry.
Fry's treats might seem to be at odds with a dancer's lifestyle. Artistic director Adam Sklute once jokingly bemoaned her baked goods before a Sleeping Beauty run. Fry recalls him chiding, "The guys have to wear white tights in about a week."

But she's found a healthy balance, championing dessert in moderation—"I have something sweet every day," she says—and using whole, local ingredients.
And despite his jokes, even Sklute gets on board, employing Fry for the occasional donor dinner. She and Sklute have stood side by side in the kitchen preparing an eight-course meal, with Fry predictably in charge of desserts. With dishes like a pine-nut–crusted lemon sabayon tart, she's left a delectable impression.
Try It: Almond Cake with Lavender Honey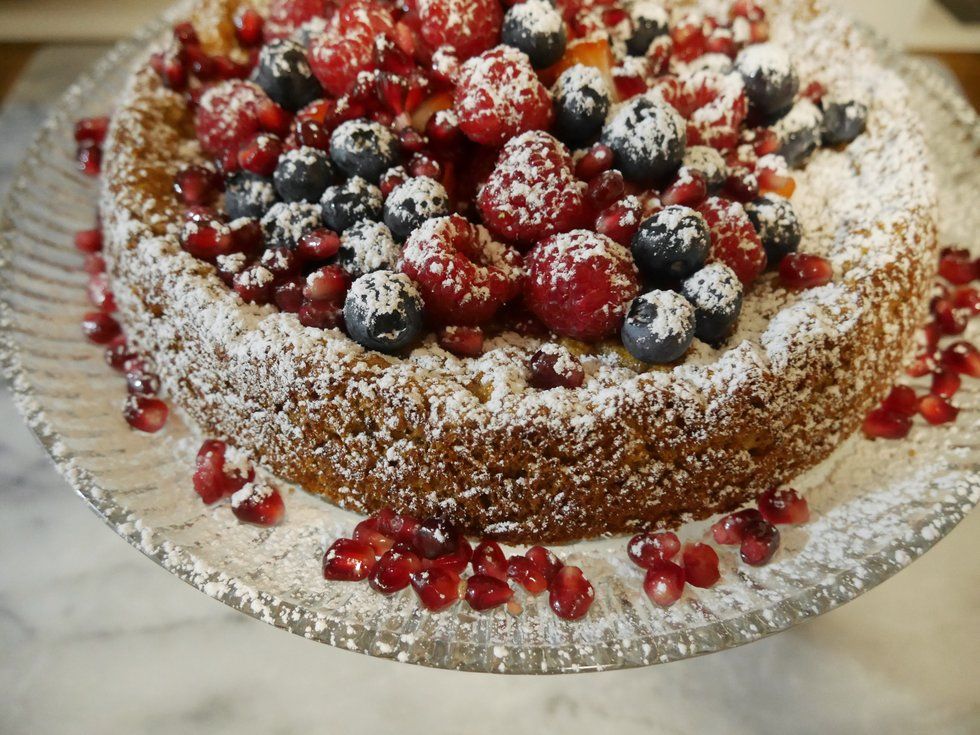 Jordan Fry's almond cake is one of her favorite desserts
"This cake is always a hit when I bring it to Ballet West," says Fry, "and it's one that I often make at home for the perfect healthy, light dessert!"
Ingredients:
4 large eggs, room temperature and separated
1/2 cup lavender honey (or any raw honey will work)
1 tsp. pure vanilla extract
1/2 tsp. baking soda
1/2 tsp. fine sea salt
1 3/4 cup almond meal
Powdered sugar, for dusting
Fresh berries and Greek yogurt for serving (optional)
Directions:
Preheat oven to 350°F. Spray a 9-inch springform pan with coconut oil. In a medium bowl, whisk egg yolks, honey, vanilla, baking soda, salt and almond meal until smooth. In a mixer fitted with the whisk attachment, beat the egg whites on high until foamy and white, with soft (not stiff) peaks, about 2 minutes. Gently fold into the almond meal mixture. Pour into the pan and bake until golden brown—a toothpick inserted into the middle should come out clean—about 30 minutes. Cool for 10 minutes, then run a knife around the edge. Finish cooling completely. Remove from the pan, top with berries, then dust with powdered sugar. It is also delicious with a dollop of Greek yogurt.
Related Articles Around the Web
Robin Worrall via Unsplash
Social media has made the dance world a lot smaller, giving users instant access to artists and companies around the world. For aspiring pros, platforms like Instagram can offer a tantalizing glimpse into the life of a working performer. But there's a fine line between taking advantage of what social media can offer and relying too heavily on it.
Keep reading...
Show less
UA Dance Ensemble members Candice Barth and Gregory Taylor in Jessica Lang's "Among the Stars." Photo by Ed Flores, courtesy University of Arizona
If you think becoming a trainee or apprentice is the only path to gaining experience in a dance company environment, think again.
The University of Arizona, located in the heart of Tucson, acclimates dancers to the pace and rigor of company life while offering all the academic opportunities of a globally-ranked university. If you're looking to get a head-start on your professional dance career—or to just have a college experience that balances company-level training and repertory with rigorous academics—the University of Arizona's undergraduate and graduate programs have myriad opportunites to offer:
Keep reading...
Show less
Alice Sheppard/Kinetic Light in DESCENT, which our readers chose as last year's "Most Moving Performance." Photo by Jay Newman, courtesy Kinetic Light
Yes, we realize it's only August. But we can't help but to already be musing about all the incredible dance happenings of 2019.
We're getting ready for our annual Readers' Choice feature, and we want to hear from you about the shows you can't stop thinking about, the dance videos that blew your mind and the artists you discovered this year who everyone should know about.
Keep reading...
Show less
Sergei Diaghilev, who was terrified of the sea, posing with a life preserver aboard a ship. Photo courtesy DM Archives
On August 19, 1929, shockwaves were felt throughout the dance world as news spread that impresario Sergei Diaghilev had died. The founder of the Ballets Russes rewrote the course of ballet history as the company toured Europe and the U.S., championing collaborations with modernist composers, artists and designers such as Igor Stravinsky, Pablo Picasso and Coco Chanel. The company launched the careers of its five principal choreographers: Michel Fokine, Vaslav Nijinsky, Léonide Massine, Bronislava Nijinska and George Balanchine.
Keep reading...
Show less