From Ballerina to CEO: How Muriel Maffre Started "A Second Life"
Muriel Maffre. Photo by Steven Gregory, courtesy LINES
Muriel Maffre is no less elegant up close in pedestrian clothing than she was onstage in glittering tutus. Since retiring from San Francisco Ballet, where she danced as a principal from 1990 to 2007, Maffre has been deeply involved in the Bay Area arts community. She has taught and worked at Alonzo King LINES Ballet, Stanford University, Richmond Arts Center and, most recently, the Museum of Performance + Design, where she served as executive director.
Earlier this month, Maffre returned to LINES as its CEO. A week after starting her new position, we caught up with her to talk about life after ballet, her foray into the museum world and her excitement to helm an organization she loves.
---
What was it like transitioning out of SFB?
When I left the stage, I was recruited by Stanford to be on faculty in their dance division. I taught there for three years and during that time obtained my masters in museum studies.
I wanted to function at a high level and open my horizons, which eventually meant leaving the insular ballet world. It's changing; it's more porous now. But after so many years you start to imagine that the world is small; it's just ballet. You know there are other things out there, but you tend to shrink everything. So I was very conscious of that and I knew I wanted to put it aside and start from scratch.
But you didn't really start from scratch. You very quickly moved into an executive position at the Museum of Performance + Design.
My first step into the museum world was working at the Richmond Arts Center. That's pretty much starting from scratch. I came in as a curator fellow and moved into an administrative assistant position. And I came in not telling anybody who I was. I had to develop skills and rely on qualities besides what I had achieved in ballet and build confidence in that way.
Do museums and dance companies share common problems in attendance/viewership?
Yes. It's even more a problem here in America. Compared to in Europe, art in America remains accessory to life. In Europe it's just second nature. In this country we are working towards that goal. We believe strongly in what art does for our well-being, what it does for society and communities. Life and art should not be separated.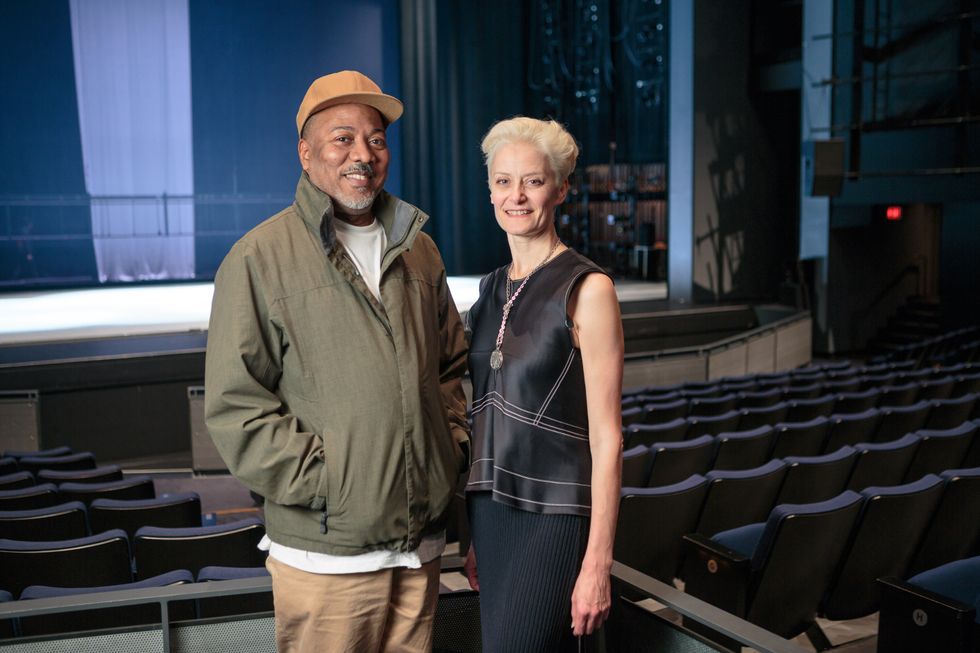 Maffre with Alonzo King. Photo by Chris Hardy, courtesy LINES
What advice would you give to someone who's thinking about retiring from dancing and wants to venture out?
Leaving the stage is always a crisis of identity. I'd advise dancers to face it with courage. Don't feel that because you lose the status you lose anything that you have achieved before. It may seem like you're starting from scratch, but it's a second life. It's an enrichment, an amazing opportunity to do even more.
When you are still dancing, I think it's important to cultivate curiosity: Curiosity for other environments, curiosity for others. I had that appetite. I'm now able to be at the helm of this organization and really feel empowered to make a difference. I'm coming back to my first love.
Related Articles Around the Web
Ailey II artistic director Troy Powell teaching an Ailey Workshop at NYCDA. Courtesy NYCDA
Back in 2011 when Joe Lanteri first approached Katie Langan, chair of Marymount Manhattan College's dance department, about getting involved with New York City Dance Alliance, she was skeptical about the convention/competition world.
"But I was pleasantly surprised by the enormity of talent that was there," she says. "His goal was to start scholarship opportunities, and I said okay, I'm in."
Today, it's fair to say that Lanteri has far surpassed his goal of creating scholarship opportunities. But NYCDA has done so much more, bridging the gap between the convention world and the professional world by forging a wealth of partnerships with dance institutions from Marymount to The Ailey School to Complexions Contemporary Ballet and many more. There's a reason these companies and schools—some of whom otherwise may not see themselves as aligned with the convention/competition world—keep deepening their relationships with NYCDA.
Now, college scholarships are just one of many ways NYCDA has gone beyond the typical weekend-long convention experience and created life-changing opportunities for students. We rounded up some of the most notable ones:
Keep reading...
Show less
We knew that Ivo van Hove and Anne Teresa de Keersmaeker's production of West Side Story would challenge our preconceived notions about the show.
But a recent Vogue story gives us a taste of just how nontraditional the Broadway revival will be. Most notably, van Hove is cutting "I Feel Pretty" and the "Somewhere" ballet, condensing the show into one act to better reflect the urgency of the 48-hour plot. (The choice has been approved by the West Side Story estate, including Sondheim, who has "long been uncomfortable" with some of the "I Feel Pretty" lyrics.)
Keep reading...
Show less
Left: Hurricane Harvey damage in Houston Ballet's Dance Lab; Courtesy Harlequin. Right: The Dance Lab pre-Harvey; Nic Lehoux, Courtesy Houston Ballet.
"The show must go on" may be a platitude we use to get through everything from costume malfunctions to stormy moods. But when it came to overcoming a literal hurricane, Houston Ballet was buoyed by this mantra to go from devastated to dancing in a matter of weeks—with the help of Harlequin Floors, Houston Ballet's longstanding partner who sprang into action to build new floors in record time.
Keep reading...
Show less