How Houston Ballet Principal Karina González Got Ballet-Ready Again After Giving Birth
Houston Ballet principal Karina González stunned audiences last fall with her emotionally charged Mary Vetsera in Kenneth MacMillan's Mayerling—while 16 weeks pregnant. "I had to be careful because the pas de deux are crazy," says González, who carefully planned her pregnancy so that she could dance in this ballet. "Thankfully, I had the best partner in Connor Walsh."
---
Taking Class Before & After Birth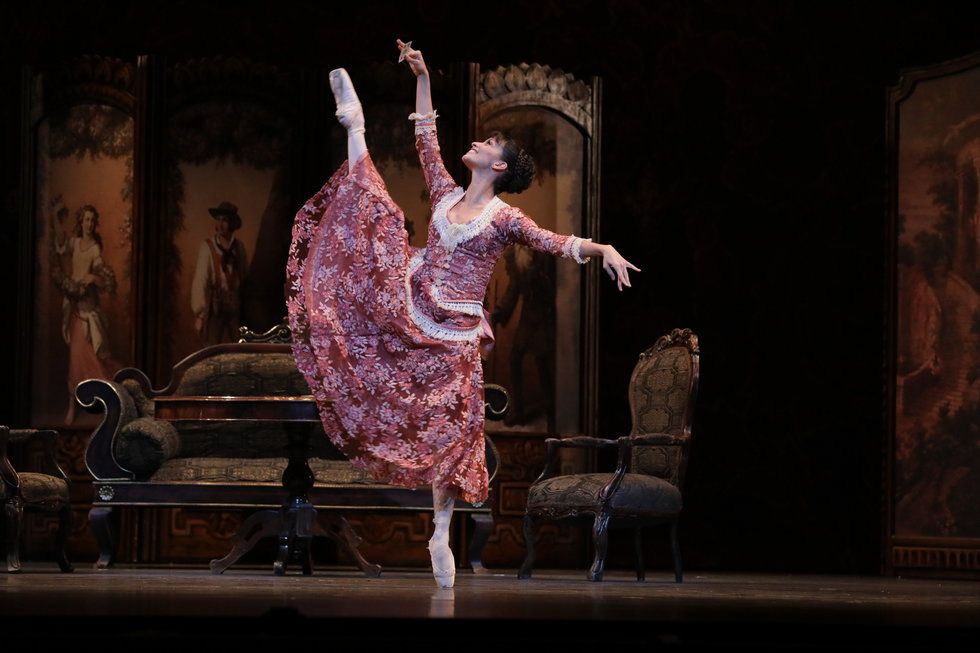 Gonzåalez performed in Mayerling at 16 weeks pregnant. Photo by Amitava Sarkar, courtesy Houston Ballet
González took class up until a week before she gave birth to her daughter Julia on March 18 (after a 12-hour drug-free labor). "I loved being pregnant and the changes in my body," says González. "Having a baby is one of the most amazing things a human can do."
She returned to class three weeks post-birth, starting by taking just half of a slower adult class. She was back in company class in five weeks, but didn't start jumping again until week six.
Getting Back Onstage Earlier Than Expected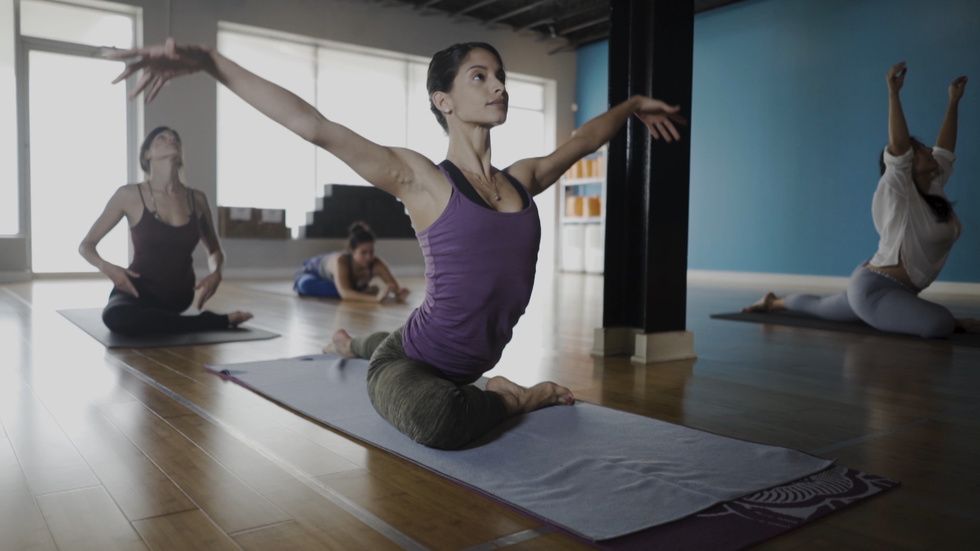 Getting back onstage for Swan Lake showed González what she needed to work on. Photo from a Routines commercial, by Dinolion (2017)
Her original plan was to wait until the following season to get back onstage, but a chance to dance Spanish Princess in Swan Lake popped up in June. Having done the role before, she decided it was the right-sized challenge. "I wanted to focus on getting stronger and coming back properly," she says.
She would be the first to say that it wasn't easy. It was revealing, though. "I found out what I needed to work on," she says. "My legs lost strength and my stamina was down." Balances, turns and jumps that came naturally to her before suddenly took more time and thought.
A New Approach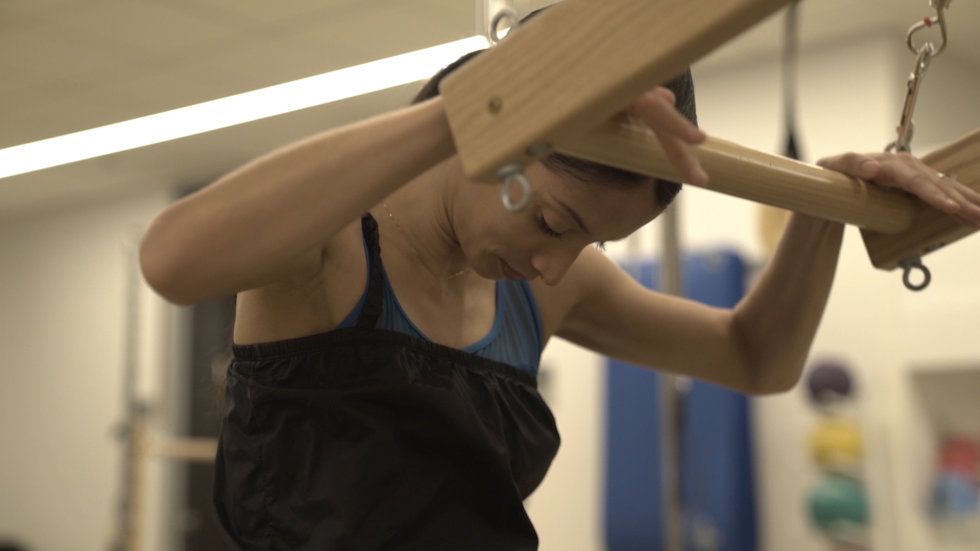 González working out in a Routines commercial. Photo by Dinolion (2017)
"I was never much of a cross-training dancer," she admits. "I am now." The Houston Ballet gym is González's new favorite place. She is on a regular regimen with athletic therapist Bené Barrera and Houston Ballet Academy's strength and conditioning coach Akihiro Kawasaki. Three times a week, she does squats with 20- to 30-pound barbells (3 sets of 10), hanging side crunches on the power rack, and jump training over 12-inch hurdles (for 30-second intervals). "It's a whole new world for me."
Eating For Breastfeeding
González has always been a healthy eater, but now that she's breastfeeding she's even more careful to keep her diet rich with nutritious proteins and vegetables. She gained 35 pounds and it's come off at a healthy rate. "It gets trickier when we are in the theater, especially when it comes to sleep because I'm up late at night," says González. "I will consider weaning when the time is right. My baby comes first."
Her Go-To Core Strengthener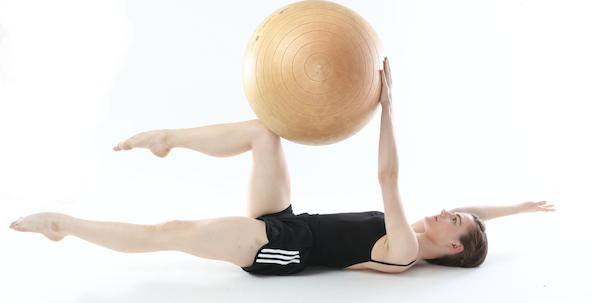 Photo by Jayme Thornton
Recommended by Akihiro Kawasaki, this exercise strengthens the diaphragm, transverse abdominis, pelvic floor and more. "I started doing it almost every day," says González, "especially because I needed my core to get stronger and the midline to close back again after pregnancy."
Lie on your back with your arms extended straight up. Keep your hips and knees at 90-degree angles (calves parallel to the floor) with a stability ball placed in between your palms and knees.
Inhale and expand your abdominals and lower back to stabilize your pelvis. Take 8 counts to reach your right arm and left leg away from the ball.
Keeping your lower back against the ground, take 8 counts to exhale and bring your right arm and left leg back to the starting position. Without rest, immediately repeat with your opposite arm and leg.
Amber Gray and Patrick Page. Photo by Matthew Murphy, Courtesy Hadestown
There's a rare moment in Broadway's Hadestown where the audience is able to breathe a sigh of relief. The smash-hit success is not well-known for being light-hearted or easy-going; Hadestown is a show full of workers and walls and, well, the second act largely takes place in a slightly modernized version of hell.
But deep into the second act, the show reaches a brief homeostasis of peace, one of those bright, shining moments that allows the audience to think "maybe it will turn out this time," as the character Hermes keeps suggesting.
After songs and songs of conflict and resentment, Hades, the king of the underground, and his wife, the goddess Persephone, rekindle their love. And, unexpectedly, they dance. It's one of the most compelling moments in the show.
Keep reading...
Show less
Ailey II artistic director Troy Powell teaching an Ailey Workshop at NYCDA. Courtesy NYCDA
Back in 2011 when Joe Lanteri first approached Katie Langan, chair of Marymount Manhattan College's dance department, about getting involved with New York City Dance Alliance, she was skeptical about the convention/competition world.
"But I was pleasantly surprised by the enormity of talent that was there," she says. "His goal was to start scholarship opportunities, and I said okay, I'm in."
Today, it's fair to say that Lanteri has far surpassed his goal of creating scholarship opportunities. But NYCDA has done so much more, bridging the gap between the convention world and the professional world by forging a wealth of partnerships with dance institutions from Marymount to The Ailey School to Complexions Contemporary Ballet and many more. There's a reason these companies and schools—some of whom otherwise may not see themselves as aligned with the convention/competition world—keep deepening their relationships with NYCDA.
Now, college scholarships are just one of many ways NYCDA has gone beyond the typical weekend-long convention experience and created life-changing opportunities for students. We rounded up some of the most notable ones:
Keep reading...
Show less
News
Oct. 22, 2019 05:27PM EST
Amber Star Merkens, Courtesy Mark Morris Dance Group
There's always been something larger than life about choreographer Mark Morris. Of course, there are the more than 150 works he's made and that incisive musicality that makes dance critics drool. But there's also his idiosyncratic, no-apologies-offered personality, and his biting, no-holds-barred wit. And, well, his plan to keep debuting new dances even after he's dead.
So it should come as little surprise that his latest distinction is also a bit larger than life: The New York Landmarks Conservancy is adding Morris to its list of "Living Landmarks."
Keep reading...
Show less
Left: Hurricane Harvey damage in Houston Ballet's Dance Lab; Courtesy Harlequin. Right: The Dance Lab pre-Harvey; Nic Lehoux, Courtesy Houston Ballet.
"The show must go on" may be a platitude we use to get through everything from costume malfunctions to stormy moods. But when it came to overcoming a literal hurricane, Houston Ballet was buoyed by this mantra to go from devastated to dancing in a matter of weeks—with the help of Harlequin Floors, Houston Ballet's longstanding partner who sprang into action to build new floors in record time.
Keep reading...
Show less