How Houston Ballet Principal Karina González Got Ballet-Ready Again After Giving Birth
Karina Gonzalez and baby Julia, photo via
Instagram
Houston Ballet principal Karina González stunned audiences last fall with her emotionally charged Mary Vetsera in Kenneth MacMillan's Mayerling—while 16 weeks pregnant. "I had to be careful because the pas de deux are crazy," says González, who carefully planned her pregnancy so that she could dance in this ballet. "Thankfully, I had the best partner in Connor Walsh."
---
Taking Class Before & After Birth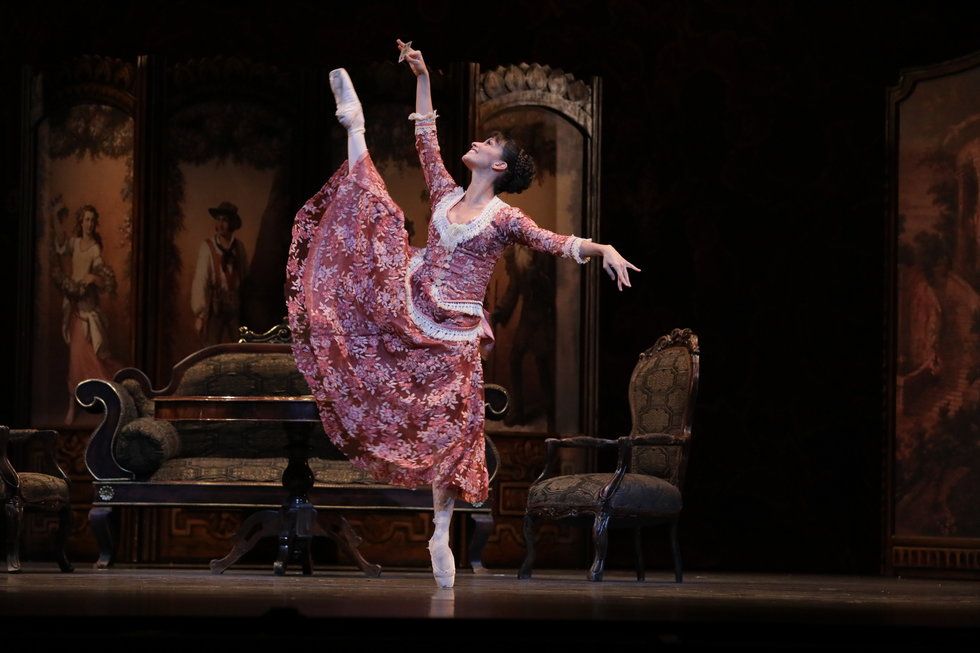 Gonzåalez performed in Mayerling at 16 weeks pregnant. Photo by Amitava Sarkar, courtesy Houston Ballet
González took class up until a week before she gave birth to her daughter Julia on March 18 (after a 12-hour drug-free labor). "I loved being pregnant and the changes in my body," says González. "Having a baby is one of the most amazing things a human can do."
She returned to class three weeks post-birth, starting by taking just half of a slower adult class. She was back in company class in five weeks, but didn't start jumping again until week six.
Getting Back Onstage Earlier Than Expected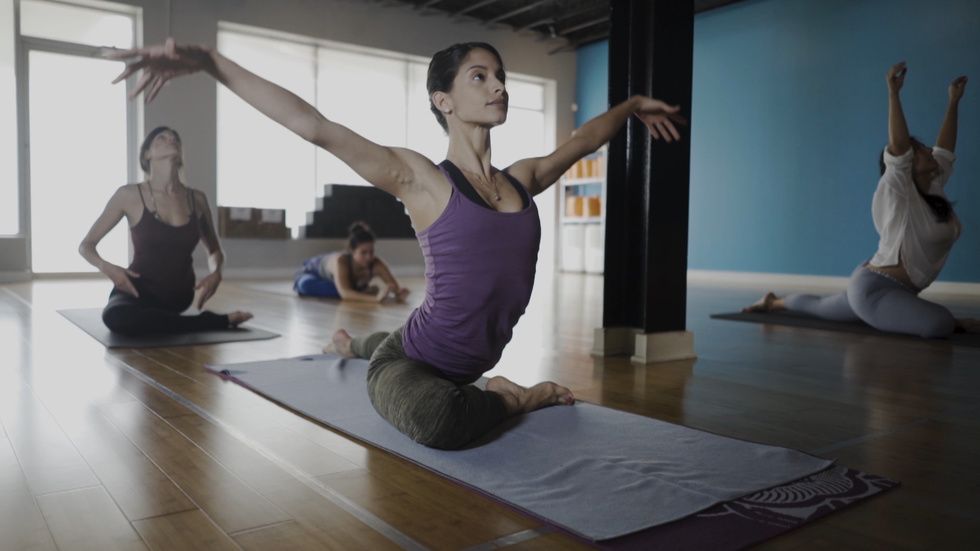 Getting back onstage for Swan Lake showed González what she needed to work on. Photo from a Routines commercial, by Dinolion (2017)
Her original plan was to wait until the following season to get back onstage, but a chance to dance Spanish Princess in Swan Lake popped up in June. Having done the role before, she decided it was the right-sized challenge. "I wanted to focus on getting stronger and coming back properly," she says.
She would be the first to say that it wasn't easy. It was revealing, though. "I found out what I needed to work on," she says. "My legs lost strength and my stamina was down." Balances, turns and jumps that came naturally to her before suddenly took more time and thought.
A New Approach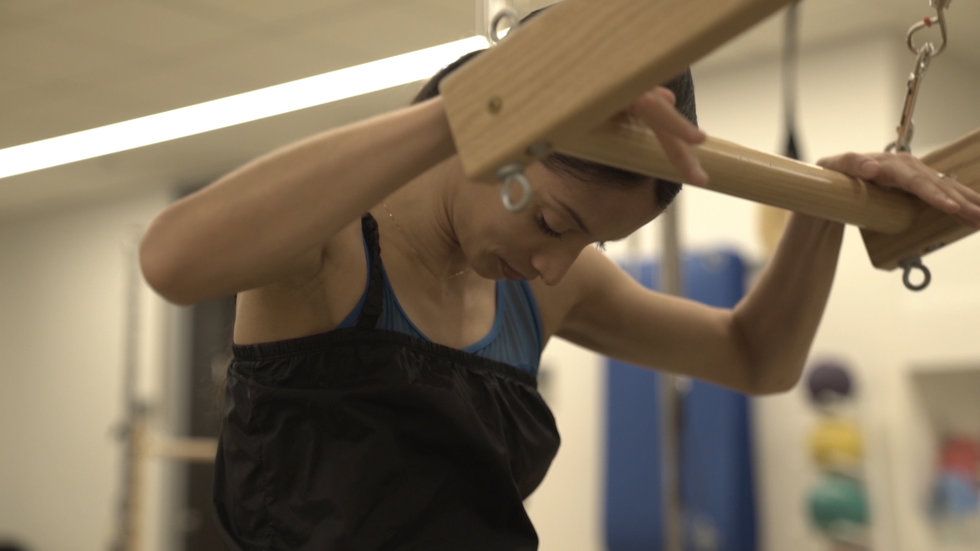 González working out in a Routines commercial. Photo by Dinolion (2017)
"I was never much of a cross-training dancer," she admits. "I am now." The Houston Ballet gym is González's new favorite place. She is on a regular regimen with athletic therapist Bené Barrera and Houston Ballet Academy's strength and conditioning coach Akihiro Kawasaki. Three times a week, she does squats with 20- to 30-pound barbells (3 sets of 10), hanging side crunches on the power rack, and jump training over 12-inch hurdles (for 30-second intervals). "It's a whole new world for me."
Eating For Breastfeeding
González has always been a healthy eater, but now that she's breastfeeding she's even more careful to keep her diet rich with nutritious proteins and vegetables. She gained 35 pounds and it's come off at a healthy rate. "It gets trickier when we are in the theater, especially when it comes to sleep because I'm up late at night," says González. "I will consider weaning when the time is right. My baby comes first."
Her Go-To Core Strengthener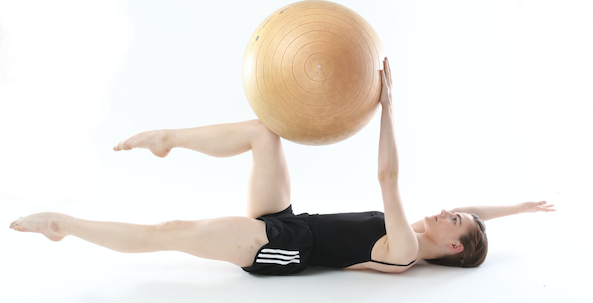 Recommended by Akihiro Kawasaki, this exercise strengthens the diaphragm, transverse abdominis, pelvic floor and more. "I started doing it almost every day," says González, "especially because I needed my core to get stronger and the midline to close back again after pregnancy."
Lie on your back with your arms extended straight up. Keep your hips and knees at 90-degree angles (calves parallel to the floor) with a stability ball placed in between your palms and knees.
Inhale and expand your abdominals and lower back to stabilize your pelvis. Take 8 counts to reach your right arm and left leg away from the ball.
Keeping your lower back against the ground, take 8 counts to exhale and bring your right arm and left leg back to the starting position. Without rest, immediately repeat with your opposite arm and leg.
Chantelle Pianetta competing at a West Coast swing event. Courtesy Pianetta.
Just hearing the word "improvisation" is enough to make some ballet dancers shake in their pointe shoes. But for Chantelle Pianetta, it's a practice she relishes. Depending on the weekend, you might find her gracing Bay Area stages as a principal with Menlowe Ballet or sweeping in awards at West Coast swing competitions.

She specializes in Jack and Jill events, which involve improvised swing dancing with an unexpected partner in front of a panel of judges. (Check her out in action below.) While sustaining her ballet career, over the past four years Pianetta has quickly risen from novice to champion level on the WCS international competition circuit.
Keep reading...
Show less
Jayme Thornton
Sean Dorsey was always going to be an activist. Growing up in a politically engaged, progressive family in Vancouver, British Columbia, "it was my heart's desire to create change in the world," he says. Far less certain was his future as a dancer.
Like many dancers, Dorsey fell in love with movement as a toddler. However, he didn't identify strongly with any particular gender growing up. Dorsey, who now identifies as trans, says, "I didn't see a single person like me anywhere in the modern dance world." The lack of trans role models and teachers, let alone all-gender studio facilities where he could feel safe and welcome, "meant that even in my wildest dreams, there was no room for that possibility."
Keep reading...
Show less
Getty Images
It's hour three of an intense rehearsal, you're feeling mentally foggy and exhausted, and your stomach hurts. Did you know the culprit could be something as simple as dehydration?
Proper hydration helps maintain physical and mental function while you're dancing, and keeps your energy levels high. But with so many products on the market promising to help you rehydrate more effectively, how do you know when it's time to reach for more than water?
Keep reading...
Show less
James Beaudreau, Courtesy Roberto Lara
Inside a bustling television studio in Los Angeles, Lindsay Arnold Cusick hears the words "Five minutes to showtime." While dancers and celebrities covered head to toe in sequins whirl around preparing for their live performances on "Dancing with the Stars," Cusick pauses to say a prayer to God and express her gratitude.
"I know that it's not a given, and I'm grateful for the opportunity to do what I love for a living," says Cusick, a member of The Church of Jesus Christ of Latter-day Saints. For her, prayer is a ritualized expression of her faith that she has maintained since she was a girl in Provo, Utah. Even with her seven-plus years of industry experience, she always takes a moment to steady herself and close her prayer in Christ's name before rushing onto the stage.
Keep reading...
Show less