Why Do Pro Dancers Still Enter Competitions?
Natasha Sheehan says competing gave her a crack at rep beyond her rank. Photo by Erik Tomasson, courtesy SFB
As a student, Katherine Barkman competed in several prestigious ballet competitions, and even won first place at the Youth America Grand Prix in Philadelphia. But at age 21, already a guest principal dancer with Ballet Manila, she decided to return to the competition stage as a professional. She found herself humbled by an experience at the 2017 Moscow International Ballet Competition.
"I was pretty intimidated, thinking, This is the big leagues, this is the Bolshoi Theatre," says Barkman, who was eliminated after the first round. "You are not just judged on how good you are for your age."
Competitions have long had a place in the training of young dancers, allowing them more opportunities to perform and learn under pressure. But even after you've secured a company contract, there are myriad benefits to putting yourself in front of judges.
---
Enhance a Slow Year
Simply joining a company does not mean you will be dancing the roles you want. There may be time spent understudying or standing in the corps. "Some dancers have times when they have not been cast well," says John Meehan, chair of the jury for the USA International Ballet Competition in Jackson, Mississippi. "They need a goal, and a competition can give them the incentive they need."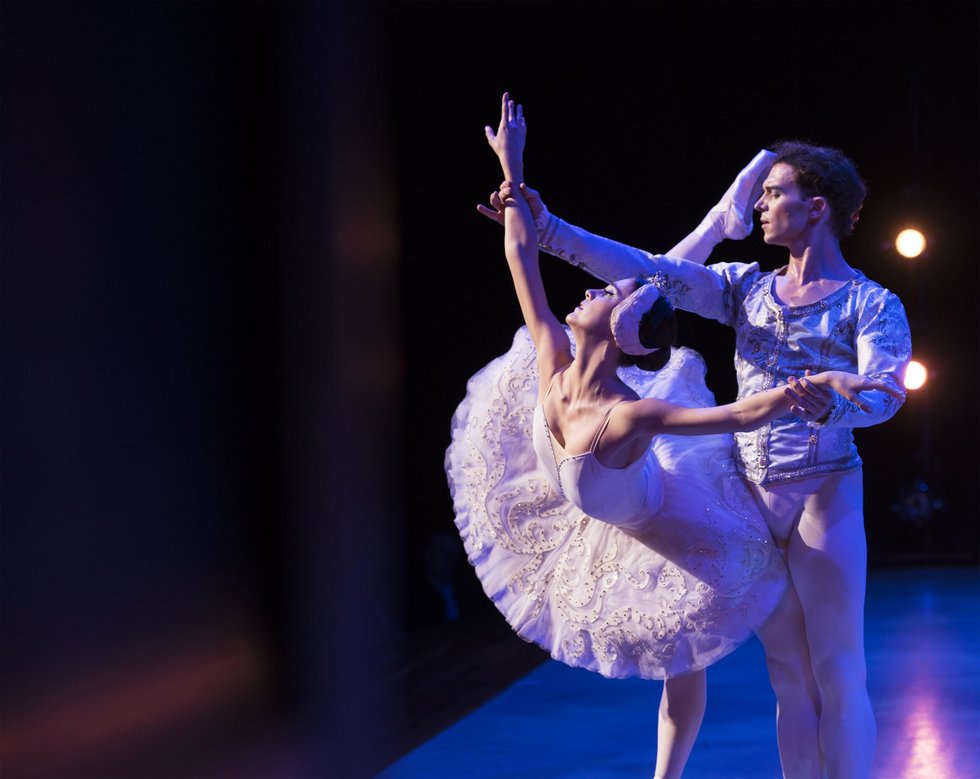 Katherine Barkman, here with Joseph Philips, won silver at USA IBC and Varna IBC this summer. Photo by Ron Fung, courtesy Barkman
Prove Yourself in a Principal Role
Competing can give you a chance to work on repertoire that would typically be beyond your rank. During her first season with San Francisco Ballet in 2016, artistic director Helgi Tomasson invited Natasha Sheehan to compete for the Erik Bruhn prize. The experience gave Sheehan, then 17, her first crack at Giselle, along with a contemporary pas de deux by Myles Thatcher. She won at Bruhn, and wound up reprising the contemporary piece at a gala the following season.
Get More Exposure
Competitions are a see-and-be-seen event, and a win can give you name recognition. "A competition can get your name out there, make you more known," says Sheehan. "Other directors gave me compliments, and it helped build some bridges." Even noncompeting partners get to be seen by several directors at once, which could lead to guesting and other gigs.
Broaden Your Dance Community
"A competition is a chance to get out of your dance bubble," says Meehan. The opportunity to see other styles and network with peers from around the world can give you a new perspective on your work.
Get More Feedback
"All dancers need mentors," says Lisa Macuja-Elizalde, artistic director of Ballet Manila and coach to Barkman. "No matter how experienced you are, you need someone looking at you when you rehearse or perform." A competition can be a way to get more input through additional coaching and mentoring.
Win R-E-S-P-E-C-T
Sure, you could win money—first place in Moscow comes with a $30,000 prize. But even if you don't medal, you can earn respect. For Barkman, the reward of overcoming the challenge in Moscow and then winning silver medals at USA IBC and Varna IBC this summer was personal. "I know some professionals might join a competition for money or to have a big career boom, but it is the event itself that inspires me," she says. "The months it takes to prepare, the networking, honing my abilities as a budding artist—it is all about pushing to step outside of my comfort zone to find more artistic growth."
Steele relies on carbs for Broadway-worthy energy. Photo by Lee Gumbs, courtesy Steele
Ryan Steele has a simple rule for demanding days on Broadway: "I listen to my body," he says. "I have whatever I'm craving: If I need more protein, I go straight for that. If I'm tired, I know I need carbs."
This wasn't always Steele's approach. Growing up, shuttling between the studio and school meant relying on McDonald's and Burger King.
Keep reading...
Show less
News
Oct. 13, 2018 09:18AM EST
Members of RIOULT check out the construction site. Photo by Penelope Gonzalez, Courtesy RIOULT
For over a decade, husband-and-wife team Pascal Rioult and Joyce Herring, artistic and associate artistic directors of RIOULT Dance NY, dreamed of building a space for their company and fellow artists in the community, and a school for future dancers. This month, their 11,000-square-foot dream opens its doors in the Kaufman Arts District in Astoria, Queens, a New York City neighborhood across the East River from Manhattan.
Keep reading...
Show less
Popular
Oct. 01, 2018 03:29PM EST
Photo by Ed Flores/MFA candidate Kara Madden rehearses undergraduate dance majors Gregory Taylor and Joe Ogren
In the final years of her decade-long career with the Lewitzky Dance Company, University of Arizona Associate Professor Amy Ernst began to develop an interest in dance injury prevention. She remembers feeling an urge to widen her understanding of dance and the body. Soon after retirement from the Company, she was hired by the Kerlan-Jobe Orthopaedic Clinic in Inglewood, California as a physical therapy assistant, where she worked for the next three and a half years. This work eventually led her to pursue an M.F.A. in dance at the University of Washington-Seattle. She remembers growing into the role of a professor during her time pursuing her degree. That incubation phase was critical. Ernst joined the faculty at the University of Arizona in 1995, and now as director of the M.F.A. program, mentors the new generation of dance faculty, company directors and innovators.
Keep reading...
Show less


Get Dance Magazine in your inbox