Why Do Pro Dancers Still Enter Competitions?
Natasha Sheehan says competing gave her a crack at rep beyond her rank. Photo by Erik Tomasson, courtesy SFB
As a student, Katherine Barkman competed in several prestigious ballet competitions, and even won first place at the Youth America Grand Prix in Philadelphia. But at age 21, already a guest principal dancer with Ballet Manila, she decided to return to the competition stage as a professional. She found herself humbled by an experience at the 2017 Moscow International Ballet Competition.
"I was pretty intimidated, thinking, This is the big leagues, this is the Bolshoi Theatre," says Barkman, who was eliminated after the first round. "You are not just judged on how good you are for your age."
Competitions have long had a place in the training of young dancers, allowing them more opportunities to perform and learn under pressure. But even after you've secured a company contract, there are myriad benefits to putting yourself in front of judges.
---
Enhance a Slow Year
Simply joining a company does not mean you will be dancing the roles you want. There may be time spent understudying or standing in the corps. "Some dancers have times when they have not been cast well," says John Meehan, chair of the jury for the USA International Ballet Competition in Jackson, Mississippi. "They need a goal, and a competition can give them the incentive they need."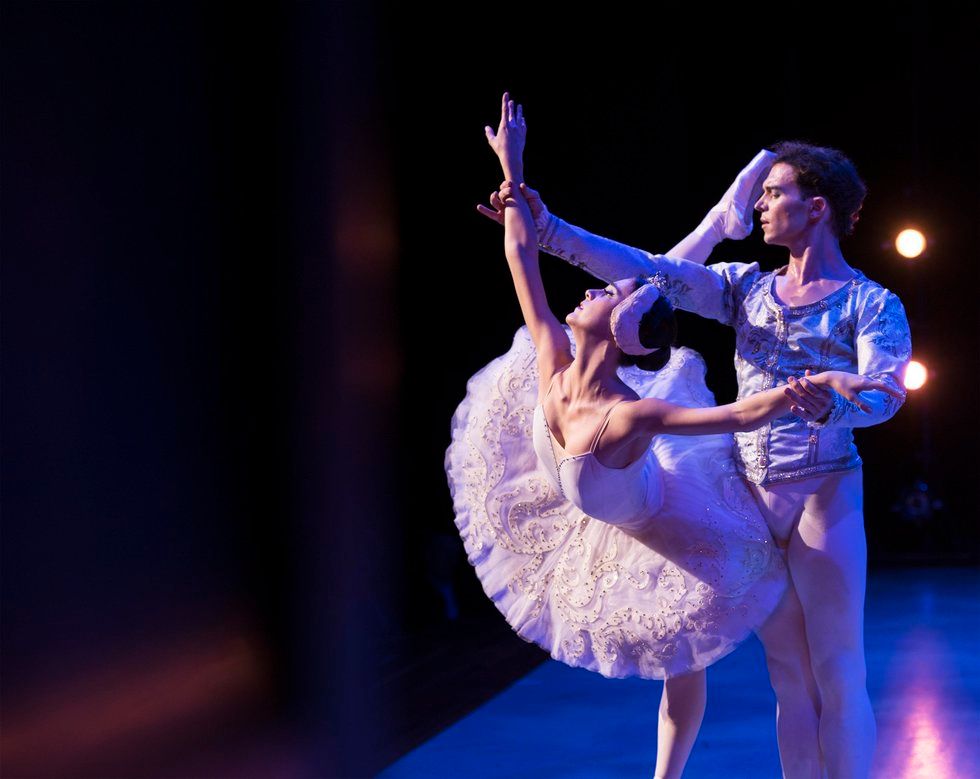 Katherine Barkman, here with Joseph Philips, won silver at USA IBC and Varna IBC this summer. Photo by Ron Fung, courtesy Barkman
Prove Yourself in a Principal Role
Competing can give you a chance to work on repertoire that would typically be beyond your rank. During her first season with San Francisco Ballet in 2016, artistic director Helgi Tomasson invited Natasha Sheehan to compete for the Erik Bruhn prize. The experience gave Sheehan, then 17, her first crack at Giselle, along with a contemporary pas de deux by Myles Thatcher. She won at Bruhn, and wound up reprising the contemporary piece at a gala the following season.
Get More Exposure
Competitions are a see-and-be-seen event, and a win can give you name recognition. "A competition can get your name out there, make you more known," says Sheehan. "Other directors gave me compliments, and it helped build some bridges." Even noncompeting partners get to be seen by several directors at once, which could lead to guesting and other gigs.
Broaden Your Dance Community
"A competition is a chance to get out of your dance bubble," says Meehan. The opportunity to see other styles and network with peers from around the world can give you a new perspective on your work.
Get More Feedback
"All dancers need mentors," says Lisa Macuja-Elizalde, artistic director of Ballet Manila and coach to Barkman. "No matter how experienced you are, you need someone looking at you when you rehearse or perform." A competition can be a way to get more input through additional coaching and mentoring.
Win R-E-S-P-E-C-T
Sure, you could win money—first place in Moscow comes with a $30,000 prize. But even if you don't medal, you can earn respect. For Barkman, the reward of overcoming the challenge in Moscow and then winning silver medals at USA IBC and Varna IBC this summer was personal. "I know some professionals might join a competition for money or to have a big career boom, but it is the event itself that inspires me," she says. "The months it takes to prepare, the networking, honing my abilities as a budding artist—it is all about pushing to step outside of my comfort zone to find more artistic growth."
From Your Site Articles
Related Articles Around the Web
News
Oct. 18, 2019 11:54AM EST
Photo by Gabriel Davalos, Courtesy Valdés
For decades the name Alicia Alonso has been virtually synonymous with Ballet Nacional de Cuba, the company she co-founded in Havana in 1948. Alonso died on October 17, just shy of what would have been her 99th birthday. In recent years, she had stepped back from day-to-day decision-making in the company. As if preparing for the future, in January, the company's leading ballerina, 42-year-old Viengsay Valdés, was named deputy director, a job that seems to encompass most of the responsibilities of a traditional director. Now, presumably, she will step into her new role as director of the company. Her debut as curator of the repertory comes in November, when the troupe will perform three mixed bills selected by her at the Gran Teatro de la Habana Alicia Alonso. The following has been translated from a conversation conducted in Spanish, Valdés' native tongue.
Keep reading...
Show less
Left: Hurricane Harvey damage in Houston Ballet's Dance Lab; Courtesy Harlequin. Right: The Dance Lab pre-Harvey; Nic Lehoux, Courtesy Houston Ballet.
"The show must go on" may be a platitude we use to get through everything from costume malfunctions to stormy moods. But when it came to overcoming a literal hurricane, Houston Ballet was buoyed by this mantra to go from devastated to dancing in a matter of weeks—with the help of Harlequin Floors, Houston Ballet's longstanding partner who sprang into action to build new floors in record time.
Keep reading...
Show less
Sara Mearns in the gym. Photo by Kyle Froman.
New York City Ballet principal Sara Mearns wasn't sure she was strong enough. A ballerina who has danced many demanding full-length and contemporary roles, she was about to push herself physically more than she thought was possible.
"I said, 'I can't. My body won't,' " she says. "He told me, 'Yes, it will.' "
She wasn't working with a ballet coach, but with personal trainer Joel Prouty, who was asking her to do squats with a heavier barbell than she'd ever used.
Keep reading...
Show less
Alicia Alonso with Igor Youskevitch. Sedge Leblang, Courtesy Dance Magazine Archives.
Her Dying Swan was as fragile as her Juliet was rebellious; her Odile, scheming, her Swanilda, insouciant. Her Belle was joyous, and her Carmen, both brooding and full-blooded. But there was one role in particular that prompted dance critic Arnold Haskell to ask, "How do you interpret Giselle when you are Giselle?"
At eight, Alicia Alonso took her first ballet class on a stage in her native Cuba, wearing street clothes. Fifteen years later, put in for an ailing Alicia Markova in a performance of Giselle with Ballet Theatre, she staked her claim to that title role.
Alonso received recognition throughout the world for her flawless technique and her ability to become one with the characters she danced, even after she became nearly blind. After a career in New York, she and her then husband Fernando Alonso established the Cuban National Ballet and the Cuban National Ballet School, both of which grew into major international dance powerhouses and beloved institutions in their home country. On October 17, the company announced that, after leading the company for a remarkable 71 years, Alonso died from cardiovascular disease at the age of 98.
Keep reading...
Show less