Why Do Pro Dancers Still Enter Competitions?
Natasha Sheehan says competing gave her a crack at rep beyond her rank. Photo by Erik Tomasson, courtesy SFB
As a student, Katherine Barkman competed in several prestigious ballet competitions, and even won first place at the Youth America Grand Prix in Philadelphia. But at age 21, already a guest principal dancer with Ballet Manila, she decided to return to the competition stage as a professional. She found herself humbled by an experience at the 2017 Moscow International Ballet Competition.
"I was pretty intimidated, thinking, This is the big leagues, this is the Bolshoi Theatre," says Barkman, who was eliminated after the first round. "You are not just judged on how good you are for your age."
Competitions have long had a place in the training of young dancers, allowing them more opportunities to perform and learn under pressure. But even after you've secured a company contract, there are myriad benefits to putting yourself in front of judges.
---
Enhance a Slow Year
Simply joining a company does not mean you will be dancing the roles you want. There may be time spent understudying or standing in the corps. "Some dancers have times when they have not been cast well," says John Meehan, chair of the jury for the USA International Ballet Competition in Jackson, Mississippi. "They need a goal, and a competition can give them the incentive they need."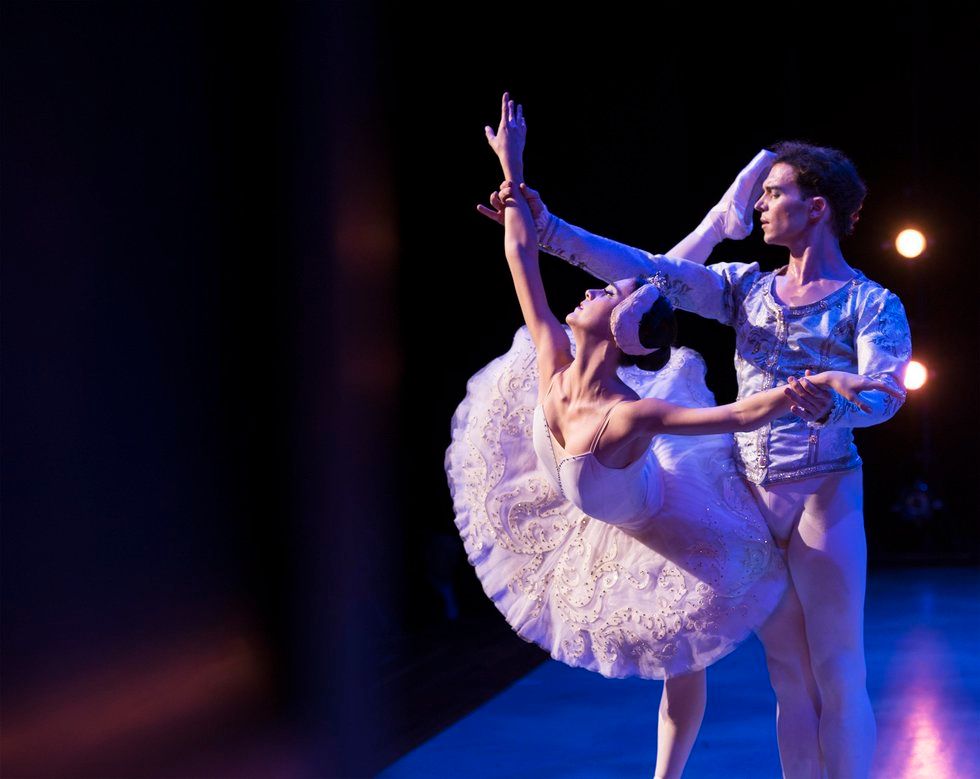 Katherine Barkman, here with Joseph Philips, won silver at USA IBC and Varna IBC this summer. Photo by Ron Fung, courtesy Barkman
Prove Yourself in a Principal Role
Competing can give you a chance to work on repertoire that would typically be beyond your rank. During her first season with San Francisco Ballet in 2016, artistic director Helgi Tomasson invited Natasha Sheehan to compete for the Erik Bruhn prize. The experience gave Sheehan, then 17, her first crack at Giselle, along with a contemporary pas de deux by Myles Thatcher. She won at Bruhn, and wound up reprising the contemporary piece at a gala the following season.
Get More Exposure
Competitions are a see-and-be-seen event, and a win can give you name recognition. "A competition can get your name out there, make you more known," says Sheehan. "Other directors gave me compliments, and it helped build some bridges." Even noncompeting partners get to be seen by several directors at once, which could lead to guesting and other gigs.
Broaden Your Dance Community
"A competition is a chance to get out of your dance bubble," says Meehan. The opportunity to see other styles and network with peers from around the world can give you a new perspective on your work.
Get More Feedback
"All dancers need mentors," says Lisa Macuja-Elizalde, artistic director of Ballet Manila and coach to Barkman. "No matter how experienced you are, you need someone looking at you when you rehearse or perform." A competition can be a way to get more input through additional coaching and mentoring.
Win R-E-S-P-E-C-T
Sure, you could win money—first place in Moscow comes with a $30,000 prize. But even if you don't medal, you can earn respect. For Barkman, the reward of overcoming the challenge in Moscow and then winning silver medals at USA IBC and Varna IBC this summer was personal. "I know some professionals might join a competition for money or to have a big career boom, but it is the event itself that inspires me," she says. "The months it takes to prepare, the networking, honing my abilities as a budding artist—it is all about pushing to step outside of my comfort zone to find more artistic growth."
From Your Site Articles
Related Articles Around the Web
Robin Worrall via Unsplash
Social media has made the dance world a lot smaller, giving users instant access to artists and companies around the world. For aspiring pros, platforms like Instagram can offer a tantalizing glimpse into the life of a working performer. But there's a fine line between taking advantage of what social media can offer and relying too heavily on it.
Keep reading...
Show less
UA Dance Ensemble members Candice Barth and Gregory Taylor in Jessica Lang's "Among the Stars." Photo by Ed Flores, courtesy University of Arizona
If you think becoming a trainee or apprentice is the only path to gaining experience in a dance company environment, think again.
The University of Arizona, located in the heart of Tucson, acclimates dancers to the pace and rigor of company life while offering all the academic opportunities of a globally-ranked university. If you're looking to get a head-start on your professional dance career—or to just have a college experience that balances company-level training and repertory with rigorous academics—the University of Arizona's undergraduate and graduate programs have myriad opportunites to offer:
Keep reading...
Show less
Alice Sheppard/Kinetic Light in DESCENT, which our readers chose as last year's "Most Moving Performance." Photo by Jay Newman, courtesy Kinetic Light
Yes, we realize it's only August. But we can't help but to already be musing about all the incredible dance happenings of 2019.
We're getting ready for our annual Readers' Choice feature, and we want to hear from you about the shows you can't stop thinking about, the dance videos that blew your mind and the artists you discovered this year who everyone should know about.
Keep reading...
Show less
Sergei Diaghilev, who was terrified of the sea, posing with a life preserver aboard a ship. Photo courtesy DM Archives
On August 19, 1929, shockwaves were felt throughout the dance world as news spread that impresario Sergei Diaghilev had died. The founder of the Ballets Russes rewrote the course of ballet history as the company toured Europe and the U.S., championing collaborations with modernist composers, artists and designers such as Igor Stravinsky, Pablo Picasso and Coco Chanel. The company launched the careers of its five principal choreographers: Michel Fokine, Vaslav Nijinsky, Léonide Massine, Bronislava Nijinska and George Balanchine.
Keep reading...
Show less