Liza Voll
Worried your feet aren't good enough for a professional ballet career?
Good news: Most people, let alone dancers, have enough range of motion to go on pointe, says Mandy Blackmon, a physical therapist for Atlanta Ballet.
"It is almost always a strength problem," she says. "Floppy or flat feet may be the result of weak intrinsic foot muscles."
---
Strengthening these tiny muscles can help improve your line, as well as your balance, proprioception and the way you absorb the shock of jumps. Here are two of the best exercises to practice:
The Classic Towel Pull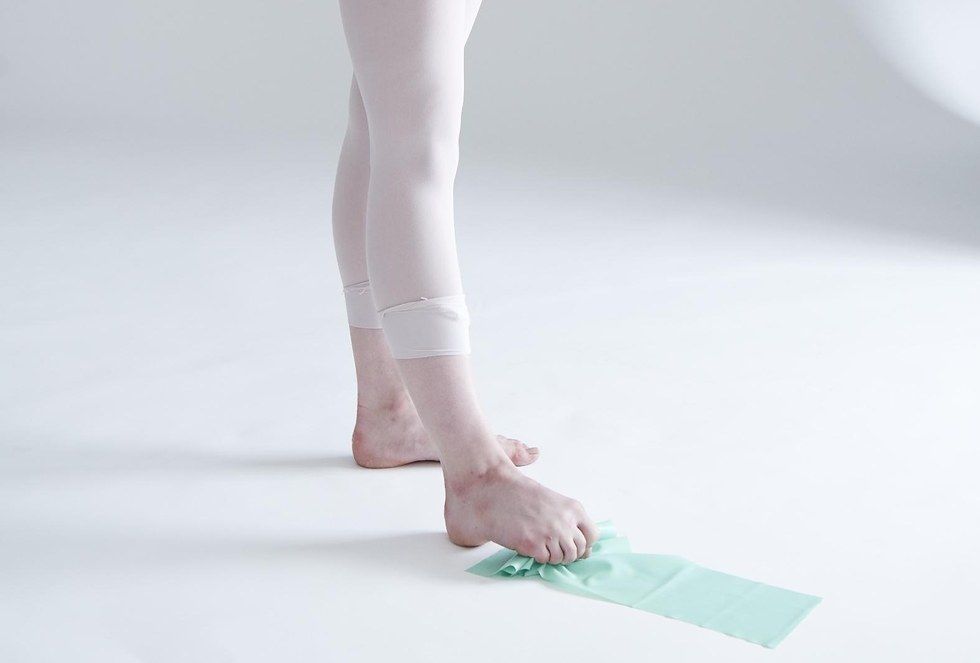 Nathan Sayers
Sit or stand with your feet in parallel, toes on the edge of an unfolded towel. Balancing on your heels, lift all 10 toes and spread them out on the towel. Use your toes to grab the towel and pull it in towards you while keeping your arches lifted. Repeat until all the material has been gathered. You can also try reversing the process—lifting the arches, curling the toes in, and then spreading the towel out as your toes extend.
Doming
Sitting or standing with the whole foot on the floor, press down into your smaller toe knuckles and pull your large toe knuckles in a little closer to your heel, causing your arch to lift. Try to keep your toes long and straight.
To make it harder, try doing it with your toes lifted off the ground.
"A better-looking foot is not just a range-of-motion issue," adds Blackmon. "What most dancers are after when they want 'better feet' is more about strength and support of the bony structure."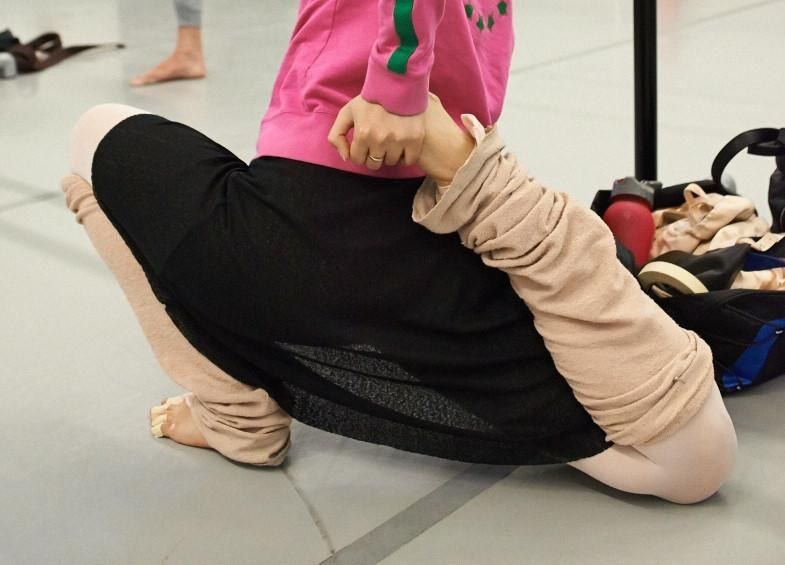 Jim Lafferty
To that end, Blackmon recommends that dancers stretch their calves as well as pushing their pointe. Having a good range of motion in dorsiflexion (flex) and plantar flexion (pointe) is key to keeping feet and ankles healthy, and tight calves can restrict movement in your ankle joint.

A block in either end of your range—whether flexing or pointing—can be an early sign of injury. Get treated before you develop compensations, says Blackmon. Soft-tissue work in the calves and mobilizations performed by a physical therapist can open up your range of motion and keep your limbs healthy.
News
Jul. 15, 2019 12:30PM EST
Courtesy Ritzel
Capezio, Bloch, So Dança, Gaynor Minden.
At the top of the line, dancers have plenty of quality footwear options to choose from, and in most metropolitan areas, stores to go try them on. But for many of North America's most economically disadvantaged dance students, there has often been just one option for purchasing footwear in person: Payless ShoeSource.
Keep reading...
Show less
Jayme Thornton
When Sonya Tayeh saw Moulin Rouge! for the first time, on opening night at a movie theater in Detroit, she remembers not only being inspired by the story, but noticing the way it was filmed.
"What struck me the most was the pace, and the erratic feeling it had," she says. The camera's quick shifts and angles reminded her of bodies in motion. "I was like, 'What is this movie? This is so insane and marvelous and excessive,' " she says. "And excessive is I think how I approach dance. I enjoy the challenge of swiftness, and the pushing of the body. I love piling on a lot of vocabulary and seeing what comes out."
Keep reading...
Show less
Robbie Fairchild in a still from In This Life, directed by Bat-Sheva Guez. Photo courtesy Michelle Tabnick PR
Back when Robbie Fairchild graced the cover of the May 2018 issue of Dance Magazine, he mentioned an idea for a short dance film he was toying around with. That idea has now come to fruition: In This Life, starring Fairchild and directed by dance filmmaker Bat-Sheva Guez, is being screened at this year's Dance on Camera Festival.
While the film itself covers heavy material—specifically, how we deal with grief and loss—the making of it was anything but: "It was really weird to have so much fun filming a piece about grief!" Fairchild laughs. We caught up with him, Guez and Christopher Wheeldon (one of In This Life's five choreographers) to find out what went into creating the 11-minute short film.
Keep reading...
Show less
Terry Notary in a movement capture suit during the filming of Rise of the Planet of the Apes. Photo by Sigtor Kildal, Courtesy Notary
When Hollywood needs to build a fantasy world populated with extraordinary creatures, they call Terry Notary.
The former gymnast and circus performer got his start in film in 2000 when Ron Howard asked him to teach the actors how to move like Whos for How the Grinch Stole Christmas. Notary has since served as a movement choreographer, stunt coordinator and performer via motion capture technology for everything from the Planet of the Apes series to The Hobbit trilogy, Avatar, Avengers: Endgame and this summer's The Lion King.
Since opening the Industry Dance Academy with his wife, Rhonda, and partners Maia and Richard Suckle, Notary also offers movement workshops for actors in Los Angeles.
Keep reading...
Show less