What Does It Take to Be ABT's Wig & Makeup Guru?
Rena Most at work backstage. Photo courtesy ABT
Every dancer knows there's as much magic taking place backstage as there is in what the audience sees onstage. Behind the scenes, it takes a village, says American Ballet Theatre's wig and makeup supervisor, Rena Most. With wig and makeup preparations happening in a studio of their own as the dancers rehearse, Most and her team work to make sure not a single detail is lost.
Dance Magazine recently spoke to Most to find out what actually goes into the hair and makeup looks audiences see on the ABT stage.
---
The wig and makeup team create the finishing touch:
"Our job is to create characters. If you're playing Carabosse in The Sleeping Beauty, her costume says she's a witch, her acting says she's a witch, and then her wig, prosthetics and makeup are the final touches. We're responsible for that last little bit of magic."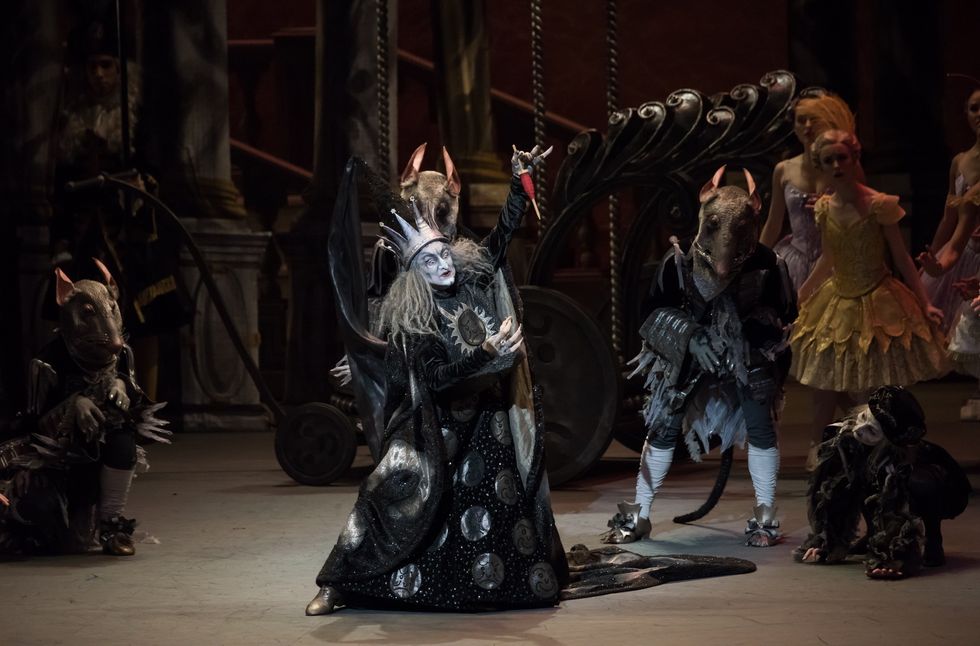 Nancy Raffa as Carabosse
Doug Gifford, Courtesy ABT
Wigs are a ballet companies' best friend:
"We have a lot of wigs because they can re-create a specific style much faster and more consistently. We can cut, color and style them as needed, so at the theater, you can just plop it on the dancer and make sure it's secure."
What goes into prepping for a new production:
"For something like The Sleeping Beauty, we're doing historical research—looking at paintings and sculptures and references from that time period to replicate what that person would wear, and then giving it a little ballet twist."
Getting through performance season:
"Anytime we finish a performance week, we take all of those wigs apart, brush them, wash them with shampoo and conditioner, and reset them with rollers. The rollers create different patterns and textures, and that allows us to sculpt the hair to what we need."
"When we're at the Metropolitan Opera House, we have eight consecutive weeks with about 14 different shows. Swan Lake is one of our easier shows because we have one wig, one prosthetic piece, a few character makeups, a few mustaches and a few quick changes. Whereas in The Sleeping Beauty, we have 200 wigs, about 15 character makeups, and endless quick changes."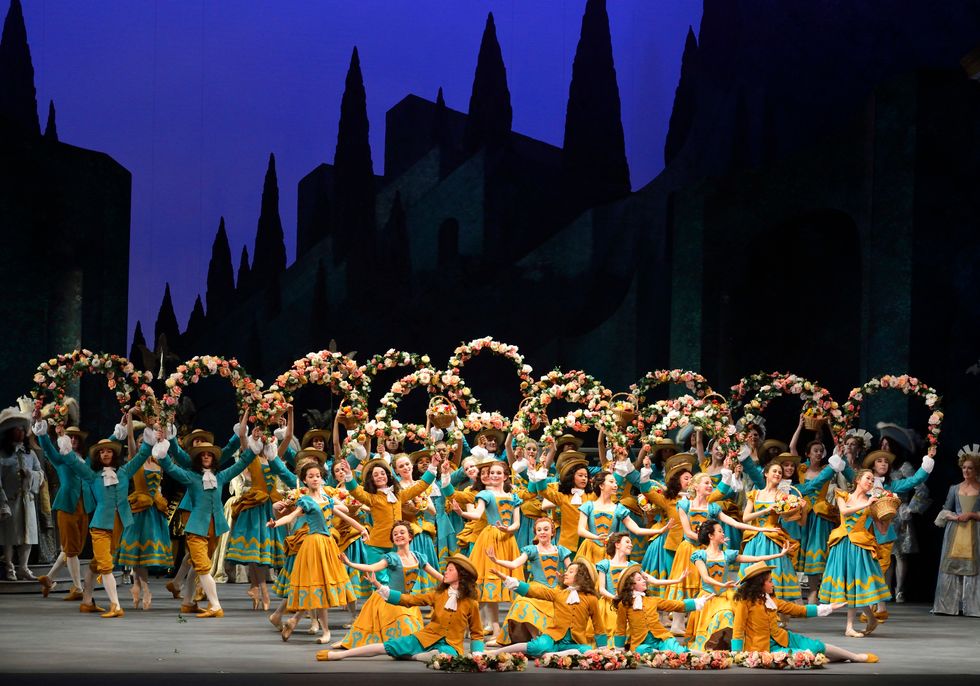 Every dancer onstage here in The Sleeping Beauty is wearing a wig
Gene Schiavone, Courtesy ABT
Making makeup happen on the road:
"When we tour, we usually have one day to set up, and then we bring our crew in and teach them what they'll be doing.
"We pack everything in road boxes. One is a wig dryer. One has tall director chairs to do the makeup. We bring everything because we don't always know what the theater we're traveling to is like—sometimes we're placed in huge, luxurious rooms, and sometimes we're in a hallway."
The best part of the job:
"We are often the last people in the dancer's face before they perform. In a super-hectic day—where people have rehearsals, fittings, the gym, have to feed their dog—when that dancer sits down in our chair, it's just the two of us. Whether we work in silence or joke and laugh the whole time, it's a sense of comfort to the dancer to know that we will take care of them."
From Your Site Articles
Related Articles Around the Web
Getty Images
Dancers are understandably obsessed with food. In both an aesthetic and athletic profession, you know you're judged on your body shape, but you need proper fuel to perform your best. Meanwhile, you're inundated with questionable diet advice.
"My 'favorite' was the ABC diet," says registered dietitian nutritionist Kristin Koskinen, who trained in dance seriously but was convinced her body type wouldn't allow her to pursue it professionally. "On the first day you eat only foods starting with the letter A, on the second day only B, and so on."
Keep reading...
Show less
Ailey II artistic director Troy Powell teaching an Ailey Workshop at NYCDA. Courtesy NYCDA
Back in 2011 when Joe Lanteri first approached Katie Langan, chair of Marymount Manhattan College's dance department, about getting involved with New York City Dance Alliance, she was skeptical about the convention/competition world.
"But I was pleasantly surprised by the enormity of talent that was there," she says. "His goal was to start scholarship opportunities, and I said okay, I'm in."
Today, it's fair to say that Lanteri has far surpassed his goal of creating scholarship opportunities. But NYCDA has done so much more, bridging the gap between the convention world and the professional world by forging a wealth of partnerships with dance institutions from Marymount to The Ailey School to Complexions Contemporary Ballet and many more. There's a reason these companies and schools—some of whom otherwise may not see themselves as aligned with the convention/competition world—keep deepening their relationships with NYCDA.
Now, college scholarships are just one of many ways NYCDA has gone beyond the typical weekend-long convention experience and created life-changing opportunities for students. We rounded up some of the most notable ones:
Keep reading...
Show less
Rehearsal of Yvonne Rainer's Parts of Some Sextets. Photo by Paula Court, Courtesy Performa.
Yvonne Rainer's Parts of Some Sextets (AKA "the mattress dance") hasn't been revived since it premiered in 1965. Nor has Rainer had any wish to do it again, to ask performers to heave 10 mattresses around while carrying out 31 tasks that changed every 30 seconds. It was an unwieldy, difficult dance. (Even the title is unwieldy.) But Emily Coates, who has danced in Rainer's work for 20 years, became curious about this piece and was determined to see it again—and to dance in it. She will get her wish November 15–17, when the mattress dance will be performed as part of the Performa 19 Biennial.
Keep reading...
Show less
Left: Hurricane Harvey damage in Houston Ballet's Dance Lab; Courtesy Harlequin. Right: The Dance Lab pre-Harvey; Nic Lehoux, Courtesy Houston Ballet.
"The show must go on" may be a platitude we use to get through everything from costume malfunctions to stormy moods. But when it came to overcoming a literal hurricane, Houston Ballet was buoyed by this mantra to go from devastated to dancing in a matter of weeks—with the help of Harlequin Floors, Houston Ballet's longstanding partner who sprang into action to build new floors in record time.
Keep reading...
Show less