5 Workout Tips From an ABT Dancer Who's Also a Personal Trainer
When Thomas Forster isn't in the gym doing his own workout, he's often coaching his colleagues.
Two years ago, the American Ballet Theatre soloist got a personal training certification from the National Academy of Sports Medicine. Now he trains fellow ABT members and teaches the ABT Studio Company a strength and conditioning class alongside fellow ABT soloist Roman Zhurbin.
He shared five of his top tips for getting into top shape.
---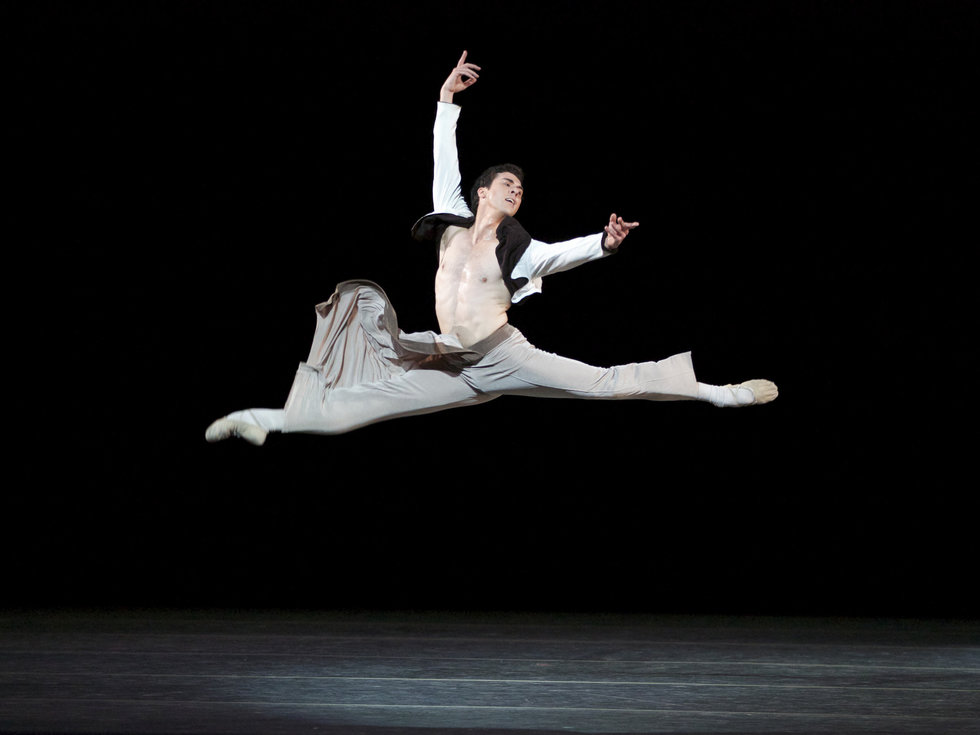 Marty Sohl, courtesy ABT
Most Dancers Need Extra Cardio to Get Through Choreography
"Ballet class doesn't give you great stamina," he says, "so you need to do something else to really build that so when you have to do a variation that's 15 minutes long and you're absolutely exhausted, your body can handle it."
Exercises Don't Need to Be Complicated to Get Results
For workouts, Forster typically combines body-weight and cardio exercises that target multiple muscle groups. He believes that even simple exercises like mountain climbers can be effective as part of a high-intensity interval session. For an extra challenge, he'll add a resistance band to movements like squats or lateral walks.
Study Anatomy To Gain a Deeper Understand of How You Move
Since becoming a trainer, Forster has not only been rewarded with improved strength and endurance in his dancing, but also a deeper understanding of his body. "I gained a greater knowledge of the muscles and how they interconnect," he says, mentioning that he's now more aware of his alignment, which helps him avoid injury. "The human body is absolutely amazing."
Recovery Is Just As Important As Working Out
"A really cold shower or cold plunges seem to really help my body fight inflammation," he says.
Do This Every Day:
Forster says dancers should perform this stretch every day—it targets all the major muscle groups and improves mobility in your hips, shoulders and thoracic spine.
Step your right foot forward into a lunge, with the knee bent at a 90-degree angle. Your left leg should be straight behind you.
Place your left hand next to the inside of your right foot.
Twist your upper body toward your knee and reach your right arm up toward the sky.
Repeat on the opposite side.
Related Articles Around the Web
From Your Site Articles
Getty Images
By the Sunday evening of a long convention weekend, you can expect to be thoroughly exhausted and a little sore. But you shouldn't leave the hotel ballroom actually hurt. Although conventions can be filled with magical opportunities, the potential for injury is higher than usual.
Keep your body safe: Watch out for these four common hazards.
Keep reading...
Show less
News
Jul. 18, 2019 05:02PM EST
Frozen put profit-sharing arrangements in place prior to the Equity deal. Photo by Deen van Meer, Courtesy Disney Theatrical Group
For a Broadway dancer, few opportunities are more exciting than being part of the creation of an original show. But if that show goes on to become wildly successful, who reaps the benefits? Thanks to a new deal between Actors' Equity Association and The Broadway League, performers involved in a production's development will now receive their own cut of the earnings.
Keep reading...
Show less
NBCUniversal
Jellicle obsessives, rejoice: There's a new video out that offers a (surprisingly substantive) look at the dancing that went down on the set of the new CATS movie.
Keep reading...
Show less
Via Wikimedia Commons
When Dr. Mae Jemison was growing up, she was obsessed with space. But she didn't see any astronauts who looked like her.
"I said, Wait a minute. Why are all the astronauts white males?" she recounts in a CNN video. "What if the aliens saw them and said, Are these the only people on Earth?"
Keep reading...
Show less