5 Workout Tips From an ABT Dancer Who's Also a Personal Trainer
When Thomas Forster isn't in the gym doing his own workout, he's often coaching his colleagues.
Two years ago, the American Ballet Theatre soloist got a personal training certification from the National Academy of Sports Medicine. Now he trains fellow ABT members and teaches the ABT Studio Company a strength and conditioning class alongside fellow ABT soloist Roman Zhurbin.
He shared five of his top tips for getting into top shape.
---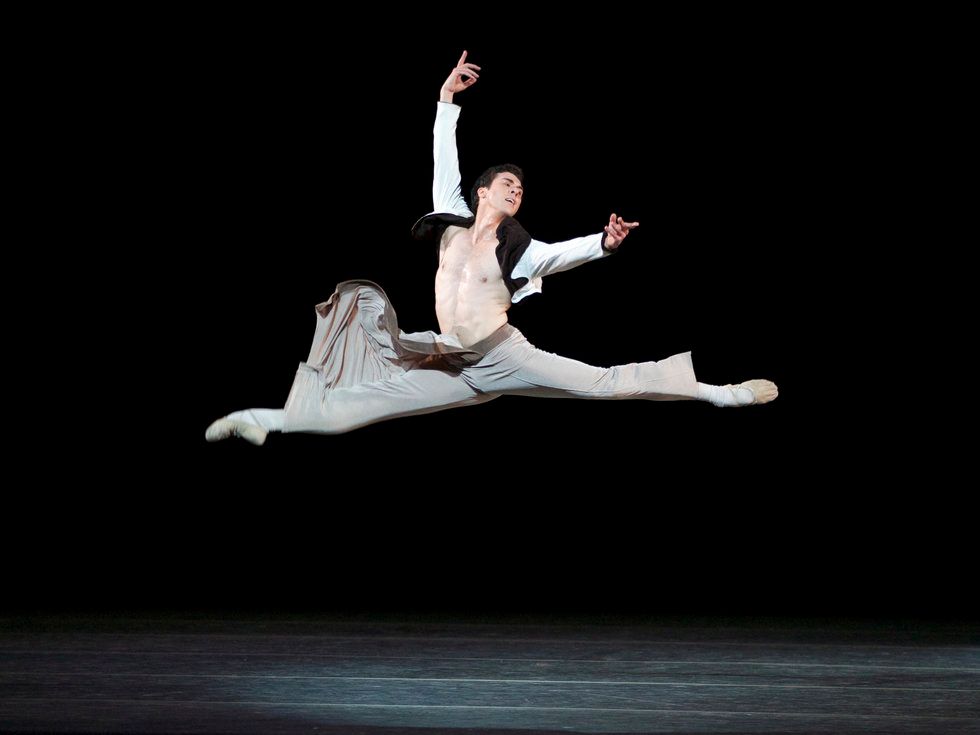 Marty Sohl, courtesy ABT
Most Dancers Need Extra Cardio to Get Through Choreography
"Ballet class doesn't give you great stamina," he says, "so you need to do something else to really build that so when you have to do a variation that's 15 minutes long and you're absolutely exhausted, your body can handle it."
Exercises Don't Need to Be Complicated to Get Results
For workouts, Forster typically combines body-weight and cardio exercises that target multiple muscle groups. He believes that even simple exercises like mountain climbers can be effective as part of a high-intensity interval session. For an extra challenge, he'll add a resistance band to movements like squats or lateral walks.
Study Anatomy To Gain a Deeper Understand of How You Move
Since becoming a trainer, Forster has not only been rewarded with improved strength and endurance in his dancing, but also a deeper understanding of his body. "I gained a greater knowledge of the muscles and how they interconnect," he says, mentioning that he's now more aware of his alignment, which helps him avoid injury. "The human body is absolutely amazing."
Recovery Is Just As Important As Working Out
"A really cold shower or cold plunges seem to really help my body fight inflammation," he says.
Do This Every Day:
Forster says dancers should perform this stretch every day—it targets all the major muscle groups and improves mobility in your hips, shoulders and thoracic spine.
Step your right foot forward into a lunge, with the knee bent at a 90-degree angle. Your left leg should be straight behind you.
Place your left hand next to the inside of your right foot.
Twist your upper body toward your knee and reach your right arm up toward the sky.
Repeat on the opposite side.
From Your Site Articles
Related Articles Around the Web
Most people may know Derek Dunn for his impeccable turns and alluring onstage charisma. But the Boston Ballet principal dancer is just as charming offstage, whether he's playing with his 3-year-old miniature labradoodle or working in the studio. Dance Magazine recently spent the day with Dunn as he prepared for his debut as Albrecht in the company's upcoming run of Giselle.
Rosalie O'Connor, Courtesy Mark Morris Dance Group
You know compelling musicality when you see it. But how do you cultivate it? It's not as elusive as it might seem. Musicality, like any facet of dance, can be developed and honed over time—with dedicated, detailed practice. At its most fundamental, it's "respect for the music, that this is your partner," says Kate Linsley, academy principal of the School of Nashville Ballet.
Keep reading...
Show less
The USC Kaufman graduating class with Mikhail Baryshnikov. Gus Ruelas/USC
Just four years ago, the University of Southern California's Glorya Kaufman School of Dance welcomed its first class of BFA students. The program—which boasts world-class faculty and a revolutionary approach to training focused on collaboration and hybridity—immediately established itself as one of the country's most prestigious and most innovative.
Now, the first graduating class is entering the dance field. Here, six of the 33 graduates share what they're doing post-grad, what made their experience at USC Kaufman so meaningful and how it prepared them for their next steps:
Keep reading...
Show less
Ross Parkes, right, teaching in Shanghai in 1983. Lan-Lan Wang is at left. Courtesy Lan-Lan Wang.
Notable dancer and beloved teacher, Ross Parkes, 79, passed away on August 5, 2019 in New York City. He was a founding faculty member at Taipei National University of the Arts in Taiwan, where he taught from 1984 to 2006. Lin Hwai-min, artistic director of Cloud Gate Dance Theater, said: "He nurtured two generations of dancers in Taiwan, and his legacy will continue."
About his dancing, Tonia Shimin, professor emerita at UC Santa Barbara and producer of Mary Anthony: A Life in Modern Dance, said this: "He was an exquisite, eloquent dancer who inhabited his roles completely."
Keep reading...
Show less