5 Workout Tips From an ABT Dancer Who's Also a Personal Trainer
When Thomas Forster isn't in the gym doing his own workout, he's often coaching his colleagues.
Two years ago, the American Ballet Theatre soloist got a personal training certification from the National Academy of Sports Medicine. Now he trains fellow ABT members and teaches the ABT Studio Company a strength and conditioning class alongside fellow ABT soloist Roman Zhurbin.
He shared five of his top tips for getting into top shape.
---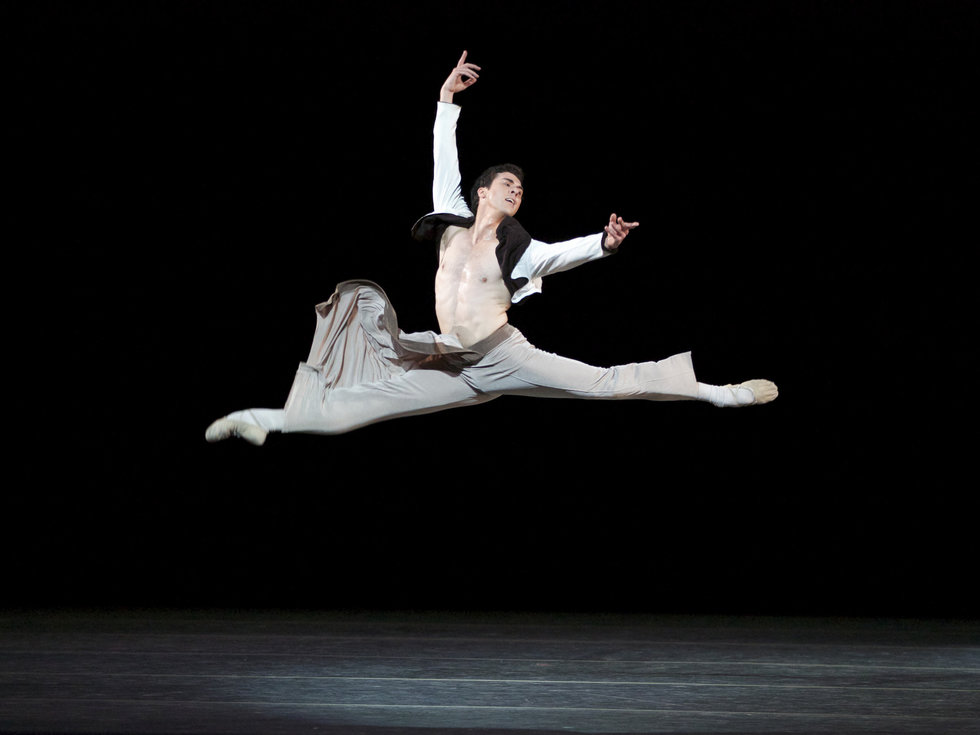 Marty Sohl, courtesy ABT
Most Dancers Need Extra Cardio to Get Through Choreography
"Ballet class doesn't give you great stamina," he says, "so you need to do something else to really build that so when you have to do a variation that's 15 minutes long and you're absolutely exhausted, your body can handle it."
Exercises Don't Need to Be Complicated to Get Results
For workouts, Forster typically combines body-weight and cardio exercises that target multiple muscle groups. He believes that even simple exercises like mountain climbers can be effective as part of a high-intensity interval session. For an extra challenge, he'll add a resistance band to movements like squats or lateral walks.
Study Anatomy To Gain a Deeper Understand of How You Move
Since becoming a trainer, Forster has not only been rewarded with improved strength and endurance in his dancing, but also a deeper understanding of his body. "I gained a greater knowledge of the muscles and how they interconnect," he says, mentioning that he's now more aware of his alignment, which helps him avoid injury. "The human body is absolutely amazing."
Recovery Is Just As Important As Working Out
"A really cold shower or cold plunges seem to really help my body fight inflammation," he says.
Do This Every Day:
Forster says dancers should perform this stretch every day—it targets all the major muscle groups and improves mobility in your hips, shoulders and thoracic spine.
Step your right foot forward into a lunge, with the knee bent at a 90-degree angle. Your left leg should be straight behind you.
Place your left hand next to the inside of your right foot.
Twist your upper body toward your knee and reach your right arm up toward the sky.
Repeat on the opposite side.
From Your Site Articles
Related Articles Around the Web
Sergei Diaghilev, who was terrified of the sea, posing with a life preserver aboard a ship. Photo courtesy DM Archives
On August 19, 1929, shockwaves were felt throughout the dance world as news spread that impresario Sergei Diaghilev had died. The founder of the Ballets Russes rewrote the course of ballet history as the company toured Europe and the U.S., championing collaborations with modernist composers, artists and designers such as Igor Stravinsky, Pablo Picasso and Coco Chanel. The company launched the careers of its five principal choreographers: Michel Fokine, Vaslav Nijinsky, Léonide Massine, Bronislava Nijinska and George Balanchine.
Keep reading...
Show less
The USC Kaufman graduating class with Mikhail Baryshnikov. Gus Ruelas/USC
Just four years ago, the University of Southern California's Glorya Kaufman School of Dance welcomed its first class of BFA students. The program—which boasts world-class faculty and a revolutionary approach to training focused on collaboration and hybridity—immediately established itself as one of the country's most prestigious and most innovative.
Now, the first graduating class is entering the dance field. Here, six of the 33 graduates share what they're doing post-grad, what made their experience at USC Kaufman so meaningful and how it prepared them for their next steps:
Keep reading...
Show less
Alice Sheppard/Kinetic Light in DESCENT, which our readers chose as last year's "Most Moving Performance." Photo by Jay Newman, courtesy Kinetic Light
Yes, we realize it's only August. But we can't help but to already be musing about all the incredible dance happenings of 2019.
We're getting ready for our annual Readers' Choice feature, and we want to hear from you about the shows you can't stop thinking about, the dance videos that blew your mind and the artists you discovered this year who everyone should know about.
Keep reading...
Show less
Courtesy Chiara Valle
Chiara Valle is just one of many dancers heading back to the studio this fall as companies ramp up for the season. But her journey back has been far more difficult than most.
Valle has been a trainee at The Washington Ballet since 2016, starting at the same time as artistic director Julie Kent. But only a few months into her first season there, she started experiencing excruciating pain high up in her femur. "It felt like someone was stabbing me 24/7," she says. Sometimes at night, the pain got so bad that her roommates would bring her dinner to the bathtub.
Keep reading...
Show less