5 Workout Tips From an ABT Dancer Who's Also a Personal Trainer
When Thomas Forster isn't in the gym doing his own workout, he's often coaching his colleagues.
Two years ago, the American Ballet Theatre soloist got a personal training certification from the National Academy of Sports Medicine. Now he trains fellow ABT members and teaches the ABT Studio Company a strength and conditioning class alongside fellow ABT soloist Roman Zhurbin.
He shared five of his top tips for getting into top shape.
---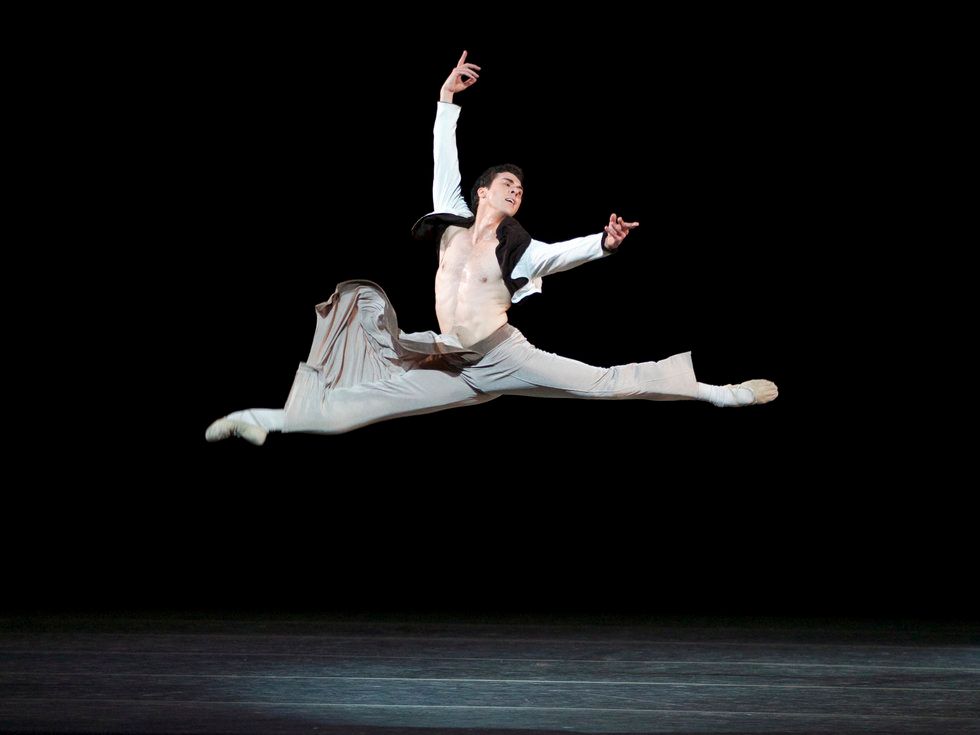 Marty Sohl, courtesy ABT
Most Dancers Need Extra Cardio to Get Through Choreography
"Ballet class doesn't give you great stamina," he says, "so you need to do something else to really build that so when you have to do a variation that's 15 minutes long and you're absolutely exhausted, your body can handle it."
Exercises Don't Need to Be Complicated to Get Results
For workouts, Forster typically combines body-weight and cardio exercises that target multiple muscle groups. He believes that even simple exercises like mountain climbers can be effective as part of a high-intensity interval session. For an extra challenge, he'll add a resistance band to movements like squats or lateral walks.
Study Anatomy To Gain a Deeper Understand of How You Move
Since becoming a trainer, Forster has not only been rewarded with improved strength and endurance in his dancing, but also a deeper understanding of his body. "I gained a greater knowledge of the muscles and how they interconnect," he says, mentioning that he's now more aware of his alignment, which helps him avoid injury. "The human body is absolutely amazing."
Recovery Is Just As Important As Working Out
"A really cold shower or cold plunges seem to really help my body fight inflammation," he says.
Do This Every Day:
Forster says dancers should perform this stretch every day—it targets all the major muscle groups and improves mobility in your hips, shoulders and thoracic spine.
Step your right foot forward into a lunge, with the knee bent at a 90-degree angle. Your left leg should be straight behind you.
Place your left hand next to the inside of your right foot.
Twist your upper body toward your knee and reach your right arm up toward the sky.
Repeat on the opposite side.
From Your Site Articles
Related Articles Around the Web
Michelle Dorrance. Photo by Jayme Thornton
What do Percy Jackson, Princess Diana and Tina Turner have in common? They're all characters on Broadway this season. Throw in Michelle Dorrance's choreographic debut, Henry VIII's six diva-licious wives and the 1990s angst of Alanis Morissette, and the 2019–20 season is shaping up to be an exciting mix of past-meets-pop-culture-present.
Here's a look at the musicals hitting Broadway in the coming months. We're biding our time until opening night!

Keep reading...
Show less
UA Dance Ensemble members Candice Barth and Gregory Taylor in Jessica Lang's "Among the Stars." Photo by Ed Flores, courtesy University of Arizona
If you think becoming a trainee or apprentice is the only path to gaining experience in a dance company environment, think again.
The University of Arizona, located in the heart of Tucson, acclimates dancers to the pace and rigor of company life while offering all the academic opportunities of a globally-ranked university. If you're looking to get a head-start on your professional dance career—or to just have a college experience that balances company-level training and repertory with rigorous academics—the University of Arizona's undergraduate and graduate programs have myriad opportunites to offer:
Keep reading...
Show less
Alice Sheppard/Kinetic Light in DESCENT, which our readers chose as last year's "Most Moving Performance." Photo by Jay Newman, courtesy Kinetic Light
Yes, we realize it's only August. But we can't help but to already be musing about all the incredible dance happenings of 2019.
We're getting ready for our annual Readers' Choice feature, and we want to hear from you about the shows you can't stop thinking about, the dance videos that blew your mind and the artists you discovered this year who everyone should know about.
Keep reading...
Show less
Getty Images
Ah, stretching. It seems so simple, and is yet so complicated.
For example: You don't want to overstretch, but you're not going to see results if you don't stretch enough. You want to focus on areas where you're tight, but you also can't neglect other areas or else you'll be imbalanced. You were taught to hold static stretches growing up, but now everyone is telling you never to hold a stretch longer than a few seconds?
Considering how important stretching correctly is for dancers, it's easy to get confused or overwhelmed. So we came up with 10 common stretching scenarios, and gave you the expert low-down.
Keep reading...
Show less