Have Real Ballet Dancers Jumped On The "Barre Class" Trend?
Photo via Physique 57
Barre classes have soared in popularity. Last year, Time Magazine labeled them a "phenomenon" among fitness routines, with an estimated 800 studios in the U.S.
But: Has the fad penetrated the rehearsal studios of professional ballet dancers? Not necessarily, according to feedback from several ballet companies.
---
"Our dancers don't need another barre class; they take a barre class every day," says Gary Tucker, media relations manager at Pacific Northwest Ballet. Everywhere from Boston Ballet to The Joffrey, San Francisco Ballet and six other companies we reached out to, managers and directors reported that their dancers prefer to supplement their rehearsals with activities like Pilates, Gyrotonics, yoga, biking, swimming or running.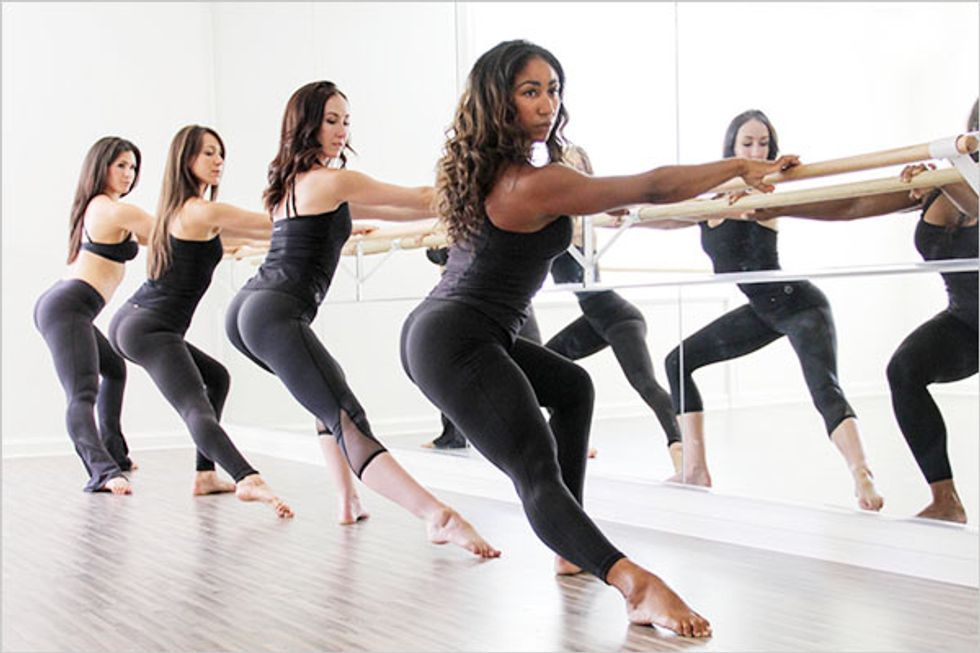 Photo via Maiden Lane Studios in San Francisco
Yet everyday enthusiasts are flocking to the high-energy classes that challenge the entire body. "Barre is a fusion of yoga, ballet and Pilates," says Kelly Lamy, a barre and group fitness instructor at Coastal Bodyworx in Rhode Island. And it's tough. "Although barre has more parallel work than ballet and there is no choreography," she says, "barre builds strength, stamina and balance and lengthens your muscles."
Lamy works her clients' inner thighs with countless pliés in first, second and fourth positions, for example. And she improves balance with 'mountain poses' on demi-pointe, which require the core awareness and pelvic alignment of a dancer. Like in dance, changing tempo changes the challenge—slow motion for isometrics and to trigger muscle fatigue, or high reps at quick speeds to kick-start the cardiovascular system.
"Barre classes expose muscles you never knew you had," says Lamy. And the results are noticeable. Lamy says she has clients who have trimmed inches, re-shaped their bodies and performed better in sports and activities as a result of barre training.
But if barre class is a bonafide muscle-sculpting exercise that promises to deliver ballerina bodies in a short amount of time, then why are professional dancers not racing to do more of a good thing?
"After six hours at rehearsal, I'm not up to going to a supplementary barre class," says Greta Hodgkinson, principal dancer at the National Ballet of Canada.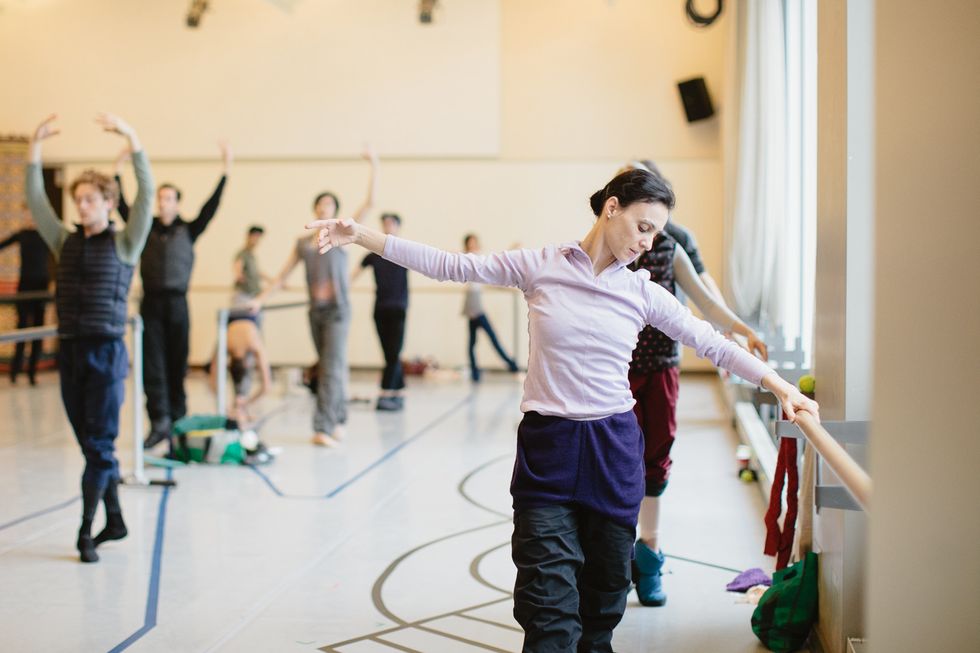 Greta Hodgkinson in company class at National Ballet of Canada. Photo by Karolina Kuras, courtesy NBoC
Hodgkinson—like most of her counterparts in the ballet world—relies on physical therapy and Pilates to supplement her company classes and rehearsals. At the apex of her career, Hodgkinson says she has become even more diligent about cross-training, which she matches to her repertoire's demands: She may work the small muscles in her feet and train on a springboard, for example, to prepare for the petite allegro of Giselle, or target her upper body and back muscles to get ready for the graceful port de bras of Swan Lake.
However, as someone who uses barre during her daily class to get in touch with her body and its aches and pains, she understands the appeal. "A lot of people find it fun and quite meditative."
Because of its similarity to a classical ballet barre, taking barre classes would be overkill. "But," says Hodgkinson, "I wouldn't rule it out later in life."
Ailey II artistic director Troy Powell teaching an Ailey Workshop at NYCDA. Courtesy NYCDA
Back in 2011 when Joe Lanteri first approached Katie Langan, chair of Marymount Manhattan College's dance department, about getting involved with New York City Dance Alliance, she was skeptical about the convention/competition world.
"But I was pleasantly surprised by the enormity of talent that was there," she says. "His goal was to start scholarship opportunities, and I said okay, I'm in."
Today, it's fair to say that Lanteri has far surpassed his goal of creating scholarship opportunities. But NYCDA has done so much more, bridging the gap between the convention world and the professional world by forging a wealth of partnerships with dance institutions from Marymount to The Ailey School to Complexions Contemporary Ballet and many more. There's a reason these companies and schools—some of whom otherwise may not see themselves as aligned with the convention/competition world—keep deepening their relationships with NYCDA.
Now, college scholarships are just one of many ways NYCDA has gone beyond the typical weekend-long convention experience and created life-changing opportunities for students. We rounded up some of the most notable ones:
Keep reading...
Show less
We knew that Ivo van Hove and Anne Teresa de Keersmaeker's production of West Side Story would challenge our preconceived notions about the show.
But a recent Vogue story gives us a taste of just how nontraditional the Broadway revival will be. Most notably, van Hove is cutting "I Feel Pretty" and the "Somewhere" ballet, condensing the show into one act to better reflect the urgency of the 48-hour plot. (The choice has been approved by the West Side Story estate, including Sondheim, who has "long been uncomfortable" with some of the "I Feel Pretty" lyrics.)
Keep reading...
Show less
Left: Hurricane Harvey damage in Houston Ballet's Dance Lab; Courtesy Harlequin. Right: The Dance Lab pre-Harvey; Nic Lehoux, Courtesy Houston Ballet.
"The show must go on" may be a platitude we use to get through everything from costume malfunctions to stormy moods. But when it came to overcoming a literal hurricane, Houston Ballet was buoyed by this mantra to go from devastated to dancing in a matter of weeks—with the help of Harlequin Floors, Houston Ballet's longstanding partner who sprang into action to build new floors in record time.
Keep reading...
Show less