Baryshnikov's Advice to Grads: Be Generous Enough to Let Yourself Fail
Via YouTube
What does Mikhail Baryshnikov have to say to dancers starting their careers today? On Friday, he gave the keynote speech during the graduation ceremony for the inaugural class of the USC Glorya Kaufman School of Dance.
The heart of his message: Be generous.
---
After promising not to talk politics, he said he would go "180 degrees in the opposite direction" by talking about generosity.
Appropriately, he started with the ceremony's most obvious example: the woman who made USC's dance program possible—Glorya Kaufman, arts patron extraordinaire.
But he went on to explain that generosity is about a lot more than donating money. It's also about:
Sharing. He thanked his mother for opening his eyes to dance.
Teaching. He thanked his teachers who shaped him.
Artistic collaboration. "To collaborate is to be generous with your time, your body, your soul. It's always a two-way street—you give, you get."
Allowing yourself to take risks. "As young creative artists, and really as human beings, you have to be open to failure," he said. "Failure is a part of learning.... As a very old dancer, I have had many, many opportunities to fail. It happens. Projects collapse, knees blow out, money dries up. But you as artists, and as young people discovering what you care about, you must be generous to that spark inside yourself that made you love dance in the first place."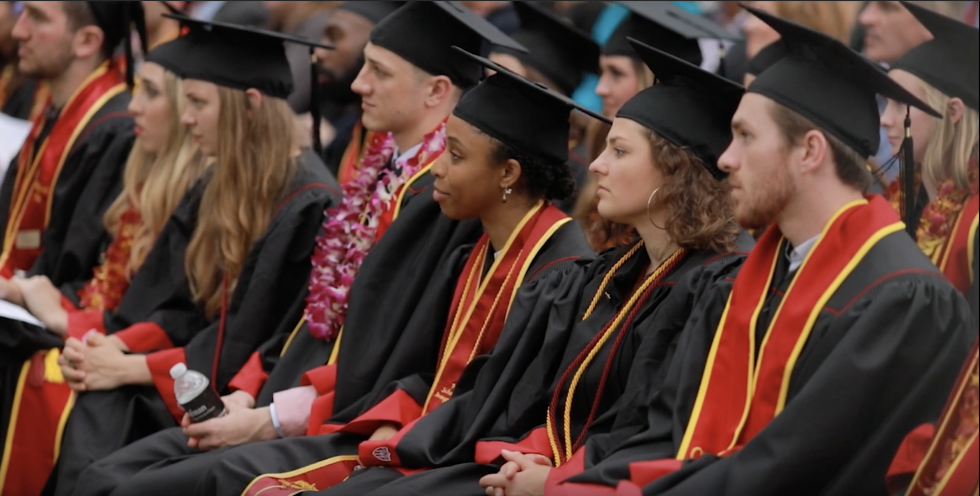 USC students listening to Baryshnikov's speech
But he's realistic. He knows that dancers can have a hard time being generous with themselves.
" 'My jump is not high enough, my turns aren't perfect, I can't get my leg behind my ear.' Please don't do that. Sometimes there's an obsession with technique that can kill your best impulses. But communicating with an art form means being vulnerable. Being imperfect. And most of the time this is much more interesting. Trust me."
And with a sly smile, he ended the speech by breaking his promise: He talked about politics.
He said he'd recently been wondering why artists tend to lean left politically. "Maybe, just maybe, it is because the arts get to the heart of what's important to us, meaning our humanity. The arts are the best form of truth that we have. We must be vigilant to protect and maintain a society that respects this idea. This means we must participate as citizens whenever possible. You, me, all of us. We must give our time, our thought, our caring to ensure that our country has the awareness and the courage, the generosity of spirit that is necessary for art to flourish."
Related Articles Around the Web
From Your Site Articles
Getty Images
By the Sunday evening of a long convention weekend, you can expect to be thoroughly exhausted and a little sore. But you shouldn't leave the hotel ballroom actually hurt. Although conventions can be filled with magical opportunities, the potential for injury is higher than usual.
Keep your body safe: Watch out for these four common hazards.
Keep reading...
Show less
News
Jul. 18, 2019 05:02PM EST
Frozen put profit-sharing arrangements in place prior to the Equity deal. Photo by Deen van Meer, Courtesy Disney Theatrical Group
For a Broadway dancer, few opportunities are more exciting than being part of the creation of an original show. But if that show goes on to become wildly successful, who reaps the benefits? Thanks to a new deal between Actors' Equity Association and The Broadway League, performers involved in a production's development will now receive their own cut of the earnings.
Keep reading...
Show less
NBCUniversal
Jellicle obsessives, rejoice: There's a new video out that offers a (surprisingly substantive) look at the dancing that went down on the set of the new CATS movie.
Keep reading...
Show less
Via Wikimedia Commons
When Dr. Mae Jemison was growing up, she was obsessed with space. But she didn't see any astronauts who looked like her.
"I said, Wait a minute. Why are all the astronauts white males?" she recounts in a CNN video. "What if the aliens saw them and said, Are these the only people on Earth?"
Keep reading...
Show less