Baryshnikov's Advice to Grads: Be Generous Enough to Let Yourself Fail
What does Mikhail Baryshnikov have to say to dancers starting their careers today? On Friday, he gave the keynote speech during the graduation ceremony for the inaugural class of the USC Glorya Kaufman School of Dance.
The heart of his message: Be generous.
---
After promising not to talk politics, he said he would go "180 degrees in the opposite direction" by talking about generosity.
Appropriately, he started with the ceremony's most obvious example: the woman who made USC's dance program possible—Glorya Kaufman, arts patron extraordinaire.
But he went on to explain that generosity is about a lot more than donating money. It's also about:
Sharing. He thanked his mother for opening his eyes to dance.
Teaching. He thanked his teachers who shaped him.
Artistic collaboration. "To collaborate is to be generous with your time, your body, your soul. It's always a two-way street—you give, you get."
Allowing yourself to take risks. "As young creative artists, and really as human beings, you have to be open to failure," he said. "Failure is a part of learning.... As a very old dancer, I have had many, many opportunities to fail. It happens. Projects collapse, knees blow out, money dries up. But you as artists, and as young people discovering what you care about, you must be generous to that spark inside yourself that made you love dance in the first place."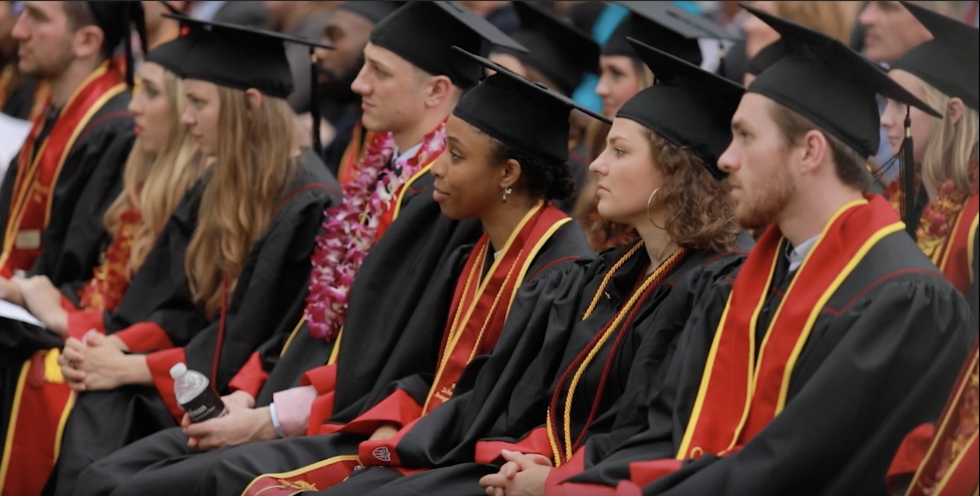 USC students listening to Baryshnikov's speech
But he's realistic. He knows that dancers can have a hard time being generous with themselves.
" 'My jump is not high enough, my turns aren't perfect, I can't get my leg behind my ear.' Please don't do that. Sometimes there's an obsession with technique that can kill your best impulses. But communicating with an art form means being vulnerable. Being imperfect. And most of the time this is much more interesting. Trust me."
And with a sly smile, he ended the speech by breaking his promise: He talked about politics.
He said he'd recently been wondering why artists tend to lean left politically. "Maybe, just maybe, it is because the arts get to the heart of what's important to us, meaning our humanity. The arts are the best form of truth that we have. We must be vigilant to protect and maintain a society that respects this idea. This means we must participate as citizens whenever possible. You, me, all of us. We must give our time, our thought, our caring to ensure that our country has the awareness and the courage, the generosity of spirit that is necessary for art to flourish."
From Your Site Articles
Related Articles Around the Web
Michelle Dorrance. Photo by Jayme Thornton
What do Percy Jackson, Princess Diana and Tina Turner have in common? They're all characters on Broadway this season. Throw in Michelle Dorrance's choreographic debut, Henry VIII's six diva-licious wives and the 1990s angst of Alanis Morissette, and the 2019–20 season is shaping up to be an exciting mix of past-meets-pop-culture-present.
Here's a look at the musicals hitting Broadway in the coming months. We're biding our time until opening night!

Keep reading...
Show less
UA Dance Ensemble members Candice Barth and Gregory Taylor in Jessica Lang's "Among the Stars." Photo by Ed Flores, courtesy University of Arizona
If you think becoming a trainee or apprentice is the only path to gaining experience in a dance company environment, think again.
The University of Arizona, located in the heart of Tucson, acclimates dancers to the pace and rigor of company life while offering all the academic opportunities of a globally-ranked university. If you're looking to get a head-start on your professional dance career—or to just have a college experience that balances company-level training and repertory with rigorous academics—the University of Arizona's undergraduate and graduate programs have myriad opportunites to offer:
Keep reading...
Show less
Alice Sheppard/Kinetic Light in DESCENT, which our readers chose as last year's "Most Moving Performance." Photo by Jay Newman, courtesy Kinetic Light
Yes, we realize it's only August. But we can't help but to already be musing about all the incredible dance happenings of 2019.
We're getting ready for our annual Readers' Choice feature, and we want to hear from you about the shows you can't stop thinking about, the dance videos that blew your mind and the artists you discovered this year who everyone should know about.
Keep reading...
Show less
Getty Images
Ah, stretching. It seems so simple, and is yet so complicated.
For example: You don't want to overstretch, but you're not going to see results if you don't stretch enough. You want to focus on areas where you're tight, but you also can't neglect other areas or else you'll be imbalanced. You were taught to hold static stretches growing up, but now everyone is telling you never to hold a stretch longer than a few seconds?
Considering how important stretching correctly is for dancers, it's easy to get confused or overwhelmed. So we came up with 10 common stretching scenarios, and gave you the expert low-down.
Keep reading...
Show less