Baryshnikov's Advice to Grads: Be Generous Enough to Let Yourself Fail
What does Mikhail Baryshnikov have to say to dancers starting their careers today? On Friday, he gave the keynote speech during the graduation ceremony for the inaugural class of the USC Glorya Kaufman School of Dance.
The heart of his message: Be generous.
---
After promising not to talk politics, he said he would go "180 degrees in the opposite direction" by talking about generosity.
Appropriately, he started with the ceremony's most obvious example: the woman who made USC's dance program possible—Glorya Kaufman, arts patron extraordinaire.
But he went on to explain that generosity is about a lot more than donating money. It's also about:
Sharing. He thanked his mother for opening his eyes to dance.
Teaching. He thanked his teachers who shaped him.
Artistic collaboration. "To collaborate is to be generous with your time, your body, your soul. It's always a two-way street—you give, you get."
Allowing yourself to take risks. "As young creative artists, and really as human beings, you have to be open to failure," he said. "Failure is a part of learning.... As a very old dancer, I have had many, many opportunities to fail. It happens. Projects collapse, knees blow out, money dries up. But you as artists, and as young people discovering what you care about, you must be generous to that spark inside yourself that made you love dance in the first place."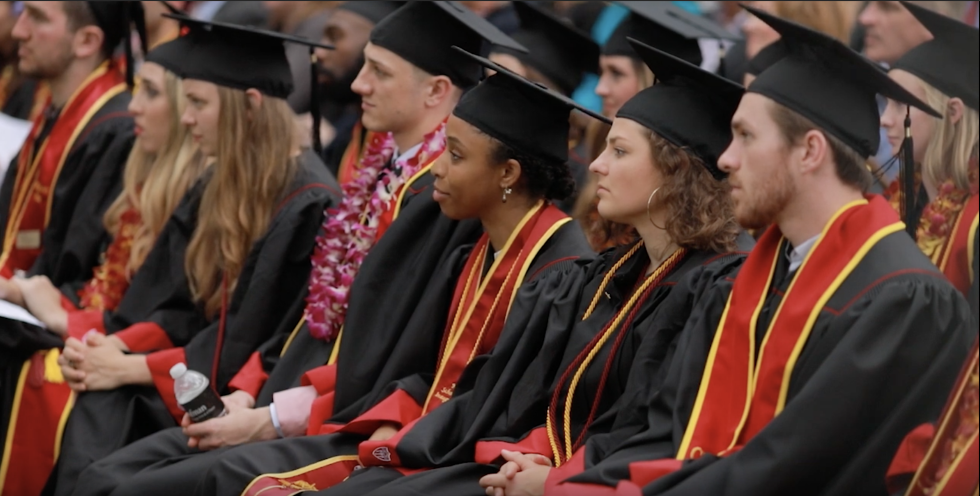 USC students listening to Baryshnikov's speech
Courtesy USC
But he's realistic. He knows that dancers can have a hard time being generous with themselves.
" 'My jump is not high enough, my turns aren't perfect, I can't get my leg behind my ear.' Please don't do that. Sometimes there's an obsession with technique that can kill your best impulses. But communicating with an art form means being vulnerable. Being imperfect. And most of the time this is much more interesting. Trust me."
And with a sly smile, he ended the speech by breaking his promise: He talked about politics.
He said he'd recently been wondering why artists tend to lean left politically. "Maybe, just maybe, it is because the arts get to the heart of what's important to us, meaning our humanity. The arts are the best form of truth that we have. We must be vigilant to protect and maintain a society that respects this idea. This means we must participate as citizens whenever possible. You, me, all of us. We must give our time, our thought, our caring to ensure that our country has the awareness and the courage, the generosity of spirit that is necessary for art to flourish."
From Your Site Articles
Related Articles Around the Web
News
Oct. 18, 2019 11:54AM EST
Photo by Gabriel Davalos, Courtesy Valdés
For decades the name Alicia Alonso has been virtually synonymous with Ballet Nacional de Cuba, the company she co-founded in Havana in 1948. Alonso died on October 17, just shy of what would have been her 99th birthday. In recent years, she had stepped back from day-to-day decision-making in the company. As if preparing for the future, in January, the company's leading ballerina, 42-year-old Viengsay Valdés, was named deputy director, a job that seems to encompass most of the responsibilities of a traditional director. Now, presumably, she will step into her new role as director of the company. Her debut as curator of the repertory comes in November, when the troupe will perform three mixed bills selected by her at the Gran Teatro de la Habana Alicia Alonso. The following has been translated from a conversation conducted in Spanish, Valdés' native tongue.
Keep reading...
Show less
Left: Hurricane Harvey damage in Houston Ballet's Dance Lab; Courtesy Harlequin. Right: The Dance Lab pre-Harvey; Nic Lehoux, Courtesy Houston Ballet.
"The show must go on" may be a platitude we use to get through everything from costume malfunctions to stormy moods. But when it came to overcoming a literal hurricane, Houston Ballet was buoyed by this mantra to go from devastated to dancing in a matter of weeks—with the help of Harlequin Floors, Houston Ballet's longstanding partner who sprang into action to build new floors in record time.
Keep reading...
Show less
Sara Mearns in the gym. Photo by Kyle Froman.
New York City Ballet principal Sara Mearns wasn't sure she was strong enough. A ballerina who has danced many demanding full-length and contemporary roles, she was about to push herself physically more than she thought was possible.
"I said, 'I can't. My body won't,' " she says. "He told me, 'Yes, it will.' "
She wasn't working with a ballet coach, but with personal trainer Joel Prouty, who was asking her to do squats with a heavier barbell than she'd ever used.
Keep reading...
Show less
Alicia Alonso with Igor Youskevitch. Sedge Leblang, Courtesy Dance Magazine Archives.
Her Dying Swan was as fragile as her Juliet was rebellious; her Odile, scheming, her Swanilda, insouciant. Her Belle was joyous, and her Carmen, both brooding and full-blooded. But there was one role in particular that prompted dance critic Arnold Haskell to ask, "How do you interpret Giselle when you are Giselle?"
At eight, Alicia Alonso took her first ballet class on a stage in her native Cuba, wearing street clothes. Fifteen years later, put in for an ailing Alicia Markova in a performance of Giselle with Ballet Theatre, she staked her claim to that title role.
Alonso received recognition throughout the world for her flawless technique and her ability to become one with the characters she danced, even after she became nearly blind. After a career in New York, she and her then husband Fernando Alonso established the Cuban National Ballet and the Cuban National Ballet School, both of which grew into major international dance powerhouses and beloved institutions in their home country. On October 17, the company announced that, after leading the company for a remarkable 71 years, Alonso died from cardiovascular disease at the age of 98.
Keep reading...
Show less