You might think that, as a Royal Ballet dancer who trained at both the School of American Ballet and the Paris Opéra Ballet School, Beatriz Stix-Brunell has had enough experience of world-class institutions to last her a lifetime. But having always had an academic itch, she's decided to scratch it—so she's adding one more institution to the list and leaving performing behind to study at Stanford University.
Stix-Brunell's road to Stanford began after she was offered the contract in London at age 17, and completed her senior year of high school online. "Any time I had free, I was working," she says, remembering being driven as a teenager to sit her SAT exams in between shows of Manon in full stage makeup. "There was no time to breathe."
---
Having already been a protégé of Christopher Wheeldon in his company Morphoses at just 14, she rose through the ranks of The Royal Ballet to first soloist, performing principal roles on the way. Despite having a career that's always been so firmly on track, she feels ready for a change of direction.
"I always knew that at some point I wanted to go back to school, and I have been in the company now for 11 years," she says. "Having started young, dancing roles that I dreamed of and living out those possibilities, it felt like the perfect time to step away from a career that I have had the privilege of doing for so long."
After so many years in a top-tier institution "learning from the best of the best," Stix-Brunell knew that she wanted to attend an elite university. "Stanford is just charged with brilliant minds. Because I've had an experience like that in the arts here, I wanted to experience that on an intellectual level."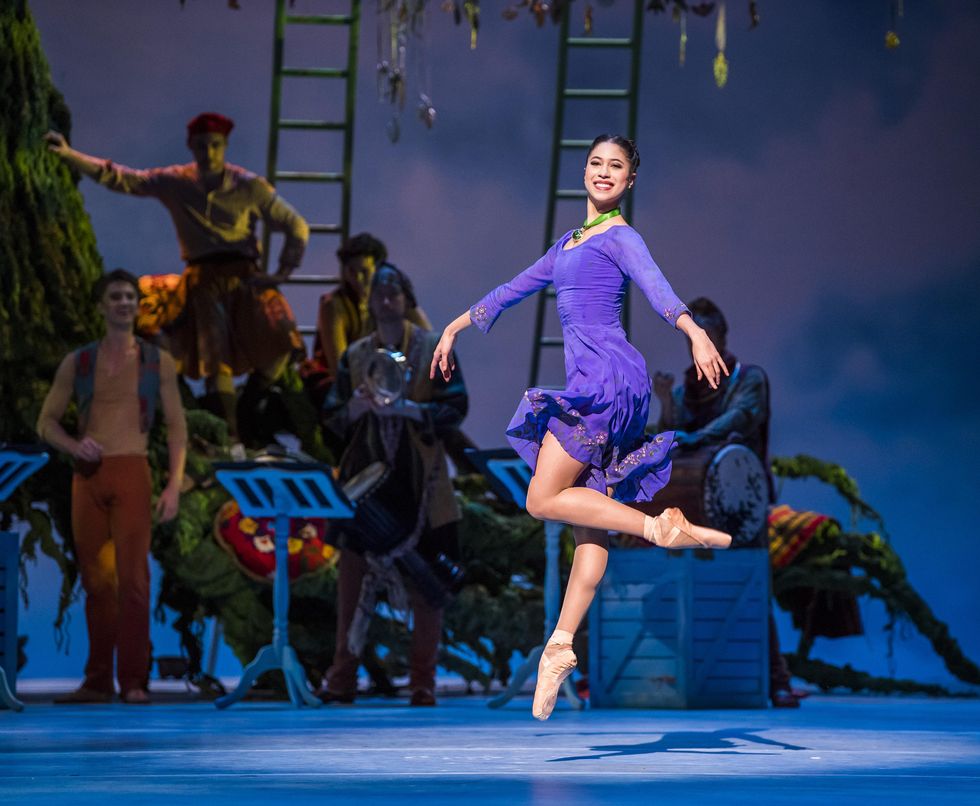 Stix-Brunell in The Winters Tale
Tristram Kenton, Courtesy The Royal Ballet
She isn't required to choose a major until her second year, giving her the chance to discover what subject sparks her curiosity. "I know that I have a second career in me, but I don't know what that will be," she says. "There's a whole other side of me that I have not explored yet—finding out who else I am without dance."
In a strange way, COVID-19 helped her with this adjustment. Having been accepted into the university before the pandemic, Stix-Brunell found that lockdown gave her a good introduction to life without ballet at its center. "I was okay with it," she says.
This is not to say that her departure does not feel bittersweet. Reminiscing on being coached by Leslie Collier and Edward Watson for her dream role of Juliet and on being part of the creation processes for Cathy Marston's The Cellist and Wayne McGregor's Woolf Works, it is clear that she regards these as defining moments. But it is the more everyday elements of her life as a ballet dancer that she will miss most: "Being in the dressing room and singing Whitney Houston before shows; hearing the stage manager saying 'Standby'; having eye contact with the conductor; running around for quick changes with the wardrobe team…All of the in-between moments of my day have been the highlights, and I have loved them so much."
The choice of ballet for her last performance is particularly poignant. On July 11 she will perform Wheeldon's After the Rain pas de deux in a nod to the person who discovered her talent. "Some of my most treasured memories are creating alongside him in the studio. Getting to perform one of his ballets is going to feel like I've come full circle," she says. Considering that the pas de deux was originally choreographed as a farewell for Jock Soto before his retirement from the stage, Stix-Brunell sees it as an appropriate piece to use as a full stop. "I truly can't think of a more fitting way to say goodbye to the stage."
Speaking over Zoom from the Royal Opera House between rehearsals, warm-up clothes on and hair in a bun, she talks of that upcoming final curtsey with a calm air of completion. "I don't think I'll keep taking class," she says. "Dance and arts will always be a part of who I am, but I am ready to hang up the shoes."