Benjamin Millepied's L.A. Dance Project is Becoming a Company Like No Other
LADP rehearsing Millepied's On The Other Side, photo by Joe Toreno
It's fitting that choreographer Benjamin Millepied named a recent work On the Other Side. After a difficult two-year tenure as artistic director of the Paris Opéra Ballet, he is happily settled in Los Angeles and reemerging with big plans for L.A. Dance Project, the contemporary company he founded there in 2012.
Today, his ambitious vision is redefining what an independent dance company can do: grow into an online dance platform and a lifestyle brand, host a building and performance space, and build an international presence.
---
A New Home
"Everything starts with a place where you can actually receive patrons," says the former New York City Ballet principal, who turns 40 next month and lives in L.A. with his wife, the actress Natalie Portman, and their two children.
"Once you have that, you have rehearsals, you have showings, you have education programs, you have exhibitions, you have classes," he says. "Suddenly you are reaching more people, and you become a significant part of the community."
LADP's Rachelle Rafailedes and Julie Eichten. Photo by Joe Toreno
Last winter he signed a lease for a new headquarters in a contemporary art gallery in L.A.'s art district. Along with high ceilings, skylights and exposed-brick walls, it offers 3,000 square feet that will include offices, two studios and a 200-seat performance space. The company plans to move in this October.
The building will be more than a home for LADP. "The problem with the performing arts in L.A. is that there is no infrastructure," he says. "Theaters seldom present the talent that is living and working in L.A."
So in keeping with LADP's collaborative ethos, Millepied plans to cultivate cross-genre work by L.A.-based artists and offer residencies and performance opportunities. (He is seeking funding through his extensive, international network of fiscal sponsors.) Audiences can expect affordable ticket prices, food trucks and a relaxed atmosphere.
"Even when this company started, it was about collaborating with many different types of artists on one project," says former NYCB principal Janie Taylor, who has joined LADP as a dancer. Her husband, Sebastien Marcovici, is ballet master. "That's one of the things Benjamin will be able to do more of, being here."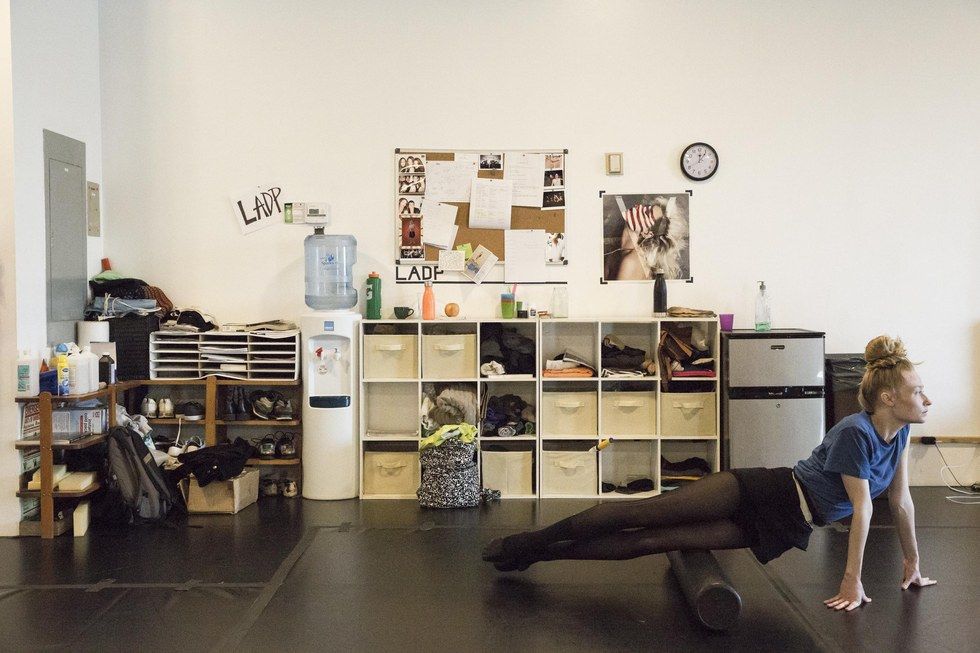 Janie Taylor foam rolling before rehearsal. Photo by Joe Toreno
Building the Brand
Millepied is expanding LADP's digital presence, too, transforming its website into what he describes as a "portal for dance" (similar to his 3e Scène project at POB). One part is a series of workout videos created by Millepied and the dancers, filmed at outdoor locations around L.A. "There's a personal approach to each workout because of the dancer who designed it," he says.
A magazine-style journalism component will evolve over time to encompass current topics, interviews, and essays on dance history. And the existing online store will expand well beyond dancewear. "If we do it right, LADP can also be a lifestyle brand," says Millepied, "where the company can actually make money through licensing of the name."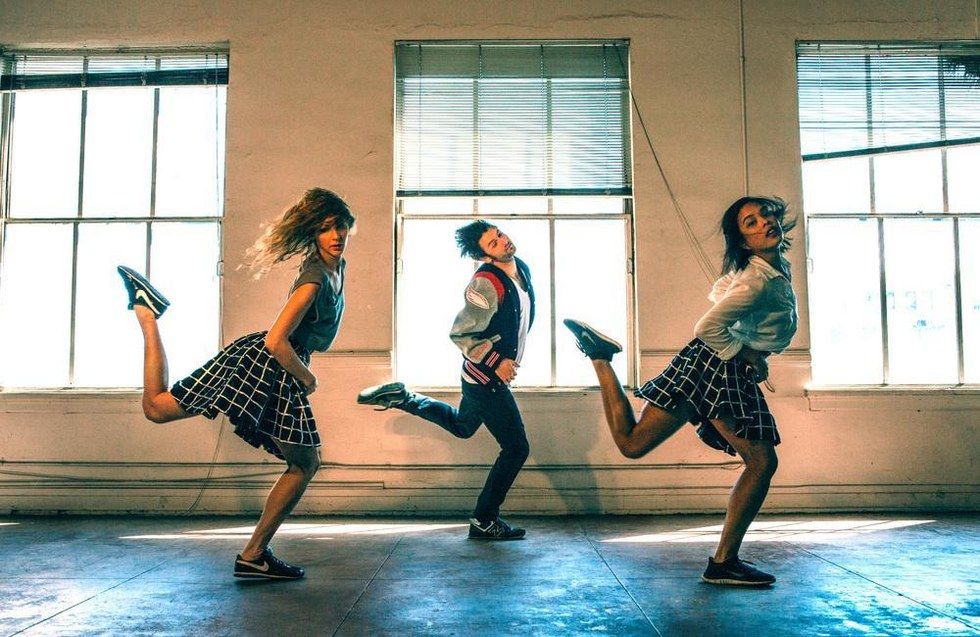 The company's online store: forladp.com
Creating A Global Presence
In the meantime, the company's already far-reaching endeavors will continue at full speed. This year's schedule includes performances in Dubai, Singapore, Shanghai, New York and beyond, plus an annual residency in Arles, France.
Company rep continues to include classic and commissioned works, like Merce Cunningham's 1964 Winterbranch, William Forsythe's 1993 Quintett and Justin Peck's 2013 Murder Ballades. Millepied's new duet for Taylor and associate artist Carla Körbes, a former Pacific Northwest Ballet principal, premieres next month at The Joyce Theater.
A Cinematic Scope
Millepied loves filmmaking and has created and commissioned dance films that are archived on the LADP website (including Academy Award–winning director Alejandro Iñárritu's 2012 Naran Ja). He is currently in development on his own feature-film debut, and seems to have found a new niche. "Film gathers all the things that I love. It's narration, it's emotion, it's photography, it's lighting—it's all the arts in one," he says. Shooting is planned for 2018.
L.A.'s open-mindedness and contemporary point of view, not to mention its movie industry, suit Millepied and accommodate the scope of his vision. "I want to make an impact in my lifetime," Millepied says. L.A. feels like the right place for him to do that.
"We're being embraced by the community," he says. "I feel like there is more room here to really do something new."
Michelle Dorrance. Photo by Jayme Thornton
What do Percy Jackson, Princess Diana and Tina Turner have in common? They're all characters on Broadway this season. Throw in Michelle Dorrance's choreographic debut, Henry VIII's six diva-licious wives and the 1990s angst of Alanis Morissette, and the 2019–20 season is shaping up to be an exciting mix of past-meets-pop-culture-present.
Here's a look at the musicals hitting Broadway in the coming months. We're biding our time until opening night!

Keep reading...
Show less
UA Dance Ensemble members Candice Barth and Gregory Taylor in Jessica Lang's "Among the Stars." Photo by Ed Flores, courtesy University of Arizona
If you think becoming a trainee or apprentice is the only path to gaining experience in a dance company environment, think again.
The University of Arizona, located in the heart of Tucson, acclimates dancers to the pace and rigor of company life while offering all the academic opportunities of a globally-ranked university. If you're looking to get a head-start on your professional dance career—or to just have a college experience that balances company-level training and repertory with rigorous academics—the University of Arizona's undergraduate and graduate programs have myriad opportunites to offer:
Keep reading...
Show less
Alice Sheppard/Kinetic Light in DESCENT, which our readers chose as last year's "Most Moving Performance." Photo by Jay Newman, courtesy Kinetic Light
Yes, we realize it's only August. But we can't help but to already be musing about all the incredible dance happenings of 2019.
We're getting ready for our annual Readers' Choice feature, and we want to hear from you about the shows you can't stop thinking about, the dance videos that blew your mind and the artists you discovered this year who everyone should know about.
Keep reading...
Show less
Getty Images
Ah, stretching. It seems so simple, and is yet so complicated.
For example: You don't want to overstretch, but you're not going to see results if you don't stretch enough. You want to focus on areas where you're tight, but you also can't neglect other areas or else you'll be imbalanced. You were taught to hold static stretches growing up, but now everyone is telling you never to hold a stretch longer than a few seconds?
Considering how important stretching correctly is for dancers, it's easy to get confused or overwhelmed. So we came up with 10 common stretching scenarios, and gave you the expert low-down.
Keep reading...
Show less