Benjamin Millepied's L.A. Dance Project is Becoming a Company Like No Other
LADP rehearsing Millepied's On The Other Side, photo by Joe Toreno
It's fitting that choreographer Benjamin Millepied named a recent work On the Other Side. After a difficult two-year tenure as artistic director of the Paris Opéra Ballet, he is happily settled in Los Angeles and reemerging with big plans for L.A. Dance Project, the contemporary company he founded there in 2012.
Today, his ambitious vision is redefining what an independent dance company can do: grow into an online dance platform and a lifestyle brand, host a building and performance space, and build an international presence.
---
A New Home
"Everything starts with a place where you can actually receive patrons," says the former New York City Ballet principal, who turns 40 next month and lives in L.A. with his wife, the actress Natalie Portman, and their two children.
"Once you have that, you have rehearsals, you have showings, you have education programs, you have exhibitions, you have classes," he says. "Suddenly you are reaching more people, and you become a significant part of the community."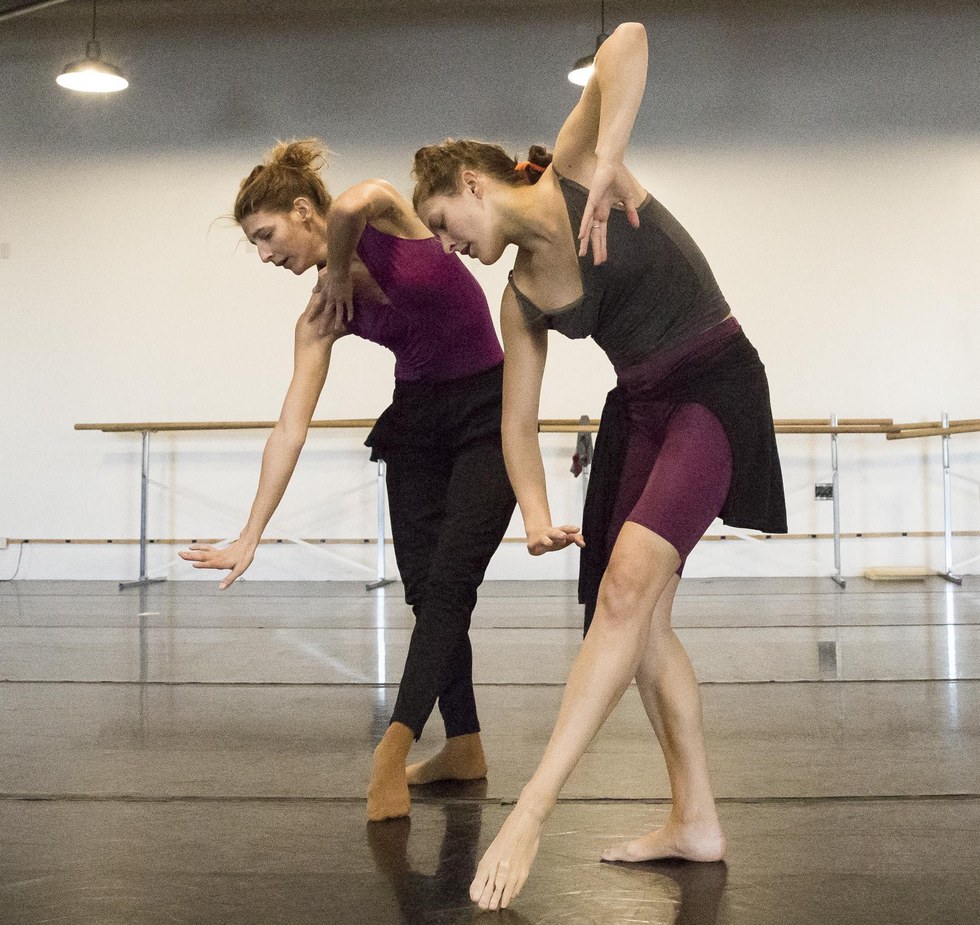 LADP's Rachelle Rafailedes and Julie Eichten. Photo by Joe Toreno
Last winter he signed a lease for a new headquarters in a contemporary art gallery in L.A.'s art district. Along with high ceilings, skylights and exposed-brick walls, it offers 3,000 square feet that will include offices, two studios and a 200-seat performance space. The company plans to move in this October.
The building will be more than a home for LADP. "The problem with the performing arts in L.A. is that there is no infrastructure," he says. "Theaters seldom present the talent that is living and working in L.A."
So in keeping with LADP's collaborative ethos, Millepied plans to cultivate cross-genre work by L.A.-based artists and offer residencies and performance opportunities. (He is seeking funding through his extensive, international network of fiscal sponsors.) Audiences can expect affordable ticket prices, food trucks and a relaxed atmosphere.
"Even when this company started, it was about collaborating with many different types of artists on one project," says former NYCB principal Janie Taylor, who has joined LADP as a dancer. Her husband, Sebastien Marcovici, is ballet master. "That's one of the things Benjamin will be able to do more of, being here."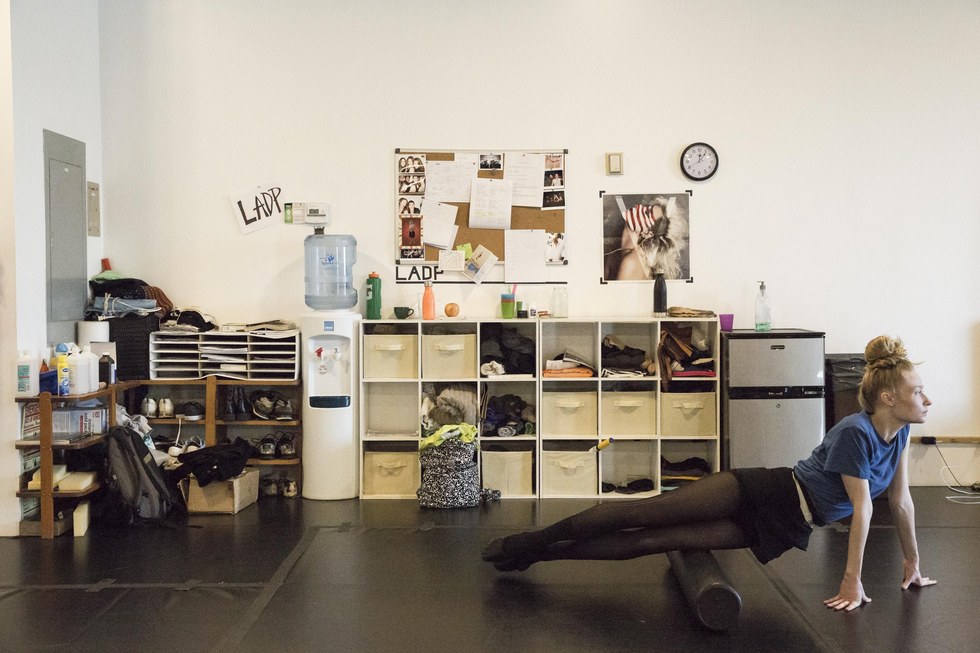 Janie Taylor foam rolling before rehearsal. Photo by Joe Toreno
Building the Brand
Millepied is expanding LADP's digital presence, too, transforming its website into what he describes as a "portal for dance" (similar to his 3e Scène project at POB). One part is a series of workout videos created by Millepied and the dancers, filmed at outdoor locations around L.A. "There's a personal approach to each workout because of the dancer who designed it," he says.
A magazine-style journalism component will evolve over time to encompass current topics, interviews, and essays on dance history. And the existing online store will expand well beyond dancewear. "If we do it right, LADP can also be a lifestyle brand," says Millepied, "where the company can actually make money through licensing of the name."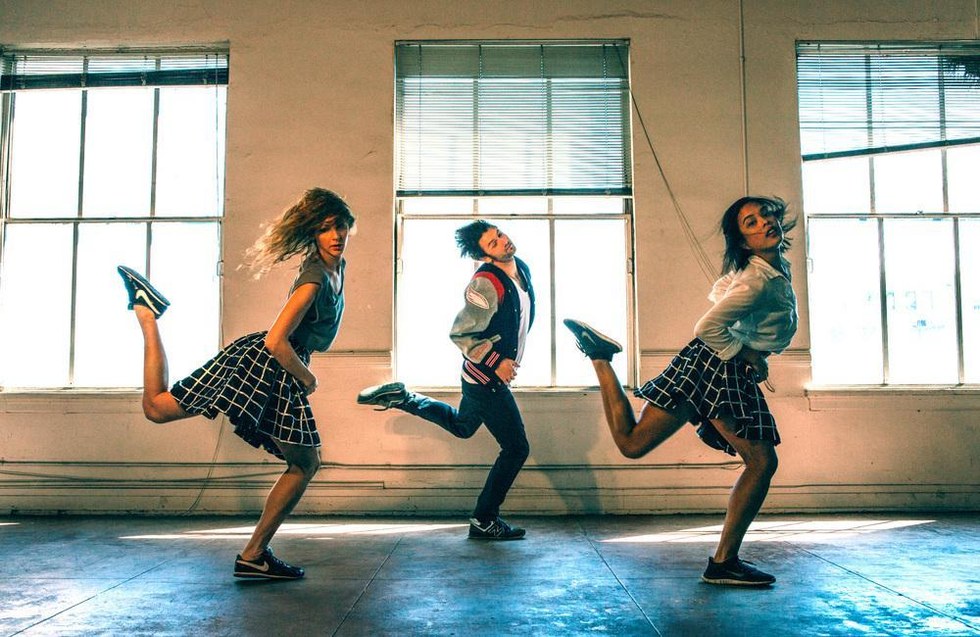 The company's online store: forladp.com
Creating A Global Presence
In the meantime, the company's already far-reaching endeavors will continue at full speed. This year's schedule includes performances in Dubai, Singapore, Shanghai, New York and beyond, plus an annual residency in Arles, France.
Company rep continues to include classic and commissioned works, like Merce Cunningham's 1964 Winterbranch, William Forsythe's 1993 Quintett and Justin Peck's 2013 Murder Ballades. Millepied's new duet for Taylor and associate artist Carla Körbes, a former Pacific Northwest Ballet principal, premieres next month at The Joyce Theater.
A Cinematic Scope
Millepied loves filmmaking and has created and commissioned dance films that are archived on the LADP website (including Academy Award–winning director Alejandro Iñárritu's 2012 Naran Ja). He is currently in development on his own feature-film debut, and seems to have found a new niche. "Film gathers all the things that I love. It's narration, it's emotion, it's photography, it's lighting—it's all the arts in one," he says. Shooting is planned for 2018.
L.A.'s open-mindedness and contemporary point of view, not to mention its movie industry, suit Millepied and accommodate the scope of his vision. "I want to make an impact in my lifetime," Millepied says. L.A. feels like the right place for him to do that.
"We're being embraced by the community," he says. "I feel like there is more room here to really do something new."
Dance in Pop Culture
May. 25, 2018 01:48PM EST
Ne-Yo, Jennifer Lopez and Derek Hough return to "World of Dance" on May 29
Season 2 of World of Dance is almost here! The new season officially kicks off on Tuesday on NBC, and it's bringing a whole new crew of talented dancers with it (plus, some old favorites). Dance pro judges Jennifer Lopez, Derek Hough and Ne-Yo are back, too, with Jenna Dewan serving as the show's host.
Obviously we'll be watching, but just in case you're not completely sold, here's why you're not going to want to miss out:
JLo Might Be Performing
Earlier this week, JLo (who serves as the show's executive producer) posted this insane promo clip to her Instagram. Dancing to a mashup of Cardi B's "Bodak Yellow" and her new single "Dinero," JLo reminded us all of her dance skills while also leading us to believe she might just hit the stage herself for a performance.

Keep reading...
Show less
May. 25, 2018 12:14PM EST
Travis Wall draws inspiration from dancers Tate McCrae, Timmy Blankenship and more.
One often-overlooked relationship that exists in dance is the relationship between choreographer and muse. Recently two-time Emmy Award Winner Travis Wall opened up about his experience working with dancers he considers to be his muses.
"My muses in choreography have evolved over the years," says Wall. "When I'm creating on Shaping Sound, our company members, my friends, are my muses. But at this current stage of my career, I'm definitely inspired by new, fresh talent."
Wall adds, "I'm so inspired by this new generation of dancers. Their teachers have done such incredible jobs, and I've seen these kids grown up. For many of them, I've had a hand in their exposure to choreography."

Keep reading...
Show less
Rant & Rave
May. 23, 2018 04:25PM EST
Jessica Lang's Her Notes, one of ABT's few recent commissions from women. Photo by Rosalie O'Connor
A few weeks ago, American Ballet Theatre announced the A.B.T. Women's Movement, a new program that will support three women choreographers per season, one of whom will make work on the main company.
"The ABT Women's Movement takes inspiration from the groundbreaking female choreographers who have left a lasting impact on ABT's legacy, including Agnes de Mille and Twyla Tharp," said artistic director Kevin McKenzie in a press release.
Hypothetically, this is a great idea. We're all for more ballet commissions for women. But the way ABT has promoted the initiative is problematic.
Keep reading...
Show less
News
May. 18, 2018 12:05PM EST
The inimitable Alicia Alonso, now 97, remains at the helm of Ballet Nacional de Cuba. Photo by Leysis Quesada, Courtesy BNC
On the occasion of its 70th anniversary, the Ballet Nacional de Cuba tours the U.S. this spring with the resolute Cuban prima ballerina assoluta Alicia Alonso a the helm. Named a National Hero of Labor in Cuba, Alonso, 97, has weathered strained international relations and devastating fiscal challenges to have BNC emerge as a world-class dance company. Her dancers are some of ballet's best. On offer this time are Alonso's Giselle and Don Quixote. The profoundly Cuban company performs in Chicago May 18–20, Tampa May 23, Washington, D.C., May 29–June 3 and Saratoga, New York June 6–8.
Courtesy Soffe, Dicsount Dance Supply, Danskin. LeaMarie leotard photographed by Jayme Thornton
Considering we practically live in our dance clothes, there's really no such thing as having too many leotards, tights or leggings (no matter what our mom or friends say!). That's why we treat every sale as an opportunity to stock up. And thanks to the holiday weekend, you can shop all of your dancewear go-tos or try something totally new for as much as 50% less than the usual price.
Here are the eight sales we're most excited about—from online options to in-store retailers that will help you find the perfect fit. Happy Memorial Day (and shopping)!
Now through Monday, Danskin's site will automatically take 25% off your entire purchase at checkout. Even new items like their Pintuck Detail Floral Print Sports Bra and Pintuck Detail Legging (pictured here) are fair game.
Keep reading...
Show less
News
May. 25, 2018 12:38PM EST
Ailey dancers and stagehands rallied together yesterday. Photo by Jen Peters
"The sun may be shining brightly, but we are not in a very sunny mood today!" said New York State assemblywoman Linda Rosenthal during yesterday's rally for the Artists of Ailey.
The dancers and stage crew are demanding increased wages and more comprehensive benefits, what they have termed "reaching for the standard" and "fair wages."
Keep reading...
Show less


Get Dance Magazine in your inbox