How to Find the Best Pair of Street Shoes, According to Podiatrists
Image via colehaan.com
Last month, members of New York City Ballet teamed up with designer Cole Haan to create a comfy, yet stylish line of shoes that are wearable from the stage to the streets. Because in a career where you're almost constantly working on your feet, it's vital for dancers to have supportive and safe footwear, even when you're not in the studio.
To ensure your feet are always feeling performance-ready, we asked two podiatrists who've worked with dancers what to look for—and what to avoid—when shopping for new springtime kicks.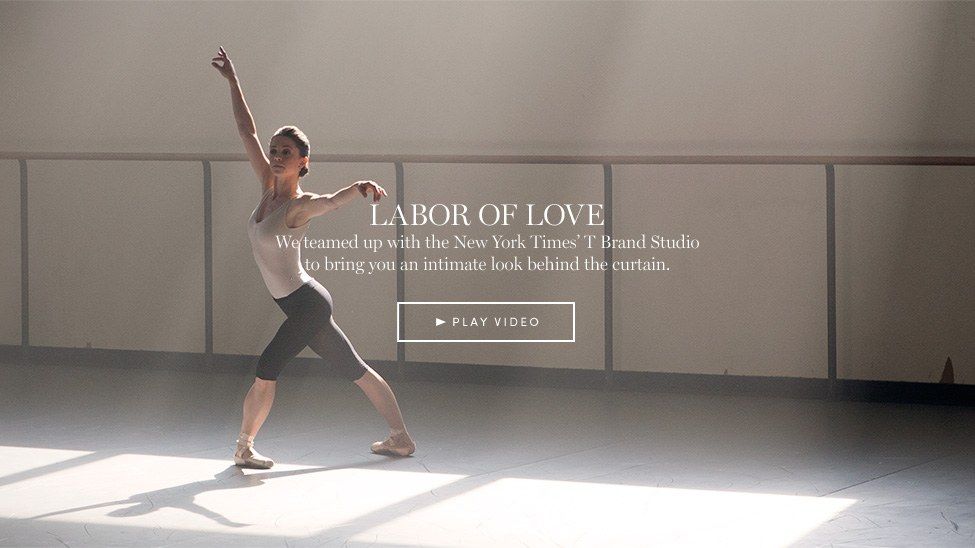 Video: colehaan.com
---
Make Sure It's Wide Enough
According to Manhattan-based podiatrist Thomas Novella, dancers often have "wide-ball, narrow-heel" feet. Soles not manufactured widely enough at the ball will eventually stretch and produce pressure and discomfort under the borders of the foot.
Look For a Firm, But Flexible Sole
Look for a sole that's flexible at the ball of the foot, but firmer in the mid-shank. "A shoe which is too rigid will force the Achilles tendon to work overtime, and flexibility at the ball of the foot will reduce that stress," says Atlanta-based podiatrist Frank Sinkoe. Novella adds that this enhances a normal gait, protects the midfoot from strain and helps protect tired feet and ankles.
Try this test: If you grab the shoe with both hands at the ball and the heel, it should resist twisting (like the way you would wring out a towel).
Check The Inside
Before purchasing a new pair of kicks, put your hand inside the shoe and press into the sole at the ball. You don't want to feel bumps or irregularities.
Consider Insoles
Both doctors suggest investing in a removable insole—they can be customized more than the actual shoe to cater to your specific needs.
Buy Often
Replace heavily worn shoes "as often as you can afford," or at least annually, says Novella.
Shop At Night
Never try on new shoes at the beginning of the day, since your feet will be less swollen than usual. According to Novella, it's best to fit your shoes at the end of the day and maybe even after class, while your feet are at their largest, and always size up if you're unsure.
Avoid Sandals and High Heels
If you're prone to injury or are dealing with foot pain, it's smart to avoid high heels and sandals altogether. "When wearing a sandal, the toes will curl to keep the foot in contact with the shoe," Sinkoe says. "If you're having pain in the ball of the foot, this may increase stress to the area and worsen the pain." Novella warns that wearing high heels will lead to a greater chance of sprained ankles or metatarsal injuries, especially in dancers with prior injuries. "Too high of a heel can cause a heel bruise, yet a low heel can also lead to foot strain," he adds.
News
Jul. 15, 2019 12:30PM EST
Courtesy Ritzel
Capezio, Bloch, So Dança, Gaynor Minden.
At the top of the line, dancers have plenty of quality footwear options to choose from, and in most metropolitan areas, stores to go try them on. But for many of North America's most economically disadvantaged dance students, there has often been just one option for purchasing footwear in person: Payless ShoeSource.
Keep reading...
Show less
Jayme Thornton
When Sonya Tayeh saw Moulin Rouge! for the first time, on opening night at a movie theater in Detroit, she remembers not only being inspired by the story, but noticing the way it was filmed.
"What struck me the most was the pace, and the erratic feeling it had," she says. The camera's quick shifts and angles reminded her of bodies in motion. "I was like, 'What is this movie? This is so insane and marvelous and excessive,' " she says. "And excessive is I think how I approach dance. I enjoy the challenge of swiftness, and the pushing of the body. I love piling on a lot of vocabulary and seeing what comes out."
Keep reading...
Show less
Robbie Fairchild in a still from In This Life, directed by Bat-Sheva Guez. Photo courtesy Michelle Tabnick PR
Back when Robbie Fairchild graced the cover of the May 2018 issue of Dance Magazine, he mentioned an idea for a short dance film he was toying around with. That idea has now come to fruition: In This Life, starring Fairchild and directed by dance filmmaker Bat-Sheva Guez, is being screened at this year's Dance on Camera Festival.
While the film itself covers heavy material—specifically, how we deal with grief and loss—the making of it was anything but: "It was really weird to have so much fun filming a piece about grief!" Fairchild laughs. We caught up with him, Guez and Christopher Wheeldon (one of In This Life's five choreographers) to find out what went into creating the 11-minute short film.
Keep reading...
Show less
Terry Notary in a movement capture suit during the filming of Rise of the Planet of the Apes. Photo by Sigtor Kildal, Courtesy Notary
When Hollywood needs to build a fantasy world populated with extraordinary creatures, they call Terry Notary.
The former gymnast and circus performer got his start in film in 2000 when Ron Howard asked him to teach the actors how to move like Whos for How the Grinch Stole Christmas. Notary has since served as a movement choreographer, stunt coordinator and performer via motion capture technology for everything from the Planet of the Apes series to The Hobbit trilogy, Avatar, Avengers: Endgame and this summer's The Lion King.
Since opening the Industry Dance Academy with his wife, Rhonda, and partners Maia and Richard Suckle, Notary also offers movement workshops for actors in Los Angeles.
Keep reading...
Show less