How to Find the Best Pair of Street Shoes, According to Podiatrists
Image via colehaan.com
Last month, members of New York City Ballet teamed up with designer Cole Haan to create a comfy, yet stylish line of shoes that are wearable from the stage to the streets. Because in a career where you're almost constantly working on your feet, it's vital for dancers to have supportive and safe footwear, even when you're not in the studio.
To ensure your feet are always feeling performance-ready, we asked two podiatrists who've worked with dancers what to look for—and what to avoid—when shopping for new springtime kicks.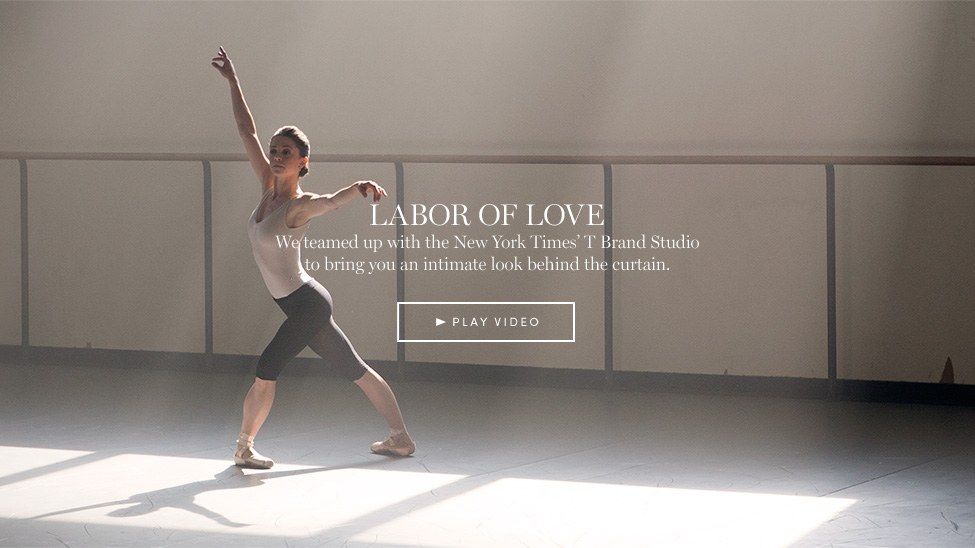 Video: colehaan.com
---
Make Sure It's Wide Enough
According to Manhattan-based podiatrist Thomas Novella, dancers often have "wide-ball, narrow-heel" feet. Soles not manufactured widely enough at the ball will eventually stretch and produce pressure and discomfort under the borders of the foot.
Look For a Firm, But Flexible Sole
Look for a sole that's flexible at the ball of the foot, but firmer in the mid-shank. "A shoe which is too rigid will force the Achilles tendon to work overtime, and flexibility at the ball of the foot will reduce that stress," says Atlanta-based podiatrist Frank Sinkoe. Novella adds that this enhances a normal gait, protects the midfoot from strain and helps protect tired feet and ankles.
Try this test: If you grab the shoe with both hands at the ball and the heel, it should resist twisting (like the way you would wring out a towel).
Check The Inside
Before purchasing a new pair of kicks, put your hand inside the shoe and press into the sole at the ball. You don't want to feel bumps or irregularities.
Consider Insoles
Both doctors suggest investing in a removable insole—they can be customized more than the actual shoe to cater to your specific needs.
Buy Often
Replace heavily worn shoes "as often as you can afford," or at least annually, says Novella.
Shop At Night
Never try on new shoes at the beginning of the day, since your feet will be less swollen than usual. According to Novella, it's best to fit your shoes at the end of the day and maybe even after class, while your feet are at their largest, and always size up if you're unsure.
Avoid Sandals and High Heels
If you're prone to injury or are dealing with foot pain, it's smart to avoid high heels and sandals altogether. "When wearing a sandal, the toes will curl to keep the foot in contact with the shoe," Sinkoe says. "If you're having pain in the ball of the foot, this may increase stress to the area and worsen the pain." Novella warns that wearing high heels will lead to a greater chance of sprained ankles or metatarsal injuries, especially in dancers with prior injuries. "Too high of a heel can cause a heel bruise, yet a low heel can also lead to foot strain," he adds.
A flyer showing Alberto Alonso, Fernando Alonso, Benjamin Steinberg and Alicia Alonso. Photo courtesy the author
Alicia has died. I walked around my apartment feeling her spirit, but knowing something had changed utterly.
My father, the late conductor Benjamin Steinberg, was the first music director of the Ballet de Cuba, as it was called then. I grew up in Vedado on la Calle 1ra y doce in a building called Vista al Mar. My family lived there from 1959 to 1963. My days were filled with watching Alicia teach class, rehearse and dance. She was everything: hilarious, serious, dramatic, passionate and elegiac. You lost yourself and found yourself when you loved her.
Keep reading...
Show less
Left: Hurricane Harvey damage in Houston Ballet's Dance Lab; Courtesy Harlequin. Right: The Dance Lab pre-Harvey; Nic Lehoux, Courtesy Houston Ballet.
"The show must go on" may be a platitude we use to get through everything from costume malfunctions to stormy moods. But when it came to overcoming a literal hurricane, Houston Ballet was buoyed by this mantra to go from devastated to dancing in a matter of weeks—with the help of Harlequin Floors, Houston Ballet's longstanding partner who sprang into action to build new floors in record time.
Keep reading...
Show less
Hansuke Yamamoto in Helgi Tomasson's Nutcracker at San Francisco Ballet, which features an exciting and respectful Chinese divertissement. Photo by Erik Tomasson, Courtesy SFB
It's Nutcracker time again: the season of sweet delights and a sparkling good time—if we're able to ignore the sour taste left behind by the outdated racial stereotypes so often portrayed in the second act.
In 2017, as a result of a growing list of letters from audience members, to New York City Ballet's ballet master in chief Peter Martins reached out to us asking for assistance on how to modify the elements of Chinese caricature in George Balanchine's The Nutcracker. Following that conversation, we founded the Final Bow for Yellowface pledge that states, "I love ballet as an art form, and acknowledge that to achieve a diversity amongst our artists, audiences, donors, students, volunteers, and staff, I am committed to eliminating outdated and offensive stereotypes of Asians (Yellowface) on our stages."
Keep reading...
Show less
Allegra Bautista in Nevertheless, by ka·nei·see | collective. Photo by Robbie Sweeny
An audience member once emailed Dallas choreographer Joshua L. Peugh, claiming his work was vulgar. It complained that he shouldn't be pushing his agenda. As the artistic director of Dark Circles Contemporary Dance, Peugh's recent choreography largely deals with LGBTQ issues.
"I got angry when I saw that email, wrote my angry response, deleted it, and then went back and explained to him that that's exactly why I should be making those works," says Peugh.
With the current political climate as polarized as it is, many artists today feel compelled to use their work to speak out on issues they care deeply about. But touring with a message is not for the faint of heart. From considerations about how to market the work to concerns about safety, touring to cities where, in general, that message may not be so welcome, requires companies to figure out how they'll respond to opposition.
Keep reading...
Show less