Heart & Guts: Bobbi Jene Smith Finds Her Own Voice
Her unexpected post-Batsheva path has led to both solo shows and film work. Photo by Jayme Thornton
Even when marking a move in rehearsal, Bobbi Jene Smith seems to dance with her whole being. "It comes from the pelvis," she says while directing a few of her fellow dancers in an undulating phrase. Her lower body spirals, pulling her torso behind it in one swift, visceral motion. "Always keep a bit of groove somewhere in your body," she says during another, more improvisational section.
Dance audiences might be most familiar with this side of Smith: the heart—and the guts—that she brings to her dancing. But in the four years since she returned to the U.S. from Tel Aviv, where she spent a decade performing with the Batsheva Dance Company, she has achieved a balancing act of creative roles: dancer, choreographer, teacher and budding actor.
The scene she's rehearsing is one of 10 she choreographed for Aviva, an independent feature film directed by Boaz Yakin, best known for his 2000 blockbuster Remember the Titans. She also plays a main character in the movement-driven story, as part of a cast of more than 30 dancers that she helped to select—including 20 of her students from Philadelphia's University of the Arts.
---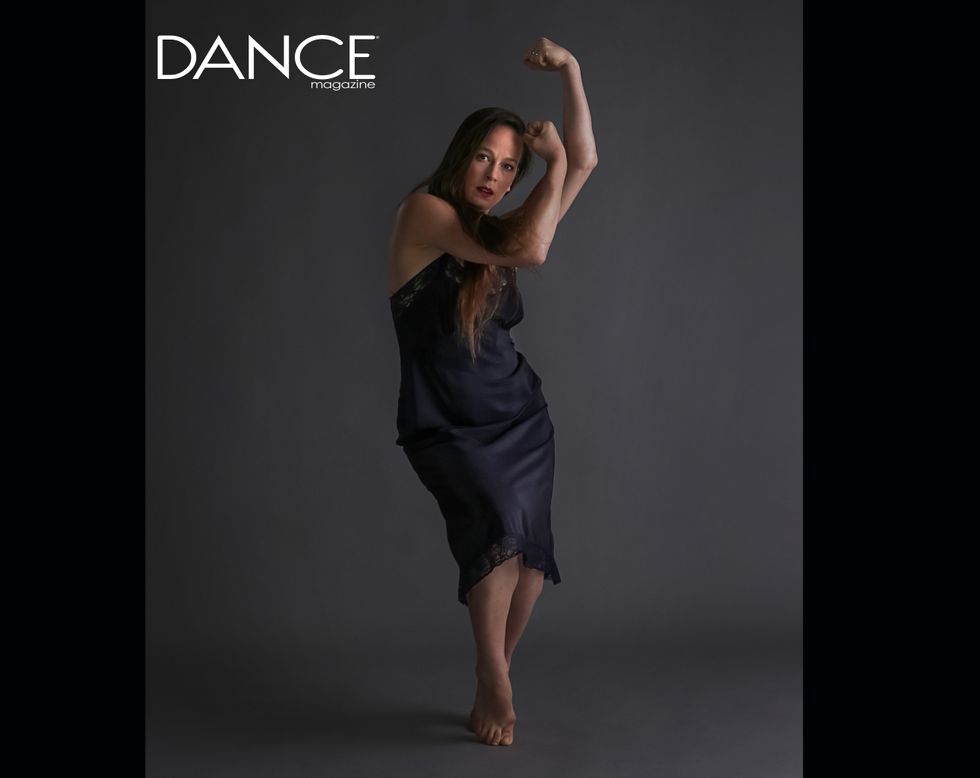 Smith says she was compelled to leave Batsheva to find out what she had to say as an artist. Photo by Jayme Thornton
The amount of time she has spent on movie sets is one surprise of post-Batsheva life. "I wasn't looking for that—at all," she says during an interview at the Manhattan apartment where she lives with her husband, Or Meir Schraiber, who also danced for Batsheva. When Smith made the difficult choice to move on from the company, she intended to focus on making her own works of live performance, after years of embodying the vision of the troupe's distinctive, charismatic leader, Ohad Naharin.

Her decision to leave, she says, "came from wanting to hear my own voice louder. Working in that kind of environment for so long, things get interwoven, and the line between where your voice ends and he begins—it starts to get a bit cloudy. You're like, What do I actually have to say? Or am I only able to say it through his work?"
Smith, 34, hasn't strayed from exploring those questions. But she's been answering them in ways she didn't anticipate. Over the past year and a half, in addition to her work on Aviva, she has choreographed for Natalie Portman in Annihilation (the riveting, mysterious final scene) and starred in Mari, a debut feature film from the British director and writer Georgia Parris, which premiered in London in October.
Her work for live audiences is going just as strong. With Care, a collaboration with the violinist Keir GoGwilt in which Smith and Schraiber both perform, premieres at ODC Theater in San Francisco on November 1. The Martha Graham Dance Company has enlisted her and Maxine Doyle, known for choreographing the immersive-theater hit Sleep No More, to co-create a piece for its spring season. (Smith is a former member of the Sleep No More cast.) And her new work for Corpus, a contemporary subgroup of the Royal Danish Ballet, will premiere in February.
Smith's foray into film owes a lot to Bobbi Jene, the 2017 documentary that intimately chronicles her departure from Batsheva, as she moved to San Francisco, then to New York, while building her grueling solo A Study on Effort and navigating a long-distance relationship with Schraiber. Directed by Elvira Lind, the film won three awards at the Tribeca Film Festival, including best documentary feature. It also broadcast Smith's artistry to audiences outside the relatively small world of contemporary dance; both Yakin and Parris, for instance, were introduced to Smith through the film and the buzz surrounding it.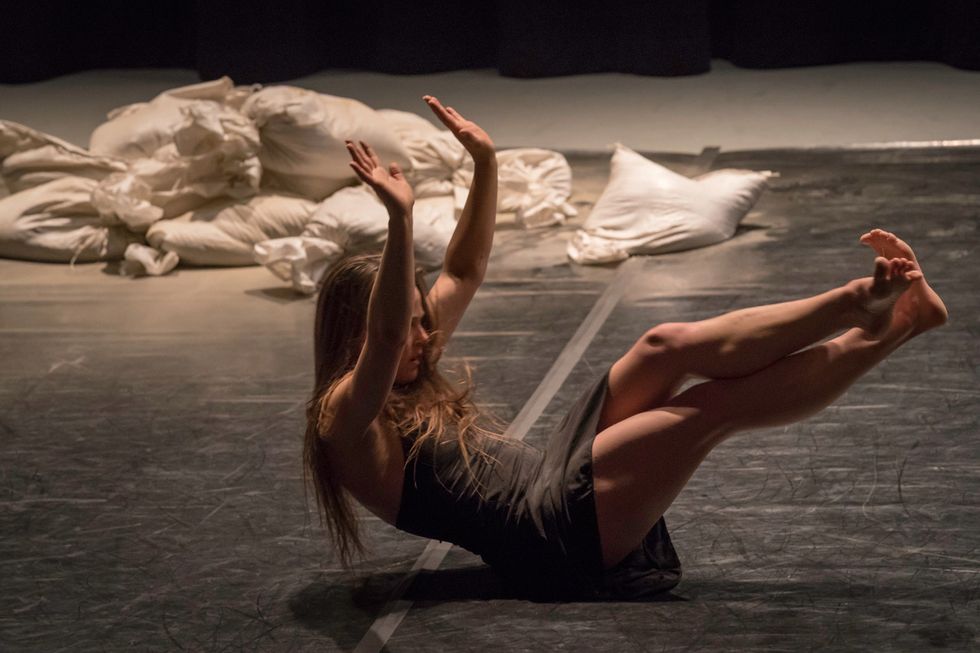 Smith in A Study on Effort. Photo by Michael J. Lutch, courtesy Smith
"It changed her life in a very good way I think," says Schraiber, who also plays a central role in Aviva and has contributed some choreography. "She became a dance celebrity."
Of course, Smith was an exceptional dancer long before the release of Bobbi Jene, admired for her conviction, clarity and voraciousness in Naharin's all-consuming work. Schraiber, who grew up in Israel and saw her dance even before he joined Batsheva, describes her way of moving as "unassailable—no one can argue with it."
Shamel Pitts, a fellow Batsheva alum, has been watching her in action since their days as students at The Juilliard School (where Smith now teaches). "Bobbi is very powerful—she can stand still and share a huge dance," he says. "You feel that you get to know her deeply when you see her move, something about her vulnerability and how it meets her strength."
"She doesn't share so openly," he adds. "But if she does, she's going all the way."
If you've seen A Study on Effort, that observation rings true. In the hour-long work, Smith is often unclothed as she undertakes a series of solitary tasks, or what she calls "efforts": the effort of pushing, of lifting, of taking care. In "the effort of pleasure," she orgasms while straddling a heavy sandbag. Her instruction to herself: "Find pleasure in what weighs you down."
That passage, Smith says, is her comment on portrayals of women's sexuality in dance, which often strike her as inauthentic. "If you want to see actual pleasure," she says, "this is what it looks like, and it doesn't look as sexy as you think it looks." The nudity grew out of a similar desire for honesty, for cutting through surfaces: "This is a body, a female body, making shapes. It will shake, it will start to sweat."
Bobbi Jene - Official U.S. Trailer - Oscilloscope Laboratories
To prepare for her first lead role in a feature film, Smith took acting and voice lessons. To her surprise, she found parallels between vocal training and Gaga, the movement language developed by Naharin. Her voice coach, she says, "would say things like 'Vibration travels faster through soft flesh, so you want to be soft.' "

Like any dancer who has worked for 10 years with a single choreographer, Smith carries that influence forward. "I don't see it as a bad thing," she says, noting that "it's only natural" for her to be in conversation with her roots. If a critic were to call her work "derivative" of Naharin's? "I would say thank you. What an honor."
Reflecting on her career so far, she says one realization stands out: that instead of waiting for change, she can create it for herself. "Often in the dance world, it's ingrained in us that there's this one role, one piece, one choreographer that will change our lives." But dancers, she has learned, have more agency: "You could get in a studio with a group of friends and make that piece you're waiting for."
"My dream is to create a company of artists that I love and am inspired by," she adds. "A company where we can create performances that can live on in many different mediums." It's hard to imagine that she won't make it happen.
From Your Site Articles
Related Articles Around the Web
Rachel Papo
In the middle of one of New York City Center's cavernous studios, Misty Copeland takes a measured step backwards. The suggestion of a swan arm ripples before she turns downstage, chest and shoulders unfurling as her legs stretch into an open lunge. She piqués onto pointe, arms echoing the sinuous curve of her back attitude, then walks out of it, pausing to warily look over her shoulder. As the droning of Ryuichi Sakamoto and Alva Noto's mysterious "Attack/Transition" grows more insistent, her feet start to fly with a rapidity that seems to almost startle her.
And then she stops mid-phrase. Copeland's hands fall to her hips as she apologizes. Choreographer Kyle Abraham slides to the sound system to pause the music, giving Copeland a moment to remind herself of a recent change to the sequence.
"It's different when the sound's on!" he reassures her. "And it's a lot of changes."
The day before was the first time Abraham had seen Copeland dance the solo in its entirety, and the first moment they were in the studio together in a month. This is their last rehearsal, save for tech, before the premiere of Ash exactly one week later, as part of the opening night of City Center's Fall for Dance festival.
Keep reading...
Show less
Ailey II artistic director Troy Powell teaching an Ailey Workshop at NYCDA. Courtesy NYCDA
Back in 2011 when Joe Lanteri first approached Katie Langan, chair of Marymount Manhattan College's dance department, about getting involved with New York City Dance Alliance, she was skeptical about the convention/competition world.
"But I was pleasantly surprised by the enormity of talent that was there," she says. "His goal was to start scholarship opportunities, and I said okay, I'm in."
Today, it's fair to say that Lanteri has far surpassed his goal of creating scholarship opportunities. But NYCDA has done so much more, bridging the gap between the convention world and the professional world by forging a wealth of partnerships with dance institutions from Marymount to The Ailey School to Complexions Contemporary Ballet and many more. There's a reason these companies and schools—some of whom otherwise may not see themselves as aligned with the convention/competition world—keep deepening their relationships with NYCDA.
Now, college scholarships are just one of many ways NYCDA has gone beyond the typical weekend-long convention experience and created life-changing opportunities for students. We rounded up some of the most notable ones:
Keep reading...
Show less
Getty Images
Dancers are understandably obsessed with food. In both an aesthetic and athletic profession, you know you're judged on your body shape, but you need proper fuel to perform your best. Meanwhile, you're inundated with questionable diet advice.
"My 'favorite' was the ABC diet," says registered dietitian nutritionist Kristin Koskinen, who trained in dance seriously but was convinced her body type wouldn't allow her to pursue it professionally. "On the first day you eat only foods starting with the letter A, on the second day only B, and so on."
Keep reading...
Show less
Left: Hurricane Harvey damage in Houston Ballet's Dance Lab; Courtesy Harlequin. Right: The Dance Lab pre-Harvey; Nic Lehoux, Courtesy Houston Ballet.
"The show must go on" may be a platitude we use to get through everything from costume malfunctions to stormy moods. But when it came to overcoming a literal hurricane, Houston Ballet was buoyed by this mantra to go from devastated to dancing in a matter of weeks—with the help of Harlequin Floors, Houston Ballet's longstanding partner who sprang into action to build new floors in record time.
Keep reading...
Show less