Heart & Guts: Bobbi Jene Smith Finds Her Own Voice
Her unexpected post-Batsheva path has led to both solo shows and film work. Photo by Jayme Thornton
Even when marking a move in rehearsal, Bobbi Jene Smith seems to dance with her whole being. "It comes from the pelvis," she says while directing a few of her fellow dancers in an undulating phrase. Her lower body spirals, pulling her torso behind it in one swift, visceral motion. "Always keep a bit of groove somewhere in your body," she says during another, more improvisational section.
Dance audiences might be most familiar with this side of Smith: the heart—and the guts—that she brings to her dancing. But in the four years since she returned to the U.S. from Tel Aviv, where she spent a decade performing with the Batsheva Dance Company, she has achieved a balancing act of creative roles: dancer, choreographer, teacher and budding actor.
The scene she's rehearsing is one of 10 she choreographed for Aviva, an independent feature film directed by Boaz Yakin, best known for his 2000 blockbuster Remember the Titans. She also plays a main character in the movement-driven story, as part of a cast of more than 30 dancers that she helped to select—including 20 of her students from Philadelphia's University of the Arts.
---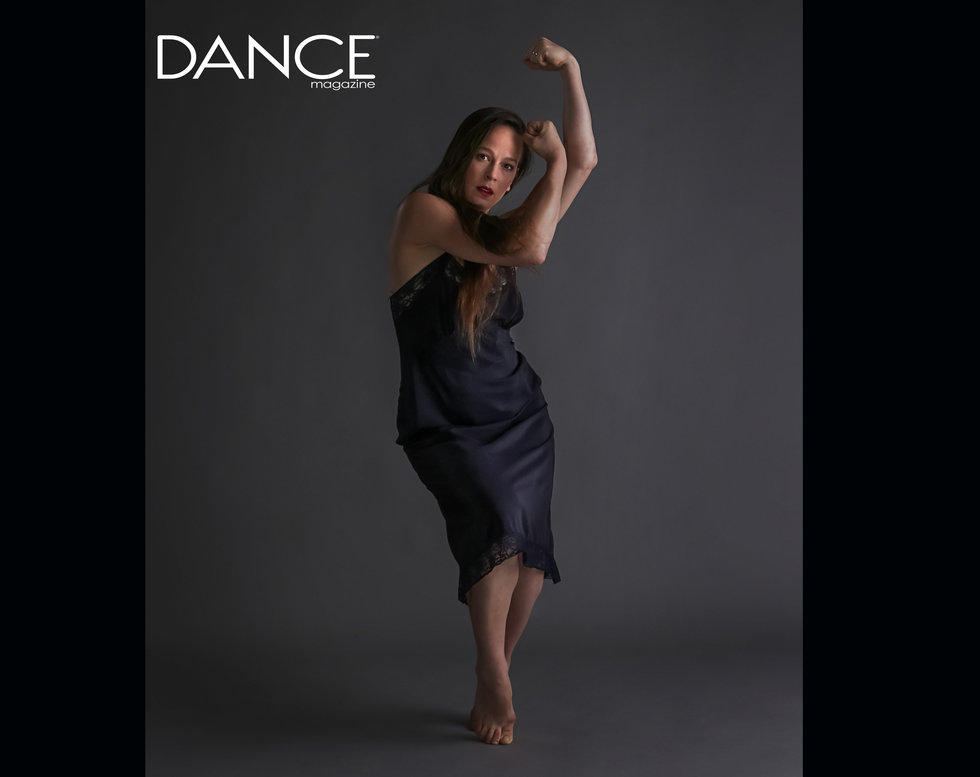 Smith says she was compelled to leave Batsheva to find out what she had to say as an artist. Photo by Jayme Thornton
The amount of time she has spent on movie sets is one surprise of post-Batsheva life. "I wasn't looking for that—at all," she says during an interview at the Manhattan apartment where she lives with her husband, Or Meir Schraiber, who also danced for Batsheva. When Smith made the difficult choice to move on from the company, she intended to focus on making her own works of live performance, after years of embodying the vision of the troupe's distinctive, charismatic leader, Ohad Naharin.

Her decision to leave, she says, "came from wanting to hear my own voice louder. Working in that kind of environment for so long, things get interwoven, and the line between where your voice ends and he begins—it starts to get a bit cloudy. You're like, What do I actually have to say? Or am I only able to say it through his work?"
Smith, 34, hasn't strayed from exploring those questions. But she's been answering them in ways she didn't anticipate. Over the past year and a half, in addition to her work on Aviva, she has choreographed for Natalie Portman in Annihilation (the riveting, mysterious final scene) and starred in Mari, a debut feature film from the British director and writer Georgia Parris, which premiered in London in October.
Her work for live audiences is going just as strong. With Care, a collaboration with the violinist Keir GoGwilt in which Smith and Schraiber both perform, premieres at ODC Theater in San Francisco on November 1. The Martha Graham Dance Company has enlisted her and Maxine Doyle, known for choreographing the immersive-theater hit Sleep No More, to co-create a piece for its spring season. (Smith is a former member of the Sleep No More cast.) And her new work for Corpus, a contemporary subgroup of the Royal Danish Ballet, will premiere in February.
Smith's foray into film owes a lot to Bobbi Jene, the 2017 documentary that intimately chronicles her departure from Batsheva, as she moved to San Francisco, then to New York, while building her grueling solo A Study on Effort and navigating a long-distance relationship with Schraiber. Directed by Elvira Lind, the film won three awards at the Tribeca Film Festival, including best documentary feature. It also broadcast Smith's artistry to audiences outside the relatively small world of contemporary dance; both Yakin and Parris, for instance, were introduced to Smith through the film and the buzz surrounding it.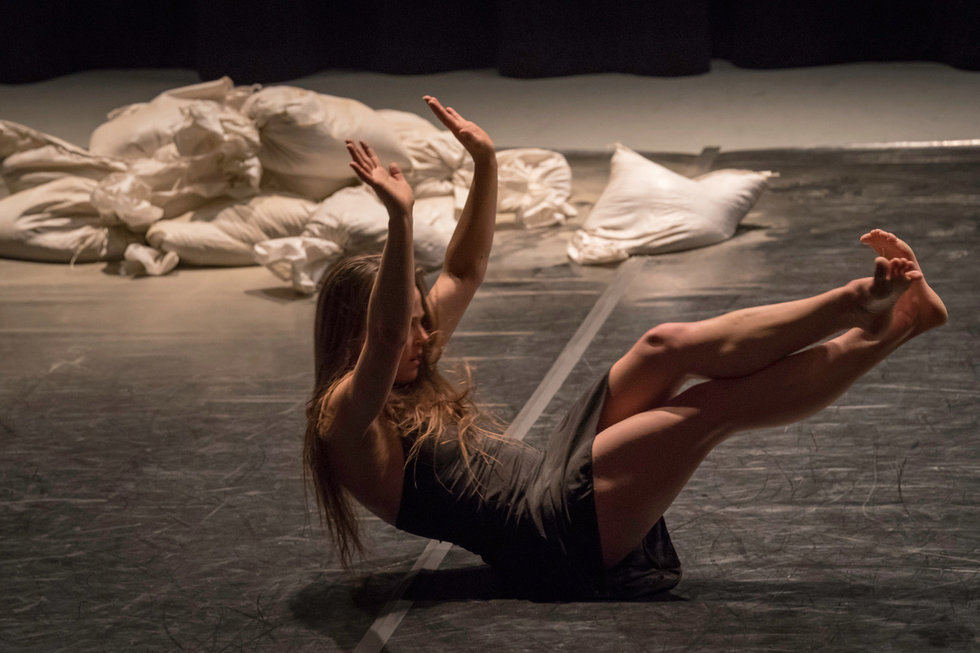 Smith in A Study on Effort. Photo by Michael J. Lutch, courtesy Smith
"It changed her life in a very good way I think," says Schraiber, who also plays a central role in Aviva and has contributed some choreography. "She became a dance celebrity."
Of course, Smith was an exceptional dancer long before the release of Bobbi Jene, admired for her conviction, clarity and voraciousness in Naharin's all-consuming work. Schraiber, who grew up in Israel and saw her dance even before he joined Batsheva, describes her way of moving as "unassailable—no one can argue with it."
Shamel Pitts, a fellow Batsheva alum, has been watching her in action since their days as students at The Juilliard School (where Smith now teaches). "Bobbi is very powerful—she can stand still and share a huge dance," he says. "You feel that you get to know her deeply when you see her move, something about her vulnerability and how it meets her strength."
"She doesn't share so openly," he adds. "But if she does, she's going all the way."
If you've seen A Study on Effort, that observation rings true. In the hour-long work, Smith is often unclothed as she undertakes a series of solitary tasks, or what she calls "efforts": the effort of pushing, of lifting, of taking care. In "the effort of pleasure," she orgasms while straddling a heavy sandbag. Her instruction to herself: "Find pleasure in what weighs you down."
That passage, Smith says, is her comment on portrayals of women's sexuality in dance, which often strike her as inauthentic. "If you want to see actual pleasure," she says, "this is what it looks like, and it doesn't look as sexy as you think it looks." The nudity grew out of a similar desire for honesty, for cutting through surfaces: "This is a body, a female body, making shapes. It will shake, it will start to sweat."
Bobbi Jene - Official U.S. Trailer - Oscilloscope Laboratories
To prepare for her first lead role in a feature film, Smith took acting and voice lessons. To her surprise, she found parallels between vocal training and Gaga, the movement language developed by Naharin. Her voice coach, she says, "would say things like 'Vibration travels faster through soft flesh, so you want to be soft.' "

Like any dancer who has worked for 10 years with a single choreographer, Smith carries that influence forward. "I don't see it as a bad thing," she says, noting that "it's only natural" for her to be in conversation with her roots. If a critic were to call her work "derivative" of Naharin's? "I would say thank you. What an honor."
Reflecting on her career so far, she says one realization stands out: that instead of waiting for change, she can create it for herself. "Often in the dance world, it's ingrained in us that there's this one role, one piece, one choreographer that will change our lives." But dancers, she has learned, have more agency: "You could get in a studio with a group of friends and make that piece you're waiting for."
"My dream is to create a company of artists that I love and am inspired by," she adds. "A company where we can create performances that can live on in many different mediums." It's hard to imagine that she won't make it happen.
Dance Magazine's December 2018 cover girl: Adji Cissoko. Photographed by Jayme Thornton
Adji Cissoko has the alchemical blend of willowy limbs and earthy musicality you expect from a dancer in Alonzo King LINES Ballet. But she also has something more—a joy in dancing that makes every step feel immediate.
"She has this soulful quality of an ancient spirit coming through her body," says LINES chief executive officer Muriel Maffre, a former prima ballerina with San Francisco Ballet. "She's fearless, which is fun to work with," says artistic director Alonzo King. "I don't know how to put it into words— she's herself."
Keep reading...
Show less
Harlequin Floors' home studio kit lets dancers bring the studio home with them. Image courtesy Harlequin Floors
So you're on layoff—or, let's be real, you just don't feel like going to the studio—and you decide you're going to take class from home. Easy enough, right? All you need is an empty room and some music tracks on your iPhone, right?
Wrong. Anyone who has attempted this feat can tell you that taking class at home—or even just giving yourself class in general—is easier said than done. But with the right tools, it's totally doable—and can be totally rewarding.
Keep reading...
Show less
Jan Fabre's Mount Olympus pushes dancers to their limits. Photo by Wonge Bergmann, via nyuskirball.org
When Jan Fabre's troupe Troubleyn presents his Mount Olympus: To glorify the cult of tragedy (a 24 hour performance) at NYU Skirball tomorrow it does so under a heavy cloud of controversy.
Fabre is a celebrated Belgian multidisciplinary artist who has been honored as Grand Officer in the Order of the Crown, one of the country's highest honors. His visual art has been displayed at the Louvre and at the Hermitage in St. Petersburg. According to The New York Times, his dance company, Troubleyn, receives about $1 million a year from the Belgian government.
But in an open letter posted to Belgian magazine Rekto Verso just a few months ago, 20 of his company's current and former dancers outline a horrific culture of sexual harassment, bullying and coercion. This comes on the heels of similar accusations at New York City Ballet and Paris Opèra Ballet.
Keep reading...
Show less
It's contest time! You could win your choice of Apolla Shocks (up to 100 pairs) for your whole studio! Apolla Performance believes dancers are artists AND athletes—wearing Apolla Shocks helps you be both! Apolla Shocks are footwear for dancers infused with sports science technology while maintaining a dancer's traditions and lines. They provide support, protection and traction that doesn't exist anywhere else for dancers, helping them dance longer and stronger. Apolla wants to get your ENTIRE studio protected and supported in Apolla Shocks! How? Follow these steps:
Keep reading...
Show less
Clockwise from top left: Crystal Pite, photo by Michael Slobodian; Lourdes Lopez, photo by Alexander Iziliaev; Michael Trusnovec, photo via Instagram; Ronald K. Brown, photo by Julieta Cervantes
Today, we are thrilled to announce the honorees of the 2018 Dance Magazine Awards. A tradition dating back to 1954, the Dance Magazine Awards celebrate the living legends who have made a lasting impact on dance. This year's honorees include:
Keep reading...
Show less
Tiler Peck's CFDA Fashion Fund red lip also makes for the perfect
Nutcracker
makeup. Photo via Instagram,
Rebecca de Ravenel
Earlier this week, New York City Ballet principal Tiler Peck gave us some major onstage makeup inspiration while attending an offstage event. While walking the red carpet at the CFDA/Vogue Fashion Fund gala, Peck's beauty look was still perfectly suited for the ballet with her top knot hairstyle and stage-worthy red lip. Peck's makeup artist for the night, Daniel Duran, shared his exact breakdown on the look, working exclusively with beauty brand Chantecaille. So, whether you're in need of a waterproof brow pencil, volumizing mascara or long-lasting red lip this Nutcracker season, we've got you covered.

Keep reading...
Show less
Simulations of An's "Marie . T" prosthetic design, via jaehyunan.com
There's a new tool that lets amputee ballet dancers perform on pointe. As reported in Dezeen, an architecture and design magazine, industrial designer Jae-Hyun An has created a prosthesis he calls the "Marie . T" (after Marie Taglioni, of course) that allows dancers with below-the-knee amputations to do pointe work.

A carbon fiber calf absorbs shock while a stainless steel toe and rubber platform allow a dancer to both turn and grip the floor to maintain balance. What it doesn't allow the dancer to do? Roll down to demi-pointe or flat.
Keep reading...
Show less
Linda Tarnay. Photo by Chuck Delaney, Courtesy Dance Magazine Archives
Former chair of New York University's Tisch School of the Arts dance department Linda Tarnay died on Tuesday, November 6. Her wish was to have her ashes interred in the columbarium at St. Mark's Church-in-the-Bowery—the site of Danspace Project and just a few blocks away from the Tisch dance building.
Before her 35 years of teaching at NYU, Tarnay was a founding member of Dance Theater Workshop. She performed with choreographers like Anna Sokolow, Phyllis Lamhut and Jamie Cunningham. She also started her own company, Linda Tarnay and Dancers, and was an artist-in-residence at The Yard.
Keep reading...
Show less
Margaret Selby with client Michelle Dorrance, photo by Todd Burnseed
Margaret Selby never dreamed that her passion for dance would lead her everywhere from working on live TV specials like the Macy's Thanksgiving Day Parade to producing hip-hop musical Jam on the Groove, from Columbia Artists Management, Inc., to public TV's "Great Performances: Dance in America."
Now, through her company Selby/Artists MGMT, she helps clients like Dorrance Dance, MOMIX and Pacific Northwest Ballet navigate the behind-the-scenes elements that get their work onstage, like booking tours, marketing and planning upcoming seasons.
Keep reading...
Show less
A still from the new documentary, DANSEUR. Image courtesy DANSEUR
According to the new documentary DANSEUR, 85% of males who study dance in the United States are bullied or harassed. A quote in the film from Dr. Doug Risner, faculty member at Wayne State University, states, "If this scope of bullying occurred in any activity other than dance, it would be considered a public health crisis by the CDC."
So why is it allowed to persist in ballet? And why aren't we talking about it more? These are the questions that DANSEUR seeks to answer. But primarily consisting of dance footage and interviews with male dancers like ABT's James Whiteside, Houston Ballet's Harper Watters and Boston Ballet's Derek Dunn, the film only addresses these issues superficially, with anecdotes about individual experiences and generalizations about what it's like to be a male dancer.
Keep reading...
Show less
You can still be learning even if you have to sit out. PC Getty Images
When you're unable to dance, it's easy to feel like you're falling behind and losing out on opportunities. But this can be a time to reset your body and come back even stronger, says Ilana Goldman, BFA program director at Florida State University's School of Dance. "Some of the greatest leaps I made in my technique happened because of injuries," she says. "Learning how to deal with them is part of being a professional dancer."

Keep reading...
Show less
Mia Michaels has learned the power of inspiring those she works with. Here, rehearsing Rockettes. Photo courtesy MSG
Dancers are human, which means they're bound to make mistakes from time to time, both on and off the stage. But what happens when those mistakes burn bridges? In an industry so small, is it possible for choreographers and performers to recover?
In a moment of vulnerability, three-time Emmy Award winning choreographer Mia Michaels opened up to
Dance Magazine
about some of the bridges she herself has burned, the lengths she's gone to in order to rebuild and the peace she's made with the new direction her career has taken because of them. —Haley Hilton
Keep reading...
Show less
Directors tend to pick dancers who fit the company's style, body type and need for a particular height. Photo by Jim Lafferty for Pointe
Are auditions rigged? Sometimes I see mediocre dancers make it into a company, and I just don't get it. The audition process is unnerving for me without feedback or any understanding of the rules.
—Madison, Santa Monica, CA
Keep reading...
Show less
Whoever told Emma Portner not to move to NYC probably feels silly now. Photo by Quinn Wharton
Raise your hand if you've received bad advice from well-meaning friends or family (or strangers, tbh) who don't know anything about what it really takes to be a dancer.
*everyone raises hands*
Sometimes it's even dance insiders whose advice can send you down the wrong path. We've been asking pros about the worst advice they've ever received in our "Spotlight" Q&A series, and rounded up some of the best answers:
Keep reading...
Show less
Miko Fogarty. Photo by Andrew Ross, Courtesy Birmingham Royal Ballet.
Where in the world is Miko Fogarty? Just three years ago, she seemed unstoppable. After being featured in the 2011 ballet documentary First Position, she became a teenage social-media star, winning top prizes at competitions in Moscow and Varna and at Youth American Grand Prix, and dancing in galas around the world. Last most of us heard, it was 2015 and she had just joined the corps of Birmingham Royal Ballet. A year later, she dropped off the ballet radar.
Turns out Fogarty, now 21, was taking time off to reevaluate her life, including the role she wanted ballet to play in it. She is now starting her junior year as a biology major at University of California—Berkeley and is considering going to medical school. (Her brother and fellow First Position subject, 19-year-old Jules, is a junior in the Berkeley economics department.) On the side she teaches private ballet lessons and gives master classes, and is the part-time conservatory director at San Jose Dance International, a new school in the San Francisco Bay Area led by artistic director Yu Xin. We caught up with her by phone.
Keep reading...
Show less
News
Sep. 17, 2018 11:46AM EST
Ramasar and Catazaro, photos via Instagram
New York City Ballet fired principal dancers Amar Ramasar and Zachary Catazaro on Saturday. Both had initially been suspended until 2019 for engaging in "inappropriate communications," while principal Chase Finlay, who was the instigator of those communications, resigned. (Although, in a statement on Saturday, NYCB made it clear they had decided to terminate Finlay prior to his resignation.)
The New York Times reports that NYCB says the change from suspension to termination resulted from hearing the concerns of dancers, staff members and others in the NYCB community. Yet it's hard to ignore the fact that a lawsuit against NYCB had been filed in the meantime. A statement from NYCB executive director Katherine Brown and interim artistic team leader Jonathan Stafford stated:
"We have no higher obligation than to ensure that our dancers and staff have a workplace where they feel respected and valued, and we are committed to providing that environment for all employees of New York City Ballet."
Since the news was announced, both Catazaro and Ramasar have spoken out publicly about being fired.
Keep reading...
Show less
A break can be an investment in the longevity of your career. Photo by Sage Friedman/Unsplash
In dance, pushing through pain is often glorified. Dancers can be reluctant to take time off when sick or injured for fear of missing out on opportunities. It can feel even harder to justify when the pain isn't physical. Though it's becoming more commonly acknowledged that mental health is just as important as physical health, a dance career doesn't leave much time to address mental or emotional issues.
But dancers need to take care of their mental well-being to be able to perform at their best, says Catherine Drury, a licensed clinical social worker for The Dancers' Resource at The Actors Fund. So what can you do if you need a mental health day?
Keep reading...
Show less
News
Nov. 03, 2018 01:16PM EST
Bill Shannon's Touch Update makes its way to Washington, DC, and New York City this month. Photo courtesy Dance Place
The fall performance season continues at breakneck speed with everything from an international ballet company making its U.S. debut to a retrospective on one of New York City's most iconic dancemakers—not to mention more than a few intriguing new works. Here's what we've got pencilled in.
Keep reading...
Show less
Popular
Nov. 03, 2018 09:16AM EST
Yabin Wang's The Moon Opera mixes traditional Chinese and contemporary dance. Photo by Wang Ning, Courtesy Pittsburgh Cultural Trust
Yabin Wang converts movement into liquid that spills across the stage. A celebrity in her home country of China, this choreographer, dancer and actress has helped to pioneer modern dance there by blending Chinese classical and contemporary dance. Wang's international career was kick-started in 2010 at American Dance Festival, where she returned this summer to perform on a shared program with Michelle Dorrance, Aparna Ramaswamy, Rhapsody James and Camille A. Brown. She has also worked with Sidi Larbi Cherkaoui on Genesis and was commissioned by English National Ballet to create a piece for its Olivier Award–winning She Said program. This month, she is back stateside for the U.S. premiere of her Moon Opera, Nov. 3 in Pittsburgh.
Keep reading...
Show less
News
Nov. 02, 2018 12:50PM EST
Francesca Hayward, here as Manon, is joining the cast of CATS. Photo by Johann Persson, Courtesy ROH
It's the casting news we didn't know we needed until we heard it. Ever since it was announced that Wayne McGregor would be choreographing the new film adaptation of CATS, we've been anxiously waiting to hear whether any recognizable names from the dance world would be joining the A-list cast (which, in case you missed it, already includes Jennifer Hudson, Sir Ian McKellan, Taylor Swift and James Corden). But never in our wildest dreams did we think that a Royal Ballet principal would be the first dancer to sign on.
Keep reading...
Show less
News
Nov. 02, 2018 12:49PM EST
Sergei Polunin and Misty Copeland lead a corps of 18 dancers in choreography by Liam Scarlett. Photo courtesy Walt Disney Studios Motion Pictures
The wait for Disney's reimagining of The Nutcracker is over. Although The Nutcracker and The Four Realms is not a full-length ballet, woven into the plot is a five-minute performance by megastars Misty Copeland and Sergei Polunin alongside 18 supporting dancers, with a CGI Mouse King moved by jookin sensation Lil Buck (aka Charles Riley). Royal Ballet artist in residence Liam Scarlett led the film's choreography in his first major motion picture experience. "It was a call I didn't expect to get," says Scarlett. "I really am the biggest Disney fan, so I couldn't believe it!"
Keep reading...
Show less