Heart & Guts: Bobbi Jene Smith Finds Her Own Voice
Her unexpected post-Batsheva path has led to both solo shows and film work. Photo by Jayme Thornton
Even when marking a move in rehearsal, Bobbi Jene Smith seems to dance with her whole being. "It comes from the pelvis," she says while directing a few of her fellow dancers in an undulating phrase. Her lower body spirals, pulling her torso behind it in one swift, visceral motion. "Always keep a bit of groove somewhere in your body," she says during another, more improvisational section.
Dance audiences might be most familiar with this side of Smith: the heart—and the guts—that she brings to her dancing. But in the four years since she returned to the U.S. from Tel Aviv, where she spent a decade performing with the Batsheva Dance Company, she has achieved a balancing act of creative roles: dancer, choreographer, teacher and budding actor.
The scene she's rehearsing is one of 10 she choreographed for Aviva, an independent feature film directed by Boaz Yakin, best known for his 2000 blockbuster Remember the Titans. She also plays a main character in the movement-driven story, as part of a cast of more than 30 dancers that she helped to select—including 20 of her students from Philadelphia's University of the Arts.
---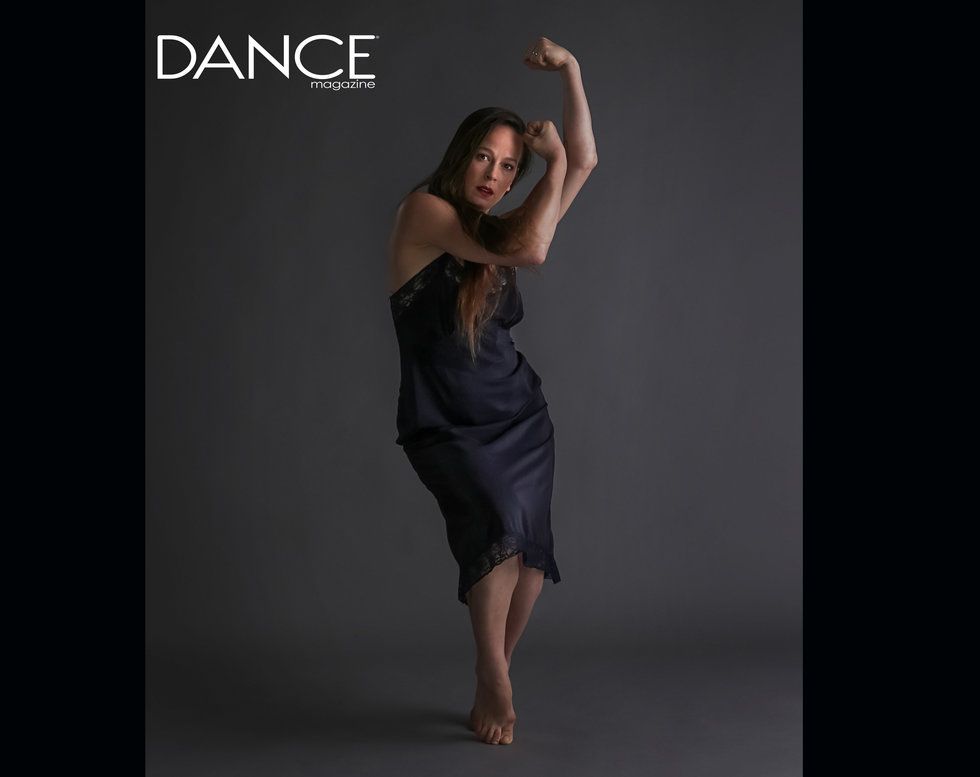 Smith says she was compelled to leave Batsheva to find out what she had to say as an artist. Photo by Jayme Thornton
The amount of time she has spent on movie sets is one surprise of post-Batsheva life. "I wasn't looking for that—at all," she says during an interview at the Manhattan apartment where she lives with her husband, Or Meir Schraiber, who also danced for Batsheva. When Smith made the difficult choice to move on from the company, she intended to focus on making her own works of live performance, after years of embodying the vision of the troupe's distinctive, charismatic leader, Ohad Naharin.

Her decision to leave, she says, "came from wanting to hear my own voice louder. Working in that kind of environment for so long, things get interwoven, and the line between where your voice ends and he begins—it starts to get a bit cloudy. You're like, What do I actually have to say? Or am I only able to say it through his work?"
Smith, 34, hasn't strayed from exploring those questions. But she's been answering them in ways she didn't anticipate. Over the past year and a half, in addition to her work on Aviva, she has choreographed for Natalie Portman in Annihilation (the riveting, mysterious final scene) and starred in Mari, a debut feature film from the British director and writer Georgia Parris, which premiered in London in October.
Her work for live audiences is going just as strong. With Care, a collaboration with the violinist Keir GoGwilt in which Smith and Schraiber both perform, premieres at ODC Theater in San Francisco on November 1. The Martha Graham Dance Company has enlisted her and Maxine Doyle, known for choreographing the immersive-theater hit Sleep No More, to co-create a piece for its spring season. (Smith is a former member of the Sleep No More cast.) And her new work for Corpus, a contemporary subgroup of the Royal Danish Ballet, will premiere in February.
Smith's foray into film owes a lot to Bobbi Jene, the 2017 documentary that intimately chronicles her departure from Batsheva, as she moved to San Francisco, then to New York, while building her grueling solo A Study on Effort and navigating a long-distance relationship with Schraiber. Directed by Elvira Lind, the film won three awards at the Tribeca Film Festival, including best documentary feature. It also broadcast Smith's artistry to audiences outside the relatively small world of contemporary dance; both Yakin and Parris, for instance, were introduced to Smith through the film and the buzz surrounding it.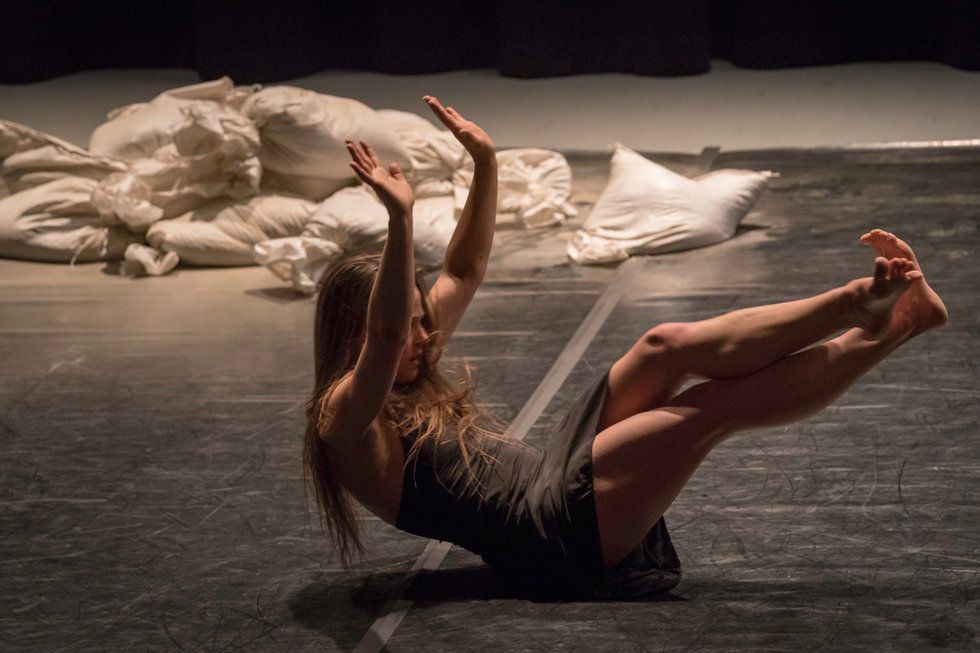 Smith in A Study on Effort. Photo by Michael J. Lutch, courtesy Smith
"It changed her life in a very good way I think," says Schraiber, who also plays a central role in Aviva and has contributed some choreography. "She became a dance celebrity."
Of course, Smith was an exceptional dancer long before the release of Bobbi Jene, admired for her conviction, clarity and voraciousness in Naharin's all-consuming work. Schraiber, who grew up in Israel and saw her dance even before he joined Batsheva, describes her way of moving as "unassailable—no one can argue with it."
Shamel Pitts, a fellow Batsheva alum, has been watching her in action since their days as students at The Juilliard School (where Smith now teaches). "Bobbi is very powerful—she can stand still and share a huge dance," he says. "You feel that you get to know her deeply when you see her move, something about her vulnerability and how it meets her strength."
"She doesn't share so openly," he adds. "But if she does, she's going all the way."
If you've seen A Study on Effort, that observation rings true. In the hour-long work, Smith is often unclothed as she undertakes a series of solitary tasks, or what she calls "efforts": the effort of pushing, of lifting, of taking care. In "the effort of pleasure," she orgasms while straddling a heavy sandbag. Her instruction to herself: "Find pleasure in what weighs you down."
That passage, Smith says, is her comment on portrayals of women's sexuality in dance, which often strike her as inauthentic. "If you want to see actual pleasure," she says, "this is what it looks like, and it doesn't look as sexy as you think it looks." The nudity grew out of a similar desire for honesty, for cutting through surfaces: "This is a body, a female body, making shapes. It will shake, it will start to sweat."
Bobbi Jene - Official U.S. Trailer - Oscilloscope Laboratories
To prepare for her first lead role in a feature film, Smith took acting and voice lessons. To her surprise, she found parallels between vocal training and Gaga, the movement language developed by Naharin. Her voice coach, she says, "would say things like 'Vibration travels faster through soft flesh, so you want to be soft.' "

Like any dancer who has worked for 10 years with a single choreographer, Smith carries that influence forward. "I don't see it as a bad thing," she says, noting that "it's only natural" for her to be in conversation with her roots. If a critic were to call her work "derivative" of Naharin's? "I would say thank you. What an honor."
Reflecting on her career so far, she says one realization stands out: that instead of waiting for change, she can create it for herself. "Often in the dance world, it's ingrained in us that there's this one role, one piece, one choreographer that will change our lives." But dancers, she has learned, have more agency: "You could get in a studio with a group of friends and make that piece you're waiting for."
"My dream is to create a company of artists that I love and am inspired by," she adds. "A company where we can create performances that can live on in many different mediums." It's hard to imagine that she won't make it happen.
Related Articles Around the Web
From Your Site Articles
News
May. 20, 2019 04:24PM EST
Last night, longtime theater legends (including Chita Rivera herself!) as well as rising stars gathered to celebrate one of Broadway's danciest events: the third annual Chita Rivera Awards.
The evening paid tribute to this season's dancer standouts, fabulous ensembles, and jaw-dropping choreography—on- and off-Broadway and on film.
As usual, several of our faves made it into the mix. (With such a fabulous talent pool of nominees to choose from, we're glad that ties were allowed.) Here are the highlights from the winner's list:
Keep reading...
Show less
Hive by Boston Conservatory student Alyssa Markowitz. Photo by Jim Coleman
The way we create and consume dance is changing every day. Now more than ever, the field demands that dancers not only be able to perform at the highest level, but also collaborate with choreographers to bring their artistic visions to life. Dancers who miss out on choreographic training may very well find themselves at a disadvantage as they try to launch their careers.

Keep reading...
Show less
Lorenzo Di Cristina/Unsplash
When you're a foreign dancer, gaining legal rights to work in the U.S. is a challenging process. It's especially difficult if you're petitioning to work as a freelance dancer without an agent or company sponsorship.
The process requires professional muscle along with plenty of resources and heart. "There's a real misnomer that it's super easy," says Neena Dutta, immigration attorney and president of Dutta Law Firm. "People need to educate themselves and talk to a professional."
Here are four things every foreign dancer who wants to work in the U.S. needs to know to build a freelance dance career here.
Keep reading...
Show less
Quinn Wharton
What does it take to "make it" in dance? It's no secret that turning this passion into a profession can be a struggle. In such a competitive field, talent alone isn't enough to get you where you want to be.
So what kinds of steps can you take to become successful? Dance Magazine spoke to 33 people from all corners of the industry to get their advice on the lessons that could help us all, no matter where we are in our careers.
Keep reading...
Show less
Last year's winner: Manuel Vignoulle's EARTH. Jack Hartin Photography, Courtesy McCallum Theatre
It's not often that a promising choreographer gets to stage work in a world-class theater, on a skillfully-curated program with professional dancers, and with the possibility of winning a substantial cash prize. But at the McCallum Theatre's Palm Desert Choreography Festival, that's been the status quo for over twenty years.
Since Shea New, the festival's artistic director, founded the festival in 1998, she's worked tirelessly with McCallum's director of education and festival producer, Kajsa Thuresson-Frary, and stage manager and festival production manager Joanna Fookes to build a festival that nurtures choreographers, highlights high quality work, powerfully engages the local community and cultivates an audience base for dance in the Coachella Valley. The trio is backed by a strong team of professionals at McCallum and the brilliant volunteers from the local and national level who serve as adjudicators.
Keep reading...
Show less
Get Dance Magazine in your inbox
Still of Fonteyn from the 1972 film I Am a Dancer. Photo courtesy DM Archives
On May 18, 1919, Margot "Peggy" Hookham was born. She would grow up to become Dame Margot Fonteyn, England's first homegrown prima ballerina. She joined the Sadler's Wells School in 1934 and was performing principal roles with the precursor to The Royal Ballet the next year. Fonteyn was a company-defining figure, dancing Aurora for the re-opening of the Royal Opera House after World War II, creating numerous roles with Sir Frederick Ashton and forging a legendary partnership with Rudolf Nureyev.
Keep reading...
Show less
Courtesy #Dance4OurLives
Memorial Day is notoriously one of Chicago's bloodiest weekends. Last year, 36 people were shot and seven died that weekend. In 2017 and 2016, the number of shootings was even higher.
When Garley "GiGi Tonyé" Briggs, a dance teacher and Chicago native, started noticing this pattern, she was preparing her second annual Memorial Day workshop for local youth.
The event's original aim was simple: "I wanted the youth of Chicago to have somewhere they could come and learn from different dancers and be off the streets on the South Side on this hot holiday," she says.
Keep reading...
Show less
A recent trip I took to Nashville coincided with the NFL draft. As we drove into town, my Uber driver was a fount of information on the subject.
I learned that there are 32 NFL teams and that the draft takes place over seven rounds. That the team that did the poorest during the previous season gets first pick. That during an earlier event called the scouting combine, the teams assess college football players and figure out who they want.
There is also the veteran combine for "free agents"—players who have been released from their contracts or whose contracts have expired. They might be very good players, but their team needs younger members or ones with a certain skill set. All year round, experienced NFL scouts scan games across the country, checking out players and feeding that information back to the teams. Players' agents keep their eyes on opportunities for their clients which might be more rewarding.
While I sat in the traffic of 600,000 NFL fans I got thinking, is there something ballet could learn from football? Could a draft system improve young dancers' prospects and overall company caliber and contentment?
Keep reading...
Show less
Getty Images
Despite what you might think, there's no reason for dancers to be afraid of bread.
"It's looked at as this evil food," says New York State–certified dietitian and former dancer Tiffany Mendell. But the truth is, unless you have celiac disease or a gluten intolerance, bread can be a healthy source of carbohydrates—our body's preferred fuel—plus fiber and vitamins.
The key is choosing your loaf wisely.
Keep reading...
Show less
It can be hard to imagine life without—or just after—dance. Perhaps that's why we find it so fascinating to hear what our favorite dancers think they'd be doing if they weren't performing for a living.
We've been asking stars about the alternate career they'd like to try in our "Spotlight" Q&A series, and their answers—from the unexpected to the predictable—do not disappoint:
Keep reading...
Show less
Unity Phelan in John Wick: Chapter 3 – Parabellum. Photo by Niko Tavernise, Courtesy FRANK PR
"New York City Ballet star appears in a Keanu Reeves action movie" is not a sentence we ever thought we'd write. But moviegoers seeing John Wick: Chapter 3 – Parabellum will be treated to two scenes featuring soloist Unity Phelan dancing choreography by colleague Tiler Peck. The guns-blazing popcorn flick cast Phelan as a ballerina who also happens to be training to become an elite assassin. Opens in theaters May 17.
News
May. 16, 2019 02:22PM EST
Walsh's Moon Fate Sin at Danspace Project. Like Fame Notions, the title was derived from Yvonne Rainer's "No" manifesto. Photo by Ian Douglas, Courtesy Danspace Project
The Brooklyn-based choreographer Gillian Walsh is both obsessed with and deeply conflicted about dance. With her latest work, Fame Notions, May 17–19 at Performance Space New York, she seeks to understand what she calls the "fundamentally pessimistic or alienating pursuit" of being a dancer. Noting that the piece is "quiet and introverted," like much of her other work, she sees Fame Notions as one step in a larger project examining why dancers dance.
Keep reading...
Show less
Via YouTube
What does Mikhail Baryshnikov have to say to dancers starting their careers today? On Friday, he gave the keynote speech during the graduation ceremony for the inaugural class of the USC Glorya Kaufman School of Dance.
The heart of his message: Be generous.
Keep reading...
Show less