Is Your Body Language Holding Back Your Career?
Communication doesn't end when the choreography is over. Photo by Jim Lafferty
Dancers are physical communicators. It is both our profession and our passion. But what happens when the music stops and there is a break in rehearsals?
Our communication doesn't end when the choreography is completed. The truth is, the way you act at rest can make or break your career. Ballet masters, choreographers and artistic directors see meaning in all forms of body language, not just those that happen while the music is playing.
---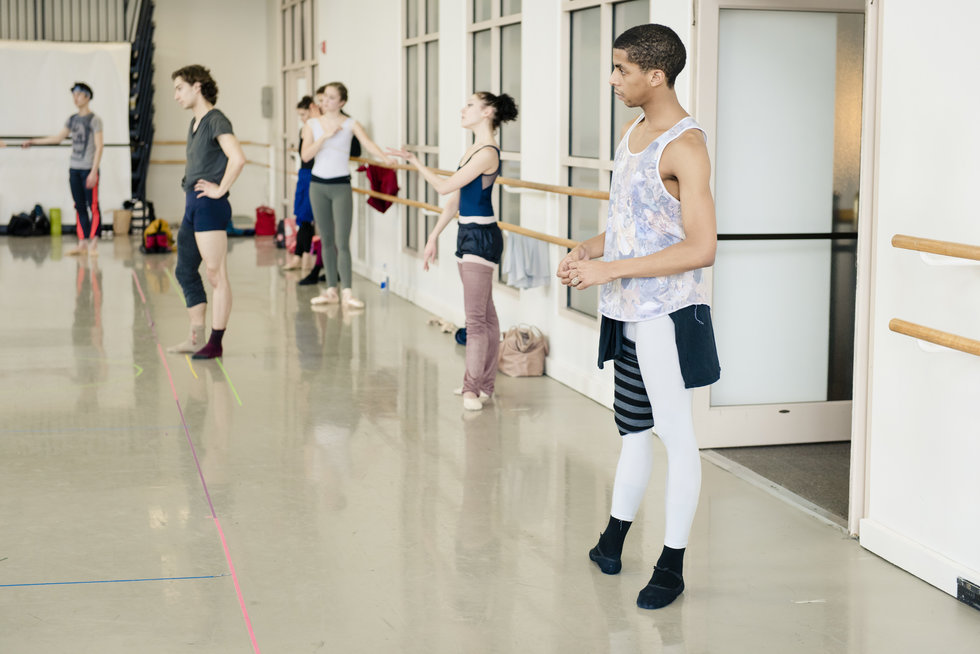 Even when you're in the back of the studio, how you hold yourself matters. Photo by Liza Voll
Maintain Eye Contact

Dancers need to demonstrate active listening skills. Even when you're not dancing, choreographers take note of who's watching what is being demonstrated. If your back is turned, there is an assumption that your ears are not open.
Julie Kent, artistic director of The Washington Ballet, says, "A dancer should show an interest in learning not only their steps, but in whatever the stager, choreographer or teacher has to share with the room."
Watch Your Alternate
A pet peeve of many choreographers and stagers is repeating the same information to every cast. Remember: Listening to all the corrections given on your role saves both your studio leaders and your colleagues from having to hear every correction twice. Even if you are first cast, keep your ears open to new corrections. Peter Boal, artistic director of Pacific Northwest Ballet, often reminds dancers to keep working even when they are not dancing. "During that time, they can listen to corrections, learn from others' successes or struggles and review port des bras and timing while their legs get a rest."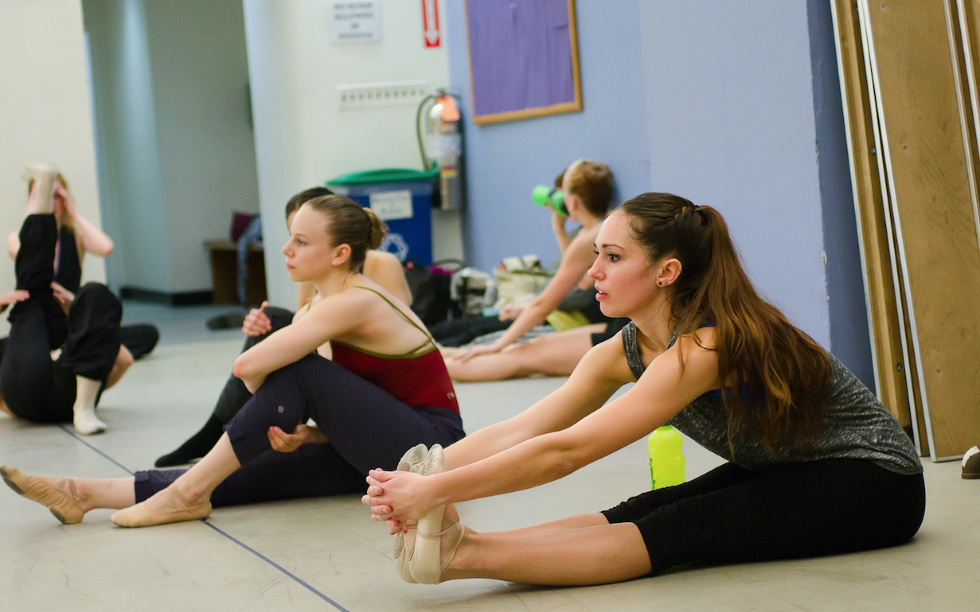 If you're stretching while your alternate is dancing, stay engaged. Photo by Kyle Froman.
Put Your Cell Phone Away
Cell phones have become a common item in most dance bags, but they should stay in your bag—not out in the studio. Unless you are researching a role or listening to music from the rep, phone use is usually aggressively frowned upon. "I want the entire hour and a half to be devoted to the shared process of learning and improving," says Boal. "Check your likes later." If you need to use your phone for an emergency, check in with the artistic staff.
Be Aware of Who's In The Studio
Every company culture is different and each studio leader will have a different interpretation of what constitutes attentive behavior. Tony Randazzo, ballet master of Boston Ballet, says there are so many inadvertent gestures that all dancers need to be aware of: "Talking, leaning on the barre, hiding in the back, sitting down, eating, poor posture, grooming and wardrobe choices are all behaviors that can send a negative message." Know who is in the front of the studio and be sure your behavior is an active representation of your inner ambitions.
Control Your Facial Expressions
There is most certainly a thing called RBF (Resting Ballet Face). This does not mean you have to smile at all times when in the studio; it just means you have to know yourself. Guard against those moments when you are simply at rest but look hugely displeased. Even if you are having a rough day, seek out inspiration in the room around you. "Don't waste time with negative mental distractions," says Randazzo. "Inspired, happy dancers absorb material and concepts more rapidly and do well over time."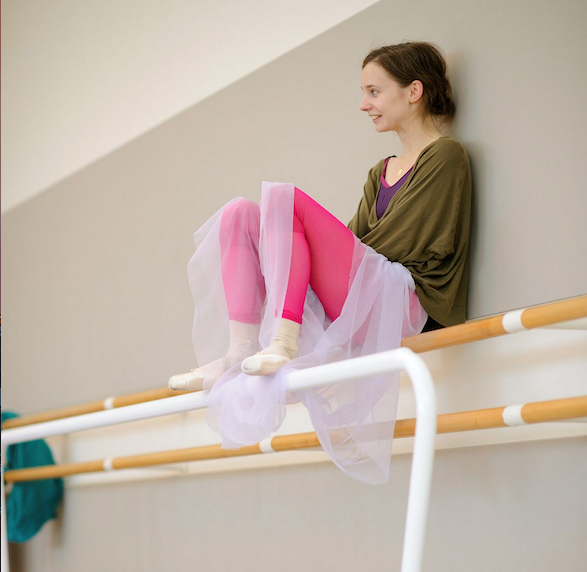 Maria Kochetkova keeps a positive attitude in the studio even when relaxing. Photo by Erik Tomasson, courtesy SFB
Fight The Urge To Lie Down Or Daydream
Everyone has had that inclination to seize a nap while in rehearsal or even daydream off into a good space while not actively dancing. "They may just be resting, but it can read as a level of disinterest," says Sasha Janes, resident choreographer of Charlotte ballet and Indiana University Jacobs School of Music faculty. "Fight the urge and stay mentally present in the studio." In a rehearsal, the plan can change in an instant and you must stay ready for action. If your body is tired beyond belief, have a stretch and drink some water.
Have Empathy, Above All
In choosing how to conduct yourself in the studio, think of your audience, your peers and leaders—the large group of artists all collaborating together. Figure out how you can best contribute your energy to the group's success.
Related Articles Around the Web
What Wendy's Watching
May. 22, 2018 02:50PM EST
PC Paul Kolnik
New York City Ballet is celebrating the Jerome Robbins Centennial with twenty (20!) ballets. The great American choreographer died in 1998, so very few of today's dancers have actually worked with him. There are plenty of stories about how demanding (at times brutally so) he could be in rehearsal. But Peter Boal has written about Robbins in a more balanced, loving way. In this post he writes about how Robbins' crystal clear imagery helped him approach a role with clarity and purpose.
Keep reading...
Show less
92Y Harkness Dance Center is hosting the first festival dedicated to dance films captured on mobile devices. Photo by Adam Grannick, Courtesy 92Y
Who says you need fancy equipment to make a festival-worthy dance film? Right now, two New York City–based dance film festivals are calling for aspiring filmmakers to show their stuff—and you don't need anything more cumbersome than a smartphone to get in on the action.

Here's everything you need to know about how to submit:
Keep reading...
Show less
News
May. 18, 2018 12:05PM EST
The inimitable Alicia Alonso, now 97, remains at the helm of Ballet Nacional de Cuba. Photo by Leysis Quesada, Courtesy BNC
On the occasion of its 70th anniversary, the Ballet Nacional de Cuba tours the U.S. this spring with the resolute Cuban prima ballerina assoluta Alicia Alonso a the helm. Named a National Hero of Labor in Cuba, Alonso, 97, has weathered strained international relations and devastating fiscal challenges to have BNC emerge as a world-class dance company. Her dancers are some of ballet's best. On offer this time are Alonso's Giselle and Don Quixote. The profoundly Cuban company performs in Chicago May 18–20, Tampa May 23, Washington, D.C., May 29–June 3 and Saratoga, New York June 6–8.
Dance in Pop Culture
May. 17, 2018 10:12AM EST
Participants show off their plié. Screenshot via YouTube
We all know that the general population's knowledge of ballet is sometimes...a bit skewed. (See: people touching their fingertips to the top of their head, and Kendall Jenner hopping around at the barre.)
Would your average Joe know how to do ballet's most basic step: a plié? Or, more to the point, even know what it is?
SELF decided to find out.
Keep reading...
Show less
Lisset Santander is adding more contemporary works to her repertoire. Here with Jarrett Reimers in Christopher Wheeldon's Fools Paradise. Photo by Jennifer Zmuda, Courtesy BalletMet.
When Lisset Santander bourréed onstage as Myrtha in BalletMet's Giselle this past February, her consummate portrayal of the Queen of the Wilis was marked by steely grace and litheness. The former Cuban National Ballet dancer had defected to the U.S. at 21, and after two years with the Ohio company, she's now closer to the dance career she says she always wanted: one of limitless possibilities.
Keep reading...
Show less
James Samson in Three Dubious Memories. Photo by Paul B. Goode, courtesy Paul Taylor Dance Company
For 17 years, James Samson has been the model Paul Taylor dancer. There is something fundamentally decent about his stage persona. He's a tall dancer—six feet—but never imposes himself. He's muscular, but gentle. And when he moves, it is his humanity that shines through, even more than his technique.
But all dancing careers come to an end, and James Samson's is no exception; now 43, he'll be retiring in August, after a final performance at the Teatro Romano in Verona, where he'll be dancing in Cloven Kingdom, Piazzolla Caldera and Promethean Fire.
Keep reading...
Show less


Get Dance Magazine in your inbox