Is Your Body Language Holding Back Your Career?
Even when you're in the back of the studio, how you hold yourself matters. Photo by Liza Voll
Dancers are physical communicators. It is both our profession and our passion. But what happens when the music stops and there is a break in rehearsals?
Our communication doesn't end when the choreography is completed. The truth is, the way you act at rest can make or break your career. Ballet masters, choreographers and artistic directors see meaning in all forms of body language, not just those that happen while the music is playing.
---
Maintain Eye Contact

Dancers need to demonstrate active listening skills. Even when you're not dancing, choreographers take note of who's watching what is being demonstrated. If your back is turned, there is an assumption that your ears are not open.
Julie Kent, artistic director of The Washington Ballet, says, "A dancer should show an interest in learning not only their steps, but in whatever the stager, choreographer or teacher has to share with the room."
Watch Your Alternate
A pet peeve of many choreographers and stagers is repeating the same information to every cast. Remember: Listening to all the corrections given on your role saves both your studio leaders and your colleagues from having to hear every correction twice. Even if you are first cast, keep your ears open to new corrections. Peter Boal, artistic director of Pacific Northwest Ballet, often reminds dancers to keep working even when they are not dancing. "During that time, they can listen to corrections, learn from others' successes or struggles and review port des bras and timing while their legs get a rest."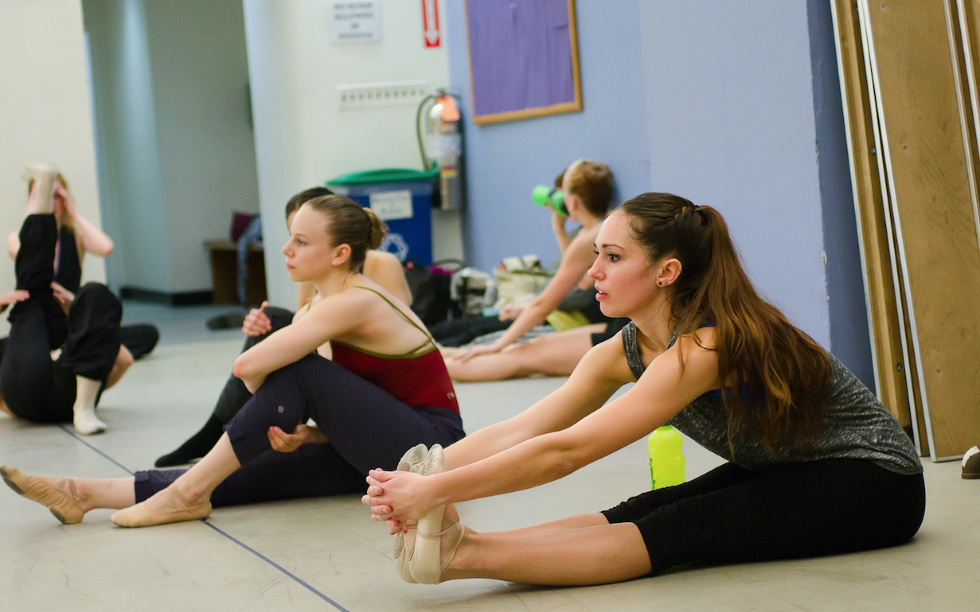 If you're stretching while your alternate is dancing, stay engaged. Photo by Kyle Froman.
Put Your Cell Phone Away
Cell phones have become a common item in most dance bags, but they should stay in your bag—not out in the studio. Unless you are researching a role or listening to music from the rep, phone use is usually aggressively frowned upon. "I want the entire hour and a half to be devoted to the shared process of learning and improving," says Boal. "Check your likes later." If you need to use your phone for an emergency, check in with the artistic staff.
Be Aware of Who's In The Studio
Every company culture is different and each studio leader will have a different interpretation of what constitutes attentive behavior. Tony Randazzo, ballet master of Boston Ballet, says there are so many inadvertent gestures that all dancers need to be aware of: "Talking, leaning on the barre, hiding in the back, sitting down, eating, poor posture, grooming and wardrobe choices are all behaviors that can send a negative message." Know who is in the front of the studio and be sure your behavior is an active representation of your inner ambitions.
Control Your Facial Expressions
There is most certainly a thing called RBF (Resting Ballet Face). This does not mean you have to smile at all times when in the studio; it just means you have to know yourself. Guard against those moments when you are simply at rest but look hugely displeased. Even if you are having a rough day, seek out inspiration in the room around you. "Don't waste time with negative mental distractions," says Randazzo. "Inspired, happy dancers absorb material and concepts more rapidly and do well over time."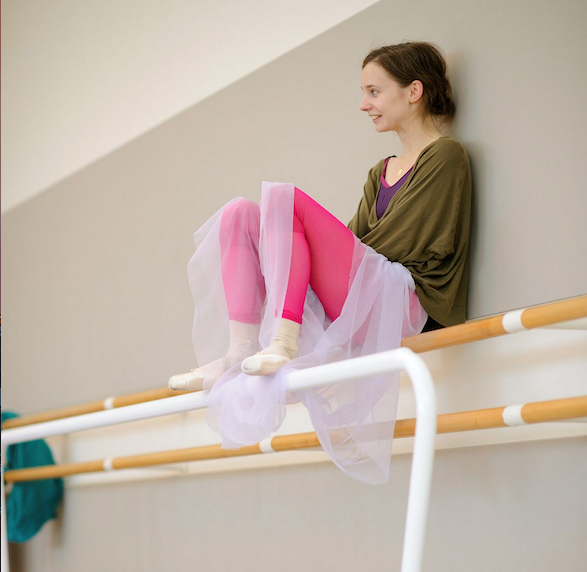 Maria Kochetkova keeps a positive attitude in the studio even when relaxing. Photo by Erik Tomasson, courtesy SFB
Fight The Urge To Lie Down Or Daydream
Everyone has had that inclination to seize a nap while in rehearsal or even daydream off into a good space while not actively dancing. "They may just be resting, but it can read as a level of disinterest," says Sasha Janes, resident choreographer of Charlotte ballet and Indiana University Jacobs School of Music faculty. "Fight the urge and stay mentally present in the studio." In a rehearsal, the plan can change in an instant and you must stay ready for action. If your body is tired beyond belief, have a stretch and drink some water.
Have Empathy, Above All
In choosing how to conduct yourself in the studio, think of your audience, your peers and leaders—the large group of artists all collaborating together. Figure out how you can best contribute your energy to the group's success.
Related Articles Around the Web
Her unexpected post-Batsheva path has led to both solo shows and film work. Photo by Jayme Thornton
Even when marking a move in rehearsal, Bobbi Jene Smith seems to dance with her whole being. "It comes from the pelvis," she says while directing a few of her fellow dancers in an undulating phrase. Her lower body spirals, pulling her torso behind it in one swift, visceral motion. "Always keep a bit of groove somewhere in your body," she says during another, more improvisational section.
Dance audiences might be most familiar with this side of Smith: the heart—and the guts—that she brings to her dancing. But in the four years since she returned to the U.S. from Tel Aviv, where she spent a decade performing with the Batsheva Dance Company, she has achieved a balancing act of creative roles: dancer, choreographer, teacher and budding actor.
The scene she's rehearsing is one of 10 she choreographed for Aviva, an independent feature film directed by Boaz Yakin, best known for his 2000 blockbuster Remember the Titans. She also plays a main character in the movement-driven story, as part of a cast of more than 30 dancers that she helped to select—including 20 of her students from Philadelphia's University of the Arts.
Keep reading...
Show less
News
Oct. 11, 2018 04:35PM EST
Jawole Willa Jo Zollar "is an artist who understands how to pull things out to find the essence of a work," says Robert Battle. Here, Zollar in the studio with Ailey dancers. Photo by Erica Hochstedler, Courtesy AAADT
Coming this fall to the ever-expanding Ailey organization is an intriguing new event: the Choreography Unlocked festival. From Oct. 12–14 and 26–28, the Joan Weill Center for Dance will host workshops, performances and panel discussions. It is an extension of Ailey's New Directions Choreography Lab, an annual residency fellowship for four emerging and mid-career choreographers, founded by artistic director Robert Battle in 2011.
Cameron McKinney working with students at The Ailey School through the New Directions Choreography Lab. Photo by Nicole Tintle, Courtesy AAADT
The festival offers a rare experience for choreographers to work collectively on their craft, and for students and public audiences to interact firsthand with the process of creating dance. "Choreographers tend to section off on their own, so I wanted to offer classes for them to come together and vibe off each other," says Battle. He also hopes to demystify the choreographic process for audiences.

Keep reading...
Show less
Jerome Robbins would have been 100 years old on October 11, 2018. Photo by Frederic Ohringer, Courtesy DM Archives
2018 has seen an endless parade of celebrations in anticipation of Jerome Robbins' centennial—and now the day has finally arrived. In honor of what would have been his 100th birthday, we dove into our photo archives and selected a few favorite shots of the choreographer whose career defined (and redefined) American dance.
Keep reading...
Show less


Get Dance Magazine in your inbox