News
Apr. 02, 2018 09:15AM EST
What Boris Eifman Has To Say About Russia, Balanchine & Getting People To Turn Off The TV
Boris Eifman in 2013, photo by Dmitriy Dubinskiy via Wikipedia Commons
In the 1970s, the Soviet government withdrew Boris Eifman's passport and declared his work pornographic. Today, he has funding from the Russian government for a state-of-the-art school and a company that travels the globe for several months each year. Last year alone, Eifman Ballet presented six different programs on the Bolshoi's historic stage.
What He Has To Say: With Eifman's Anna Karenina running at New York's Lincoln Center this week, Dance Magazine asked him about how he became embraced by Russia, and his thoughts on performing in Balanchine's house.
---
What Makes Eifman Ballet Different from Other Companies
"We synthesize the traditions of Russian ballet with modern technology and aim to create a ballet theater, not just dances set to music, but a theater, with actors, costumes, lights and beautiful sets.
"Nowadays it's difficult to encourage people to turn off the TV, spend money and go out. The desire to experience human emotions that the theater provides incites people to do that. We give the public those emotions through the language of the body."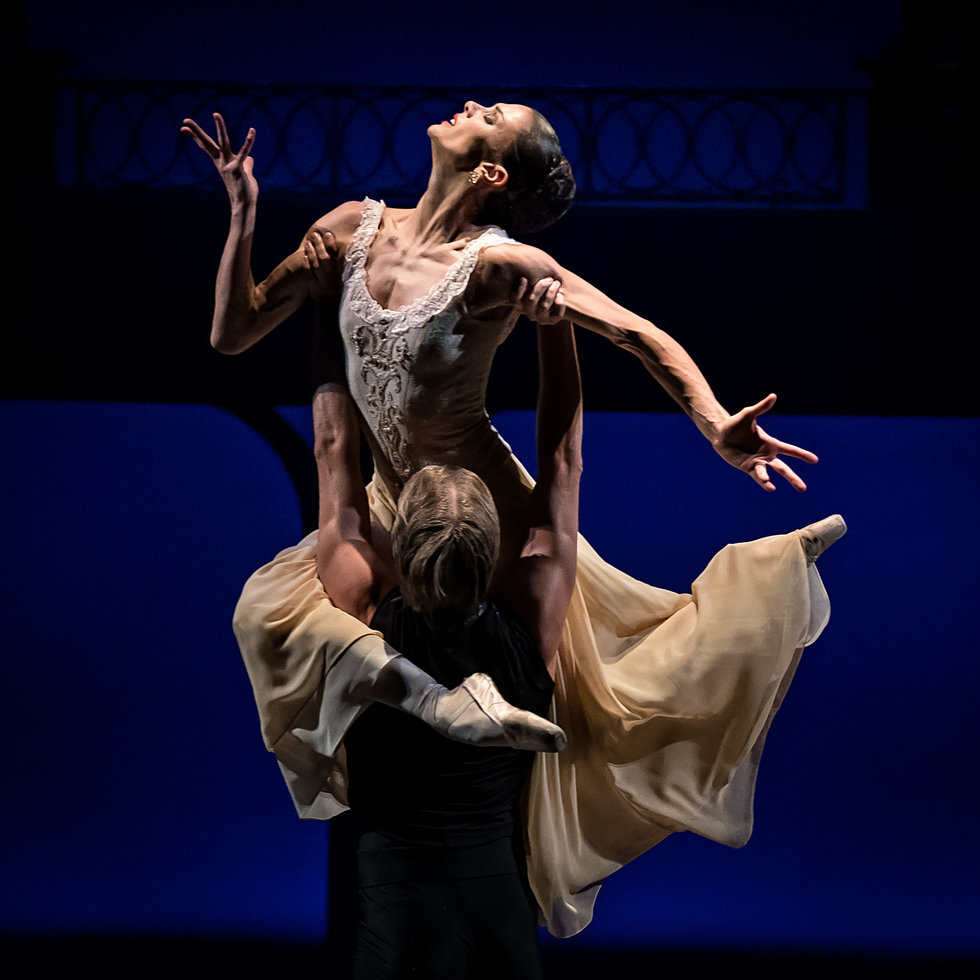 Boris Eifman's Anna Karenina. Photo by Souheil Michael Khoury, courtesy Ellen Jacobs Associates
How He Describes His Style
"I aspire to Russian psychological drama, that's what I want to create. I can't categorize my style; my work can be pure neoclassical tomorrow, and the next day something completely different.
"It doesn't matter what language the choreographer uses; it's how he uses it. What you want to say and how you create it is the most important thing. Quality has meaning; the particular technique doesn't."
Dancing for Americans Vs. Russians
"There's no big difference. The public accepts us in both places. If politics or religion separate people, then the language of dance unites people and brings them closer together."
How He Eventually Became Embraced by Russia
"For the past 40 years, I've worked on creating a new ballet repertoire that's in demand. Marius Petipa created his ballets in the Mariinsky Theatre, they thrived there. Yuri Grigorovich created his works at the Bolshoi, and the Bolshoi blossomed under him.
"Now we're in the 21st century. The Eifman troupe has created its own repertoire which is connected, on the one hand, with both Petipa and Grigorovich, but it's a completely 21st-century troupe which meets the requirements of modern viewers, technology and theaters.
"Russia needs development now, and ballet gathers people together throughout the world. This is important for our art and our country. Our government supports my theater and our school both morally and financially, but I'm fully free to create what I want and that's a nice privilege."
The Pressure of Performing in the House of Balanchine
"I really love Balanchine. At our academy, we have a huge sculpture of Balanchine in the hallway.
"I differ in my style from Balanchine, but we also have a lot in common. Both of us try to unite Russian classical traditions with new creations. If Balanchine focuses on expressing music through movement, I try to go a bit further and also express what emotions push people forward. I'm interested in relationships between people on stage."
Next Year's Performance Plans in the U.S.
"I'll bring a new work, but I don't have a name for it yet. It will be different from my previous works which are tragic and philosophical—it will be a comedy."
Related Articles Around the Web
The USC Kaufman graduating class with Mikhail Baryshnikov. Gus Ruelas/USC
Just four years ago, the University of Southern California's Glorya Kaufman School of Dance welcomed its first class of BFA students. The program—which boasts world-class faculty and a revolutionary approach to training focused on collaboration and hybridity—immediately established itself as one of the country's most prestigious and most innovative.
Now, the first graduating class is entering the dance field. Here, six of the 33 graduates share what they're doing post-grad, what made their experience at USC Kaufman so meaningful and how it prepared them for their next steps:
Keep reading...
Show less
Rena Most at work backstage. Photo courtesy ABT
Every dancer knows there's as much magic taking place backstage as there is in what the audience sees onstage. Behind the scenes, it takes a village, says American Ballet Theatre's wig and makeup supervisor, Rena Most. With wig and makeup preparations happening in a studio of their own as the dancers rehearse, Most and her team work to make sure not a single detail is lost.
Dance Magazine recently spoke to Most to find out what actually goes into the hair and makeup looks audiences see on the ABT stage.
Keep reading...
Show less
James Yoichi Moore and Noelani Pantastico warm up onstage. Angela Sterling, Courtesy SDC.
On a sunny July weekend, hundreds of Seattle-area dance fans converged on tiny Vashon Island, a bucolic enclave in Puget Sound about 20 miles from the city. They made the ferry trek to attend the debut performance of the fledgling Seattle Dance Collective.
SDC is not a run-of-the-mill contemporary dance company; it's the brainchild of two of Pacific Northwest Ballet's most respected principal dancers: James Yoichi Moore and Noelani Pantastico. The duo wanted to create a nimble organization to feature dancers and choreographers they felt needed more exposure in the Pacific Northwest.
Keep reading...
Show less