Boston Ballet Joins Twenty One Pilots and Tame Impala at Boston Calling Music Fest
Courtesy Boston Calling
Twenty One Pilots, Janelle Monáe, Tame Impala, Boston Ballet.
One of these things is not like the others.
---
This Memorial Day weekend, Boston's hometown ballet company is joining a lineup of major music stars for Boston Calling, a festival dubbed by some as an "East Coast Coachella." It's the first time in Boston Calling's 10-year run that dance will be featured—and possibly the first time ballet has ever been given major stage time at such a high profile music festival.
The company with take both the main stage and the more intimate, covered Arena Stage in three works: an excerpt from William Forsythe's Playlist EP, set to R&B artist Khalid's "Location"; a new duet by former principal Yury Yanowsky; and, perhaps most unexpectedly, a new work by corps member Sage Humphries, who's choreographing to music by her brother Michael Humphries, the artist behind indie band Future Self.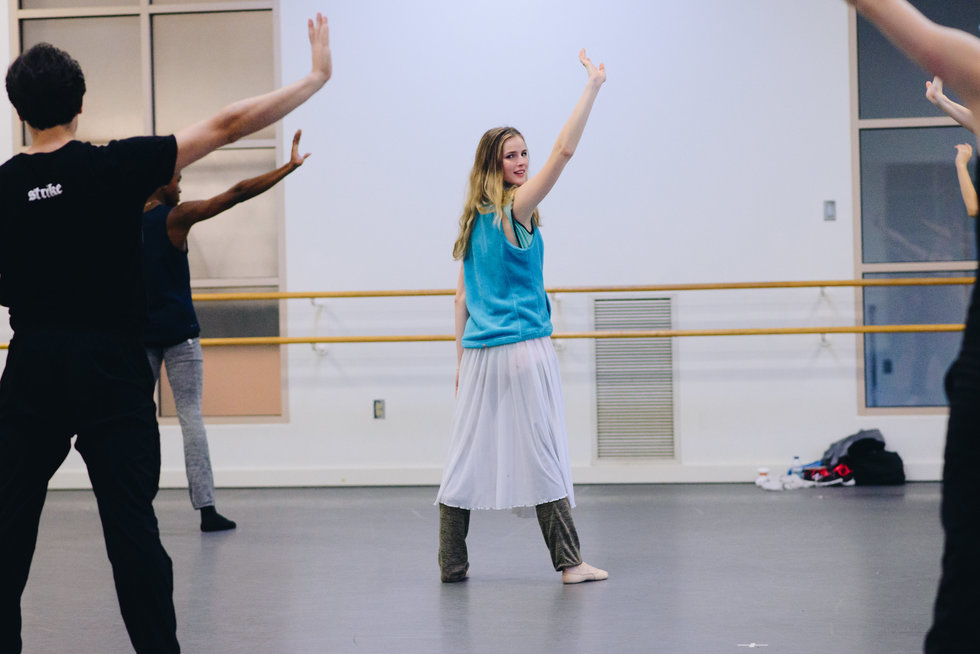 Sage Humphries (center) is choreographing on principals Kathleen Breen Combes and John Lam, and soloists Maria Baranova and Roddy Doble.
Brooke Trisolini, Courtesy Boston Ballet
As a 21-year-old music festival lover, Humphries calls the opportunity "overwhelming, in the best way." She choreographed her first piece just last fall for Boston Ballet's ChoreograpHER Initiative. When she was out injured earlier this year, artistic director Mikko Nissinen asked if she'd be interested in putting her unexpected free time to use by creating something for the festival. She jumped at the chance.
Her new work, White, casts each dancer as an iconic character from rock-and-roll history. "If you picture a 16-year-old who can't stop listening to their favorite record, that's the vibe I'm going for," she says. "Someone is listening to music and it comes to life—the stories they hear in the song are personified."
With such a massive venue, the pressure is on. But Humphries is ready for it.
"The festival's lineup is honestly my musical heaven. The fact that we're going to be backstage with these bands and performers we love, performing for thousands of people—it's an amazing opening for the future of ballet."
Related Articles Around the Web
From Your Site Articles
Getty Images
By the Sunday evening of a long convention weekend, you can expect to be thoroughly exhausted and a little sore. But you shouldn't leave the hotel ballroom actually hurt. Although conventions can be filled with magical opportunities, the potential for injury is higher than usual.
Keep your body safe: Watch out for these four common hazards.
Keep reading...
Show less
News
Jul. 18, 2019 05:02PM EST
Frozen put profit-sharing arrangements in place prior to the Equity deal. Photo by Deen van Meer, Courtesy Disney Theatrical Group
For a Broadway dancer, few opportunities are more exciting than being part of the creation of an original show. But if that show goes on to become wildly successful, who reaps the benefits? Thanks to a new deal between Actors' Equity Association and The Broadway League, performers involved in a production's development will now receive their own cut of the earnings.
Keep reading...
Show less
NBCUniversal
Jellicle obsessives, rejoice: There's a new video out that offers a (surprisingly substantive) look at the dancing that went down on the set of the new CATS movie.
Keep reading...
Show less
Via Wikimedia Commons
When Dr. Mae Jemison was growing up, she was obsessed with space. But she didn't see any astronauts who looked like her.
"I said, Wait a minute. Why are all the astronauts white males?" she recounts in a CNN video. "What if the aliens saw them and said, Are these the only people on Earth?"
Keep reading...
Show less