Boston Ballet Joins Twenty One Pilots and Tame Impala at Boston Calling Music Fest
Courtesy Boston Calling
Twenty One Pilots, Janelle Monáe, Tame Impala, Boston Ballet.
One of these things is not like the others.
---
This Memorial Day weekend, Boston's hometown ballet company is joining a lineup of major music stars for Boston Calling, a festival dubbed by some as an "East Coast Coachella." It's the first time in Boston Calling's 10-year run that dance will be featured—and possibly the first time ballet has ever been given major stage time at such a high profile music festival.
The company with take both the main stage and the more intimate, covered Arena Stage in three works: an excerpt from William Forsythe's Playlist EP, set to R&B artist Khalid's "Location"; a new duet by former principal Yury Yanowsky; and, perhaps most unexpectedly, a new work by corps member Sage Humphries, who's choreographing to music by her brother Michael Humphries, the artist behind indie band Future Self.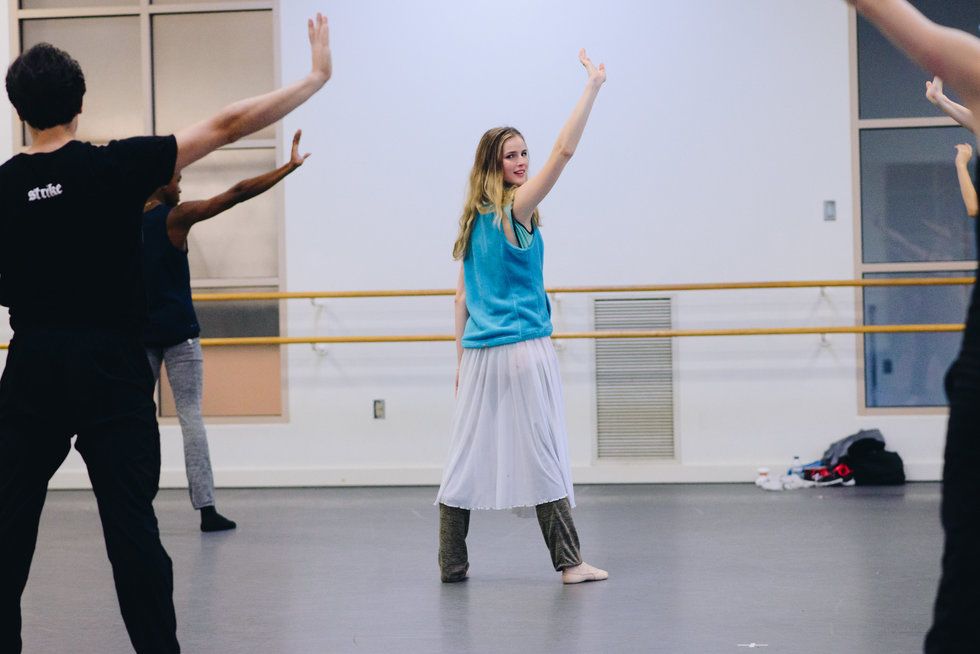 Sage Humphries (center) is choreographing on principals Kathleen Breen Combes and John Lam, and soloists Maria Baranova and Roddy Doble.
Brooke Trisolini, Courtesy Boston Ballet
As a 21-year-old music festival lover, Humphries calls the opportunity "overwhelming, in the best way." She choreographed her first piece just last fall for Boston Ballet's ChoreograpHER Initiative. When she was out injured earlier this year, artistic director Mikko Nissinen asked if she'd be interested in putting her unexpected free time to use by creating something for the festival. She jumped at the chance.
Her new work, White, casts each dancer as an iconic character from rock-and-roll history. "If you picture a 16-year-old who can't stop listening to their favorite record, that's the vibe I'm going for," she says. "Someone is listening to music and it comes to life—the stories they hear in the song are personified."
With such a massive venue, the pressure is on. But Humphries is ready for it.
"The festival's lineup is honestly my musical heaven. The fact that we're going to be backstage with these bands and performers we love, performing for thousands of people—it's an amazing opening for the future of ballet."
Gettty Images
It's a cycle familiar to many: First, a striking image of a lithe, impossibly fit dancer executing a gravity-defying développé catches your eye on Instagram. You pause your scrolling to marvel, over and over again, at her textbook physique.
Inevitably, you take a moment to consider your own body, in comparison. Doubt and negative self-talk first creep, and then flood, in. "I'll never look like that," the voice inside your head whispers. You continue scrolling, but the image has done its dirty work—a gnawing sensation has taken hold, continually reminding you that your own body is inferior, less-than, unworthy.
It's no stretch to say that social media has a huge effect on body image. For dancers—most of whom already have a laser-focus on their appearance—the images they see on Instagram can seem to exacerbate ever-present issues. "Social media is just another trigger," says Nadine Kaslow, a psychologist who works with the dancers of Atlanta Ballet. "And dancers don't need another trigger." In the age of Photoshop and filters, how can dancers keep body dysmorphia at bay?
Keep reading...
Show less
Courtesy Boneau/Bryan-Brown
If "Fosse/Verdon" whet your appetite for the impeccable Gwen Verdon, then Merely Marvelous: The Dancing Genius of Gwen Verdon is the three-course meal you've been craving. The new documentary—available now on Amazon for rental or purchase—dives into the life of the Tony-winning performer and silver-screen star lauded for her charismatic dancing.

Though she's perhaps most well-known today as Bob Fosse's wife and muse, that's not even half of her story. For starters, she'd already won four Tonys before they wed, making her far more famous in the public eye than he was at that point in his career. That's just one of many surprising details we learned during last night's U.S. premiere of Merely Marvelous. Believe us: You're gonna love her even more once you get to know her. Here are eight lesser-known tidbits to get you started.
Keep reading...
Show less
Lindsay Thomas
Every dancer knows that how you fuel your body affects how you feel in the studio. Of course, while breakfast is no more magical than any other meal (despite the enduring myth that it's the most important one of the day), showing up to class hangry is a recipe for unproductive studio time.
So what do your favorite dancers eat in the morning to set themselves up for a busy rehearsal or performance day?
Keep reading...
Show less
News
Sep. 20, 2019 09:17AM EST
Simon Soong, Courtesy DDT
When it comes to dance in the U.S., companies in the South often find themselves overlooked—sometimes even by the presenters in their own backyard. That's where South Arts comes in. This year, the regional nonprofit launched Momentum, an initiative that will provide professional development, mentorship, touring grants and residencies to five Southern dance companies.
Keep reading...
Show less