From Balanchine To Broadway: Brittany Pollack On Her Carousel Debut
Brittany Pollack plays Louise, the troubled teenage daughter. Photo by Julieta Cervantes, courtesy DKC/O&M
Among the many delights of the glorious Broadway revival of Rodgers and Hammerstein's Carousel is watching New York City Ballet soloist Brittany Pollack make her radiant Broadway debut.
One of Dance Magazine's "25 to Watch" in 2011, Pollack plays Louise, the daughter of the two leads Billy Bigelow and Julie Jordan. She makes her entrance in the second act, dancing a solo ballet in an incandescent, shimmering yellow dress.
---
Her dancing shows the same expressive lyricism that regular NYCB-goers are accustomed to seeing at Lincoln Center. But Pollack has added a new component: She's now also acting, speaking lines that along with her dancing make the audience feel Louise's heartbreak and teenage yearning.

Pollack recently spoke with Dance Magazine about making her Broadway debut, working with old friends and making new ones.
What It's Like Dancing Justin Peck's Choreography
Pollack's debut is made even more notable by the fact that she's dancing choreography by fellow NYCB dancer and choreographer Justin Peck. "We've known each other since we were 14. And since he's become one of the resident choreographers at NYCB, I've danced in 10 of his ballets," says Pollack. This longtime friendship gave them both an immediate level of comfort.
"Her dancing has been a big source of inspiration for me ever since I began choreographing at NYCB," says Peck. "I'm always joking with her by saying that she is Tinkerbell to my Peter Pan!"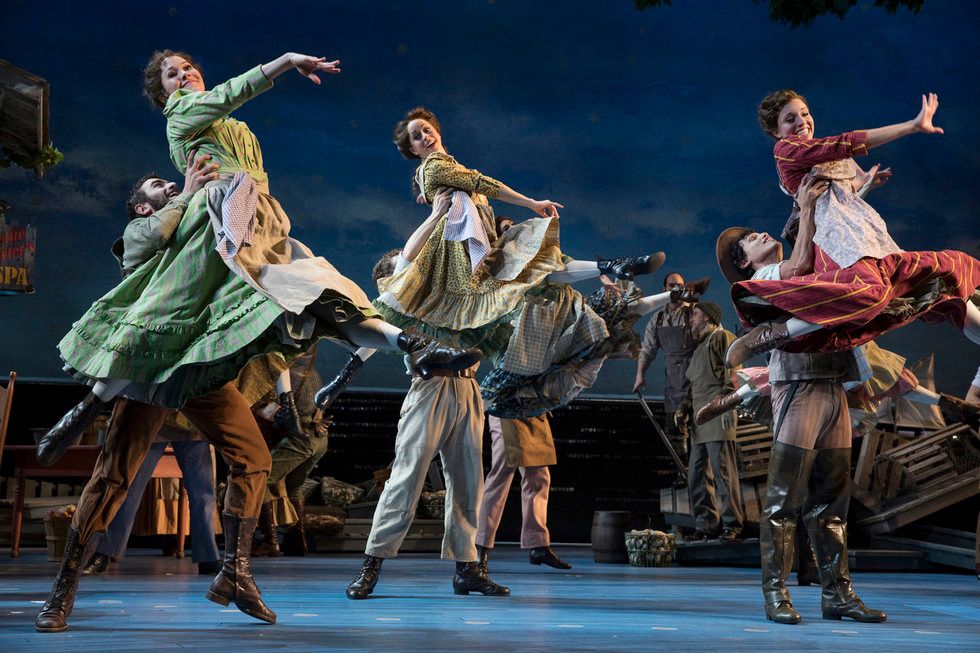 Justin Peck was nominated for a Tony for his choreography in Carousel. Photo by Julieta Cervantes, courtesy DKC/O&M
How the Process Has Been Different From Ballet
The biggest change to get used to has been performing the same role every night, says Pollack. "I have to find ways to keep my performance fresh," she says. She does this by playing around with her character, Louise. "Some nights I play her sad, some nights angry, some nights as a troubled teenager. I try to find a different motivation for each performance."
Becoming An Actress

Pollack's worked closely with acting coach Susan Batson, who also happens to be Nicole Kidman's acting coach. "She's helped me to explore the arc of my character, the free-spirited quality that she's inherited from her father, but also some of his darkness and confusion," says Pollack. "Kate Wilson, my dialect coach, has also been crucial in helping me, literally, to find Louise's voice."
On Her High-Profile Cast-Mates
"Everyone has been so down-to-earth and supportive," says Pollack. In particular, she says Renee Fleming, the opera star who plays Nettie Fowler, is always complimenting her after her dance sequence. And Pollack loves having NYCB principal Amar Ramasar in the cast. "We always warm up together before each performance. It feels like I'm back in the NYCB rehearsal room!"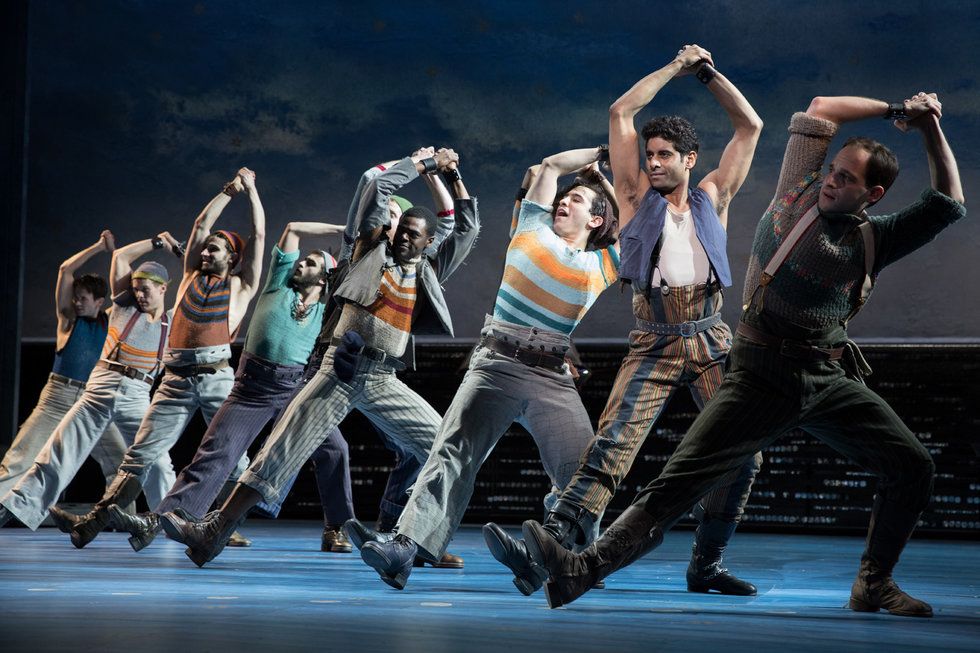 Amar Ramasar plays Jigger Craigin. Photo by Julieta Cervantes, courtesy DKC/O&M
About That Controversial Scene When Billy Strikes Louise
In the #MeToo era, Carousel's depiction of domestic violence has become freshly controversial. Pollack offers her own interpretation of the relationship between her character and her violent father: "At first Louise isn't certain who this man is, he's a complete stranger to her. But as the interaction develops, she has a disquieting sense that this man is her father. When he slaps her hand, she is shocked and she rejects him. But later, during the graduation scene, she senses that this man is, in fact, her father and he's looking down on her and giving her his love. And she senses that her mother also feels Billy's presence. So, really, it's an epiphany for both of them.
On Costume Designer Ann Roth's Gorgeous Golden Yellow Rippling Dress
"Oh, I adore that dress!" Pollack says. "It just flows with me as I dance. And it's such a delight and honor to wear a costume designed by Ann. I feel like she pulled out all the stops for me. As soon as I put on the dress, I am Louise."
From Your Site Articles
Related Articles Around the Web
The "Merde" bag. Courtesy Scenery
Jennifer Kahn knew the theater industry could do better. As a professional stage manager for 17 years she worked on regional, off-Broadway and Broadway shows. Nearly each time a show closed, something unsettling happened: "I would watch them throw away our shows. All of the beautiful artwork by my friends in the paint shop would go in the trash." The elaborate backdrops? Gone.

But she had an idea: What if the material used in the backdrops and legs could be upcycled into something new? And what if theater lovers could literally keep a piece of a beloved show?
Keep reading...
Show less
Left: Hurricane Harvey damage in Houston Ballet's Dance Lab; Courtesy Harlequin. Right: The Dance Lab pre-Harvey; Nic Lehoux, Courtesy Houston Ballet.
"The show must go on" may be a platitude we use to get through everything from costume malfunctions to stormy moods. But when it came to overcoming a literal hurricane, Houston Ballet was buoyed by this mantra to go from devastated to dancing in a matter of weeks—with the help of Harlequin Floors, Houston Ballet's longstanding partner who sprang into action to build new floors in record time.
Keep reading...
Show less
News
Oct. 18, 2019 11:54AM EST
Photo by Gabriel Davalos, Courtesy Valdés
For decades the name Alicia Alonso has been virtually synonymous with Ballet Nacional de Cuba, the company she co-founded in Havana in 1948. Alonso died on October 17, just shy of what would have been her 99th birthday. In recent years, she had stepped back from day-to-day decision-making in the company. As if preparing for the future, in January, the company's leading ballerina, 42-year-old Viengsay Valdés, was named deputy director, a job that seems to encompass most of the responsibilities of a traditional director. Now, presumably, she will step into her new role as director of the company. Her debut as curator of the repertory comes in November, when the troupe will perform three mixed bills selected by her at the Gran Teatro de la Habana Alicia Alonso. The following has been translated from a conversation conducted in Spanish, Valdés' native tongue.
Keep reading...
Show less
Sara Mearns in the gym. Photo by Kyle Froman.
New York City Ballet principal Sara Mearns wasn't sure she was strong enough. A ballerina who has danced many demanding full-length and contemporary roles, she was about to push herself physically more than she thought was possible.
"I said, 'I can't. My body won't,' " she says. "He told me, 'Yes, it will.' "
She wasn't working with a ballet coach, but with personal trainer Joel Prouty, who was asking her to do squats with a heavier barbell than she'd ever used.
Keep reading...
Show less