Inside the Summer Intensive for Broadway Choreographers-To-Be
Broadway Dance Lab's Choreography Intensive. Photo by Whitney Browne
"Go to your choreographers" is the command, and ten 20-somethings sort themselves into two groups at either side of a studio at the Baryshnikov Arts Center in midtown Manhattan. On one side they become three students gossiping in a schoolroom as another enters alone; on the other, it's a guy sauntering into a club where three women are drinking at a table.
Emma Russo, 25, is in charge there, setting up a romance; across the space, Alexia Acebo, 22, is summoning a popularity contest. Both are working to the same jazzy instrumental version of "Pennies From Heaven."
Bouncing back and forth between the two story lines is Broadway choreographer (and Tony nominee) Josh Prince, asking questions, making suggestions, offering encouragement—half mentor, half mother hen.
---
Prince is the mastermind behind the Broadway Dance Lab, a nonprofit he started in 2012 to grant working choreographers the three things they need to test ideas: studio space, time and trained dancers. Andy Blankenbuehler, Marcelo Gomes and Larry Keigwin are among those who've spent time at what Prince calls a "dance incubator."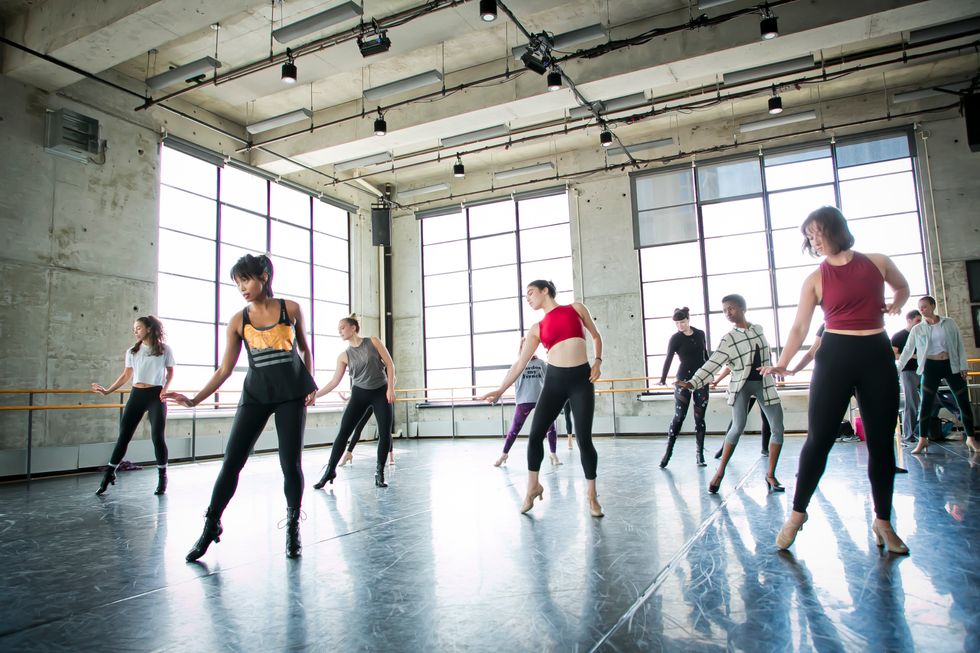 Photo by Whitney Browne
But on this summer afternoon, the choreographers are not famous. They've been chosen for BDL's first-ever Choreography Intensive and the nine women and one man have paid $1,500 each to spend a week not just honing their choreographic skills, but also discovering what life as a Broadway choreographer is all about.
"Learning how to do it, that's one thing," Prince says. "But choreographers also need to hear from dance arrangers, lighting designers, set designers—the people they will liaison with."
Nick Kepley, who was Prince's creative director, notes that the typical choreography curriculum doesn't really prepare you for "the first time you go into a room with a director and designers and producers, and suddenly there are 20 voices coming at you." The intensive, he says, shows students "the full scope of what it's like out there."
Days begin with dancing, as they do at other intensives. But here, the front of the room might be occupied by Broadway veteran Nancy Lemenager, teaching a number from How to Succeed in Business Without Really Trying; or "So You Think You Can Dance" choreographer Al Blackstone leading a jazz class.
Prince designed the program to cover multiple styles and varied approaches to storytelling. "I wanted the choreographers to physically experience different vernaculars," he says. "I also wanted them to hear from the teachers how the movement was created." So dance is followed by discussion, students sitting on the floor with notebooks in hand.
The notebooks come out again after lunch for a class with a director, casting agent, designer or other professional corralled from Prince's network. But most of the day is spent working on choreography assignments. For Russo and Acebo, the mission is to tell a story in dance about someone who finds a penny that changes their luck. And tomorrow, when Prince says, "Go to your choreographers," they will become the dancers as two of today's performers, Brianna Melroy, 23, and Sadé Murray, 21, stage a theater song ("You're Gonna Love Tomorrow," from Follies) for non-dancers.
Three different challenges await the six other fledgling choreographers: Director-choreographer Jeff Calhoun will give pointers on making a dance that centers on a prop; Blankenbuehler collaborators Jaime Verazin and Mark Stuart will help on choreographing for partners; and BDL grantee Kristen Carcone will work on creating movement-based theater. Although only two students tackle each problem, the other eight perform the results.
So, says Andrea Brodine, 23, "the rest of us are able to learn, observe and participate in the entire process."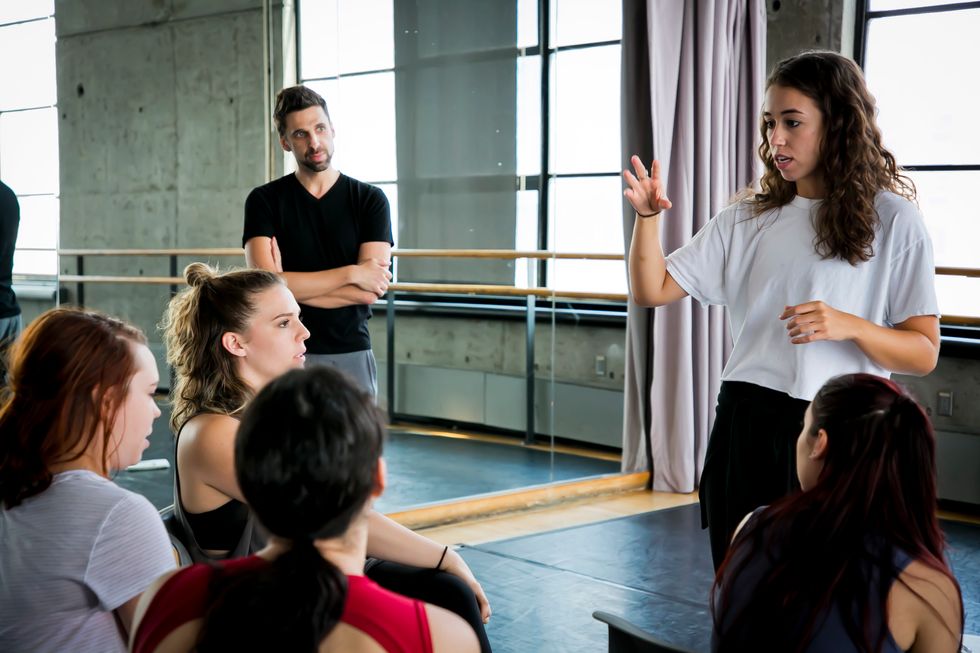 Photo by Whitney Browne
Several other theater people will share their expertise during the week. Lighting designer Burke Brown and set designer Donyale Werle will do a joint class. Choreographer JoAnn M. Hunter (School of Rock) and dance arranger David Dabbon will demonstrate the give-and-take between those who make the dances and those who make the music for them. And Beautiful director Marc Bruni will give notes on the "Pennies From Heaven" efforts ("We're sitting in that moment longer than we need to") and insight into the director-choreographer relationship. ("My biggest thing is 'Where am I supposed to be looking?' Am I looking at that place? And then, am I bored?")
There are also field trips. At the New York Public Library for the Performing Arts, Tony winner Christopher Gattelli discusses the ins and outs of choreographing revivals, with sketches from the original productions of My Fair Lady and South Pacific arrayed on the table. Before seeing Pretty Woman and touring backstage, students meet another Tony winner, director-choreographer Jerry Mitchell.
"We're getting real-time knowledge from these people," says Robert Redick, 24. "Everything they're saying, I'm just soaking it in, because I know on Monday, they're going to work."
Melroy, who graduated last year from the University of Nebraska at Kearney, says that until now, "the Broadway world had seemed like a secret club that I was never going to get the password to." Murray got the password early, touring as Young Nala in The Lion King. But she's making discoveries, too. "Follies is totally out of my style," she says. "But Josh told us just because it's a classic doesn't mean you have to choreograph it that way."
The week ends with a casual showing. Acebo has invited Cornelius Carter, director of dance at her alma mater (University of Alabama), who says later that he was struck by "the in-depth investigation that the students were allowed to do without the expectation of some kind of end result." But he adds that one end result, perhaps unintentional, of the intensive is the way it's "encouraging women to take their place among future choreographers."
Prince says amen to that, and makes a bold prediction: "Some of these students will be our next Tony winners."
The Details
Attendance: 10 last summer
Auditions: Students are selected based on choreography reels and written statements.
Timeline: One week last summer, possibly two weeks in 2019
Ages: 18–29
Housing: Not provided
From Your Site Articles
Related Articles Around the Web
Courtesy Macy's, Inc.
As you're prepping your Thanksgiving meal, why not throw in a dash of dance?
This year's Macy's Thanksgiving Day Parade is stuffed (pun intended) with performances from four stellar Broadway shows, the Radio City Rockettes and students from three New York City dance institutions.
Tune in to NBC November 28 from 9 am to noon (in all time zones), or catch the rebroadcast at 2 pm (also in all time zones). Here's what's in store:
Keep reading...
Show less
Ailey II artistic director Troy Powell teaching an Ailey Workshop at NYCDA. Courtesy NYCDA
Back in 2011 when Joe Lanteri first approached Katie Langan, chair of Marymount Manhattan College's dance department, about getting involved with New York City Dance Alliance, she was skeptical about the convention/competition world.
"But I was pleasantly surprised by the enormity of talent that was there," she says. "His goal was to start scholarship opportunities, and I said okay, I'm in."
Today, it's fair to say that Lanteri has far surpassed his goal of creating scholarship opportunities. But NYCDA has done so much more, bridging the gap between the convention world and the professional world by forging a wealth of partnerships with dance institutions from Marymount to The Ailey School to Complexions Contemporary Ballet and many more. There's a reason these companies and schools—some of whom otherwise may not see themselves as aligned with the convention/competition world—keep deepening their relationships with NYCDA.
Now, college scholarships are just one of many ways NYCDA has gone beyond the typical weekend-long convention experience and created life-changing opportunities for students. We rounded up some of the most notable ones:
Keep reading...
Show less
Sergei Polunin. Photo by British Broadcasting Corporation and Polunin Ltd., Courtesy Sundance Selects.
Last week, Variety reported that Sergei Polunin would reunite with the team behind Dancer for another documentary. "Where 'Dancer' looked at his whole life, family and influences," director Steven Cantor said, " 'Satori' will focus more squarely on his creative process as performer and, for the first time ever, choreographer." The title references a poorly received evening of work by the same name first presented by Polunin in 2017. (It recently toured to Moscow and St. Petersburg.)
I cannot be the only person wondering why we should care.
Keep reading...
Show less
Left: Hurricane Harvey damage in Houston Ballet's Dance Lab; Courtesy Harlequin. Right: The Dance Lab pre-Harvey; Nic Lehoux, Courtesy Houston Ballet.
"The show must go on" may be a platitude we use to get through everything from costume malfunctions to stormy moods. But when it came to overcoming a literal hurricane, Houston Ballet was buoyed by this mantra to go from devastated to dancing in a matter of weeks—with the help of Harlequin Floors, Houston Ballet's longstanding partner who sprang into action to build new floors in record time.
Keep reading...
Show less