Why This Brooklyn Dance Company Is Putting on a Bike Tour
Kevin Joseph (center) during Bike East. Photo by Ian Lyn Photography, Courtesy Purelements
What does cycling have to do with dancing?
For Purelements: An Evolution in Dance co-founder Kevin Joseph, it's all about freedom: "That freedom of moving through space on a bike is the same freedom I feel when I'm dancing," he says. And that sense of freedom—whether it's in the studio or in the streets—is something that Purelements is determined to give to its East Brooklyn community.
---
Joseph got into competitive cycling late into his dance career. "I guess it was part of my midlife crisis," he jokes.
He'd always loved riding bikes, and when he noticed how few black men rode competitively, he decided to start entering local duathlon races (the sprint distance, which includes four miles of running and 10 miles of cycling). He took to it naturally—and ended up placing second in his age category more than once.
Part of his success was due to his dance background. He was already used to treating his body like an athlete, giving it the fuel it needs, pushing its limits to grow stronger and taking care of it to prevent injury.
"The other cyclists would see me stretching sometimes in the grass and be like, How do you know how to do that?" he says. "I'd tell them I was a dancer for 25 years. And then they would join me on the grass."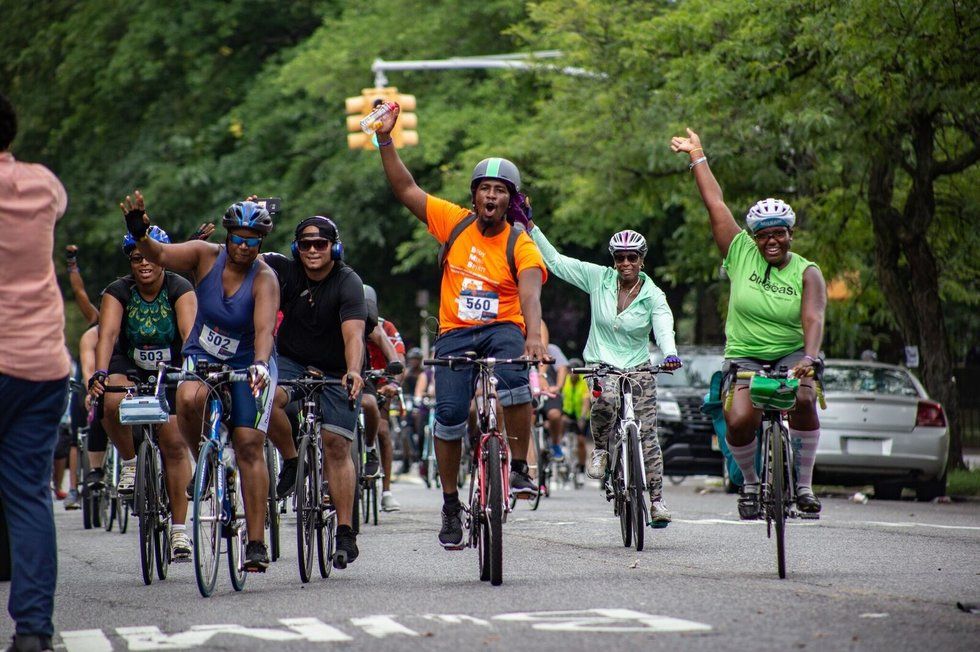 Bike East
Ian Lyn Photography
Back at his day job as co-executive artistic director of Purelements, Joseph and his business partner Lakai Worrell were always looking for ways that the company could provide opportunities for their historically neglected East Brooklyn community "to see life in a different way," says Joseph.
For the past 13 years, that's mostly meant providing access to dance and arts in schools. But as Joseph began to get more into riding, he realized that while not everyone is a dancer or artist, we can all find a sense of freedom through being active.
So six years ago Purelements launched the Bike East Bike Tour & Active Lifestyle Fair, a free 20-mile community bike tour paired with a day of free group fitness classes. This year's edition takes place on August 19, starting in Linden Park, Brooklyn.
"I don't think communities like ours have been afforded the opportunity of emotional healing," says Joseph. "We've been stricken by a lack of resources for decades. People have been convinced that the only things that matter are that you go to work, put food on the table, make sure you're grinding."
He and Worrell are ready to see that change. "Whether it be dance, which is our sense of freedom and healing, or biking, if we can provide that access for our community, and give them a chance to pay attention to their physical and emotional health, that's our goal."
Related Articles Around the Web
Alicia Alonso with Igor Youskevitch. Sedge Leblang, Courtesy Dance Magazine Archives.
Her Dying Swan was as fragile as her Juliet was rebellious; her Odile, scheming, her Swanilda, insouciant. Her Belle was joyous, and her Carmen, both brooding and full-blooded. But there was one role in particular that prompted dance critic Arnold Haskell to ask, "How do you interpret Giselle when you are Giselle?"
At eight, Alicia Alonso took her first ballet class on a stage in her native Cuba, wearing street clothes. Fifteen years later, put in for an ailing Alicia Markova in a performance of Giselle at New York's Metropolitan Opera House, she staked her claim to that title role.
Alonso received recognition throughout the world for her flawless technique and her ability to become one with the characters she danced, even after she became nearly blind. After a career in New York, she and her then husband Fernando Alonso established the Cuban National Ballet and the Cuban National Ballet School, both of which grew into major international dance powerhouses and beloved institutions in their home country. On October 17, the company announced that, after leading the company for a remarkable 71 years, Alonso died from cardiovascular disease at the age of 98.
Keep reading...
Show less
News
Oct. 17, 2019 02:02PM EST
Rauf "RubberlLegz" Yasit and Parvaneh Scharafali. Photo by Mohamed Sadek, courtesy The Shed
William Forsythe is bringing his multi-faceted genius to New York City in stripped down form. His "Quiet Evening of Dance," a mix of new and recycled work now at The Shed until October 25, is co-commissioned with Sadler's Wells in London (and a slew of European presenters).
As always, Forsythe's choreography is a layered experience, both kinetic and intellectual. This North American premiere prompted many thoughts, which I whittled down to seven.
Keep reading...
Show less
News
Oct. 17, 2019 01:39PM EST
Courtesy NBC
"Law & Order: SVU" has dominated the crime show genre for 21 seasons with its famous "ripped from the headlines" strategy of taking plot inspiration from real-life crimes.
So viewers would be forgiven for assuming that the new storyline following the son of Mariska Hargitay's character into dance class originated in the news cycle. After all, the mainstream media widely covered the reaction to Lara Spencer's faux pas on "Good Morning America" in August, when she made fun of Prince George for taking ballet class.
But it turns out, the storyline was actually the idea of the 9-year-old actor, Ryan Buggle, who plays Hargitay's son. And he came up with it before Spencer ever giggled at the word ballet.
Keep reading...
Show less