Why This Brooklyn Dance Company Is Putting on a Bike Tour
Kevin Joseph (center) during Bike East. Photo by Ian Lyn Photography, Courtesy Purelements
What does cycling have to do with dancing?
For Purelements: An Evolution in Dance co-founder Kevin Joseph, it's all about freedom: "That freedom of moving through space on a bike is the same freedom I feel when I'm dancing," he says. And that sense of freedom—whether it's in the studio or in the streets—is something that Purelements is determined to give to its East Brooklyn community.
---
Joseph got into competitive cycling late into his dance career. "I guess it was part of my midlife crisis," he jokes.
He'd always loved riding bikes, and when he noticed how few black men rode competitively, he decided to start entering local duathlon races (the sprint distance, which includes four miles of running and 10 miles of cycling). He took to it naturally—and ended up placing second in his age category more than once.
Part of his success was due to his dance background. He was already used to treating his body like an athlete, giving it the fuel it needs, pushing its limits to grow stronger and taking care of it to prevent injury.
"The other cyclists would see me stretching sometimes in the grass and be like, How do you know how to do that?" he says. "I'd tell them I was a dancer for 25 years. And then they would join me on the grass."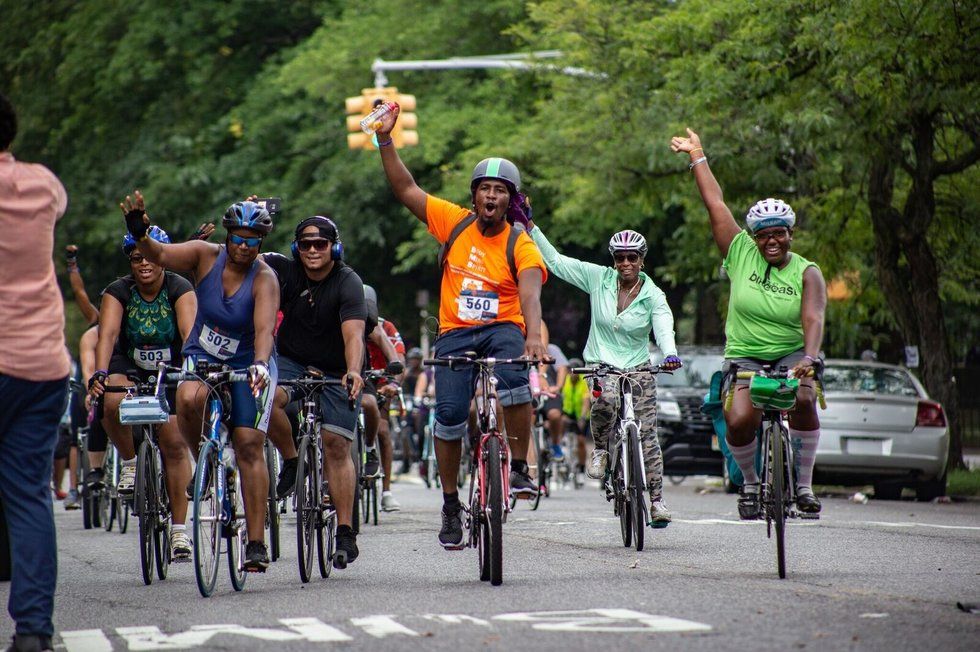 Bike East
Ian Lyn Photography
Back at his day job as co-executive artistic director of Purelements, Joseph and his business partner Lakai Worrell were always looking for ways that the company could provide opportunities for their historically neglected East Brooklyn community "to see life in a different way," says Joseph.
For the past 13 years, that's mostly meant providing access to dance and arts in schools. But as Joseph began to get more into riding, he realized that while not everyone is a dancer or artist, we can all find a sense of freedom through being active.
So six years ago Purelements launched the Bike East Bike Tour & Active Lifestyle Fair, a free 20-mile community bike tour paired with a day of free group fitness classes. This year's edition takes place on August 19, starting in Linden Park, Brooklyn.
"I don't think communities like ours have been afforded the opportunity of emotional healing," says Joseph. "We've been stricken by a lack of resources for decades. People have been convinced that the only things that matter are that you go to work, put food on the table, make sure you're grinding."
He and Worrell are ready to see that change. "Whether it be dance, which is our sense of freedom and healing, or biking, if we can provide that access for our community, and give them a chance to pay attention to their physical and emotional health, that's our goal."
Related Articles Around the Web
Michelle Dorrance. Photo by Jayme Thornton
What do Percy Jackson, Princess Diana and Tina Turner have in common? They're all characters on Broadway this season. Throw in Michelle Dorrance's choreographic debut, Henry VIII's six diva-licious wives and the 1990s angst of Alanis Morissette, and the 2019–20 season is shaping up to be an exciting mix of past-meets-pop-culture-present.
Here's a look at the musicals hitting Broadway in the coming months. We're biding our time until opening night!

Keep reading...
Show less
UA Dance Ensemble members Candice Barth and Gregory Taylor in Jessica Lang's "Among the Stars." Photo by Ed Flores, courtesy University of Arizona
If you think becoming a trainee or apprentice is the only path to gaining experience in a dance company environment, think again.
The University of Arizona, located in the heart of Tucson, acclimates dancers to the pace and rigor of company life while offering all the academic opportunities of a globally-ranked university. If you're looking to get a head-start on your professional dance career—or to just have a college experience that balances company-level training and repertory with rigorous academics—the University of Arizona's undergraduate and graduate programs have myriad opportunites to offer:
Keep reading...
Show less
Alice Sheppard/Kinetic Light in DESCENT, which our readers chose as last year's "Most Moving Performance." Photo by Jay Newman, courtesy Kinetic Light
Yes, we realize it's only August. But we can't help but to already be musing about all the incredible dance happenings of 2019.
We're getting ready for our annual Readers' Choice feature, and we want to hear from you about the shows you can't stop thinking about, the dance videos that blew your mind and the artists you discovered this year who everyone should know about.
Keep reading...
Show less
Getty Images
Ah, stretching. It seems so simple, and is yet so complicated.
For example: You don't want to overstretch, but you're not going to see results if you don't stretch enough. You want to focus on areas where you're tight, but you also can't neglect other areas or else you'll be imbalanced. You were taught to hold static stretches growing up, but now everyone is telling you never to hold a stretch longer than a few seconds?
Considering how important stretching correctly is for dancers, it's easy to get confused or overwhelmed. So we came up with 10 common stretching scenarios, and gave you the expert low-down.
Keep reading...
Show less