Why This Brooklyn Dance Company Is Putting on a Bike Tour
Kevin Joseph (center) during Bike East. Photo by Ian Lyn Photography, Courtesy Purelements
What does cycling have to do with dancing?
For Purelements: An Evolution in Dance co-founder Kevin Joseph, it's all about freedom: "That freedom of moving through space on a bike is the same freedom I feel when I'm dancing," he says. And that sense of freedom—whether it's in the studio or in the streets—is something that Purelements is determined to give to its East Brooklyn community.
---
Joseph got into competitive cycling late into his dance career. "I guess it was part of my midlife crisis," he jokes.
He'd always loved riding bikes, and when he noticed how few black men rode competitively, he decided to start entering local duathlon races (the sprint distance, which includes four miles of running and 10 miles of cycling). He took to it naturally—and ended up placing second in his age category more than once.
Part of his success was due to his dance background. He was already used to treating his body like an athlete, giving it the fuel it needs, pushing its limits to grow stronger and taking care of it to prevent injury.
"The other cyclists would see me stretching sometimes in the grass and be like, How do you know how to do that?" he says. "I'd tell them I was a dancer for 25 years. And then they would join me on the grass."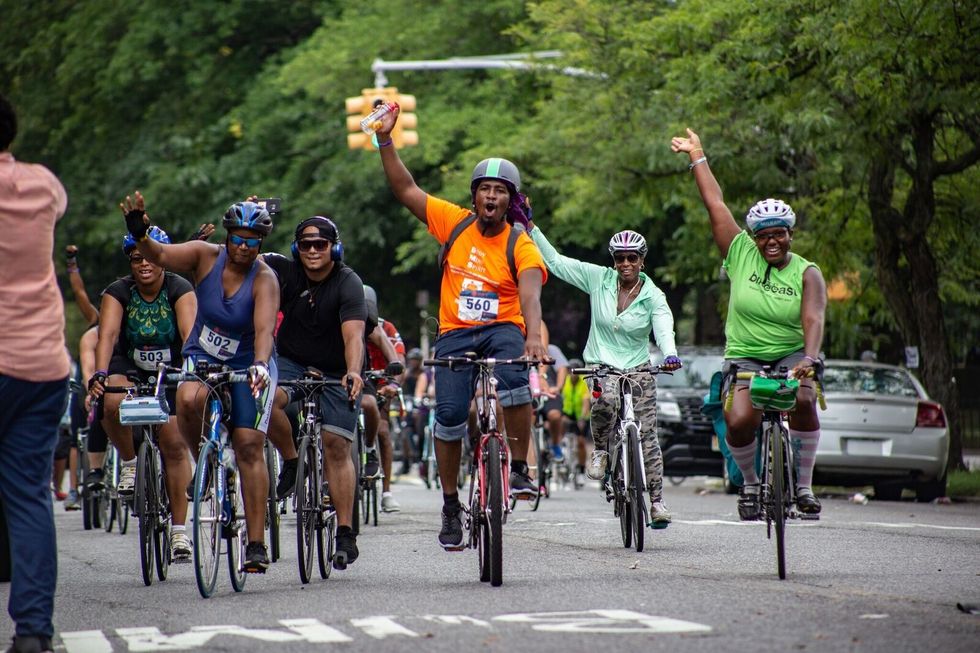 Bike East
Ian Lyn Photography
Back at his day job as co-executive artistic director of Purelements, Joseph and his business partner Lakai Worrell were always looking for ways that the company could provide opportunities for their historically neglected East Brooklyn community "to see life in a different way," says Joseph.
For the past 13 years, that's mostly meant providing access to dance and arts in schools. But as Joseph began to get more into riding, he realized that while not everyone is a dancer or artist, we can all find a sense of freedom through being active.
So six years ago Purelements launched the Bike East Bike Tour & Active Lifestyle Fair, a free 20-mile community bike tour paired with a day of free group fitness classes. This year's edition takes place on August 19, starting in Linden Park, Brooklyn.
"I don't think communities like ours have been afforded the opportunity of emotional healing," says Joseph. "We've been stricken by a lack of resources for decades. People have been convinced that the only things that matter are that you go to work, put food on the table, make sure you're grinding."
He and Worrell are ready to see that change. "Whether it be dance, which is our sense of freedom and healing, or biking, if we can provide that access for our community, and give them a chance to pay attention to their physical and emotional health, that's our goal."
Related Articles Around the Web
Rehearsal of Yvonne Rainer's Parts of Some Sextets. Photo by Paula Court, Courtesy Performa.
Yvonne Rainer's Parts of Some Sextets (AKA "the mattress dance") hasn't been revived since it premiered in 1965. Nor has Rainer had any wish to do it again, to ask performers to heave 10 mattresses around while carrying out 31 tasks that changed every 30 seconds. It was an unwieldy, difficult dance. (Even the title is unwieldy.) But Emily Coates, who has danced in Rainer's work for 20 years, became curious about this piece and was determined to see it again—and to dance in it. She will get her wish November 15–17, when the mattress dance will be performed as part of the Performa 19 Biennial.
Keep reading...
Show less
Ailey II artistic director Troy Powell teaching an Ailey Workshop at NYCDA. Courtesy NYCDA
Back in 2011 when Joe Lanteri first approached Katie Langan, chair of Marymount Manhattan College's dance department, about getting involved with New York City Dance Alliance, she was skeptical about the convention/competition world.
"But I was pleasantly surprised by the enormity of talent that was there," she says. "His goal was to start scholarship opportunities, and I said okay, I'm in."
Today, it's fair to say that Lanteri has far surpassed his goal of creating scholarship opportunities. But NYCDA has done so much more, bridging the gap between the convention world and the professional world by forging a wealth of partnerships with dance institutions from Marymount to The Ailey School to Complexions Contemporary Ballet and many more. There's a reason these companies and schools—some of whom otherwise may not see themselves as aligned with the convention/competition world—keep deepening their relationships with NYCDA.
Now, college scholarships are just one of many ways NYCDA has gone beyond the typical weekend-long convention experience and created life-changing opportunities for students. We rounded up some of the most notable ones:
Keep reading...
Show less
Left: Hurricane Harvey damage in Houston Ballet's Dance Lab; Courtesy Harlequin. Right: The Dance Lab pre-Harvey; Nic Lehoux, Courtesy Houston Ballet.
"The show must go on" may be a platitude we use to get through everything from costume malfunctions to stormy moods. But when it came to overcoming a literal hurricane, Houston Ballet was buoyed by this mantra to go from devastated to dancing in a matter of weeks—with the help of Harlequin Floors, Houston Ballet's longstanding partner who sprang into action to build new floors in record time.
Keep reading...
Show less