Why This Brooklyn Dance Company Is Putting on a Bike Tour
Kevin Joseph (center) during Bike East. Photo by Ian Lyn Photography, Courtesy Purelements
What does cycling have to do with dancing?
For Purelements: An Evolution in Dance co-founder Kevin Joseph, it's all about freedom: "That freedom of moving through space on a bike is the same freedom I feel when I'm dancing," he says. And that sense of freedom—whether it's in the studio or in the streets—is something that Purelements is determined to give to its East Brooklyn community.
---
Joseph got into competitive cycling late into his dance career. "I guess it was part of my midlife crisis," he jokes.
He'd always loved riding bikes, and when he noticed how few black men rode competitively, he decided to start entering local duathlon races (the sprint distance, which includes four miles of running and 10 miles of cycling). He took to it naturally—and ended up placing second in his age category more than once.
Part of his success was due to his dance background. He was already used to treating his body like an athlete, giving it the fuel it needs, pushing its limits to grow stronger and taking care of it to prevent injury.
"The other cyclists would see me stretching sometimes in the grass and be like, How do you know how to do that?" he says. "I'd tell them I was a dancer for 25 years. And then they would join me on the grass."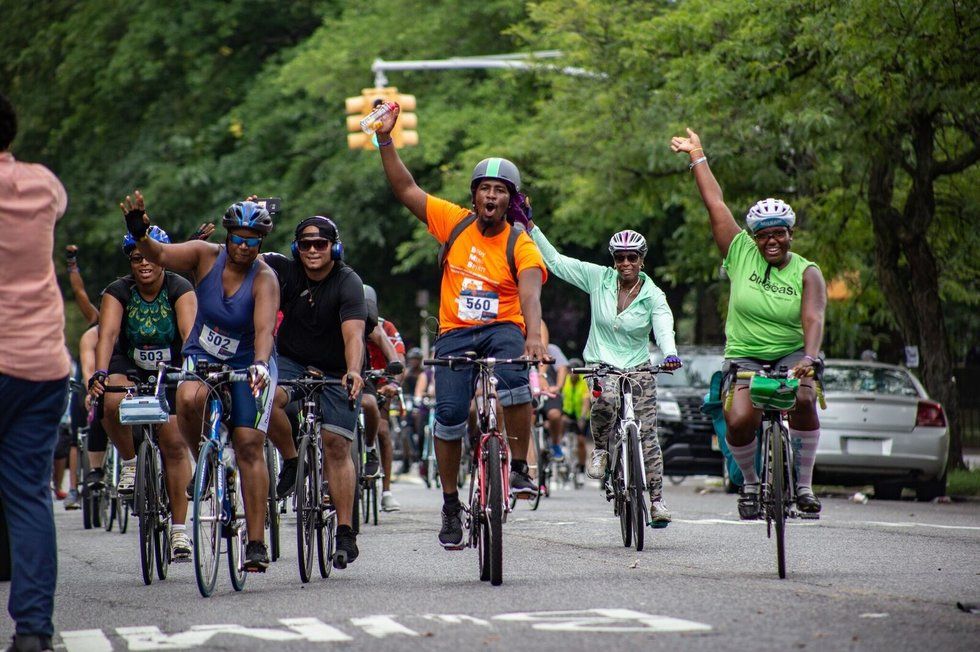 Bike East
Ian Lyn Photography
Back at his day job as co-executive artistic director of Purelements, Joseph and his business partner Lakai Worrell were always looking for ways that the company could provide opportunities for their historically neglected East Brooklyn community "to see life in a different way," says Joseph.
For the past 13 years, that's mostly meant providing access to dance and arts in schools. But as Joseph began to get more into riding, he realized that while not everyone is a dancer or artist, we can all find a sense of freedom through being active.
So six years ago Purelements launched the Bike East Bike Tour & Active Lifestyle Fair, a free 20-mile community bike tour paired with a day of free group fitness classes. This year's edition takes place on August 19, starting in Linden Park, Brooklyn.
"I don't think communities like ours have been afforded the opportunity of emotional healing," says Joseph. "We've been stricken by a lack of resources for decades. People have been convinced that the only things that matter are that you go to work, put food on the table, make sure you're grinding."
He and Worrell are ready to see that change. "Whether it be dance, which is our sense of freedom and healing, or biking, if we can provide that access for our community, and give them a chance to pay attention to their physical and emotional health, that's our goal."
Related Articles Around the Web
Chantelle Pianetta competing at a West Coast swing event. Courtesy Pianetta.
Just hearing the word "improvisation" is enough to make some ballet dancers shake in their pointe shoes. But for Chantelle Pianetta, it's a practice she relishes. Depending on the weekend, you might find her gracing Bay Area stages as a principal with Menlowe Ballet or sweeping in awards at West Coast swing competitions.

She specializes in Jack and Jill events, which involve improvised swing dancing with an unexpected partner in front of a panel of judges. (Check her out in action below.) While sustaining her ballet career, over the past four years Pianetta has quickly risen from novice to champion level on the WCS international competition circuit.
Keep reading...
Show less
Jayme Thornton
Sean Dorsey was always going to be an activist. Growing up in a politically engaged, progressive family in Vancouver, British Columbia, "it was my heart's desire to create change in the world," he says. Far less certain was his future as a dancer.
Like many dancers, Dorsey fell in love with movement as a toddler. However, he didn't identify strongly with any particular gender growing up. Dorsey, who now identifies as trans, says, "I didn't see a single person like me anywhere in the modern dance world." The lack of trans role models and teachers, let alone all-gender studio facilities where he could feel safe and welcome, "meant that even in my wildest dreams, there was no room for that possibility."
Keep reading...
Show less
Getty Images
It's hour three of an intense rehearsal, you're feeling mentally foggy and exhausted, and your stomach hurts. Did you know the culprit could be something as simple as dehydration?
Proper hydration helps maintain physical and mental function while you're dancing, and keeps your energy levels high. But with so many products on the market promising to help you rehydrate more effectively, how do you know when it's time to reach for more than water?
Keep reading...
Show less