My Career Was Taking Off, But My Life Was In Danger: Camille A. Brown Shares Her Untold Story
Whitney Browne, Courtesy CABD
It was one of the most exciting times of my career. I was in the midst of creating the last installment of my trilogy on identity—ink—which would be my company's Kennedy Center debut, and just booked my first Broadway musical, Once On This Island. ink would premiere on December 2, and OOTI would open on December 3.
Personally, I was going through a bit of mourning. I had just turned 37 and was really doubting my abilities as a dancer. The work wasn't getting easier, and I felt like I would have to make a decision soon about whether to retire.
It was a lot to navigate—the highs of success, and the lows of inevitable change. Little did I know, nothing would compare to the life-threatening health issues I was about to battle in the midst of it all.
---
We sometimes live dual lives—the life people see from the outside, and the quiet battles that only our family and friends know about.
The outside eye saw the success of Once On This Island, Jesus Christ Superstar Live, ink and my cover on Dance Magazine. But over the course of 2017 and 2018, my appendix ruptured twice, I was in the hospital at least four times, and had two surgeries. For over a year, my attire consisted of baggy clothes to hide my stomach, PICC line, and bandages.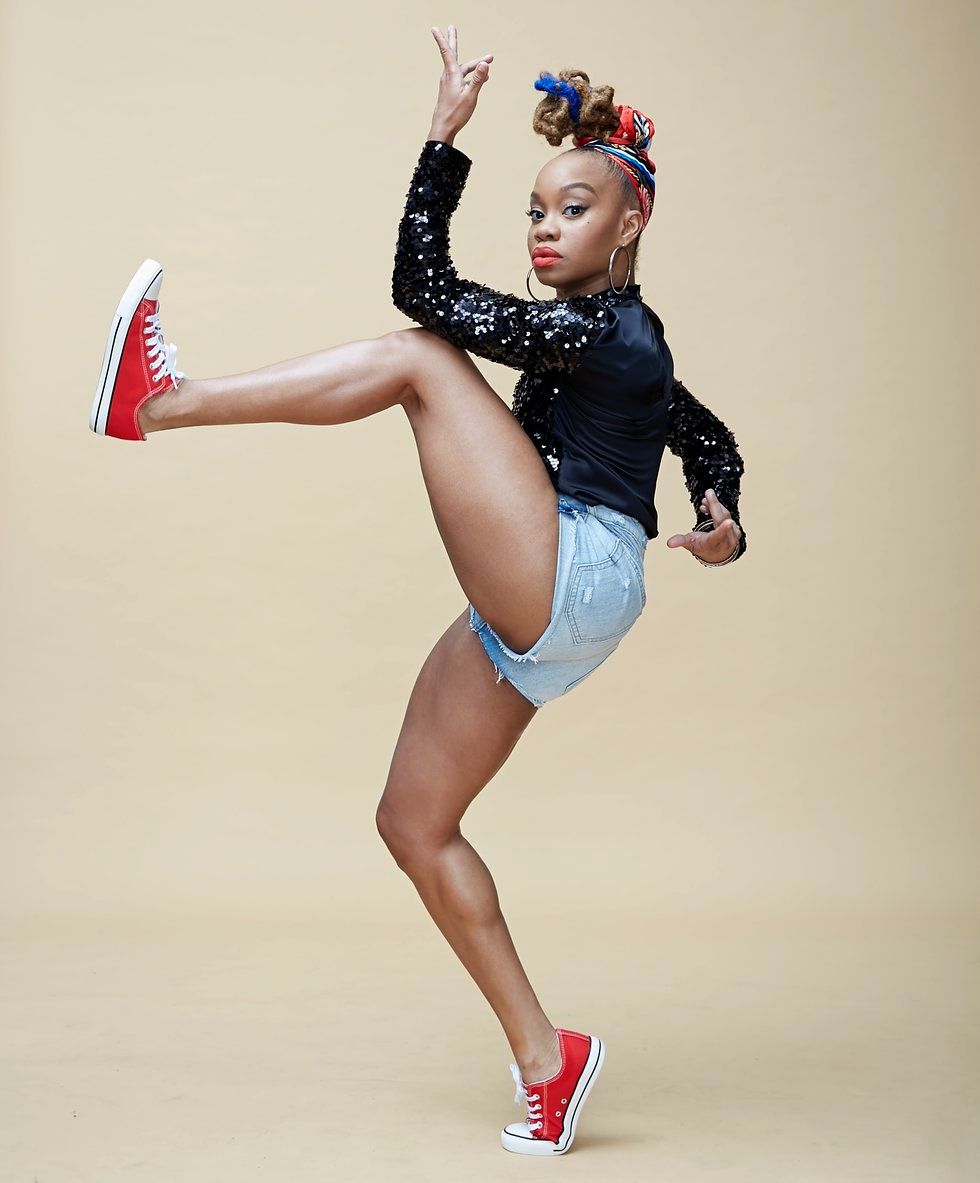 Whitney Browne
It began February of 2017. While running auditions for the upcoming, BELLA: An American Tall Tale, I started feeling queasy. It seemed to subside and I headed to North Carolina that night for CABD's tour. I was told there was a bug going around, so I assumed any new symptoms were connected to what was spreading.
During our warmup, I felt (what I thought was) muscular pain, and decided to take it easy during the show. We traveled to Mississippi for performances the next day.
After checking into the hotel, that pain seemed to have focused itself on one area. Since it was where my appendix was, I called my production stage manager, Robert McIntyre, and friend Juel D. Lane, and told them I needed to go to the emergency room.
After tests, long hours, and a lot of morphine, the doctor said my test results showed an appendix rupture and it looked like the fluid had been in my system for more than seven days. He then said this is usually fatal after just five days. There was no time to react, only to listen. In order to remove the fluid from my body, they would have to insert a drainage bag that would be attached for one month.
While I was in the hospital for two days, my team, dancers and musicians worked to revise our show so they could still perform. They are magical!
Back home, I met with surgeon James Satterfield, who explained that because my appendix had already ruptured (and I survived), he wanted it to heal on its own. I was not able to dance or do anything physical, but I could still attend any meetings I had set up.
Once On This Island was about to be in full swing, and as I met with director Michael Arden and the team, the whole time I was thinking how crazy it was sitting there with a drainage bag, not knowing where I was health-wise. If the doctors said many don't survive a ruptured appendix, what did that mean for my future?
A month later, the bag was removed, and the company was about to head to Jacob's Pillow for a residency. I was really excited to dig into our new work, ink.
A couple days before leaving, I developed a fever and my mom immediately took me to the ER. The fluid had not all drained out of my system from the rupture. I would have to do IV infusion three times a day for two to three weeks. Sticking to my designated hours was vital to survival.
By this point, my stress levels had reached a new tier. The premiere of ink was fast approaching and I didn't have many chances to put the work together. I connected with my concert dance agent, Pamela Green, and we decided the dancers would still travel to Jacob's Pillow. I sent them assignments each day from my hospital bed. The dancers sent videos at the end of their days and I provided feedback.
Once again, this amazing group of people rose to the occasion.
Oddly, I still thought I'd be able to meet them at The Pillow once I got out. Who was I kidding? I told myself to have several seats.
My IV regimen coincided with rehearsals for BELLA, so director Robert O'Hara graciously worked around my schedule. I was able to sit during rehearsals while my associate, Rickey Tripp, translated the movements I was doing from my chair.
My full recovery took about six weeks. Afterwards, I started training again for CABD's shows.
On August 30, our third day of rehearsal for Once On This Island, the cast was learning music, and the creative team met upstairs. Suddenly, I felt the need to sit down.
My appendix had ruptured again. I called my theater agent, Michael Moore, in tears. This was my first musical on Broadway. Why is my body doing this now? I was in pain and afraid. I couldn't get out of bed even if I tried. I was new to the theater scene, so it would have been very easy for another choreographer to be hired.
When the doctors told me I would be in the hospital for at least a week, I called director Michael Arden, and prepared for him to say it wasn't going to work out. To my surprise, he was extremely supportive and he, Rickey, and assistant choreographer Catherine Foster checked in daily.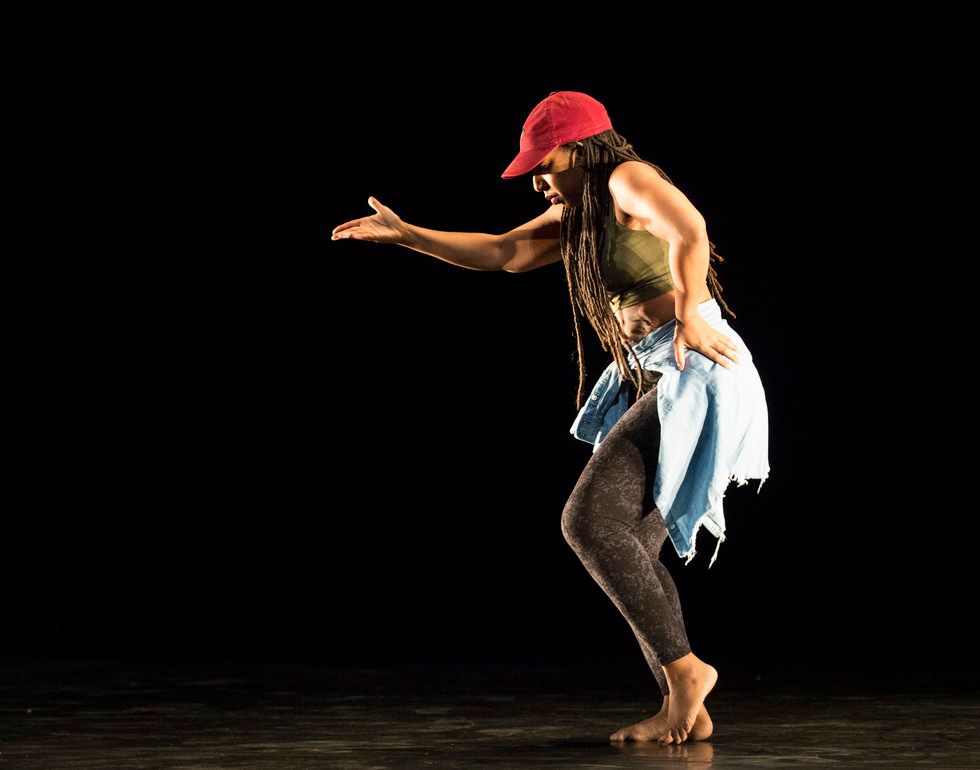 Catherine Foster in ink
Marina Levitskaya
I was able to return in time for the last couple days of the lab, and drafted three numbers. We had a two-week break before official rehearsals began. During this time, my company had a performance at Hobart and William Smith Colleges. I couldn't perform, but used our rehearsal time to work on both ink and reconstruct the OOTI numbers. I felt like I had lost so much time, and worked to make up for it.
Before we started OOTI again, I visited the surgeon, and found out that my twice-ruptured appendix had to come out within the next six to eight weeks.
By this time, I had cried so much from frustration and fear that I had no more tears—I just had to face facts.
We came up with a plan for me to have the surgery the first day of tech. Rickey and Cat would represent the choreography department while I was away, and I would make my changes during previews.
The recovery time from my surgery was horrible. I couldn't walk and had to sleep sitting up for two days. All I had was time, so while at home healing, I worked on a strategy to make adjustments in OOTI. There was no room for error or investigation.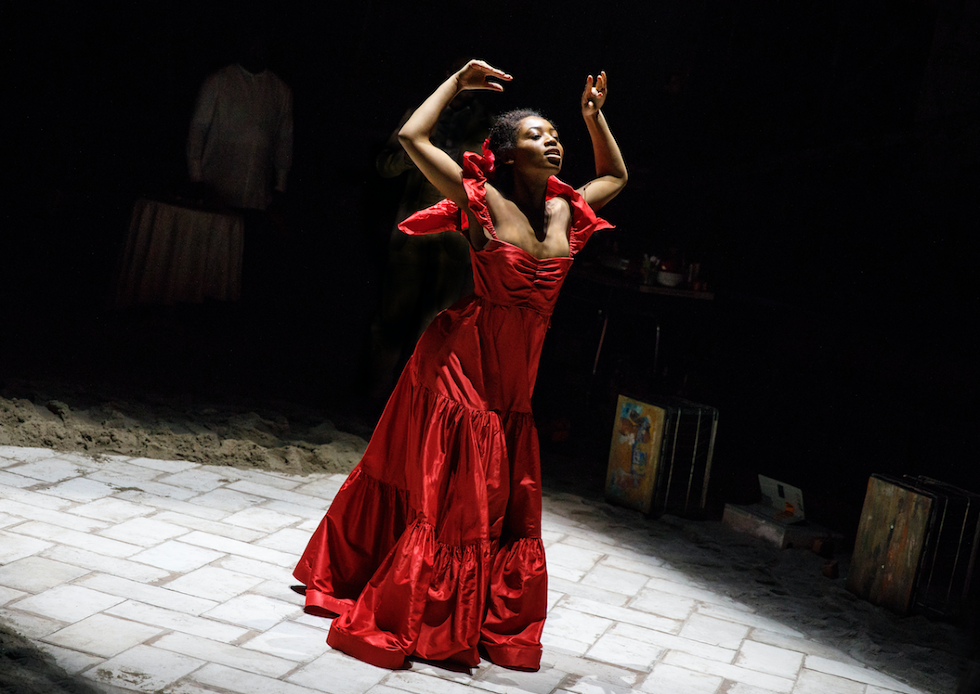 Joan Marcus, Courtesy Once On This Island
ink premiered December 2 and OOTI opened December 3.
It had been a month since surgery. Since the solo I performed in ink was done sitting in a chair, I was still able to dance—or at least do an abbreviated version. My performance had to come down to intention. That's all that mattered and all I could really do. I also had to wear a sweater for the Dance Magazine cover shoot in January to hide my bandages and I couldn't jump for any of the pictures. I was so frustrated. Now was the time to give my all. The cover of Dance Magazine?! My body had other plans.
In February, I was in rehearsals for Jesus Christ Superstar Live, and noticed that there was a huge knot in my stomach that looked like a tennis ball. It turns out that one of my incisions opened and I had to have surgery again.
Over the summer, CABD was on break, but I was working on several theater projects. It had been over a year since my initial crisis and I was tired of feeling crazy. I hadn't engaged my core in so long because I couldn't. Now, out of the woods, I wanted to be in top shape for CABD's Dallas engagement in August.
I contacted Rodrick Covington, one of the actors in OOTI. He was a trainer for Core Rhythm Fitness. As the weeks went by, I felt my body changing. I was getting stronger. His training program not only helped me physically, but mentally, too.
It was a whirlwind of so many emotions I'm still processing to this day.
The health experience taught me lessons about aging and leadership.
Before I got sick, I was harping on what I was possibly losing as a dancer because of my age. It's interesting how quickly you redefine youth and aging when put in debilitating circumstances. At 39, I'm celebrating my wisdom and intention.
People often ask me what I look for in a dancer. The answer is: A leader. Each person held CABD down and protected me. Led by CABD's incomparable managing director Indira Goodwine, they were my leaders, bodyguards and my unshakable community. They had my back.
Courage and leadership is a ping pong. You're constantly riffing off of, guiding and learning through it all.
Every day, I went home fearing a possible visit to the ER. It's crazy how you can be facing death when you're trying to breathe life into a thing. Somehow, through all of that, my family, friends, theater choreo teams and company made me smile, laugh and push through the unknown. The best bodyguards really do protect you.
After my first surgery, I was having a hard time walking and was giving up. I just wanted to lie down. My mom and choreographer, Marlies Yearby, told me, "You have to tell your body what you want it to do."
I've learned to approach my career just like that. I have to tell the universe what I want. I almost lost my life last year, and now it's time to live.
Related Articles Around the Web
From Your Site Articles
A still from the documentary American Tap
Thirty years ago, U.S. Joint Resolution 131, introduced by congressman John Conyers (D-MI) and Senator Alphonse D'Amato (R-NY), and signed into law by President G. W. Bush declared:
"Whereas the multifaceted art form of tap dancing is a manifestation of the cultural heritage of our Nation...
Whereas tap dancing is a joyful and powerful aesthetic force providing a source of enjoyment and an outlet for creativity and self-expression...
Whereas it is in the best interest of the people of our Nation to preserve, promote, and celebrate this uniquely American art form...
Whereas May 25, as the anniversary of the birth of Bill "Bojangles" Robinson is an appropriate day on which to refocus the attention of the Nation on American tap dancing: Now therefore, be it resolved by the Senate and House of Representatives of the United States of America in Congress that May 25, 1989, be designated "National Tap Dance Day."
Happy National Tap Dance Day!
Keep reading...
Show less
Hive by Boston Conservatory student Alyssa Markowitz. Photo by Jim Coleman
The way we create and consume dance is changing every day. Now more than ever, the field demands that dancers not only be able to perform at the highest level, but also collaborate with choreographers to bring their artistic visions to life. Dancers who miss out on choreographic training may very well find themselves at a disadvantage as they try to launch their careers.

Keep reading...
Show less
James Fosberg, courtesy Mason
Over the past 15 years, Gesel Mason has asked 11 choreographers—including legends like Donald McKayle, David Roussève, Bebe Miller, Jawole Willa Jo Zollar, Rennie Harris and Kyle Abraham—to teach her a solo. She's performed up to seven of them in one evening for her project No Boundaries: Dancing the Visions of Contemporary Black Choreographers.
Now, Mason is repackaging the essence of this work into a digital archive. This online offering shares the knowledge of a few with many, and considers how dance can live on as those who create it get older.
Keep reading...
Show less
News
May. 22, 2019 05:57PM EST
Fox produced a live broadcast of Rent in January—but could an original musical be next? Photo by Kevin Estrada, Courtesy Fox
When a musical prepares to make the transfer from a smaller, lesser-known venue to Broadway (where theaters hold 500-plus seats), often there's a collective intake of breath from all involved. After all, a bigger house means more tickets to sell in order to stay in the black, and sometimes shows with even the most tenacious fan bases can't quite navigate such a jump. But what about the transfer from stage…to screen? Is Broadway ready to be consumed from the comfort of your couch?
Keep reading...
Show less
Last year's winner: Manuel Vignoulle's EARTH. Jack Hartin Photography, Courtesy McCallum Theatre
It's not often that a promising choreographer gets to stage work in a world-class theater, on a skillfully-curated program with professional dancers, and with the possibility of winning a substantial cash prize. But at the McCallum Theatre's Palm Desert Choreography Festival, that's been the status quo for over twenty years.
Since Shea New, the festival's artistic director, founded the festival in 1998, she's worked tirelessly with McCallum's director of education and festival producer, Kajsa Thuresson-Frary, and stage manager and festival production manager Joanna Fookes to build a festival that nurtures choreographers, highlights high quality work, powerfully engages the local community and cultivates an audience base for dance in the Coachella Valley. The trio is backed by a strong team of professionals at McCallum and the brilliant volunteers from the local and national level who serve as adjudicators.
Keep reading...
Show less
Get Dance Magazine in your inbox
Courtesy Lee
Daphne Lee was dancing with Collage Dance Collective in Memphis, Tennessee, when she received two difficult pieces of news: Her mother had been diagnosed with multiple myeloma cancer, and her father had Parkinson's disease, affecting his mobility and mental faculties.
The New Jersey native's reaction: "I really need to move home."
Keep reading...
Show less
Bruce Mars via Unsplash
Summer is almost upon us, and whether you're a student about to go on break or a pro counting the days till layoff, don't forget that with warm weather comes a very serious responsibility: To maintain your cross-training routine on your own.
Those of us who've tried to craft our own cross-training routine know it's easier said than done. So we consulted the stars, and rounded up the best options for every zodiac sign. (TBH, you should probably consult an expert, too—we'd recommend a physical therapist, a personal trainer or your teacher.)
Keep reading...
Show less
It's become second nature in dance studios: The instant anyone gets hurt, our immediate reaction is to run to the freezer to grab some ice (or, more realistically, a package of frozen peas).
But as routine as icing our injuries might be, the benefits are not actually backed up by scientific studies. And some experts now believe icing could even disrupt the healing process.
Keep reading...
Show less
Getty Images
I'm a contemporary dancer, and I'm nervous about trying to get pregnant since I can't predict if it might happen during the middle of the season. We have a union contract that is supposed to protect us. But I'm scared because several of my colleagues' contracts weren't renewed for no particular reason. Having a big belly could be a big reason to get rid of me!
—Andrea, New York, NY
Keep reading...
Show less
From Dance of Urgency. © Ekvidi
When the going gets tough, the tough start dancing: That's the premise behind "Dance of Urgency," a recently opened exhibit at MuseumsQuartier Vienna that features photos, video and other documentary material relating to the use of dance as political protest or social uprising.
The groups featured in the show, largely based around clubs and electronic dance music scenes, span the globe and respond to a variety of issues—from inequality and social stratification to racial divides to crackdowns on club culture itself.
Keep reading...
Show less
News
May. 20, 2019 04:24PM EST
Last night, longtime theater legends (including Chita Rivera herself!) as well as rising stars gathered to celebrate one of Broadway's danciest events: the third annual Chita Rivera Awards.
The evening paid tribute to this season's dancer standouts, fabulous ensembles, and jaw-dropping choreography—on- and off-Broadway and on film.
As usual, several of our faves made it into the mix. (With such a fabulous talent pool of nominees to choose from, we're glad that ties were allowed.) Here are the highlights from the winner's list:
Keep reading...
Show less
Lorenzo Di Cristina/Unsplash
When you're a foreign dancer, gaining legal rights to work in the U.S. is a challenging process. It's especially difficult if you're petitioning to work as a freelance dancer without an agent or company sponsorship.
The process requires professional muscle along with plenty of resources and heart. "There's a real misnomer that it's super easy," says Neena Dutta, immigration attorney and president of Dutta Law Firm. "People need to educate themselves and talk to a professional."
Here are four things every foreign dancer who wants to work in the U.S. needs to know to build a freelance dance career here.
Keep reading...
Show less
Quinn Wharton
What does it take to "make it" in dance? It's no secret that turning this passion into a profession can be a struggle. In such a competitive field, talent alone isn't enough to get you where you want to be.
So what kinds of steps can you take to become successful? Dance Magazine spoke to 33 people from all corners of the industry to get their advice on the lessons that could help us all, no matter where we are in our careers.
Keep reading...
Show less