Here's What Chantel Aguirre Eats To Stay Healthy On Tour
Aguirre taking a cooking class in Thailand. Photo courtesy Aguirre
Chantel Aguirre may call sunny Los Angeles home, but the Shaping Sound company member and NUVO faculty member spends more time in the air, on a tour bus or in a convention ballroom than she does in the City of Angels.
Aguirre, who is married to fellow Shaping Sound member Michael Keefe, generally only spends one week per month at home. "When I'm not working, I'm exploring," Aguirre says. "Michael and I are total travel junkies."
---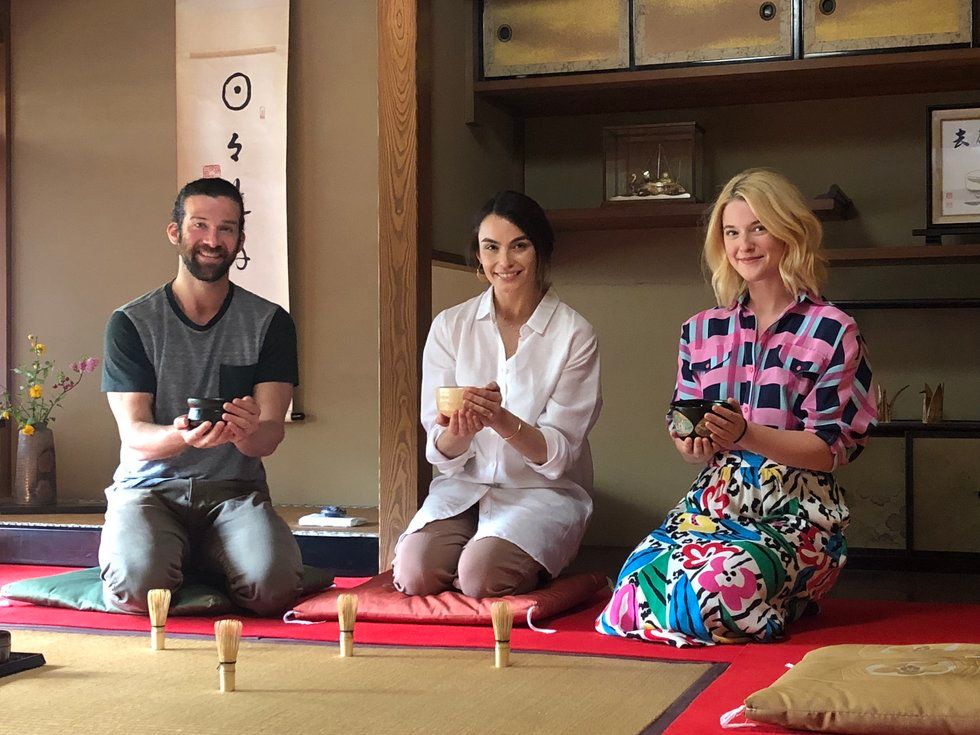 Keefe and Aguirre taking a matcha tea class. Photo courtesy Aguirre.
The health-minded dancer is rarely home long enough to whip up a home-cooked meal. "When we are home, we usually just grab sushi, sashimi, Thai food, acai bowls or some kind of vegan pizza," Aguirre says. She also swears by the prepped foods at the local health food store.
Her Nutrition Strategy: Dairy-Free & Pescatarian, But Not Fun-Free
Aguirre follows a dairy-free, pescatarian diet. She first cut out dairy for six months, and says it was a game changer. "I felt so good, and everything digested so quickly," she says. "I noticed I had more energy, so I wanted to keep that up."

But she won't turn down food in the name of fun. "If I go to Europe, I'm going to have the pizza and the pasta!"
She grew up in a food-loving family ("I was the kid at school eating rice bowls and chicken curry"), and that meant she also grew up with a healthy relationship to food. "My mom always introduced food to me as my fuel, as a source of energy," Aguirre says. "And that stuck with me. I see food as something that sustains me through long performances. I try to eat healthy, but I also love trying new things."
Apparently, Matcha Energy Balls Are Musts For The Shaping Sound Cast
Aguirre is Shaping Sound's official Matcha Ball Keeper. "During one of our tour stops, our friend Grace gave us this enormous bag of homemade matcha balls," Aguirre says. "They were for the entire company, but I became the keeper of the bag. I couldn't stop eating them!"
Thanks to a bit of matcha powder, these energy bites deliver a caffeine kick—perfect for a pre-performance snack. Plus, they're super-easy to make. They're just not easy to share. "I eventually cooled it from having 12 a day," Aguirre admits.
Lucky for us, she shared the recipe: Combine the 1/2 cup raw cashews, 1/2 cup raw pistachios (shelled), 12 medjool dates (pitted), 2 tsps. matcha powder and 1 tbsp. coconut oil in a food processor and blend until smooth. Use your hands to form the mixture into bite-sized balls. Dip in shredded coconut, and let set in refrigerator.
Her Suitcase of Food Has Gotten Her Stopped At Security
On the road, Aguirre packs an entire carry-on of food. She sometimes gets stopped by TSA to prove the bag is, in fact, just full of healthy food. It's typically stocked with:
RXBARs
Terra chips
dried mango
matcha balls
Nomz Energy Bites
goji berries
bananas






Related Articles Around the Web
The "Merde" bag. Courtesy Scenery
Jennifer Kahn knew the theater industry could do better. As a professional stage manager for 17 years she worked on regional, off-Broadway and Broadway shows. Nearly each time a show closed, something unsettling happened: "I would watch them throw away our shows. All of the beautiful artwork by my friends in the paint shop would go in the trash." The elaborate backdrops? Gone.

But she had an idea: What if the material used in the backdrops and legs could be upcycled into something new? And what if theater lovers could literally keep a piece of a beloved show?
Keep reading...
Show less
Left: Hurricane Harvey damage in Houston Ballet's Dance Lab; Courtesy Harlequin. Right: The Dance Lab pre-Harvey; Nic Lehoux, Courtesy Houston Ballet.
"The show must go on" may be a platitude we use to get through everything from costume malfunctions to stormy moods. But when it came to overcoming a literal hurricane, Houston Ballet was buoyed by this mantra to go from devastated to dancing in a matter of weeks—with the help of Harlequin Floors, Houston Ballet's longstanding partner who sprang into action to build new floors in record time.
Keep reading...
Show less
News
Oct. 18, 2019 11:54AM EST
Photo by Gabriel Davalos, Courtesy Valdés
For decades the name Alicia Alonso has been virtually synonymous with Ballet Nacional de Cuba, the company she co-founded in Havana in 1948. Alonso died on October 17, just shy of what would have been her 99th birthday. In recent years, she had stepped back from day-to-day decision-making in the company. As if preparing for the future, in January, the company's leading ballerina, 42-year-old Viengsay Valdés, was named deputy director, a job that seems to encompass most of the responsibilities of a traditional director. Now, presumably, she will step into her new role as director of the company. Her debut as curator of the repertory comes in November, when the troupe will perform three mixed bills selected by her at the Gran Teatro de la Habana Alicia Alonso. The following has been translated from a conversation conducted in Spanish, Valdés' native tongue.
Keep reading...
Show less
Sara Mearns in the gym. Photo by Kyle Froman.
New York City Ballet principal Sara Mearns wasn't sure she was strong enough. A ballerina who has danced many demanding full-length and contemporary roles, she was about to push herself physically more than she thought was possible.
"I said, 'I can't. My body won't,' " she says. "He told me, 'Yes, it will.' "
She wasn't working with a ballet coach, but with personal trainer Joel Prouty, who was asking her to do squats with a heavier barbell than she'd ever used.
Keep reading...
Show less