Here's What Chantel Aguirre Eats To Stay Healthy On Tour
Aguirre taking a cooking class in Thailand. Photo courtesy Aguirre
Chantel Aguirre may call sunny Los Angeles home, but the Shaping Sound company member and NUVO faculty member spends more time in the air, on a tour bus or in a convention ballroom than she does in the City of Angels.
Aguirre, who is married to fellow Shaping Sound member Michael Keefe, generally only spends one week per month at home. "When I'm not working, I'm exploring," Aguirre says. "Michael and I are total travel junkies."
---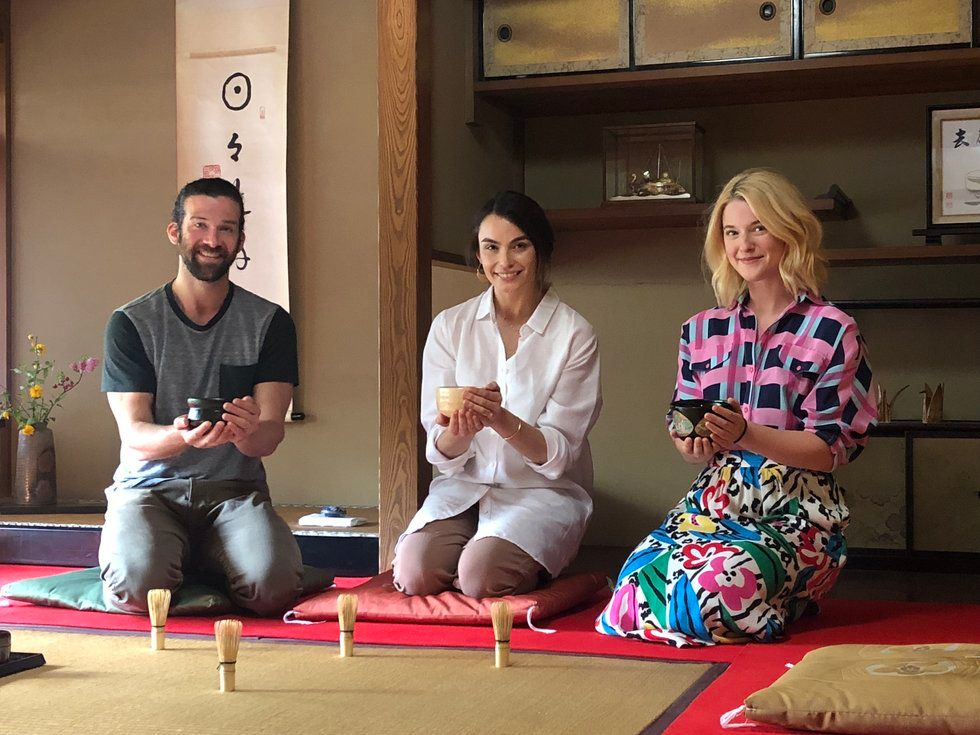 Keefe and Aguirre taking a matcha tea class. Photo courtesy Aguirre.
The health-minded dancer is rarely home long enough to whip up a home-cooked meal. "When we are home, we usually just grab sushi, sashimi, Thai food, acai bowls or some kind of vegan pizza," Aguirre says. She also swears by the prepped foods at the local health food store.
Her Nutrition Strategy: Dairy-Free & Pescatarian, But Not Fun-Free
Aguirre follows a dairy-free, pescatarian diet. She first cut out dairy for six months, and says it was a game changer. "I felt so good, and everything digested so quickly," she says. "I noticed I had more energy, so I wanted to keep that up."

But she won't turn down food in the name of fun. "If I go to Europe, I'm going to have the pizza and the pasta!"
She grew up in a food-loving family ("I was the kid at school eating rice bowls and chicken curry"), and that meant she also grew up with a healthy relationship to food. "My mom always introduced food to me as my fuel, as a source of energy," Aguirre says. "And that stuck with me. I see food as something that sustains me through long performances. I try to eat healthy, but I also love trying new things."
Apparently, Matcha Energy Balls Are Musts For The Shaping Sound Cast
Aguirre is Shaping Sound's official Matcha Ball Keeper. "During one of our tour stops, our friend Grace gave us this enormous bag of homemade matcha balls," Aguirre says. "They were for the entire company, but I became the keeper of the bag. I couldn't stop eating them!"
Thanks to a bit of matcha powder, these energy bites deliver a caffeine kick—perfect for a pre-performance snack. Plus, they're super-easy to make. They're just not easy to share. "I eventually cooled it from having 12 a day," Aguirre admits.
Lucky for us, she shared the recipe: Combine the 1/2 cup raw cashews, 1/2 cup raw pistachios (shelled), 12 medjool dates (pitted), 2 tsps. matcha powder and 1 tbsp. coconut oil in a food processor and blend until smooth. Use your hands to form the mixture into bite-sized balls. Dip in shredded coconut, and let set in refrigerator.
Her Suitcase of Food Has Gotten Her Stopped At Security
On the road, Aguirre packs an entire carry-on of food. She sometimes gets stopped by TSA to prove the bag is, in fact, just full of healthy food. It's typically stocked with:
RXBARs
Terra chips
dried mango
matcha balls
Nomz Energy Bites
goji berries
bananas






Related Articles Around the Web
From Your Site Articles
Just for Fun
Jul. 16, 2019 02:13PM EST
As Dance Magazine editors, we admittedly spend more time than we'd like sifting through stock photography. Some of it is good, more of it is bad and most of it is just plain awkward.
But when paired with the right caption, those shots magically transform from head-scratchers to meme-worthy images that illustrate our singular experience as dancers. You can thank the internet for this special salute to dancer moods.
Keep reading...
Show less
Wayne McGregor. Photo by Johan Persson, Courtesy ROH
It's no surprise that dancers make some of the best TED Talk presenters. Not only are they great performers, but they've got unique knowledge to share. And they can dance!
If you're in need of a midweek boost, look no further than these eight presentations from some incredibly inspiring dance artists.
Keep reading...
Show less
News
Jul. 16, 2019 03:58PM EST
Including this extraordinary Travis Wall number for "So You Think You Can Dance" (Adam Rose/FOX)
The Primetime Emmy Award nominations are out! Congrats to the seven choreographers who earned nods for their exceptional TV work this year. Notably, that work was made for just two shows, "So You Think You Can Dance" and "World of Dance."
And there was a particularly remarkable snub: While the dance-filled hit "Fosse/Verdon" earned 17 nominations across many of the major categories, Andy Blankenbuehler's fabulous Fosse remixes weren't recognized in the Outstanding Choreography field.
Here are all the dance routines up for Emmys:
Keep reading...
Show less

abezikus/Getty Images
"Dancers can do everything these days," I announced to whoever was in earshot at the Jacob's Pillow Archives during a recent summer. I had just been dazzled by footage of a ballet dancer performing hip hop, remarkably well. But my very next thought was, What if that isn't always a good thing? What if what one can't do is the very thing that lends character?
Keep reading...
Show less