Here's What Chantel Aguirre Eats To Stay Healthy On Tour
Aguirre taking a cooking class in Thailand. Photo courtesy Aguirre
Chantel Aguirre may call sunny Los Angeles home, but the Shaping Sound company member and NUVO faculty member spends more time in the air, on a tour bus or in a convention ballroom than she does in the City of Angels.
Aguirre, who is married to fellow Shaping Sound member Michael Keefe, generally only spends one week per month at home. "When I'm not working, I'm exploring," Aguirre says. "Michael and I are total travel junkies."
---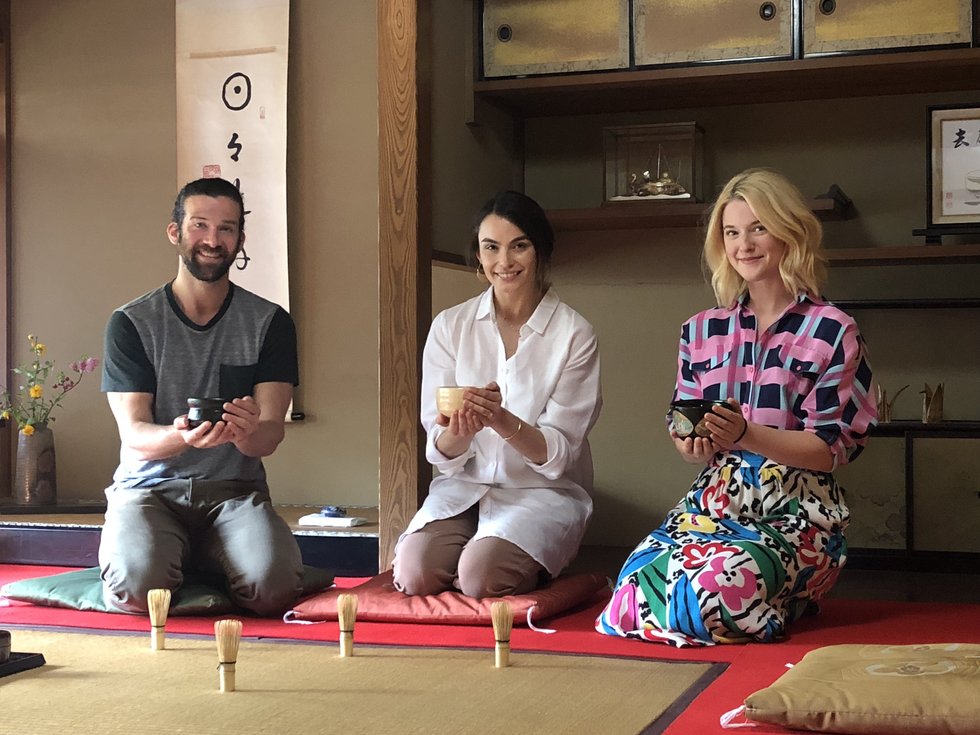 Keefe and Aguirre taking a matcha tea class. Photo courtesy Aguirre.
The health-minded dancer is rarely home long enough to whip up a home-cooked meal. "When we are home, we usually just grab sushi, sashimi, Thai food, acai bowls or some kind of vegan pizza," Aguirre says. She also swears by the prepped foods at the local health food store.
Her Nutrition Strategy: Dairy-Free & Pescatarian, But Not Fun-Free
Aguirre follows a dairy-free, pescatarian diet. She first cut out dairy for six months, and says it was a game changer. "I felt so good, and everything digested so quickly," she says. "I noticed I had more energy, so I wanted to keep that up."

But she won't turn down food in the name of fun. "If I go to Europe, I'm going to have the pizza and the pasta!"
She grew up in a food-loving family ("I was the kid at school eating rice bowls and chicken curry"), and that meant she also grew up with a healthy relationship to food. "My mom always introduced food to me as my fuel, as a source of energy," Aguirre says. "And that stuck with me. I see food as something that sustains me through long performances. I try to eat healthy, but I also love trying new things."
Apparently, Matcha Energy Balls Are Musts For The Shaping Sound Cast
Aguirre is Shaping Sound's official Matcha Ball Keeper. "During one of our tour stops, our friend Grace gave us this enormous bag of homemade matcha balls," Aguirre says. "They were for the entire company, but I became the keeper of the bag. I couldn't stop eating them!"
Thanks to a bit of matcha powder, these energy bites deliver a caffeine kick—perfect for a pre-performance snack. Plus, they're super-easy to make. They're just not easy to share. "I eventually cooled it from having 12 a day," Aguirre admits.
Lucky for us, she shared the recipe: Combine the 1/2 cup raw cashews, 1/2 cup raw pistachios (shelled), 12 medjool dates (pitted), 2 tsps. matcha powder and 1 tbsp. coconut oil in a food processor and blend until smooth. Use your hands to form the mixture into bite-sized balls. Dip in shredded coconut, and let set in refrigerator.
Her Suitcase of Food Has Gotten Her Stopped At Security
On the road, Aguirre packs an entire carry-on of food. She sometimes gets stopped by TSA to prove the bag is, in fact, just full of healthy food. It's typically stocked with:
RXBARs
Terra chips
dried mango
matcha balls
Nomz Energy Bites
goji berries
bananas






Related Articles Around the Web
Unsplash
Essential oils sometimes get a bad rap. Between the aggressive social media marketing for the products and the sometimes magical-sounding claims about their healing properties, it's easy to forget what they can actually do. But if you look beyond the pyramid schemes and exaggerations, experts believe they have legit benefits to offer both mind and body.
How can dancers take advantage of their medicinal properties? We asked Amy Galper, certified aromatherapist and co-founder of the New York Institute of Aromatic Studies:
Keep reading...
Show less
News
Mar. 22, 2019 09:02AM EST
Photo by Howard Sherman, Courtesy SDC
Karen Azenberg, a past president of the Stage Directors and Choreographers Society, stumbled on something peculiar before the union's 2015 move to new offices: a 52-year-old sealed envelope with a handwritten note attached. It was from Agnes de Mille, the groundbreaking choreographer of Oklahoma! and Rodeo. De Mille, a founding member of SDC, had sealed the envelope with gold wax before mailing it to the union and asking, in a separate note, that it not be opened. The reason? "It is the outline for a play, and I have no means of copyrighting…The material is eminently stealable."
Keep reading...
Show less