When choreographer Chase Brock and his husband, musician Rob Berman, first purchased a weekend home in Ulster County, New York, nearly 10 years ago, they immediately noticed a beautiful, turn-of-the-century train depot in the neighboring town of Accord.
"We would drive by and fantasize that there must be some big open room in there, without a pole, that would make a great studio," says Brock.
---
In 2017 an opportunity to purchase the historical building opened up, and Brock and Berman jumped.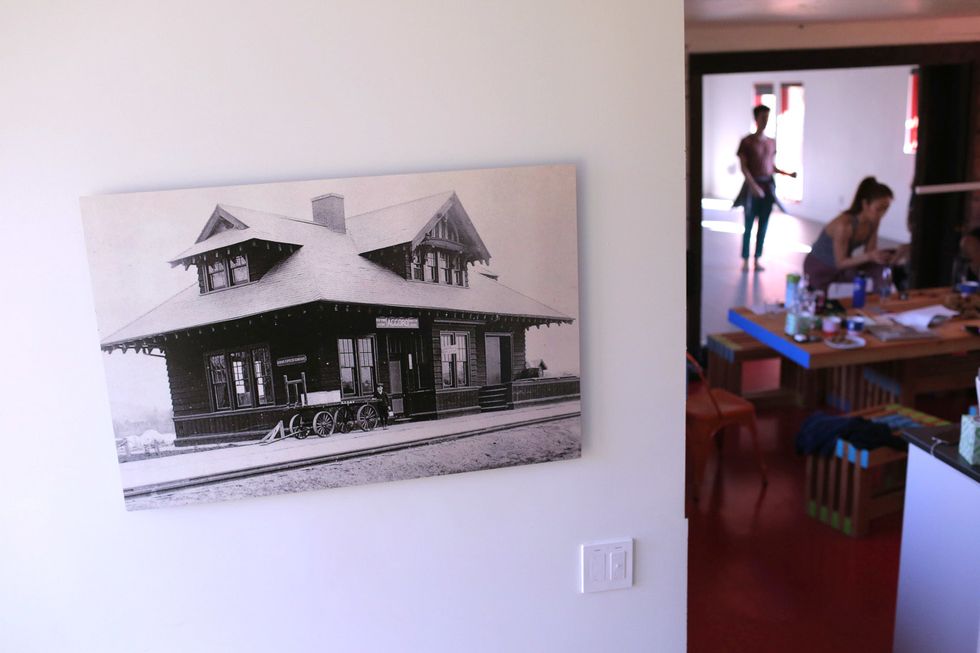 A historic photograph of the depot on a wall in the redesigned building.
John Abbott, Courtesy Chase Brock Experience
The pair dove into the building's history.
The first time that Brock and Berman got a glimpse inside the depot, they fell in love with its charm and original features, like the intact ticket window and waiting room benches. "We said, 'We have no idea how we're going to do this, but we have to do this,'" says Brock.
After putting in an offer, their first stop was Accord's historical society, where they learned about the station's rich history. The depot was built in 1902 as a stop on the New York, Ontario and Western Railway. Until the 1930s, over 500 people would get off at the station each night on their way to vacation in the Hudson River Valley; during that period, the station master and his family lived in a small apartment upstairs. In 1935, the railroad converted to freight, and until the mid-1950s the depot was used as a loading area for stones from a nearby quarry. "Essentially it's had no major purpose between now and then," says Brock.
They did find out one surprising connection to dance history: Famed tap dancer Peg Leg Bates reportedly performed in the depot. "I don't know if he wore leather or taps, but it made me want to look at the original floor," says Brock.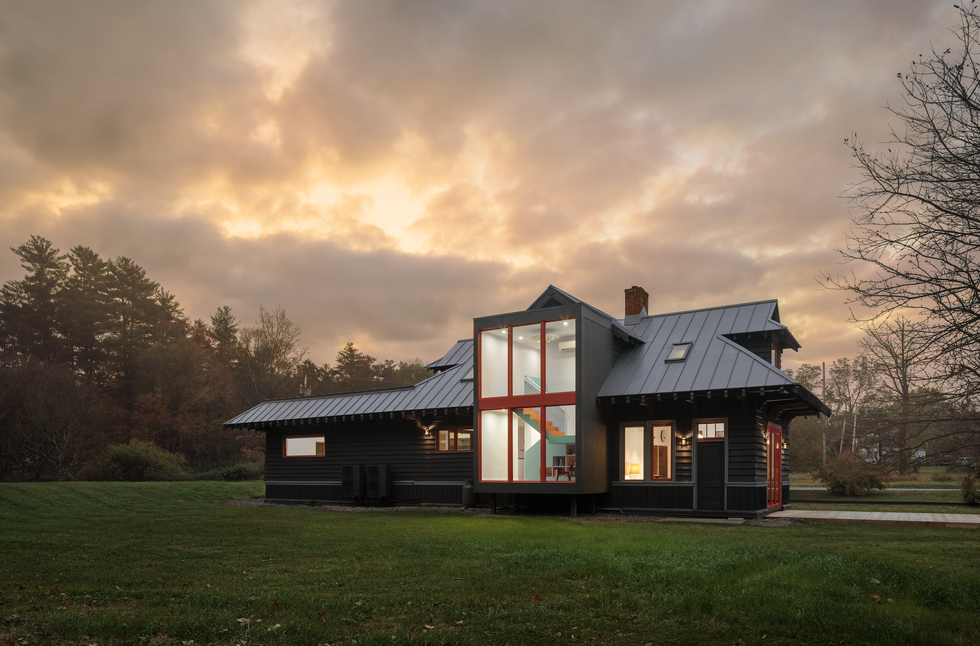 The Modern Accord Depot
Brad Feinknopf, Courtesy Chase Brock Experience
The space will be a residency center for Brock and other artists.
Brock and Berman hired Hudson Valley-based architect Marica McKeel to help them bring the building into the 21st century, while continuing to honor its history.
From the onset, Brock's goal for the space was three-fold: He wanted it to be a designated space for his company to come live and work, a luxury Airbnb to help pay the bills, and a residency center to rent or share with artists.
After many frustrating years spent applying for grants and residencies for his company, the Chase Brock Experience, Brock is eager to simplify the process. "We're starting informally with artists we know, or letting people come to us with proposals," he says. "But we love the idea of reaching out to a choreographer or filmmaker or writer and saying, 'Hey, we really enjoy your work and want to offer you a residency.'"
Though he imagines the system might require formalization as time goes on, Brock is committed to creating a healthy ecosystem. "We might offer the space for free to a group of young dancers if they're willing to pay the cleaning fee, but then set a low rate for a more established theater collective," he says.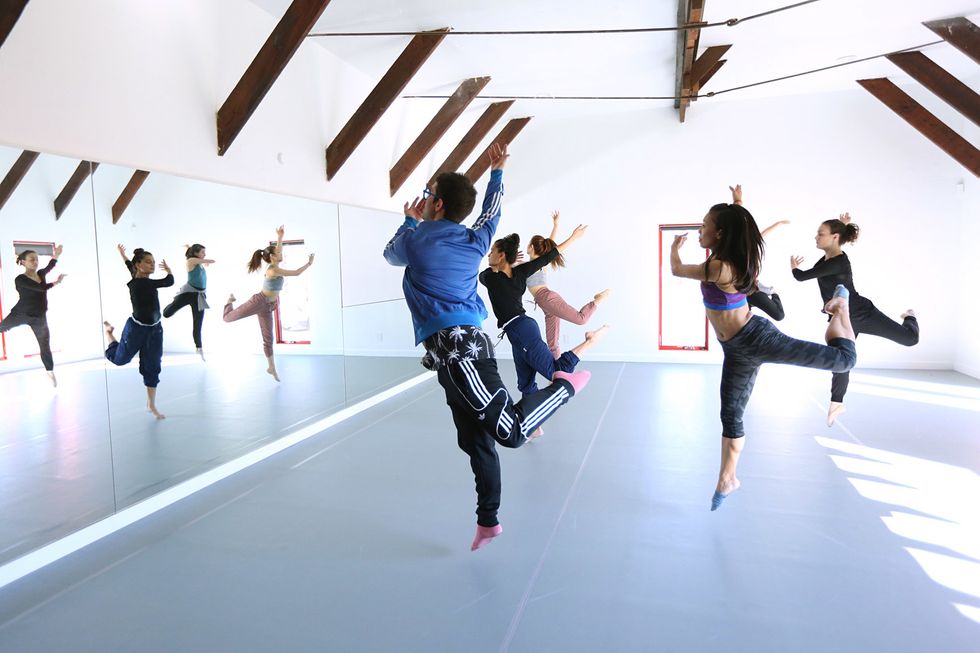 Chase Brock Experience rehearsing Brock's The Four Seasons
John Abbott, Courtesy Chase Brock Experience
The details are now designed for dancers.
Brock's colorful and quirky sense of style is evident throughout the building, now named Modern Accord Depot. It's designed to house eight people, "but if people are up for a summer camp adventure, you could really fit 14," he adds. The design pays tribute to the building's roots: Sleeping cubbies, complete with privacy curtains, individualized lighting and charging outlets are Brock's nod to sleeper cars on trains.
But for Brock, the real joy came when designing the studio of his dreams. Housed in the old baggage room, which was tacked on in 1914, McKeel and her team added enormous single-pane windows and a sprung floor and marley. "I am proud to say the only piece of this I did with my bare hands was installing the floor," adds Brock.
He also thought of small details only dancers would appreciate, like built-in shelves to place your laptop or notebook so it's off the floor during rehearsals. An original barn door separates the studio from the kitchen, and is designed to be left open during the day, allowing dancers to seamlessly take breaks. "The company can just meander into the kitchen and make tea or coffee," says Brock. "It's a very warm environment where you can go from the studio to the table and back to dance."
When CBE first utilized the space last fall, Brock was struck with how organic it felt: "It's so different than moving from space to space in New York City, paying your hourly rate and standing in the hallway during your break."
Being out of town has its benefits.
Over his company's 12-year history, Brock has noticed that the pieces he's most proud of were made in residencies. "It's a different and deeper way of working," he says. "By cooking and eating and figuring out who's going to shower first, a company becomes a community."
But Brock knows that he's by no means the first choreographer to create a haven for dance outside of the hustle and bustle of city life. "Doug Varone lives down the street, and Stephen Petronio has a much larger residency center further upstate," he says. "Think of Bennington and Jacob's Pillow; working outside of the city has been a part of modern dance history in America since the beginning."
Brock's biggest surprise has been the town's response. "While we rehearsed, neighbors would drive by and stop to watch through the windows, or walk their dogs and stop to hang out," says Brock. It's urged him to find ways to give back to the community, like hosting works-in-process showings. "You realize that folks who live in this area are not used to seeing dancers at work, and it's actually shockingly powerful."
And though the depot is now open for business, there's still plenty more on Brock and Berman's to-do list. A previous owner purchased 100 feet of original track and a caboose from the old train line, and parked both in front of the building. Brock and Berman hope to turn the caboose into a sleeping space, complete with its own mini kitchen; perfect for a writer looking to get away. "It's become the visual totem of this place," says Brock. "It was about motion, and now it's about motion again."