Making Chicken Pot Pie with James Whiteside
Jim Lafferty
"I don't cook for just one or two people," says James Whiteside, stirring a pot on his stove. "My mom taught me to cook and she had five kids. So when I do cook, I go in!"
Aside from breakfast (usually bacon, egg and cheese on an English muffin), the American Ballet Theatre principal rarely cooks for himself during ABT's seasons. He prefers to "forage" for his lunch and go out or order in for dinner, saving the real cooking for when he has friends or colleagues to feed. "I like to have a lot of people tell me my food is delicious," he quips.
---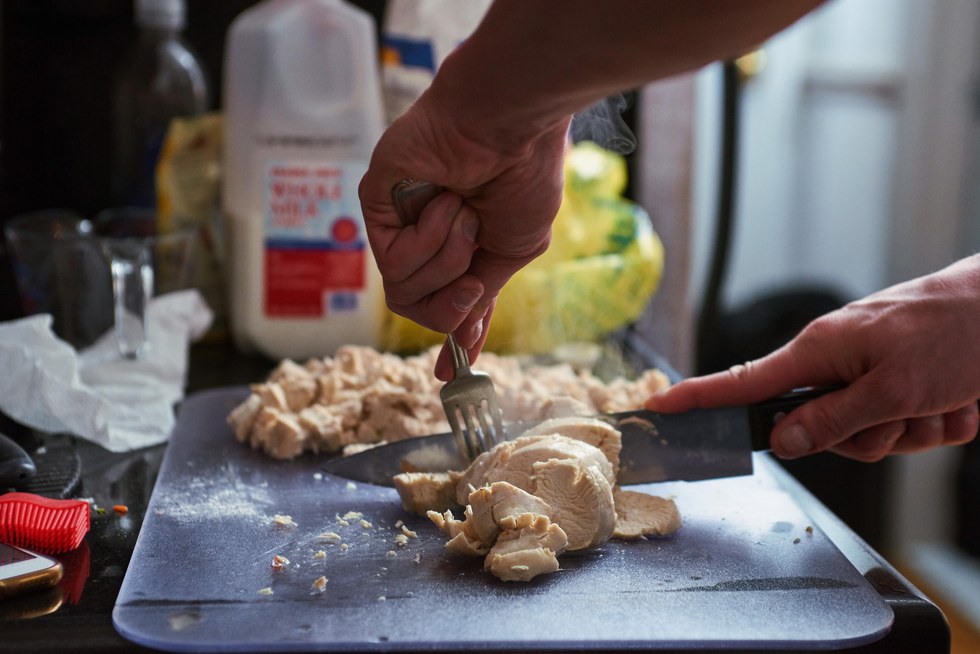 Jim Lafferty
One of his favorite dishes to prepare for friends is chicken pot pie, using his mother's recipe as a base and combining it with one he found on the internet. "Every time I visited her I would make her teach me how to make something," he says of his mother, who passed away last summer. "She was an amazing cook. I know everyone says their mom is a good cook, but actually."
He's not one for being exact with ingredients—he might measure out the milk, add it to the pot, then shrug and pour in more from the quart. "Cooking for me isn't a fancy affair," he says. "It's incredibly personable and casual. It's about getting people you like in one room and having a good time."
His Chicken Pot Pie Recipe: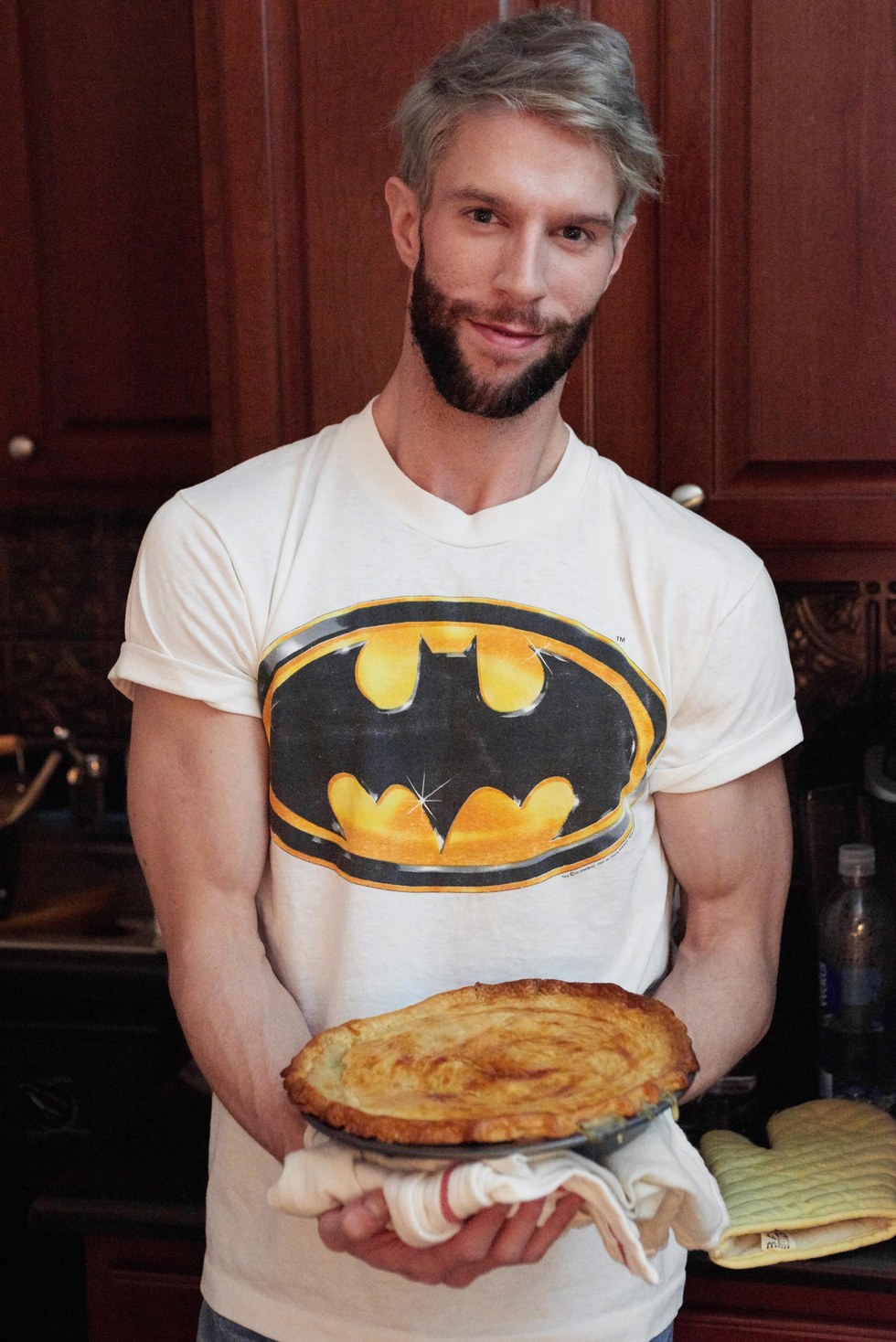 Jim Lafferty
Ingredients:
1 lb skinless boneless chicken breast
1 cube chicken bouillon
1 cup sliced carrots
1 cup frozen green peas
1/2 cup sliced celery
2/3 cup butter
1/2 cup chopped onion
2/3 cup all-purpose flour
1 tsp salt
1/2 tsp black pepper
1/2 tsp celery seed
3 1/2 cups chicken broth
1 1/3 cups whole milk
dash of hot sauce (Whiteside uses Cholula)
2 unbaked pie crusts (9 inches)
1 egg, separated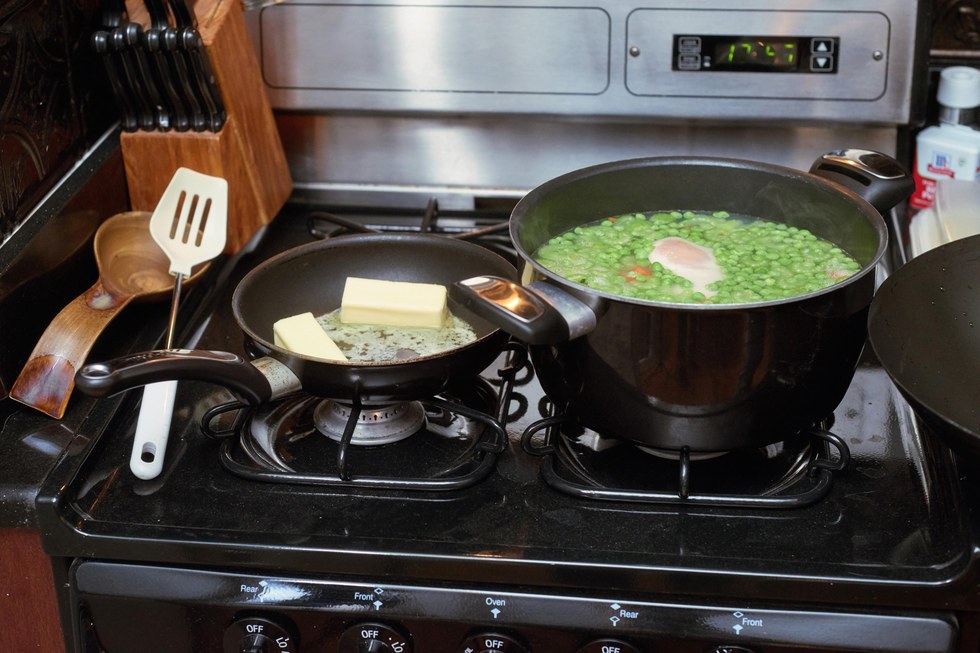 Jim Lafferty
Directions:

Preheat oven to 375ºF.
In a large pot, combine chicken, bouillon cube, carrots, peas and celery. Cover with water and boil for 15 minutes. Remove from heat, drain and set aside. Remove chicken, cube or shred, and return to pot.
In a large saucepan over medium heat, cook onions in butter until soft and translucent. Stir in flour, salt, pepper and celery seed. Slowly stir in chicken broth and milk. Add a dash of hot sauce. Simmer over medium-low heat until thick. Add chicken/vegetable mixture and stir.
Place the bottom crust in a nonstick pie pan and fill with chicken mixture. Cover with top crust, seal edges and cut away excess dough. Brush top crust with egg white. Make several small slits in the top to allow steam to escape.
Bake for 35–40 minutes, or until pastry is golden brown and filling is bubbly. Cool for 10 minutes before serving.
Makes: One 9-inch pie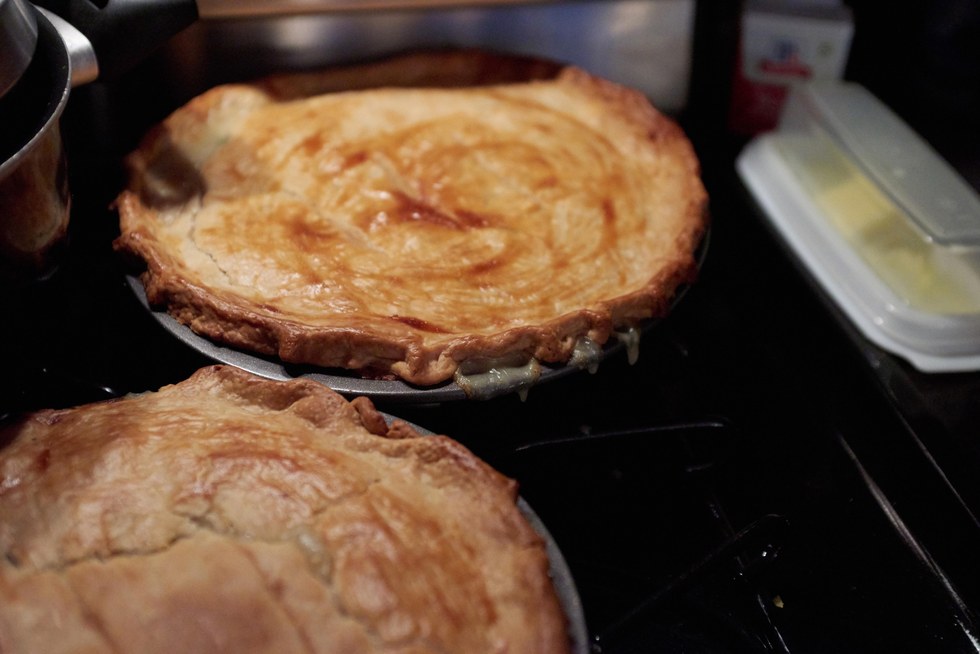 Jim Lafferty
Related Articles Around the Web
Alexander Ekman's Midsummer Night's Dream was created for Royal Swedish Ballet. Photo by Hans Nilsson, Courtesy The Joffrey Ballet
Bales of hay, black umbrellas, bicycles—this Midsummer Night's Dream would be unrecognizable to the Bard. Alexander Ekman's full-length, inspired by Scandinavian solstice traditions and set to music by Mikael Karlsson, is a madcap celebration of the longest day of the year, when the veil between our world and that of the supernatural is said to be at its thinnest. The Joffrey Ballet's performances mark the seductively surreal work's North American premiere. April 25–May 6. joffrey.org.
Indumba investigates an African cleansing ritual. Photo by Ken Carl, via
bam.org
When Kevin "Iega" Jeff saw Fana Tshabalala's Indumba at the annual JOMBA! Contemporary Dance Experience in South Africa, he immediately knew he would ask Tshabalala to set the work on his company.

"There's an ancient energy in Fana's movement, a deep and trusted knowing," says Jeff, director of the Chicago-based Deeply Rooted Dance Theater. "Because I witnessed the raw humanity of his dancer's souls, I wanted my dancers to have that experience."
Keep reading...
Show less
StockSnap
When I wrote about my struggle with depression, and eventual departure from dance because of it, I expected criticism. I was prepared to be challenged. But much to my relief, and horror, dancers from all over the world responded with support and stories of solidarity. The most critical response I saw was this one:
"Dance isn't for everyone."
This may as well be a mantra in the dance world. We have become entrenched in the Darwinian notion that the emotionally weak will be weeded out. There is no room for them anyway.
Keep reading...
Show less
Cover Story
Apr. 16, 2018 04:00PM EST
Robert Fairchild is jumping into the next phase of his career feet-first. Photo by Jayme Thornton
In his final bow at New York City Ballet, during what should have been a heroic conclusion to a celebrated ballet career, Robert Fairchild slipped and fell. His reaction? To lie down flat on his back like he meant to do it. Then start cracking up at himself.
"He's such a ham," says his sister Megan Fairchild, with a laugh. "He's really good at selling whatever his body is doing that day. He'll turn a moment that I would totally go home and cry about into something where the audience is like, 'That's the most amazing thing ever!' "

Keep reading...
Show less
Name calling, physical intimidation and cyberbullying are all-too-common experiences among male dancers. Photo by Goh Rhy Yan/Unsplash
Growing up in a family-owned dance studio in Missouri had its perks for tap dancer Anthony Russo. But it also earned him constant taunting, especially in high school.
"There was a junior in my sophomore year health class who was absolutely relentless," he says. "I'd get tripped on my way to the front of the classroom and he'd say, 'Watch out, twinkle toes.' If I raised my hand and answered a question incorrectly, I'd hear a patronizing 'Nice one, Bojangles.' "
Keep reading...
Show less
Dance on Broadway
Apr. 21, 2018 09:30AM EST
PC Kevin Berne, courtesy Boneau/Bryan-Brown
Choreographer Sergio Trujillo asked the women auditioning for ensemble roles in his newest musical to arrive in guys' clothing—"men's suits, or blazers and ties," he says. He wasn't being kinky or whimsical. The entire ensemble of Summer: The Donna Summer Musical is female, playing men and women interchangeably as they unfold the history of the chart-busting, Grammy-winning, indisputable Queen of Disco.
courtesy www.today.com
Keep reading...
Show less


Get Dance Magazine in your inbox