Making Chicken Pot Pie with James Whiteside
Jim Lafferty
"I don't cook for just one or two people," says James Whiteside, stirring a pot on his stove. "My mom taught me to cook and she had five kids. So when I do cook, I go in!"
Aside from breakfast (usually bacon, egg and cheese on an English muffin), the American Ballet Theatre principal rarely cooks for himself during ABT's seasons. He prefers to "forage" for his lunch and go out or order in for dinner, saving the real cooking for when he has friends or colleagues to feed. "I like to have a lot of people tell me my food is delicious," he quips.
---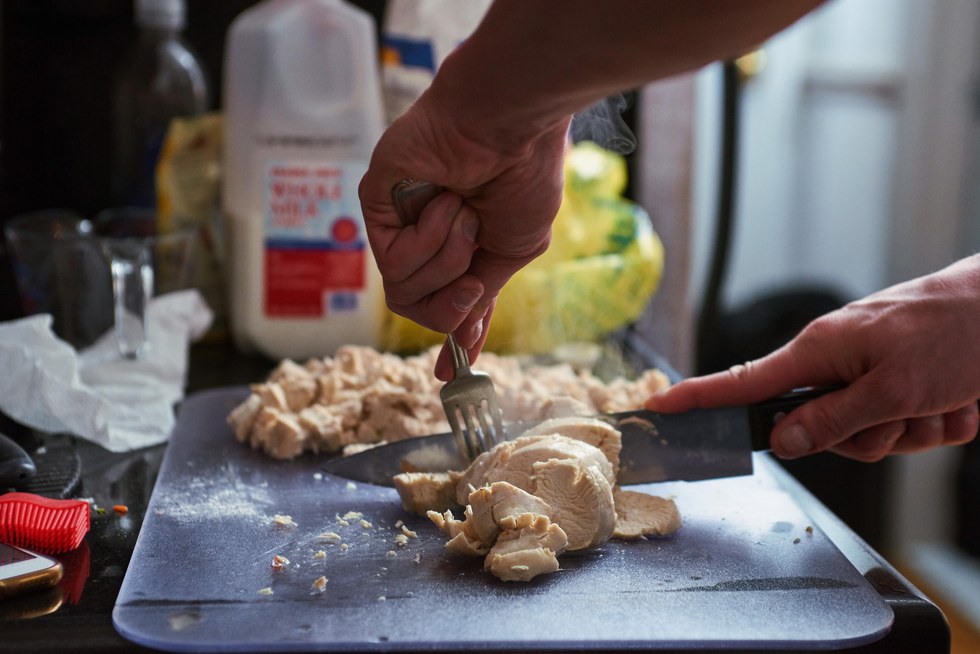 Jim Lafferty
One of his favorite dishes to prepare for friends is chicken pot pie, using his mother's recipe as a base and combining it with one he found on the internet. "Every time I visited her I would make her teach me how to make something," he says of his mother, who passed away last summer. "She was an amazing cook. I know everyone says their mom is a good cook, but actually."
He's not one for being exact with ingredients—he might measure out the milk, add it to the pot, then shrug and pour in more from the quart. "Cooking for me isn't a fancy affair," he says. "It's incredibly personable and casual. It's about getting people you like in one room and having a good time."
His Chicken Pot Pie Recipe: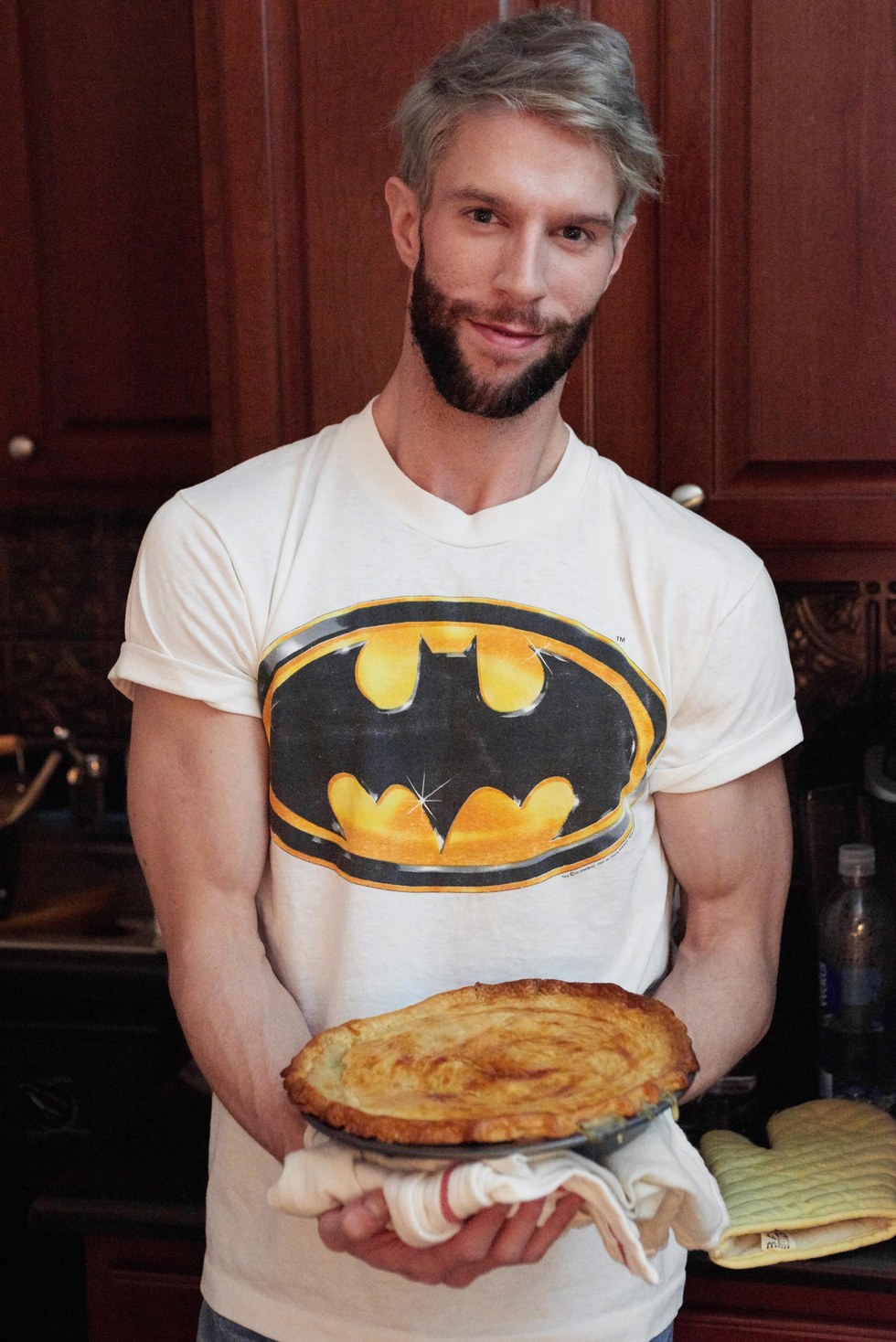 Jim Lafferty
Ingredients:
1 lb skinless boneless chicken breast
1 cube chicken bouillon
1 cup sliced carrots
1 cup frozen green peas
1/2 cup sliced celery
2/3 cup butter
1/2 cup chopped onion
2/3 cup all-purpose flour
1 tsp salt
1/2 tsp black pepper
1/2 tsp celery seed
3 1/2 cups chicken broth
1 1/3 cups whole milk
dash of hot sauce (Whiteside uses Cholula)
2 unbaked pie crusts (9 inches)
1 egg, separated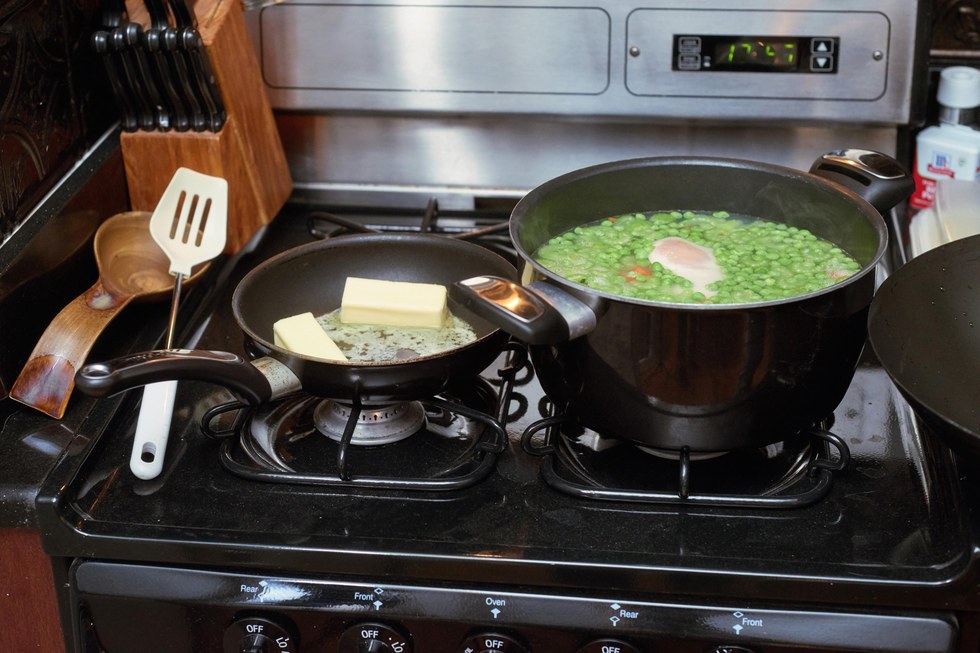 Jim Lafferty
Directions:

Preheat oven to 375ºF.
In a large pot, combine chicken, bouillon cube, carrots, peas and celery. Cover with water and boil for 15 minutes. Remove from heat, drain and set aside. Remove chicken, cube or shred, and return to pot.
In a large saucepan over medium heat, cook onions in butter until soft and translucent. Stir in flour, salt, pepper and celery seed. Slowly stir in chicken broth and milk. Add a dash of hot sauce. Simmer over medium-low heat until thick. Add chicken/vegetable mixture and stir.
Place the bottom crust in a nonstick pie pan and fill with chicken mixture. Cover with top crust, seal edges and cut away excess dough. Brush top crust with egg white. Make several small slits in the top to allow steam to escape.
Bake for 35–40 minutes, or until pastry is golden brown and filling is bubbly. Cool for 10 minutes before serving.
Makes: One 9-inch pie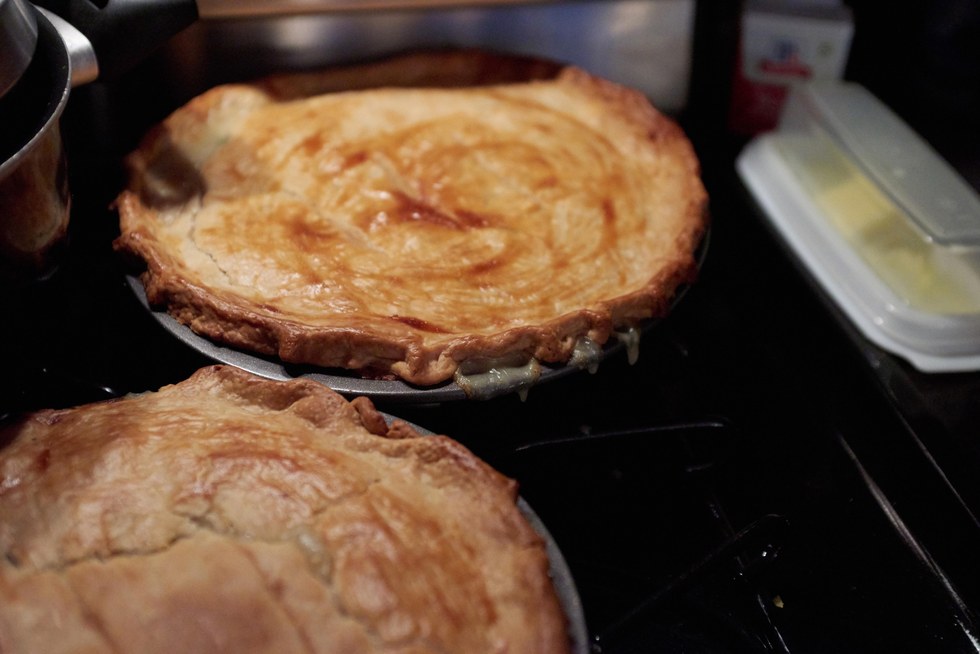 Jim Lafferty
Related Articles Around the Web
From Your Site Articles
Getty Images
By the Sunday evening of a long convention weekend, you can expect to be thoroughly exhausted and a little sore. But you shouldn't leave the hotel ballroom actually hurt. Although conventions can be filled with magical opportunities, the potential for injury is higher than usual.
Keep your body safe: Watch out for these four common hazards.
Keep reading...
Show less
News
Jul. 18, 2019 05:02PM EST
Frozen put profit-sharing arrangements in place prior to the Equity deal. Photo by Deen van Meer, Courtesy Disney Theatrical Group
For a Broadway dancer, few opportunities are more exciting than being part of the creation of an original show. But if that show goes on to become wildly successful, who reaps the benefits? Thanks to a new deal between Actors' Equity Association and The Broadway League, performers involved in a production's development will now receive their own cut of the earnings.
Keep reading...
Show less
NBCUniversal
Jellicle obsessives, rejoice: There's a new video out that offers a (surprisingly substantive) look at the dancing that went down on the set of the new CATS movie.
Keep reading...
Show less